Wondershare Anireel Review: Pros, Cons, Alternatives
Animated explainers, yes, you might have seen many of these, be it on social media, your child's online education platform, your meetings, and many more places. This alone shows the importance of such video types in this visual era.
A lot of tools are available for designing such videos, and Anireel by Wondershare is a new player in this space, but its features and benefits are grabbing people's attention.
Here we tested it and wrote this review, so you can understand what the key points are.
Note: Anireel is complete with Windows 11 / Windows 10 / Windows 8.1 (64-bit OS). We tested the app on a Windows 10 Intel Core i5 processor for this review.  
Anireel basics
What is Anireel?
Anireel is a simple yet powerful Video Creativity tool used to make 2D animated explainer videos. Developed by Wondershare, one of the most popular Windows software and tool developers, Anireel uses rich, ready-to-use, and diverse assets to help one effortlessly make animated videos.
Anireel is a package of the latest ideas in the field of animation, consistent with what the users on the internet would love the most. Also, it supports the current trend of applications for which animations are being used the most, including Knowledge Sharing, training, Product Advertisements, and much more.
Is Anireel good for animation?
Though Anireel is relatively new in this space, it is pretty great when it comes to animation designs. The combination of scenes, backgrounds, fonts, and notably, the templates help you to make animations as you want. Besides, the animation will depend on how the user alters it to be. It is just that Anireel has almost all the tools that you will need. Moreover, the free upgrades of the software and the inside materials keep the content in line with the latest trends.
Is Anireel safe to use?
Wondershare is one of the most reliable utility development brands for Windows. Considering this fact alone makes Anireel by Wondershare safe to use. Besides, your data is saved locally on your device, so there is no reason for it to be unsafe.
If you are in doubts about it hampering or affecting your system's core parts, we believe that the lightweight design will hardly cause any issues. Similar to the swift flow that we observed.
Is Anireel for free?
Wondershare Anireel is a subscription-based software with monthly and yearly plans available. However, it does have a free trial available for the user to try it out. Notably, there is no student version available for Anireel yet, at least. We can't say for sure if it has a free version available for students in the future.
Anireel benefits
The application area of Anireel is quite large and includes fields such as Business Publicity, Product Promotion, Education and Teaching, Sales and Marketing, and Enterprise Introduction. You can find all of these on the home screen and the related templated, too, credit to the simple UI. It is not limited to these fields, and you can apply it to much more areas. You just need to be creative.
The better part is the further division of application areas into subcategorized templates. Like you could easily find Java and Python templates under Education, different Business Publicity ideas, Online shopping, Content Creation Service Template under Product Promotion, and similarly much more.
Given the extent of the applicative area and ease of use, it is suitable for personal use, for startups, medium businesses, and freelancers.
Anireel pros
As said above, it was specifically designed for the purpose of creating animated explainers, so it has all the required tools. The most useful and uncommon ones are what we loved the most. Some of those numerous features are:
1. The Design
Anireel is very easy to use, with all the options right in front of your eyes and nothing too complicated. We didn't need any guide to understand how each feature works, though we have prior experience with such tools. However, if you have any problems, you can easily visit the Creator Academy for animated explainer videos and understand how you can use the features and design your stuff.
Anireel is lightweight too. It doesn't impact the system parts too much, and we felt no heating issues or lags while using it. You even don't need a high-end PC to run it, and any medium-spec PC would do.
2. Template Library
Besides Text-to-Speech, the best feature we loved was the Template Library. Using the Template Library, even a beginner can design their own animated video without much hassle. There are just so many templated available to download for almost every area one might need it for. Also, the templates are easy to edit.
3. Script-to-Animation
The Script-to-Animation uses AI to generate animated explainers on your scripts. While using it, we just had to type in our script idea, and the AI took some time and generated the best one for us. You can generate any animation from your scripts related to product promos, Company Intro, Promotion Campaigns, Storytelling, How-to-Explainer, and COVID-19 Related. These are the options available. However, it seems more might be added soon.
4. Text-to-Speech
The Text-to-Speech feature of Anireel is one of the smoothest we have seen in tools in this space. You can access so many languages with a minimum of two different voice sets. Just click on the Voiceover/TTS button on the home screen and access this awesome feature. We got minor errors while trying it for the first time and lost a few character limits too, but it seems it was a network issue or an internal issue, and therefore reported it too. Besides this, it worked out really fine. Every language and voice was accurate and correct.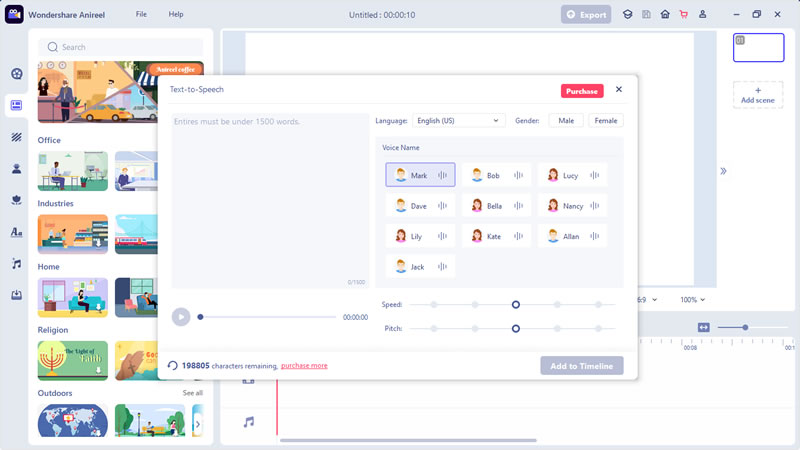 5. Imports and Exports
On many editing sites and software, importing files takes time, but not with Anireel. The import process was super easy. Just go to the import section, click on Import and select your file. Anireel divides these into sections based on the file type making it easier to find them.
With so many features, the export option is also easy, just click on the export button, type in the name, select the location, choose the file type MP4 or GIF, and export. Not too many steps and prompts, quick and simple. Also, the exports are of 1080p HD quality.
6. Numerous Assets
Numerous assets are available in Anireel, from scenes to the background, characters, fonts, props, audio, videos, and images. To use them, they just needed to be downloaded, and then double-clicking them would apply it to your edits. However, we are not mentioning the more detailed options under each of these assets since it would make it pretty long. But you can visit its official website to learn more.
7. Brand Character
Another attractive feature of Anireel is the Brand Character design section. You can design characters right from scratch using the options available on the Character Builder window and use them in your videos. Developing the character was much easier, and we didn't really expect a feature such as this as we had never seen such a feature before in such tools.
Anireel cons
Though Anireel has many lovable features, there are some areas where it can improve, key points where we had problems while using it. Here they go.
1. Errors
While we were using the Text-to-Speech feature, we faced some errors. We are not sure whether it was an internet issue or a server issue from Anireel. So we also provided feedback. Besides these, we also faced errors while downloading some assets. However, the issue didn't last long. After trying it a few times, we were able to download assets easily and run Text-to-Speech too.
2. Limited Aspect Ratio Options
Only three types of aspect ratios were available to choose from, 16:9 (Widescreen), 1:1 (Instagram), and 9:16 (Portrait). Though this might be all for a lot of most users, we still feel more options should be made available for numerous test purposes and stuff.
Anireel alternatives
1. Adobe Animate
Adobe Animate is different from other animation tools, and it allows graphic-level editing of the smallest parts. Using Adobe is tougher than compared to Anireel or other tools, and it is not quite suitable for beginners. The tool has a lot of awesome features to design your content. However, it doesn't have features such as Text-to-speech and Script-to-Animation. It allows exports in different formats, including HTML5 Canvas, Flash, WebGL, and much more. To be said clearly, you can animate much better using Adobe Animate, but only if you have in-depth knowledge of Adobe products and have worked with scratch designing before. Adobe Animate is a subscription-based tool with monthly and yearly packages available.
2. Animaker 
With tons of graphic elements and trendy templates, Animaker offers features such as drag-and-drop, editing of 4K videos, and instant resizing of your design. The numerous assets and templates allow for making many different designs related to festivals, events, social media videos, cartoons, and much more. Clearly speaking, the stocks of Animaker have the upper hand on Anireel. It can be easily used by beginners, entrepreneurs, content marketers, businesses, and anyone who wants to start. Animaker has a free version available with limited features. Talking about the pricing, it is costlier than the other tools.
3. VideoScribe
VideoScribe by Sparkol is a package of video and animation features. It has both a desktop and browser version, and they both differ a little in the features they have. The desktop version is limited to a 16:9 aspect ratio, while the browser version offers 9:16 and 1:1. One of the better features of VideoScribe is its hand-drawn animated library. Your designs can be saved online, and royalty-free music can be used. Another better feature of VideoScribe is that it allows users to upload their hand drawings. Similar to every other software, VideoScribe has a free trial version and then subscription-based purchases to avail every feature to its fullest.
4. Animatron
Animatron is another visual editing software used to create, edit, and repurpose animated videos. It has two sub-parts, wave.video and STUDIO, both having different use cases. Wave.video is much more than just an animation and video editing tool; it is a complete package required for any visual-related stuff since it is combined with Live Streaming Studio, Video Recording, Thumbnails Maker, and much more. STUDIO is featured to design Whiteboard animations, Design HTML5 Banner, and Animations. Both Wave.video and STUDIO are subscription-based software with monthly and yearly plans available.
Anireel verdict: should you use it?
Overall, we would suggest using Anireel. Its benefits and features, such as Text-to-Speech, being Lightweight and Fast, Smooth, Numerous Asset Choices, easy-to-use UI, and so many Libraries, make it super easy to design Animated Videos. Moreover, you can use it for a number of purposes, and you won't be just limited to a single-use case.
However, if you are thinking of going into in-depth graphic-level editing, this tool is not for you since it was designed to be easy and simple for everyone.
Wondershare Anireel is available at a price of $19.99/month subscription basis or a yearly subscription, which comes at $9.99/month. However, it also offers a free trial version which you can easily download from the website. Given the price, especially the yearly price, it is quite reasonable since you also receive continuous updates and upgrades in the software and the features.
* Readers like you help support TheSweetBits. When you buy something through the links in this article, we may get a small commission at no extra charge to you.