iolo System Mechanic® Review
Looking for the perfect system manager to help enhance your PC experience? Look no further as today we have the ideal solution – iolo System Mechanic.
iolo System Mechanic® (Ultimate Defense™) is a PC tune-up utility app that can whip your PC back into shape with just a few clicks. It has many features, from cleaning the storage drives to removing malware. It also helps tweak the CPU and RAM to improve the overall performance gain and has an inbuilt password manager to help you store all your passwords with ease.
The tool feels amazing and helps get more storage space, extra performance, and improves the security of your device. However, is it worth the $64 price tag? Well, let's jump straight into the review and find out.
The interface and workflow
System Mechanic has a clean and minimal UI with all the tools residing on the left panel. This allows you to access different tools instantly and keeps everything tidy and clutter-free.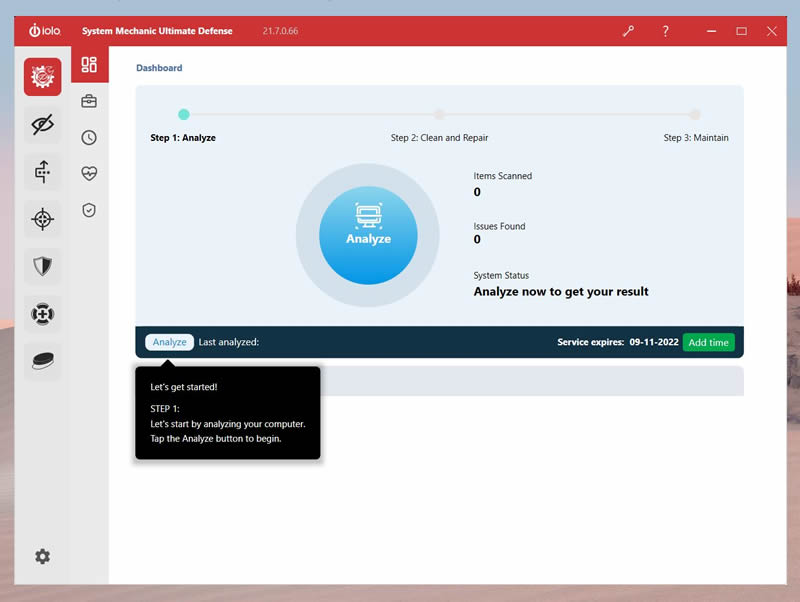 To use the one-click fix tool, you need to download and install the app. Next, you need to register your account (if you have purchased it), and then you should see a screen with a big blue "Analyze" button.
Next, you need to click on the analyze button and then let it scan through all your files.
Once the scanning process is completed, you can click the repair button to start the repair process.
This will start fixing all the errors on your PC, such as registry errors, and optimizing RAM consumption for a smoother experience. Once done, you should see a window pop-up similar to the screenshot below.
As you can see from the workflow above, the one-click tool is present on the main screen and helps optimize your Windows PC with a single click. You can also dive into the settings panel and customize a lot of settings to personalize the app.
Finally, the app also has browser integration and provides an easy-to-use interface for the extensions.
The features
System Mechanic has a lot of features but is primarily used as a one-click management tool that can automatically analyze and scan through all the issues on your PC. It can then remove or fix these said issues and help enhance the PC experience.
System Mechanic also has some other valuable tools, such as a malware guard and a password manager. So, let's take a look at the complete arsenal of the tool.
Automatic PC maintenance
This tool just does what its name suggests. Don't fret if you have already cleaned your PC and are worried that there will eventually be some other issue. The Automatic PC Maintenance tool helps automatically clean registry errors and defragment the storage drive from time to time.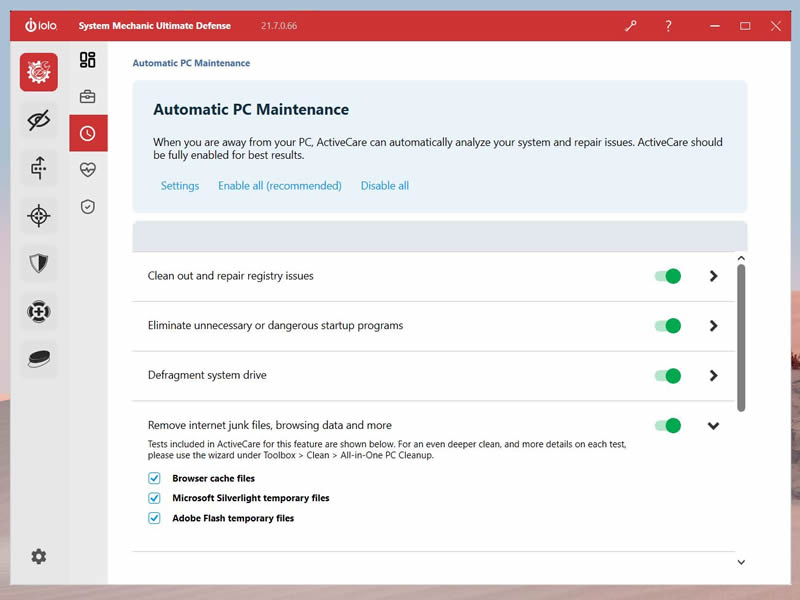 I especially loved the Automatic PC Maintenance service as it lets me work on other stuff while my PC was being scanned and maintained automatically. This is seriously beneficial for users who don't have much time to do full scans and just want a tool to handle the task automatically, making it a great app feature.
Cleanup toolkit
The cleanup toolkit is the next significant feature that can help you save time and increase the performance of your PC. However, it is all manual, and you would need to clear out the junk files selectively. This is useful for users who want to have even the tiniest bit of detail under their control and makes the toolkit great for removing junk files and unused apps.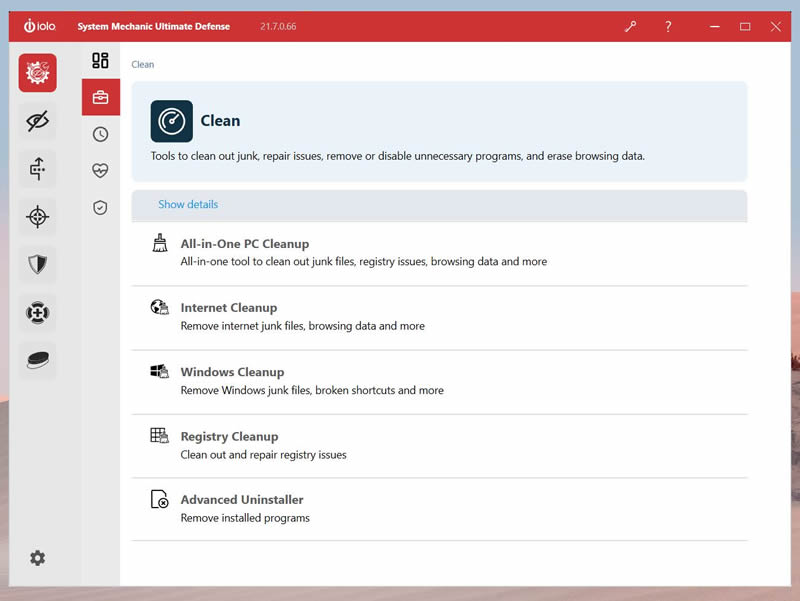 While I didn't have much use of the Cleanup Toolkit as I like to keep everything organized and make backups for all my important files, it might just be the perfect solution for you.
Drive scrubber and recover tool
Just deleting files can leave some residual data left in the drive. This data can be recovered and will occupy the storage space. So, Drive Scrubber helps you by cleaning all the data and formatting the drive to clean everything out. It can also help you create bootable USB drives to wipe other system drives or PCs if they are not booting into the OS.
Again not a most used feature for me, but if you are someone with a lot of junk files that you want to get rid of quickly, then DriveScrubber is the way to go.
You can also use the search and recover tool to recover deleted files from your storage drive. Hence, making it a lifesaver for many people.
I really loved using the recovery tool. I lost some documents recently due to a blue screen of death, and I tried using the recovery tool to look for it. The most surprising thing was how quickly it found the lost file and allowed me to restore the documents back. So, I highly recommend it.
Malware killer
An excellent protection tool, the Malware Killer, helps kill malware and other viruses with ease. You can scan your PC manually and then quarantine or delete the infected files. This prevents any attacks on your PC and keeps it secure all the time.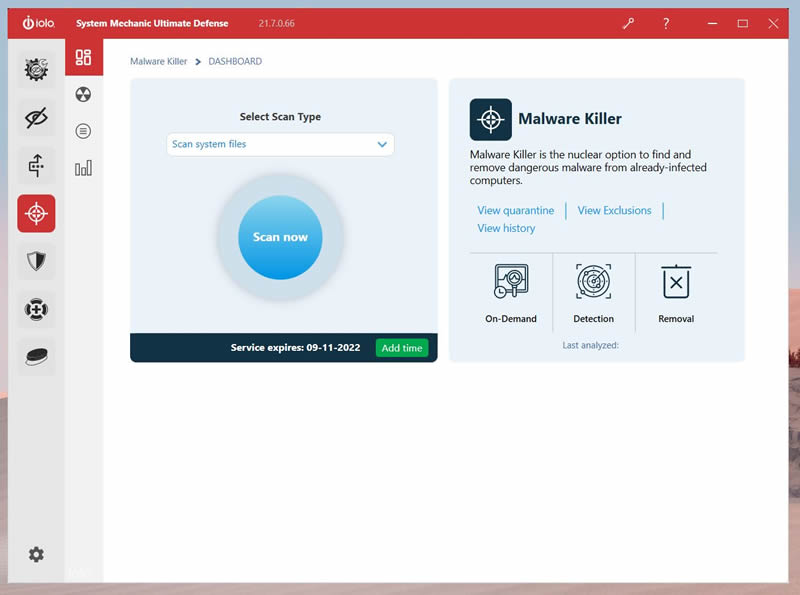 Another great tool to keep your PC safe. I can rest assured that all the files I download are malware-free, and you can too. However, if you have a lot of old files, you would need to run a manual scan to look for malware and viruses.
Privacy guardian and system shield
Another security-related feature that helps keep you secure while browsing through the internet. Privacy Guardian works as a mid-layer that keeps on scanning through the pages you are browsing and checks to see if there's any risk with the website.
Though I use a separate third-party ad blocker to keep me secure from annoying ads and pop-ups, using the Privacy Guardian tool for Google Chrome made everything much more seamless and easy.
Real-time boost
Just cleaning stuff and protecting from viruses isn't enough. You should also have a smooth-running PC to help deliver the perfect performance. Hence, Real-Time Boost helps you do just that. It clears all the RAM-consuming apps and enables an optimization algorithm that keeps your CPU optimized and performing at the best level.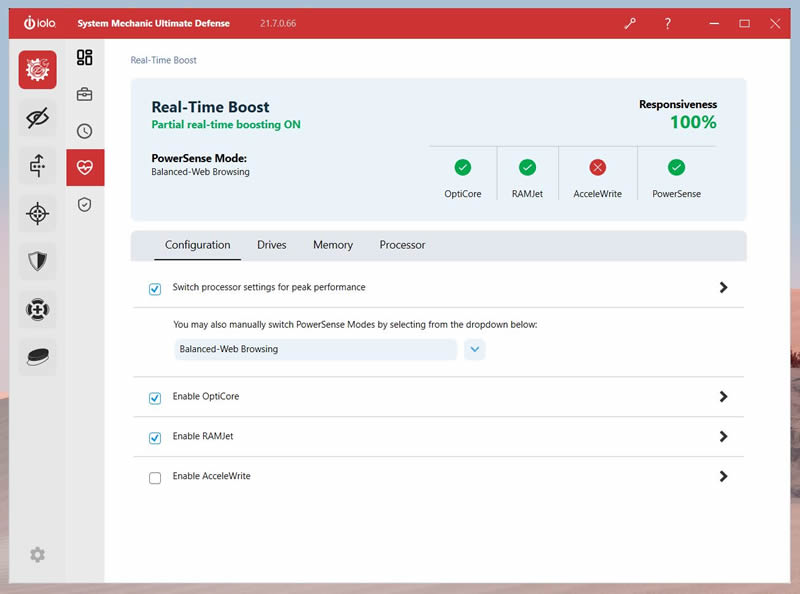 While I have a decent laptop to keep everything smooth, I noticed a few performance improvements and FPS gains while playing games. Hence, this makes System Mechanic a great all-around management tool and helps keep your PC running as smoothly as possible.
ByePass password manager
Finally, the last best feature of the app. ByePass is a password manager that you can use to store all your passwords on different websites quickly. It comes with an account backup and allows you to create a master password for the manager.
The pricing and compatibility
There are multiple variants to pick from, which can get really confusing quickly. While I ran all the tests on the Ultimate Defense version, there is also a regular System Mechanic and another System Mechanic Pro tool.
System Mechanic is available for $49.95
System Mechanic Pro is available for $69.95
System Mechanic Ultimate Defense is worth $79.95
NOTE: the developer offers TheSweetBits readers a massive 70% off on System Mechanic Ultimate Defense with coupon code: SWEETBITS70
All variants run on Windows and officially support the latest Windows 11 OS.
However, they're not meant to run on any other OS, and hence, they won't allow installations on macOS or Linux.
It also has trial versions of the app. It contains the essential tools for cleaning junk and trash files, but it is limited and won't allow you to use all the tools.
System Mechanic Ultimate Defense vs. System Mechanic Pro
So, which one should you get? Leaving the regular System Mechanic as the basic option lets us compare the Pro and Ultimate Defense variants. Here is a full list of the tools and features that both versions provide:
System Mechanic Pro comes with the following tools that you can use to enhance your PC:
System Shield
Search and Recover
Drive Scrubber
Real-Time Boost
It is now discounted at $69.99, which is an excellent value for all the budget consumers. These tools will enable you to keep your PC running smoothly but won't provide the extra benefit that comes with the Ultimate Defense package.
System Mechanic Ultimate Defense has all the tools listed above and adds more such as:
ByePass
Malware Killer
Privacy Guardian
Though, you have to pay a total of $63.96 for the three additions. ByePass is a password manager, and Malware Killer helps you keep your PC safe from all threats. These are a great addition, and hence, we highly recommend the upgrade.
So, in short, both of the app versions are awesome for managing your PC. However, if you want all the features that you can possibly imagine, we would recommend getting iolo System Mechanic Ultimate Defense.
The FAQs
Is iolo System Mechanic better than IObit Advanced Systemcare?
While the iolo System Mechanic Pro app is great at everything it does, is it the best PC management tool out there? IObit Advanced Systemcare is another tool that challenges the notion and competes with iolo System Mechanic Pro.
Both the apps have great PC management capabilities and features that help enhance the overall PC experience. However, iolo System Mechanic Pro outdoes the competition and provides many more tools at a better price point. Don't get us wrong, IObit Advanced Systemcare is also a great app, and you can read our full review on the app, but the value king is iolo System Mechanic Pro.
Is System Mechanic safe to use?
Yes, System Mechanic is safe to use. We ran a scan on the installation file and found zero issues with no compatibility errors on Windows 10 or 11. The installation process was also smooth, and the overall experience with the app was great. So, you can rest easy and not worry about losing any data or risking your privacy.
Can I trust iolo System Mechanic?
Yes, you can trust System Mechanic. The app is safe, runs well, and does what it's meant for. It can help you improve your PC's overall performance and responsiveness by 10-20% and is a great way to track your storage space.
It also has some great tools, such as a built-in password manager and a malware detection tool that he0lps keep your PC safe and protected from viruses or attacks. Overall it is one of the best apps that we have come around, and it works great for beginners and pros alike.
How long does the System Mechanic scan take?
The one-click scan process depends on the PC and the amount of storage it has. However, a general scan can easily take you around 3-10 mins. Our scan took around 5 mins to complete, and it scanned through a 256 GB SSD.
So, if you have a lot of junk files and a larger storage drive, then expect a longer scan time and a lot more issues to fix.
Is System Mechanic virus protection any good?
Yes, System Mechanic virus protection is good. It can scan through all your files, protect against viruses and malware. It also blocks unwanted pop-ups and provides a safe and private browsing experience. Overall, the app is perfect if you want all-around protection and a great defense against malware, viruses, or spyware.
The verdict
Well, it's better to use iolo System Mechanic as your preferred PC management tool. It has some great features and provides a fantastic PC enhancing experience. It also runs in the background to protect against malware, viruses and optimizes the CPU and RAM to improve responsiveness and performance.
Pros
Enhances PC performance and security
Unlimited Defense subscription for just $64
An easy one-click tool to scan and fix issues
Provides additional tools for private browsing and malware protection
Cons
The trial version is limited
So, if you are suffering from a slow PC and insufficient storage space, then get System Mechanic as it is the perfect solution to your problem. With that said, we have reached the end of our review, and we hope you have a fun time fixing your PC and enjoying the improved responsiveness.
* Readers like you help support TheSweetBits. When you buy something through the links in this article, we may get a small commission at no extra charge to you.