macOS 11 Big Sur: How Fast Is It?
Is macOS Big Sur running slow on your older Mac? There's several reasons why that could be, and we're going to take a look at what you can do to optimize the performance and speed of your Mac while using Big Sur.
How fast is it?
Let's take a look at the performance of Big Sur. It's been designed with the new Apple silicon M1 chip in mind, and this chip features the same ARM architecture as the A14 Bionic.
Apple claims that Safari loads frequently visited websites at an average of 50% faster than Chrome does, and it's up to 1.5X faster at running JavaScript, and 2X more responsive. Big Sur users should find they can run 3X more instrument and effect plugins with Logic Pro, and be able to render up to 6X faster with Final Cut Pro.
Those are the Apple stats for Macs running ARM-based Silicon M1 chips, but what about Big Sur on older Macs? Those who are running it on older models have reported that Big Sur runs around the same speed as Catalina. However, some people may find that Big Sur is running slowly on their Macs, and there are several reasons why that may be happening – we're going to suggest some steps to fix this that you can work through.
As for the performance stability of Big Sur, Apple has really got on top of the numerous bugs that arose during the beta period, and the final release is stable with no major problems to report, although one caveat to that is the issue of apps that worked on Catalina which no longer do on Big Sur. Apps that don't have a 64-bit version won't run on Big Sur, so you need to check if your apps have a 64-bit update. Some apps are now universal and native developed, some apps will sadly die off with macOS Catalina as there are no updates available.
Top tips to make Big Sur run faster
1: Optimize Your Storage
This is one of the first things you should check if Big Sur is running slow. Generally, a Mac needs around 5-10GB free space just so it can carry out everything it needs to do without grinding to a halt.
Check your storage by clicking on the Apple icon in the top right corner of the screen, then click on 'About This Mac'. Go to the 'Storage' tab, and there you should see how much free space is available, and what is taking up room in your hard drive. If your primary drive is nearly full, then it's time to free up some space.
You can do this by going to the 'Apple menu/About this Mac/Storage/Manage', and start freeing up some disk space. Look for your large files and unused apps that are taking up space, and delete them. That's only going to get you so far, though. A lot of the space on your Mac is taken up by language files, duplicate files, attachments, temporary files or Trash cans. Macs can have several of these Trash cans, and you may need to empty them all – as well as the main Trash, there's trash cans for iPhoto, iMovie, and Mail too, so don't forget to empty them as well.
To clear out your temporary files you can go to Finder, then Library/Caches to find the cache folder. This folder has lots of cache folders in it, which you can go through and delete manually if you choose in order to free up extra space.
2: Optimize Your Apps
Use the Activity Monitor to see what apps are hogging your resources so you can quit them. Launch this tool by going to the 'Applications/Utilities' folder or search for it in Spotlight. You can see which apps are taking the most resources when they are running by clicking the 'CPU', tab and changing the '%CPU' to descending order. The higher up the list an app appears, the more CPU it is using. Select an app and click on the 'X' in the top-left corner to shut it down. Make sure you know what you're shutting down, though – many of the items on the list will be system processes that should be left running.
3: Check What's Running at Startup
Startup and Login Items are also things that can slow your Mac down over time. You can go to the Apple Menu, choose 'System Preferences' and then choose 'Users & Groups' from the window. Select 'Login Items' and choose the apps you want to stop from opening at startup, and click the minus sign below the list when you're done.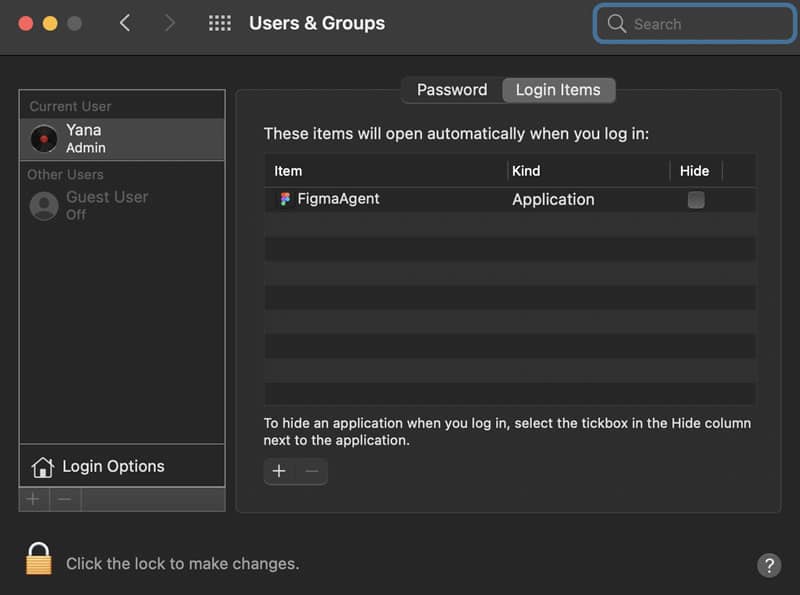 Make sure you actually quit apps you're not using. Clicking the red 'X' in a window won't always shut an app down, and many apps stay running in the background when you close their windows. You can see if they are still running by looking at the Dock. Apps appear there with small dots next to them when they are still running. Close the power hogs like Photoshop or Excel properly by using 'File/Quit' or 'Command+Q' shortcut. If you have an app like Steam, be aware it can run by default in the background, which will take up valuable resources.
4: Ditch the Fancy Animations
Speed things up by turning off the fancy visuals on your Mac, especially if it's an older model. Go to 'System Preferences' and choose 'Dock & Menu Bar'. There are several options for the display here.
Find and disable 'Animate opening applications' and 'Automatically hide and show the Dock'. Change the 'Genie effect' for minimizing windows to 'Scale effect'. Animations can also be reduced further by going to 'System Preferences/Accessibility', and enabling 'Reduce Motion' under the Display tab.
Using an animated background will also slow things down – choose a static picture for your background instead.
If you run iTunes visuals in the background, this takes up valuable processor cycles. iTunes visuals is a processor-intensive app, especially when you are using other apps at the same time.
5: Reset NVRAM and SMC
Yes, this sounds like it might be complicated, but it's really not! NVRAM is non-volatile RAM, and your Mac accesses it before it boots. It's also a storage area where macOS keeps a lot of settings, including screen resolution, time zone, and what drive it should boot from. Sometimes it gets corrupted and that can slow down boot time or even prevent it from starting.
You can reset this by holding down Option+Command+P+R when you start up your Mac. You can find more information on the Apple Support Page if you prefer.
The SMC is a system management controller, and it manages battery charging, power, hibernation, LEDs and video mode switching. Resetting this can speed up your boot time by resolving issues. This can be different depending on whether your Mac has a T2 security chip, and again, you can find instructions on the Apple Support page.
Bonus tip – using an All-In-One tool to tune Big Sur performance
There's a lot you can do to speed up your Mac when running Big Sur, but if you don't have time to go through your system manually or you don't feel confident about deleting things, then using an all-in-one Mac cleaning app like CleanMyMac X can save you a lot of time and give you peace of mind.
CleanMyMac X will find and safely remove junk files from your Mac and empty all the Trash bins, manage your startup and login items, safely uninstall or update your apps, and also features a set of maintenance scripts to automatically fine-tune and speed up your Mac.
So there you have it – a list of ways to speed up your Mac when running Big Sur – hopefully, you'll enjoy the Big Sur experience on a fast and optimized Mac when you follow our tips.