Snagit 2023 Review – An Enhanced Screen Capturer
Reviews • Updated on Dec.18, 2022
Snagit is an all-in-one video-capturing tool that gives users versatility, and plenty of features to improve functionality, and it combines a couple of software into one so you can capture and edit videos in one place.
Once it was only a basic video-capturing tool, but the latest Snagit 2023 version has come a long way and is full of features that can help users do so much more than only capturing a screen video.
With Snagit's 2023 upgraded version, you can annotate videos, create presentations, turn videos into short GIFs, and so much more. Down below, you can find out everything that's new in Snagit's latest version and how it could benefit your needs!
RELATED: Top All-in-One Screen Screen Recorders & Video Editors
About Snagit
Snagit is one of the oldest screen recorders with a 30-year history of helping users to record desktop screens on both Windows and Mac computers.
Since then, Snagit improved its functionality by following the tech industry and combining screen-capturing ability with additional features that can provide multipurpose.
With Snagit, you can also take screenshots, make slight edits, write text over screenshots and captured videos, and much more in the latest 2023 version.
Therefore, Snagit is all about helping its users easily share their vision, to help them be seen and heard so keep on reading to find out what's waiting for you if you upgrade!
What's New in Snagit 2023
Three newest features you can expect to find in Snagit 2023 include:
Screen drawing
Sharing links
Snagit 2023 combination with Screencast
Additional features such as picture-in-picture, toolbar presets, conversations, and collections
Screen drawing
Screen drawing is the biggest upgrade in Snagit 2023 since it combines the two best things into one. When you capture your screen whether it's a video or a screenshot, you can use integrated features such as arrows, text, squares, numbers, and colors to customize your result.
While capturing, you can visualize your idea and when you draw on your recorded screen, you can further provide a better experience for your viewers by highlighting and annotating important information on the screen.
All drawing tools come in a simple sidebar which won't come with a learning curve you're supposed to handle, yet it will provide everything you need at a touch of a button without overwhelming the user interface.
Link sharing
While the quick link-sharing feature might be often overlooked by new or even experienced Snagit users, it is actually very helpful since it leads to a much bigger benefit.
You get a quick sharing link option when you capture a screenshot or video. When users visit your unique link, they get a chance to collaborate with you on a screenshot or a video by leaving comments, making suggestions, and making changes.
They can also annotate screenshots and videos or even add emojis in specific places in a video.
Snagit 2023 combination with screencast
A Screencast is a well-known tool that helps improve video sharing online to benefit collaboration and teams that remotely work together on projects.
Snagit's amazing new feature combines Snagit's features with Screencast's capability. This means that Screencast is integrated into Snagit so you can have a better workflow, share videos seamlessly within the tool, and improve collaboration and productivity.
While testing Snagit 2023, we noticed that the features combined with collaboration such as annotations, comments, suggestions, and edits, users can now securely keep collections and improve workflow by combining two tools into one.
Additional supporting features
Snagit always improves existing features but also makes even the smallest upgrades that can help efficiency.
Picture-in-picture mode allows users to record screen video but also the camera at the same time, which ends up being combined into one video as a result. It's optional and if you decide to use it, you can move the smaller camera frame anywhere on your main screen to capture video.
We've been using Snagit daily, yet its customizable toolbar preset and in the latest update, users get to share their presets with others so they can use the same presets on another computer or help improve colleagues' or friends' experience, which we liked a lot.
Snagit 2023: A Hands-On Review
Snagit's latest version doesn't have too many updates, but it has significant ones, and down below, you can check out how it improves and affects the regular use of Snagit as an individual but also as a member of a team. We've been using Snagit before and we've noticed the biggest changes right away, and you can read about them below.
Getting started
Getting started is fairly easy with Snagit. To get the latest version, you should visit the official Snagit upgrade page. At the bottom, you get to choose between a free trial version or a full  paid Snagit version.
If you already own a previous Snagit version, you can click on the 'upgrade' button at the top right corner which will help you get the full version update that will add right onto the existing version of your installed Snagit.
One thing to keep in mind is that even if you own Snagit, you'll have to pay for the upgrade. We already owned a Snagit version, but if you aren't sure if you can upgrade or need to purchase the key, you'll learn more about that by the end of the review.
Using Snagit 2023
Snagit 2023 comes with the same interface all Snagit users are used to, which is fairly good since you won't have to re-learn anything, yet only find the newest features in the existing interface that you can take advantage of.
Down below, you can check out how to use Snagit 2023 to take full advantage of its latest features.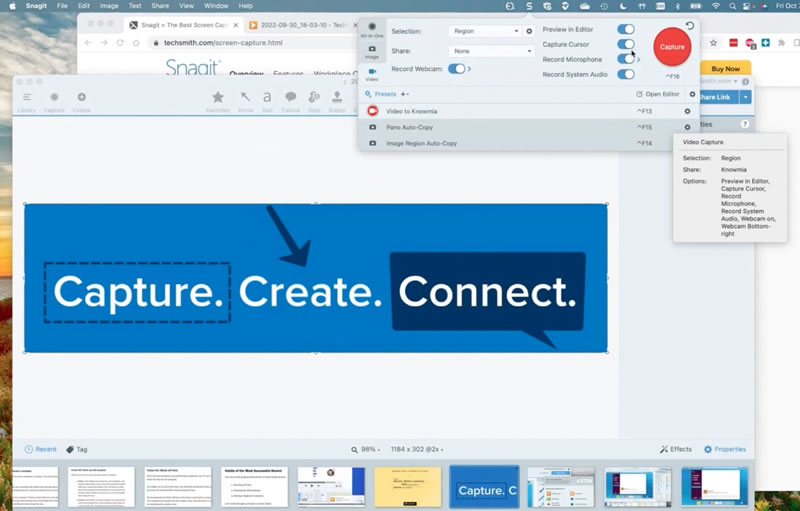 Capturing Videos and Screenshots
Now within Snagit, you can directly capture quick videos, screenshots, and even GIFs. All you have to do is select the tool from the left-side menu to capture the desired media.
After capturing the media, you can preview it within Snagit where you get to take advantage of other functions such as customizing, drawing, collaborating, or sharing.
If you've used previous Sangit versions, you'll know how to capture a screenshot or a video, and you can use the same technique to capture a GIF or any other media type now available. We found this feature to be super useful since all new features are now available at a touch of a button in the same interface everyone's used to.
You'll also have options to record your microphone or even your front camera and have it visible directly in the Snagit preview if you're recording a video.
Customizing Videos/Screenshots & Drawing
When you record a screenshot, video, or GIF, you get the chance to edit it directly within Snagit while previewing.
With the screen draw feature, you can use now available tools from the toolbar to add arrows, numbers you can use to refer to steps, squares, colors for highlighting, and other tools to get your ideas across.
These customizing tools work on all media formats within Snagit, and once we finished our drawing and highlighting, we were able to save your video or a screenshot but also directly share it with plenty of sharing options.
Collaborating and Sharing
Snagit's biggest advantage in the latest update is the sharing capability which also improves collaboration. Essentially, these new features allow users and teams to work together on the same projects and make communication effortless. We tried using it within our team during a test and we found that these features are really built with collaboration in mind.
Once you use capturing and editing tools to create content within Snagit, you can click on the sharing button at the right top to get the sharing options. The standard sharing option is a private and unique link you can use to share so anyone can join your Snagit project using this link.
However, you can also share your captures to software such as Screencast, Camtasia, Knowmia, Office tools, and cloud services such as Dropbox or Google Drive, but also directly to social media such as Twitter.
The strongest advantage is the ability to incorporate Snagit with Slack as you can share your Snagit captures directly to Slack. Therefore, these sharing options improve collaboration but also communication.
Managing Toolbar Presets
Another great thing about Snagit's update is that you get more options to customize the interface and specifically your toolbar.
This can lead to better productivity, but you can even download others' presets or share your toolbar preset with your friends or colleagues. We had no trouble sharing presets throughout our team during the test and all it takes is a couple of minutes.
You also get to save a couple of different toolbars presets and you can easily switch between them as you work on your captures inside Snagit's dashboard.
Next to the presets, click on the little plus button, and then you can save your preset after customizing your toolbar presets by clicking on the "New preset from current settings". You can also add a new preset by clicking the "New preset" button.
When it comes down to other customizability options, you get to have a small capturing widget you can use and move around the desktop and also choose Snagit's dashboard colors.
There's even the possibility to hide toolbar labels and change the editor background color, or canvas background color.
Snagit on Other Devices
Snagit 2023 is available on Windows and Mac computers and it works with Windows 10 or newer versions (Windows 11). On Mac, it works on macOS 11 (Big Sur) or versions above Monterey (12) or Ventura (13).
Both user interfaces are identical and you can take advantage of operating system shortcuts within Snagit as well for more efficient use.
When it comes down to other devices, unfortunately, Snagit is only available for Windows and macOS devices, so it doesn't support Android, Linux, or iPad tablets.
How About Snagit Pricing?
Snagit 2023 usually costs about $67, but at the time of reviewing the software, it is discounted to $50. This includes one license you can use forever, and it also includes 1-year of maintenance.
Snagit's maintenance includes a free upgrade to another version (if there's any within the next year), support (via phone, chat, or email), an assets library, 20+ training videos, and volume discounts if you end up purchasing more than 5 licenses at once.
Also, maintenance includes any small updates in between such as bug fixes or improvements.
What if you have a previous Snagit version?
If you have a Snagit 2022 version, you can upgrade to Snagit 2023 for free only if you have had active Snagit maintenance. This means that you can upgrade to Snagit 2023 if you purchased Snagit 2022 in the last 12 months.
If not, you will have to purchase the Snagit 2023 version if you don't have active Snagit maintenance. And if this is you and you're wondering if it's worth upgrading to the newer version, check the official Snagit comparison page to make a well-informed decision.
Conclusion
Snagit 2023 didn't introduce too many features in the newest version, however, the few features introduced are very well worth the upgrade.
Screen draw feature combined with sharing Snagit captures with others and to third-party tools such as Screencast or Slack additionally help improve productivity and collaboration.
Also, plenty of ways to customize your Snagit experience and even share your presets with others or download someone else's presets can help you really take full advantage of the Snagit 2023.
If you have Snagit maintenance on your existing version, you can update for free, but if not, we still believe that upgrading to the 2023 version is very well worth it.
Read also:
* Readers like you help support TheSweetBits. When you buy something through the links in this article, we may get a small commission at no extra charge to you.