SuperTab Review: A Fast and Customizable Task-Switcher
Mac's dock and task switcher have been around for a long time. They have been an integrated part of Mac's ecosystem but haven't evolved much, leaving users with little choice on how to go about with customization.
For Mac users who are automaters and look for easy access across applications along with seamless switching between them, Mac's doc combined with its task switcher can be disappointing.
For these power users, looking for a Mac task switcher and doc alternative would mean that they save much time between the numerous tabs and applications they juggle on their Mac.
And this is where SuperTab comes in to add different layers to our task and workflow management.
About SuperTab
SuperTab is just not the dock or task switcher. It serves multiple purposes that can redefine the way we use our Mac.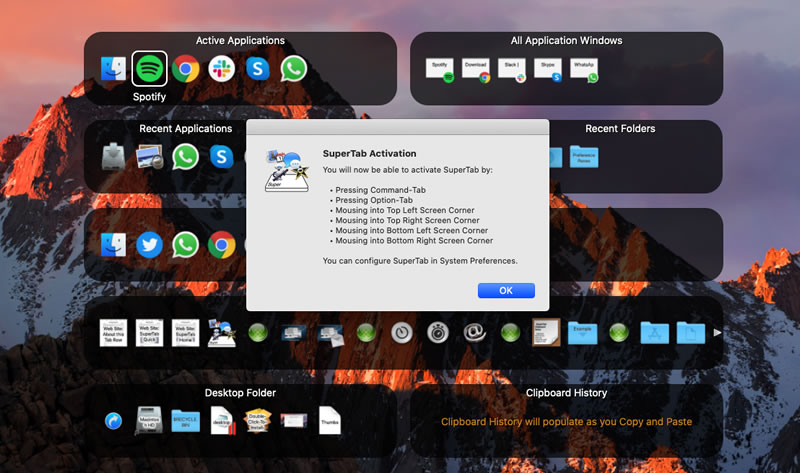 It works straightforwardly. When we press Command and Tab together, instead of bringing up the traditional task switcher, SuperTab brings forward an all-interactive interface. Here's what it showed us:
Active applications and application windows
Recent applications, documents, and folders
Dock items
Desktop content
Clipboard history
Now, some features work great at the access of a button, but SuperTab for Mac is more than that.
It lets us customize each of these options to suit our working style. We get the option to take out any of these apps mentioned in it and add additional ones.
Besides the regular files, folders, and apps, we can drop in our calendar, tagged items, dropbox content, sidebar items, screen captures, and more.
Surely, this looks interesting, and this is precisely why we gave this application a try.
We gave the latest version 4 a shot to see how it works for enhancing our productivity. The first thing that we noticed was that it took more time for us to set it up. And that's evident because the app needs access to more than a few settings.
Download and setup
The download size of SuperTab 4 is small. For an app that claims to do so much, it manages to fit into a package of less than 10 MB.
When we opened it, and it took us through a neat setup interface. Post that, it asked us a bunch of permissions — screen recording, disk access, accessibility access, and more.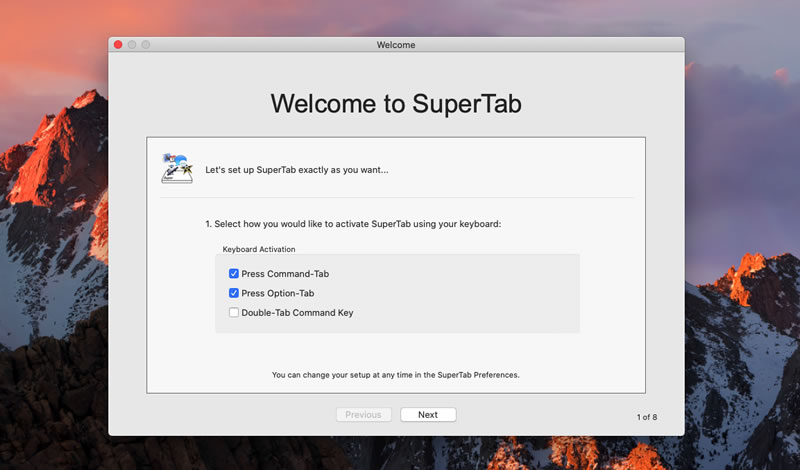 SuperTab recommends that we give access to all these options for the app to function better — some of them are essential, some we can miss, and enable later.
The app restarts a couple of times while it asks for permissions so that it can adapt to the changes.
Here, we don't have to get confused as to how to go about granting permissions to this app. The Mac OS has all the permission features tabbed up under its settings, and the app brings up a graphic interface showing just the location where we can find the permission options.
It takes a few minutes to go through the setup process, but we're all good to go after this step.
SuperTab review
SuperTab not only performs the task of a 'task switcher' but also serves as the hidden dock. There are lots of pros to it that make it a handy app to have if we want to increase our productivity and do our schedule some favor by bringing in more organizations.
Here are features that we loved the most about this handy task switcher app for Mac.
A hidden dock for all your task needs
Yes, Mac's dock looks glee, but it is not loaded with features.
Unlike the classic Mac doc, SuperTab is always hidden and shows up either when we press the assigned hotkey (in most cases CMD and Tab) or drag our mouse to the designated corner of our screen.
We get to choose these in the first step while setting up the app.
Once it shows up, we get to access multiple tabs with different actions, such as opening files, getting screenshots, bookmarking web pages, and more.
There's also a feature called AutoTupe which types prest passwords phrases, and even special keys — we will go into the details of it later in the article.
If our work involves folders and lots of files, then SuperTab's great workaround with folders and app icons can save us a lot of time.
Navigation and layout
One of the best parts of SuperTab is that the interface does not look uncanny — even though it does lag on some design fronts.
Unlike Mac's task switcher, we do not have to hold on to the command button. In fact, we don't have to press any shortcut at all. We can just hover our mouse to the selection section of the screen and take the app forward from there.
Once we are in, we get a well-assorted view of everything that is happening between task boards. It is so well laid out that we get the idea of our workflow — the things we have to look at and switch between in one go.
We could move things around by clicking on the top right of a column and dragging it horizontally. One thing to note here is that you cannot drag it around in any other form than horizontal.
Then, there's the option to click on any of these tiles to change their elements.
We can also exit a tile by pressing on the cross button at its corner.
There's also an option to change the appearance of individual icons by right-clicking on them and going to decorate. There's a bunch of icons and labels that we can use to customize our icon's appearance.
Settings and customizations
SuperTab provides us the option to include as many tabs as we want in our task switcher. These settings also lets us adjust the color, opacity, and width of the tab. From here, we can also customize the hot corners that activate the app on our Mac.
There's also an option to change voice commands and configure color and determine opacity and width. We can also change the overlay and change how the tab row icons look.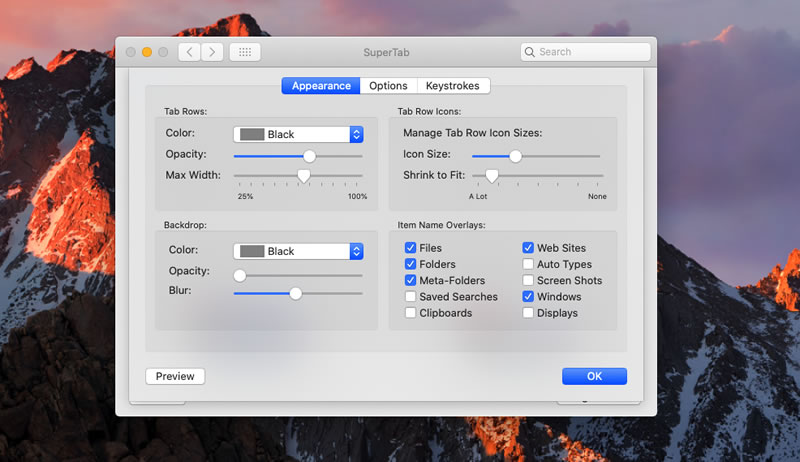 In the 'Options' tab under settings, we can activate Interface Persistance, which lets us keep the app active only when the Command or Option key is held down. We can customize this feature with multiple options to see how each fits for the best access.
There's also an option to preview all our keyboard shortcuts. There's a list that depicts all the keys and the shortcuts we can perform with them.
We can visit it from time to time and see ourself getting used to the shortcuts and achieve maximum productivity.
If we want to add a custom item to the screen, then we can do so by clicking on the Plus button. From here, we can add custom tabs, apps, folders, web pages, files, screen display configurations, a timer, a stopwatch, and more.
It also works as a bookmark manager by saving and displaying our bookmarks for us. We don't have to open Safari anymore to access our bookmarks. We can even configure the app to tweak whether the selected bookmark will appear in a new tab or not.
Screen recording and screenshots
SuperTab does away with the need to have another third-party app to perform a screen recording or capture our screen. We don't even have to remember any hotkeys to trigger our screen recording.
We can just assign the feature to SuperTab and go on with recording screens without going through the hassle of googling through internet shortcuts.
However, you must note that the screen recording features on SuperTab is only compatible with Mojave and newer operating system. So update your Mac if you haven't!
It's quite basic and does not include a timeline editor, but it's still quite handy if you just want to record videos and audios.
Meta folders for enhanced workflow
Another cool feature that we found in the app is meta folders. They allow us to hold several content types, such as bookmarks, files, apps, contents, etc.
For example, if we are working on a program, we might need a meta folder with all our coding tools. Similarly, we might need a meta folder for our designing or article writing work.
Once we create a meta folder, we can input all the apps we want in it so that our desktop and dock stay free of the icon clutter and focus more on productivity.
Clipboard enhancements and AutoType
Lastly, another feature that made us appreciate this app so much was its customizable clipboard. We can have a clipboard column with a history of copied texts — it can help us a lot with data entry where we have to copy repetitive content and information and paste them in text boxes.
We can also use the AutoType feature to set up individual keys to perform specific actions. These work as boilerplate texts where each key has specific information, which we can use while performing repetitive tasks such as logging into an internet account.
What could get better?
While SuperTab is a handy app that increased our productivity manifolds, there are a couple of things that the developers could work on to make this app even better.
Firstly, they could update the app's interface to include new icons and thumbnails that match the Mac ecosystem's current design standards.
They could also work towards making the app's settings more accessible. It might be hard for first-time users to get to the app's settings as it is available by right-clicking on an option. Even though this is not super-inconvenient, it does take some time to figure it out. Maybe a shortcut to access settings would help.
Our personal take on the workflow
We tried SuperTab as an alternative to our default task switcher.
Initially, it felt awkward — letting go of those giant icons on the task switcher to adapt to something smaller, more detailed. Besides, the installation process with all those little permissions felt overwhelming. But we were excited to check out the experience that awaits us once the installation was done.
Over the period of a few days, we found out that it was much easier to switch tasks from SuperTab. We got used to the gestures that brought up the software. We found ourselves better adapted to the task manager, and it felt like the app was just a part of our Mac OS — there wasn't even an external branding to it to give it a third-party look and feel.
We created a couple of Meta folders while writing this article and realised that it worked great to include all our apps used for writing, researching, editing and publishing in a single folder. Easy navigation between files and folders saved much time and we could switch tasks without much forethought.
While some of the icons still looked outdated, the visual experience wasn't too bad. It was fluid as the task switcher and navigator would appear and disappear without any glitches.
The app also did not bug us with untimely notifications, emails, or any sort of requests. It performed like a quiet task assistant which our Mac OS task manager wore as a skin. It integrated so well that we had no issues using it.
SuperTab pricing
SuperTab comes with a 30-day free trial, after which you can purchase it for $10.
This is a limited time 50% sale as the developers want to promote their latest release of SuperTab 4.1.
Once you have successfully registered the app, you will receive free updates to all of its future versions.
The payment is easy to make — you can use PayPal or your cards to make a purchase.
There are also combo offers available that give you a better deal on other software that you purchase with SuperTab.
Do we recommend SuperTab for Mac?
Absolutely yes!
You might not need an app such as this if you are regular Mac users. But if you are someone who has to juggle around with a lot of files and folders, need custom meta folders and easy access to bookmarks, along with a host of other features that layout your massive app ecosystem at your fingertips, then you should surely consider investing in this app.
Besides, it's cheap price makes sure that it does not go too heavy on your wallet. You can try it out for some time and then go ahead with your purchase. The best way to go about this app is to test it first as you might get a better idea of how it can be customized to meet your productivity needs.
The developers have an extended 30 day trial period so that you do not have to hurry up on the app's operating, trying hard to figure out its features while running out on your trial period.
Wrapping up
Newer Mac updates have much to add to the way we use the operating systems to navigate between tasks. While a lot of Mac OS components have received major overhauls, the dock and app switcher only manage to lag for power users.
SuperTab fixes that barrier — by doing what Apple should have done with its operating system. A lot of Mac users are aimed towards productivity, and this app is just another gear that ensures that.
We loved how gentle it was on the CPU — your other tasks do not get hampered while you are using this as an added extension to your operating system. Besides, the loading time, or the time it takes to switch between apps, remained unaffected as well.
SuperTab will continue to get better with time as developers are on it to release timely updates that enhance that app's capabilities.
* Readers like you help support TheSweetBits. When you buy something through the links in this article, we may get a small commission at no extra charge to you.