Top 6 TikTok Alternatives You Can Use
Utility  •  Aug. 22, 2020
TikTok has about 800 million active users and it has been downloaded over 2 billion times on the app stores.
You might have heard the rumor of the USA banning TikTok in the states. Is it going to happen or TikTok will do something about it – no one knows for sure.
However, we believe that it's the right time to prepare yourself with a TikTok alternative in case the worst thing happens.
We tried dozens of apps to find the top 6 similar apps to TikTok that will allow you to have as much fun but also have the same advantage of a large audience.
Believe it or not – some people are making a fortune on TikTok and we shouldn't forget to the business aspect of the app!
Therefore, keep on reading as you'll find more about the TikTok, its future, but also already-available alternatives so you can give them a try and be prepared if things go wrong!
Why is TikTok so popular?
In the first quarter of 2019, TikTok ranked as the most popular app in Apple's App Store. The numbers don't lie – but you're probably wondering why is the TikTok so popular, right?
We aren't sure if you've noticed, but TikTok was very sophisticated with the paid media advertising and their user acquisition strategy helped them become a very successful mobile app.
But it's not only the strategy. It's also the TikTok's convenience. The app is very convenient to use and it's one of the easiest apps to edit videos in.
Also, you should understand the beginnings of the TikTok app. It is not an app made out of scratch. It's an app that has been merged by two existing brands (Bytedance and Musical.ly) to create a 'masterpiece' app.
So TikTok definitely didn't become an overnight success yet it was in the planning for a lot longer than people realize.
RELATED: 4K Tokkit Review: Is It a Good TikTok Downloader?
Can TikTok make you money?
We live in a digital age where almost everything is online. This is a huge advantage for people who are very good at marketing.
This allows them to exercise their marketing skills in the digital area. Combine this with advertising and digital tools available on social media platforms such as Instagram or Facebook – and you have a way of making money online.
We believe that as long as you have a very specific audience and there's a market that would pay you for a service in return for an advertisement – you can make money in any app, not only using TikTok.
According to some studies done by Medium, with 100K followers on TikTok, you are able to make anywhere between $500 to $2000. The most common way to earn money on TikTok is to place specific product advertisements in certain videos.
Some of the top TikTok creators have been able to make somewhere between $50 to $150K which is a lot of money to be made through an app.
You can understand the huge problem a ban on such an app could cause, right?
Why would you need an alternative to TikTok?
You might have found this article for a reason. If you've heard the rumour of TikTok getting banned in certain countries – you're definitely here for the right reason.
The biggest problem occurred when the USA mentioned that they were starting to consider banning the TikTok app within the states.
As a reason, they've explained that TikTok might have been a potential tool for surveillance and espionage.
Since TikTok is an app made in China, you can understand the worries of the American's prescient Donald Trump.
Other countries quickly followed, but have not yet taken any action or declared to ban TikTok. The UK has mentioned that something like this to happen is plausible, but it's less likely.
The USA has given the TikTok app to find a buyer within the USA until 15 September in order to stay as an active app in the states.
What will come out of it is uncertain, but if you're a heavy TikTok user, you believe that you wouldn't be able to have as much fun without the app or your potential earnings are going to be compromised – keep on reading!
Top apps similar to TikTok
Down below, you'll find 6 alternatives to TikTok which will help you create similar short-type videos, build the following, and even be able to have advertisers back you up and help you earn through your audience.
Triller is a very similar app to TikTok but it's not the most important reason why it's the number one app on this list.
The real reason is that almost 300 top TikTok influencers have ditched the app and have switched to the Triller.
Another great fact about Triller is that it's the most popular alternative app to TikTok in India since India has already banned TikTok.
What's also great for you (if you're based in the USA) is that the app is USA-owned so you won't have to look alternative if something goes wrong.
Even though both Triller and TikTok work in the same way, Triller automatically edits user's videos through AI-powered software.
Just like TikTok, Triller also has millions of songs available at the fingertip and 100+ filters along with the flawless video editing feature.
If you're ready to switch today, you'll be glad to know that Triller already has 120 million downloads.
Triller is worthy because of:
The ability to create professional videos in seconds
In-app auto-editing algorithm
Top fashion tracks available in the library
The ability to use over 100 of filters available in the app
Triller is compatible with iOS (Apple) and Android smartphones and it's a free app with optional in-app purchases.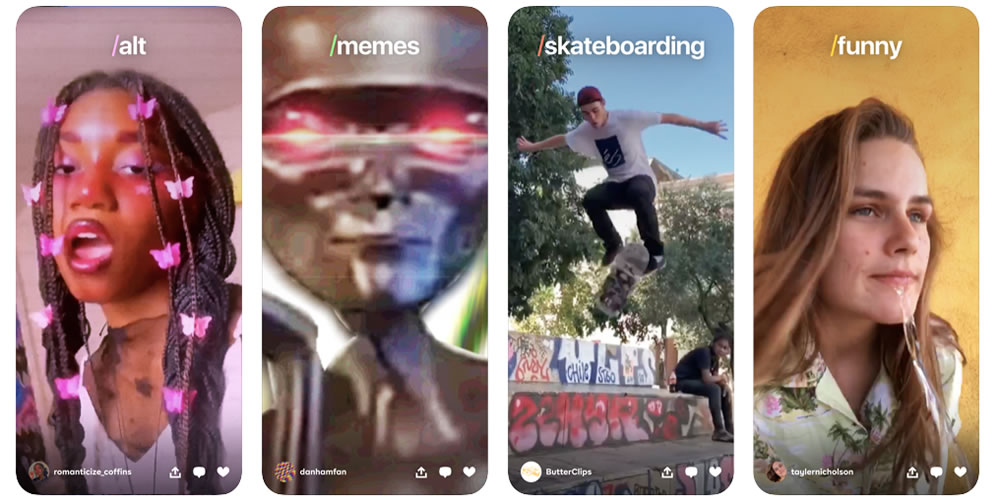 If you are familiar with Vine, you'd be pleased to know that Byte is the official app made by the creators of Vine.
Even though Byte is not a one-for-one replacement for TikTok, Byte is more focused on being a revamped version of Vine.
Byte has been around longer than TikTok, and even though it hasn't had as many downloads and users as TikTok – it's still a very popular app that's on the rise.
If you've ever used Vine and you're a huge fan of TikTok – you'll love Byte. Why?
Because you get the best of both worlds. You can edit and share quick loop videos or you can also shoot in-app 6-second videos.
Byte also features a feed with content from people they follow with an additional page to find out new content.
Therefore, this app might not be for every TikTok user who's looking for an alternative, but old-school Vine and new TikTok users will love it!
Byte is worthy because of:
Frequently weekly updates which improve the app
The ability to pause 'Bytes'
Links for sharing the 'Bytes' outside of the app
Advanced yet easy to use audio controls
Looping-style video editing capabilities
Byte is free to join and it's available for iOS and Android smartphones.
Even though Dubsmash has been founded in Germany, it's now a USA-owned social media app company that ensures it won't get you in any problem like TikTok possibly could.
The biggest advantage of Dubsmash is its simple interface that is very much a TikTok look alike. However, it's also translated into 20 languages which make its user database world-wide.
Dubsmash is often mentioned as the closest competitor to TikTok, especially because of the many more features they have ready in the app.
With Dubsmash, you can create 6-second videos, or you can edit existing recorded videos, pull faces, invent dances, lip-sync lines, or do almost anything you'd like to do.
We aren't only considering Dubsmash as a great TikTok alternative, but Dubsmash can actually be a great alternative to a couple of apps as an all-in-one app.
Dubsmash is worthy because of:
The ability to lip sync over audio clips
Movie scenes and quote lip sync ability
The ability to upload own audio
Colorful filters and text animations that can be used with the recordings
Ability to save the clips and send them as video in any other app
Dubsmash is free to join and it's available on iOS and Androids marketplaces.
Likee is best explained as the app that's a quality mix of YouTube and TikTok.
If you've been using both, you'll love what Likee has to offer. It gives users two options: either make short videos for memes or make longer videos.
It has a large selection of pre-made content already, and you'll never end up looking for a song that's not in the app. It has thousands of songs and that's what makes it one of the closest alternatives to TikTok.
You probably came across this app before as it was known as LIKE Video, but it's rebranding included a catchy name Likee.
What we like the most is that Likee has similar editing capabilities such as TikTok does, which in combination with thousands of songs makes Likee a great alternative app.
Likee is worthy because of:
Efficient short video editing features
Plenty of available video effects
Integrated live stream into the app
Easy way to find and browse daily viral videos
Likee is available on AppStore (Apple) and Google Play (Android) and it's free for download!
Everyone knows Instagram, and it's most likely that you're an Instagram user. However, you probably didn't hear about the latest Instagram feature called Reels.
Reels is a new content format for Instagram and it's a way of sharing fun videos with your friends or anyone on Instagram.
We all know that Facebook's Instagram has been following its competitors such as Snapchat by adding stories and this time, they're closely following TikTok by adding Reels.
However, we don't think that this is the worst idea out there. In fact, Instagram's credibility could potentially be the go-to app for TikTok users who have have been restricted from accessing TikTok.
If you haven't used Reels yet, you won't have any problems figuring it out. It's very similar to TikTok and you get to create 15-second fun & short videos with audio of your choice and even the ability to combine multi-videos into one.
For a start, we believe that Instagram is on the right track and it's a chance to combine two apps in one for even the most important Tik Tok users.
Instagram Reels is worthy because of:
TikTok-like video looping system that's integrated into Instagram app
Dedicated feed and explore page for reels inside the Instagram
Ability to easily share Instagram Reels with your Instagram followers
Plenty of video effects
Instagram is free for use and it's available for download on iOS and Google Play marketplaces.
It's most likely you haven't heard of Clash Videos because they're the newest alternative app to TikTok on this list.
However, on the bright side, Clash Videos was able to sign up 200K users in its first week of being available in the store.
In our opinion, Clash Videos is doing really well for a freshly new app. They have some of the most important features such as video editing capabilities similar to TikTok, and a huge music database.
However, the most exciting thing about Clash Videos is that they will empower short-form videos through very innovative monetization options. So if you're looking for an alternative that will give you the same business opportunities as TikTok – Clash Videos is the right choice.
And the most interesting fact so far is that the founder of Clash Videos was once a very known (and big) social media influencer on Vine.
Therefore, we can clearly see his vision and the path that Clash Videos will work towards.
Clash is worthy because of:
The ability to record and share 21-second videos
Discover new and viral videos through Clash's main tab
The ability to grow your popularity on Clash just like you can do on TikTok
Sound effects suitable for video use
Clash is suitable for iOS and Android smartphones and it's free to download.
How we chose top TikTok alternatives
When it comes down to choosing the top TikTok alternatives, we've spread out the most important aspects into 4 different categories below.
Convenience
Features & Capabilities
Branding & Statistics
Company Location & Size
Convenience
Convenience is the most important aspect of the app as an alternative should be able to at least do the same thing as the TikTok (or do it even better).
TikTok is very well known for its quick video editing and ease of use. When you think of it – you can share a quick video you've just recorded to thousands or millions of users in just a couple of clicks.
This reach is also important for business opportunities and that's why this is the first thing we've considered.
Features & Capabilities
It's great to see that all of the alternatives we've tried out and listed aren't only copying the TikTok, but they're also innovating in the same industry.
That's why you can see apps such as Byte that are based on the Vine app and are working on its own to create the next best combination.
The more features – the better, but it's also important that the features included help users take action towards the main purpose of the app.
TikTok might be one of the greatest short-video apps on the market right now, but who knows when the next best thing is going to be around the corner. All of these alternatives have a huge potential which is something we really like.
Branding & Statistics
There's much more to an app sucha s TikTok than you can see as the user. But TikTok wouldn't be as successful without its proper branding, strategy, and execution on the decisions they've made so far.
That's why we've considered branding and statistics of the app as an important factor. You don't want to switch from an app that has 800 million users to an app that doesn't have as many users you could reach out to, right?
Company Location & Size
Unfortunately, we've witnessed how a company's location can play a huge role in the selection of which apps get to stay active in countries such as the USA or India.
We get that users hate switching the apps, especially if an app is working really well for them. However, we've done in-depth research so that you don't have to switch any further after you find the alternative that works well for you.
Almost all of these apps are based in the USA (even if they were not founded in the USA), so this is something that will work out the best for people who are going to be the most affected if TikTok gets banned in the states.
Conclusion
No one likes changes, but unfortunately, due to some bizarre reasons and politics – you might be forced to stop using TikTok.
On the bright side, there are many more similar apps and companies in the industry that are still innovating and are on the verge of creating the next best thing.
We did our in-depth work to find the most suitable apps as an alternative to TikTok – and it's up to you to find out which app will work out the best for your needs.
* Readers like you help support TheSweetBits. When you buy something through the links in this article, we may get a small commission at no extra charge to you.