UniConverter Review: All-in-One Video Done Right
Reviews • Updated on April 18, 2022
Since the start of TheSweetBits, we have reviewed several media converter software. We liked many of them too. However, we were a bit more excited to check out Wondershare UniConverter, which claims to be a comprehensive video converter for all things media.
So, in this article, you'll find our review of Wondershare UniConverter. Our focus is on finding out how this lastest version of converter suite can improve your media conversion and management experience. You can also find our take on its efficiency.
What is UniConverter?
Wondershare UniConverter (formerly Wondershare Video Converter Ultimate) is an all-in-one video suite that comes with a few additional features. A product from the trusted developer, Wondershare, UniConverter checks multiple boxes when it comes to standard selection criteria. Despite being a video converter primarily, UniConverter lets you deal with a wide variety of media formats, including audio and images.
Getting started with UniConverter is extremely simple. Despite the higher number of functions it has, there is no confusion as far as the UI is concerned. Because UniConverter focuses on all sections equally, video conversion, DVD burning, screen recording and YouTube downloads have the same speed per se. This results in a scenario where you have less conversion speed and quality.
As you can see, the whole UI is split into a few sections and Converter is one of them. Under here, you will be able to add the files, select the format and hit the Convert button. That's easy.
UniConverter is available for both macOS and Windows. We tested out the macOS version in our review, though. Without further ado, we will go ahead and explore what this software suite has in store for us.
What's inside UniConverter?
There is more to UniConverter than simple video and audio conversion. To give you a better idea, let's take a quick look at the different sections inside the Wondershare UniConverter package.
Video Converter
The primary section of UniConverter, this one lets you convert your video files between a variety of formats. You can drag-and-drop a file from your Mac/PC or load a full DVD that you want to save. In either case, you get to decide how the output looks and works. You get support up to 4K and 8K footage.
Compared to other video converter utilities, UniConverter provides better control over the media conversion process. First, you get to choose from a variety of file formats. If you're not sure, you can pick your device, and UniConverter makes the format selection.
You can select the subtitles, audio tracks, and compression ratio according to your needs. You can also access the built-in video editor, which lets you trim, crop, add effects, watermark, and crop, among the other things.
UniConverter also brings High-Speed Conversion, which is just crazy. The video suite uses GPU acceleration and hardware optimization to give you the smoothest conversion speeds. We'll talk more about this later, though.
Audio Converter
As the name says, this section helps you convert between a wider variety of audio formats. This time, though, you can add only individual files to the conversion pane.
UniConverter supports more than 10 audio formats on its own. You can choose one according to the quality, compression, and compatibility you need. You don't, however, get the device selection pane here. By the way, you can create a custom conversion preset as well.
This Audio Converter section is your friend when it comes to light audio editing. You can control the overall quality and length of the track(s) without ever leaving the UniConverter interface. You can also ask the tool to merge all files before pressing the Convert button.
Video Downloader
Right, UniConverter goes a step even farther to provide the best media management experience. Using the built-in video downloader, you can download videos from more than 10,000 video-sharing websites. The list includes YouTube, Facebook, Instagram, and more.
The best part is that you can download videos in quality up to 4K, which is amazing. You can also control how the subtitles appear during the video playback. As you can guess, the suite lets you download the YouTube video as an MP3 file or Download & Convert.
Video Compressor
You may have to compress some videos before uploading them to the web or sharing. Not everyone has the right hardware to playback your ProRes 8K video. That's why the Video Compressor utility comes in handy. It allows you to compress the video by multiple criteria.
The first option is that you can set the desired file-size of the video. UniConverter will make the necessary changes to compress the video to that size. If you want, you can also control factors like resolution, format, bitrate, and overall quality.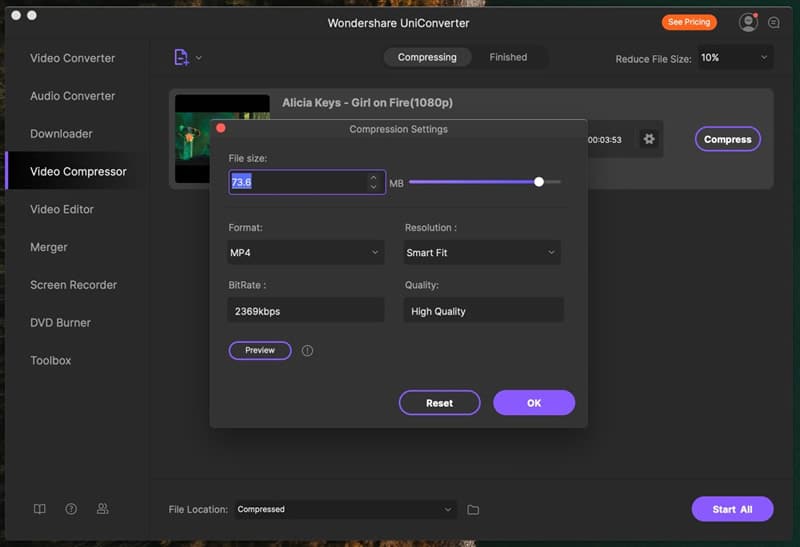 Once again, UniConverter uses acceleration to bring you the best speeds. You can use the utility to compress multiple videos at once, including 8K footages. In fact, the latest version brings improved speed of up to 60% in terms of HEVC conversion. This is way higher than the industry standard and the previous versions of the tool.
Video Editor
This section brings some beneficial editing functions to UniConverter. You don't have to avail of conversion options to use the editor, though. Instead, you can use actions like Trim, Watermark, Crop, Effect, Subtitle, and Audio according to your needs.
Truth be told, the editing options are basic but very useful. Even when we narrow things down to Effects, you have so many presets and room for customization. You can also use watermark and subtitle options with the right amount of control.
And, yes, you can convert the video right away after you've made the edits.
Merger
You can use UniConverter to create merged videos and compilations as well. You can simply drag and drop the video files you want to merge, and UniConverter will do the rest. If you wish, though, you can trim the videos before joining them.
Once again, you can choose a convenient media format according to your needs. This process is smooth, and you have complete control over the process. It goes to such an extent that you can make a conversion profile that meets your custom needs.
Screen Recorder
UniConverter comes with a fully-fledged screen recorder and webcam recorder functionality. You can use it to record your desktop, program activities, videos, and even games. Again, hardware acceleration helps you keep things on track without any frame loss.
There is also the right amount of customizability. For instance, you can control the source of audio — system or somewhere else. In short, we can compare the Screen Recorder utility of the program to dedicated screen recording programs like Snagit.
DVD Burner
This is basic, but the job gets done. You can drag-and-drop everything you want to add to the DVD and pick a menu design as well. You can also load content from another DVD/DVD folder, by the way. When you have finished the compilation, you can burn everything to a DVD folder, ISO file, or DVDMedia file.
Toolbox
Last but not least, UniConverter has a section called Toolbox, and it brings a variety of tools. Some of them are:
Image Converter
GIF Maker
File Transfer, to iOS and Android
CD Converter
Video to VR Converter
It is really nice to have these features, especially the File Transfer and VR Converter. As a media enthusiast, you'll find these simple tools to be pretty useful.
What's my personal take on UniConverter?
After spending almost a week testing the software, I can say UniConverter is one of the best in its category. And, there are a few points that I want to focus on.
Speed: Compared to other video conversion suites I've tried, UniConverter offers amazing speeds at converting/compressing/editing videos. In fact, it performs better than its previous versions. It's nice to have such speeds when the High-Speed Conversion is turned off.
Output Quality: UniConverter makes no compromise when it comes to the output media quality. No matter which quality you pick — HD, 4K or 8K —, UniConverter renders the output file in the best quality possible, with no errors at all.
Simplicity: UniConverter belongs to the simple side of apps in terms of UI. Usually, when a conversion suite has these many options, the UI gets so messy and difficult to understand. In this case, however, the developers have done an impressive job.
Versatility: Instead of adding some features for namesake, Wondershare has improved all sections in the package. For instance, the Video Downloader and Screen Recorder sections of the suite offer almost the same experience you get from dedicated utilities.
Control: There is nothing more important than control when it comes to media conversion. And, this tool checks all the boxes in this category. You can even create your preferred conversion profile for enhanced results.
Constant Improvement: Another reason why I love UniConverter is the effort the developer takes to improve the tool. For instance, the suite claims to bring so many features to the next release, such as multi-screen recording and Picture-in-Picture recording.
In short, UniConverter gets many aspects right when it comes to video converters. I also loved how it brings together some of the most used utilities in a single window. If you are a YouTuber, for example, UniConverter can easily replace multiple apps you use for video recording, conversion, and compression.
What else makes UniConverter great?
We'll have a look at some of the impressive features inside the UniConverter package. Note that these are the notable features in general.
30x video conversion
UniConverter claims to offer 30x faster video conversion, using its hardware acceleration and optimization options. This comes in handy even when you try to convert 8K or 4K footages. If you have a PC or Mac with a good GPU, UniConverter can offer the best-in-class speeds and an improvement of 20%.
Task scheduler
If you have multiple conversion tasks, you can use the built-in Task Scheduler inside UniConverter. You can not only arrange the conversion/other tasks according to the order of preference but also set up your Mac to shut down after the job.
Preview
UniConverter comes with a built-in preview option in all sections. You can use this preview option to get an idea of how the output audio looks. This is an incredible feature to have when converting or compressing a video to a lower quality/resolution.
Presets and more
In many sections of this video converter, you can find well-optimized presets. For instance, you can choose presets based on the device you have. Even better, UniConverter allows you to create presets that meet the custom needs.
Low System FootprintCompared to the other fully-fledged editors we have reviewed so far, UniConverter takes up a rather minimal amount of system resources. Even when you convert a full HD or 4K footage, you can keep using other apps like Chrome, or even Photoshop.
What could be better?
As with other reviews, this section here isn't a dealbreaker. Instead, we just list out things that can make a perfect video conversion suite out of UniConverter.
As we said, UniConverter offers support for pre-sets and the ability to create your own presets. However, it'd be nice to see these presets in all parts of the tool, such as Audio Editing. This will allow users in making output files that work on all devices, even if it's simple compression.
It would be great to have some additional features for directly uploading videos to hosting sites like YouTube and others. From a professional's point of view, such features can save a lot of time. Given that UniConverter already offers conversion, it seems like a no-brainer.
That's it, folks.
Pricing and availability
Wondershare UniConverter is available for both Windows and macOS. You need macOS 10.10 or later, or Windows 7 or later, to install the latest version of the UniConverter video suite. And, yes, it works fine with macOS 12 Monterey.
Coming to its pricing, UniConverter offers a very limited free version. In this version, you can convert only the 1/3rd of a video file, download just a few YouTube videos and record screen for a specific amount of time. At the same time, the free version allows you to have a quick look at the performance and experience of the video converter suite.
If you want unlimited access to all the features, you have to choose an annual or lifetime plan. The yearly plan costs $49.95, while the lifetime plan sets you back at $79.95. You can find a complete comparison of the pricing plans here, if you want.
The conclusion
In the end, we have reason to believe that UniConverter packs some of the best features we want to see in a video editing suite. Amazingly, a single program can offer you so many elements from a unified interface. It almost feels surreal to convert, compress, and edit videos from a unique tool.
Compared to the features it puts on the table, the pricing plans of UniConverter are quite reasonable as well. You don't have to think twice before spending less than $30 to get this super-useful video converter suite for your personal or professional purposes.
* Readers like you help support TheSweetBits. When you buy something through the links in this article, we may get a small commission at no extra charge to you.