Wondershare MobileTrans Review for iPhone 15 and iOS 17 Compatibility
In the ever-evolving world of technology, Apple unveiled the dazzling iPhone 15 lineup at the Wonderlust event, complemented by the concurrent launch of iOS 17.With a notable shift from lightning connectors to Type-C on the new iPhones, data transfer concerns loomed large. Many wondered if their trusted tools and accessories would seamlessly adapt to these changes.
Enter Wondershare MobileTrans, a solution that has risen to the challenge by updating its tools to align with the iPhone 15 series and iOS/iPadOS 17.
Also, to celebrate the launch of the iPhone 15 series, MobileTrans is offering an incredible discount of up to 50% off. If you're seeking a hassle-free and smooth phone transfer experience, this is an opportunity not to be missed.
MobileTrans: At a Glance
Pros:
Compatibility with iOS 17 and the latest iPhone 15 series
A versatile suite of tools, including Backup & Restore, WhatsApp Transfer, and Cross-Platform Phone Transfer
Features a unique "Playlist Transfer" tool compatible with popular music streaming services
Ensures data security through encrypted transfers
Cons:
Backup and restore times may vary based on data size and device.
Some tools, particularly those related to cloud transfers, may exhibit slower performance.
The Mac version is priced slightly higher than the Windows version.
Our Verdict:
Following extensive testing, Wondershare MobileTrans emerges as a dependable and impressive data transfer solution. While there's room for refinement, its seamless compatibility for transferring WhatsApp data between Android and iPhone places it at the forefront of its category.
MobileTrans: Exclusive Features
Wondershare MobileTrans doesn't just stop at compatibility; it delivers an array of exclusive features that cater to the evolving needs of modern smartphone users. Here's our in-depth take on the standout features:
Phone Transfer
MobileTrans excels in providing an effortless phone-to-phone transfer experience. Whether you're upgrading to the latest iPhone 15 or switching between Android and iOS, this tool ensures a smooth transition. Our testing revealed that MobileTrans sets itself apart with its user-friendly interface and comprehensive data transfer capabilities. With support for 18+ data types, including messages, contacts, photos, and even apps, it offers a comprehensive solution for data migration.
Our Take: During our extensive trials, MobileTrans consistently delivered on its promise of hassle-free data transfer. Whether you're moving from an older iPhone to a new one or transitioning from Android to iOS, the process is intuitive and straightforward. We found MobileTrans to be a standout choice for its versatility and user-friendly design.
WhatsApp Transfer
The recent release of the iPhone 15 lineup and iOS 17 left many users eager to ensure a smooth transition of their WhatsApp chats. MobileTrans steps up to the challenge, offering reliable WhatsApp and WhatsApp Business data transfer. But it doesn't stop there; this tool extends its services to other messaging apps like LINE, WeChat, Kik, and GB WhatsApp. If you're a user of multiple messaging platforms, MobileTrans can be your one-stop solution for seamless data transfer.
Our Take: WhatsApp data is precious, and MobileTrans recognizes this by providing a secure and efficient transfer process. We appreciated its versatility, as it not only allows you to transfer chats but also export and restore WhatsApp messages. However, during our testing, we did notice room for improvement when transferring and recovering data to the cloud, as this process tended to be slower.
RELATED: How to Transfer WhatsApp from Android to iPhone
Phone Backup & Restore
MobileTrans proves to be a versatile tool for seamless phone data backup and restoration. One of its standout features is its compatibility with the latest devices and operating systems, including the iPhone 15 series and iOS 17. This tool offers a comprehensive backup solution, allowing users to back up over 18+ data formats, including messages, contacts, photos, and even apps. MobileTrans caters to users concerned about cloud storage limitations by offering direct backup to Windows PC or Mac, with the added option of password encryption for enhanced security. The restoration process is simple and requires just a few clicks, with the ability to select specific data for backup or restoration.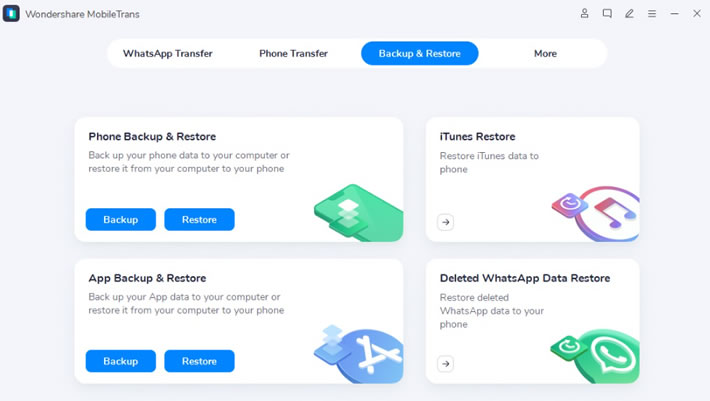 Our Take: MobileTrans offers an all-encompassing solution for data management, from backups to restoration. During our testing, we found the tool to be straightforward and user-friendly, making it accessible even to those with minimal technical knowledge. The ability to selectively choose data for backup or restoration ensures that your original data remains intact. However, it's worth noting that the speed of backup and restore processes can vary depending on the volume of data and the device used.
MobileTrans: Miscellaneous Features
In addition to its exclusive features, Wondershare MobileTrans offers a few unique tools that set it apart.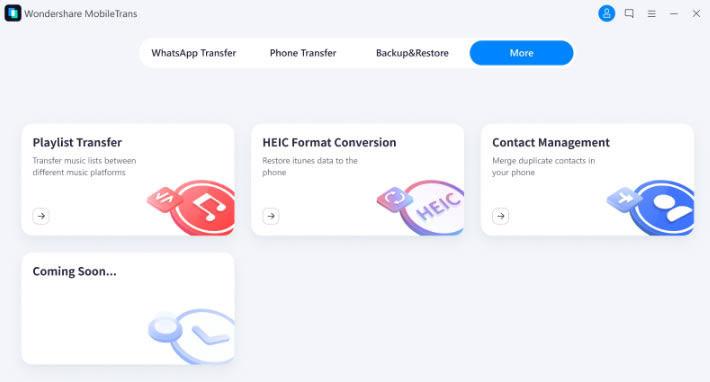 Playlist Transfer
MobileTrans simplifies playlist transfers and is compatible with popular services like Apple Music, Spotify, and YouTube Music. The support for the iPhone 15 lineup and the transfer preview feature make it arguably the best choice for music enthusiasts. The process is straightforward—sign in to your music services, select your playlist, and hit transfer. While this tool is fantastic, it does have some limitations, particularly in terms of music platform support.
HEIC Format Converter
The HEIC converter offered by MobileTrans works seamlessly and as advertised. Simply select the HEIC files from local storage, and the tool takes care of the HEIC conversion. Batch processing adds convenience, but we noted room for improvement, particularly regarding cloud-based image conversion.
Contact Management
MobileTrans streamlines contact management by merging duplicate contacts without hassle, reducing the likelihood of creating duplicates. We encountered no issues with this tool; it performed flawlessly. One standout feature is the ability to import and export contacts with ease.
MobileTrans: Pricing
Wondershare offers MobileTrans for both Windows and Mac, with slight pricing variations.
Full Features: $39.99 per year (Windows) | $44.99 per year (Mac)
Perpetual license: $49.99 (Windows) | $59.99 (Mac)
Individual Tools (WhatsApp Transfer, Phone Transfer, Backup and Restore): $29.99 per year (Windows and Mac)
Perpetual license for individual tools: $39.99 (Windows) | $64.99 (Mac)
Note: To sweeten the deal further, MobileTrans is currently offering an incredible discount of up to 50% off to celebrate the iPhone 15 series launch.
Common Questions
Is Wondershare MobileTrans safe to use?
Wondershare MobileTrans is a trusted software solution that prioritizes data security. Your data is always encrypted, and no information is stored without your consent, ensuring secure transfers between devices.
Can I transfer WhatsApp data using MobileTrans?
Absolutely! Wondershare MobileTrans allows you to seamlessly transfer, back up, and restore your WhatsApp chats, including messages, photos, and videos, making it an indispensable tool for all your data transfer needs.
Final Verdict
After thorough testing, we can confidently say that Wondershare MobileTrans is primed for the latest iPhone 15 series and iOS/iPadOS 17. While competitors offer similar tools, MobileTrans distinguishes itself with its remarkable ability to transfer data between iPhone and Android effortlessly. Before making a purchase, we recommend downloading the trial version of MobileTrans to ensure it aligns with your requirements.
* Readers like you help support TheSweetBits. When you buy something through the links in this article, we may get a small commission at no extra charge to you.