Best DVD Burning Software for Windows
Multimedia   •  Feb. 24, 2023
Although DVDs have become a thing of the past, it doesn't mean you wouldn't need to get your hands on DVD burning software now and then. If you need a physical copy of a video that can be sent out to a bunch of people and can't trust an online file-sharing service to get the job done, picking a DVD burner tool is your best bet.
However, the native DVD authoring software on Windows barely has any bells and whistles to get the job done, so what to do when you want more? Fortunately, you'll find plenty of reliable DVD burning tools for Windows that are well-equipped to not just convert and store media files in a DVD but bring plenty of firepower regarding features.
RELATED: The Best DVD Ripper Software for Digitizing Your Disc Collection
Best DVD burning software to create video DVDs
This section will discuss the best DVD-burning software you can use to create and burn video DVDs on your Windows PC. These software tools focus on some aspects of DVD burning, so you can see which will be the best for creating video DVDs on Windows.
Wondershare UniConverter is a powerful video converter and DVD creator for Windows computers. It is used to burn and customize DVDs and convert video and audio data. According to our testing, even though there are tons of good DVD-burning software available, Wondershare UniConverter is the best option for anyone wanting to burn DVDs.
What We Like
This software is relatively easy to use and provides various features and settings to simplify the DVD-burning process. It enables you to convert video file types into a DVD, including AVI, MOV, MP4, WMV, M4V, and many more. The DVD menu can also be customized with background music, pictures, and text.
You can even tweak the output to make your DVDs with menus and chapters. Wondershare UniConverter also includes several additional features that make DVD authoring a breeze. You can, for example, crop and edit your films, add watermarks, and even apply 3D effects. You can leverage the software to make a DVD menu template for a more customized design.
With its video editor, you can make any necessary changes to your video before burning it on DVD. Due to this, it becomes quite easy to add effects and transitions and alter your video's brightness, contrast, saturation, etc., in your projects.
Overall, Wondershare UniConverter is an excellent option for making DVDs from movies on Windows PCs. It is simple to use, has numerous capabilities, and supports a broad range of output formats. You can also change the design and feel. Read our full review of Wondershare UniConverter here.
What Could Be Better
Apart from facing compatibility issues by some users, the Wondershare Uniconverter DVD burner tools works with most formats seamlessly.
Pricing
You can use Wondershare Uniconverter for a lifetime price of $55.99, or if you don't want a lifetime subscription, you can get a yearly subscription for $39.99. You can also get a quarterly subscription for $29.99 if the other plans don't catch your fancy.
Burnova DVD burning software is a comprehensive software that allows you to create and burn professional-looking DVD movies quickly. It is a simple tool for burning home films, photographs, music, to DVDs that allows you to produce fantastic video DVDs and Blu-rays with custom menus.
What We Like
It can burn practically any video file type, including 4K/8K UHD files. Thanks to the latest Blu-ray technology, it can even burn video DVDs from YouTube and other online video sources. Using this software, you can burn various file types onto your DVDs, such as AVI, MPEG, MP4, WMV, MOV, and more.
The built-in editor can modify your videos before burning them on a DVD or Blu-ray disc. You can also modify the video brightness and contrast to achieve the perfect movie and watermark it to leave your mark.
You can use Burnova to create unique video effects such as blur, sharpen, grey, sketch, canvas, mirror, sculpting, embossing, and pixelating. Burnova is also capable of saving the DVD project for future burning.
The software includes a video downloader that allows you to save clips from popular websites such as Facebook, YouTube, Vimeo, Vevo, and others. You can download one or more of the various quality levels.
Furthermore, the software can create DVDs that can be played in practically any DVD player.
Burnova allows users to make DVD menus, add chapters, cut videos, and add subtitles. Users can also use the software to create customized menus, add chapters, cut out parts of your videos, and add subtitles. The application also allows you to burn many discs at the same time.
What Could Be Better
Based on our test and the user feedback, the free version of Burnova is a bit limited in features compared to the paid version, but that is to be expected.
Pricing
As far as the cost of Burnova is concerned, it has three different plans you can consider. If you're an individual user, you can get a monthly subscription for 1 PC for $31.20 per month. You can also get a lifetime license for 1 PC for $64.95, which is an excellent option if you want to use Burnova long-term. And if you want to use this software for business purposes, they also have a business plan where you can purchase lifetime licenses for 5 PCs for $269.95.
Ashampoo Burning Studio 24 is an excellent DVD-making software that you can use to burn a DVD or CD quickly. Not only can you use it to burn a DVD, CD, or Blu-ray disc securely and conveniently with this tool, but you can also back up data with solid compression and password security.
What We Like
Even a few one-click video editing tools are included with Ashampoo Burning Studio 24, so you may make your movies and slide displays. After selecting a theme, adding images, an intro, an outro, and background music, videos can be trimmed and rotated as necessary. With this free DVD-burning software, you can also design unique disc covers and artwork.
Also, the software isn't just for DVD burning; it can automatically extract music CDs, which is a helpful feature. The premium edition includes various useful features, such as adding password protection, generating animated menus, and designing labels and covers for your discs. These are all important if you often burn files, but for occasional use, the free version of Ashampoo Burning Studio offers everything you'll need.
If you're using this for creating backups, you can create exclusion rules to ensure that specific file types (such as system files) are not included in your backup to save time and space. Also, if you have a rewritable disc, you can delete its contents with a single click and copy CDs, DVDs, and Blu-rays.
What Could Be Better
This software does not support playbacks on commercial Blu-ray videos. Also, there's the fact that the Ashampoo Burning Studio 24 is an extensive software and requires more space than most other DVD-burning software.
Pricing
Even though you can use the free version of Ashampoo Burning Studio 24, you can get the premium version for a one-time fee of $50. But if you don't want to spend that much money on a DVD-burning tool, you can always use the free version or choose another software from this list.
The rest of the pack
If these three DVD software tools don't strike your fancy, there's no need to be apprehensive. There are a lot of other DVD-burning software that is good and reliable, and we'll be taking a look at a few of them in this section of the blog.
While Wondershare Unicoverter on the top of the list is a DVD burner that does it all, Wondershare DVD Creator strictly sticks to the DVD burning capabilities. While you don't get the premium editing features that the Uniconverter comes with, Wondershare DVD Creator takes the upper edge with Blu-ray support and a clean UI that takes no time to get used to.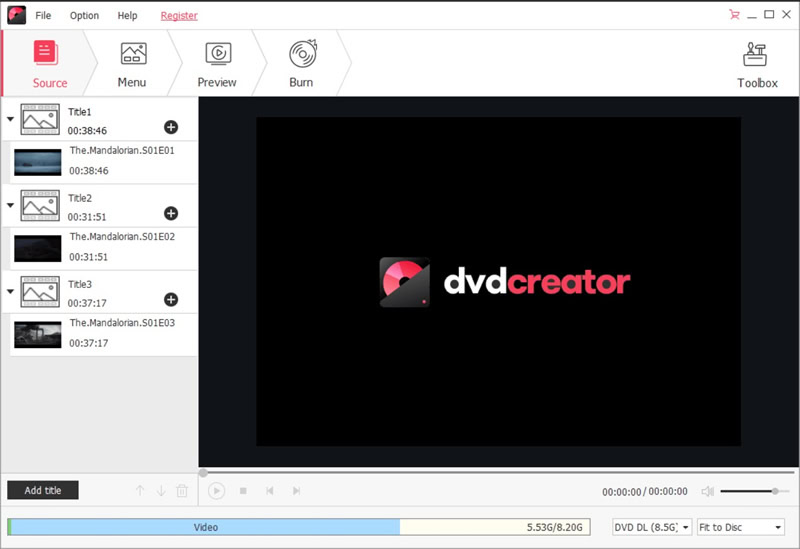 Wondershare DVD Creator has a lot of appealing features, including support for a variety of disc formats. It allows you to burn several different audio, image, and video formats on DVD or Blu-ray Discs, DVD folders, BD folders, or ISO. This application supports all popular disc formats, including DVD-R, DVD-RW, and others.
The option to burn Blu-ray Discs and BD folders are not available in its Mac version, but it's ideal for Windows users. Yearly subscription costs $39.95 for 1 PC or $59.95 for lifetime, with two more tiers of licenses for 2-5 PCs at $89.95 and 6-10 PCs for $234.95.
If you're looking for some sophisticated yet simple DVD-burning software, WinX DVD Author is the way to go. With this software, you can quickly produce professional-looking DVDs complete with menus, chapters, and subtitles.
The program's user-friendly interface makes DVD creation straightforward. There are other features; for example, you can import files in various formats, such as MPEG, AVI, and WMV. When you're finished making your DVD, the application can assist you in burning it to a disc. It is compatible with various formats, such as DVD-R, DVD-RW, and DVD+R. You can also back up your disc by exporting it as an ISO image file.
WinX DVD Author is overall a very fantastic free DVD-burning software. It is simple to use, loaded with features, and produces high-quality reading output. This software will allow you to rapidly generate professional-looking DVDs whether you are a novice or an expert user, and is entirely free to use.
DVDFab is a DVD-burning software for Windows that includes a variety of functions for producing video DVDs. It is a strong and dependable video DVD burner that can burn practically any video file type, including 4K/8K UHD films.
DVDFab also has some customization options. With this software, you can change the video menu and add watermarks, subtitles, and other effects. You can also build ISO image files and burn numerous discs to back up huge files. It also enables batch conversion and burning and has a straightforward and simple-to-use interface, making it easy to start with the software.
Overall, DVDFab is a great option for making video DVDs on Windows, and it includes a complete set of tools and an easy-to-use layout for producing video DVDs. It is the ideal solution for burning video DVDs because of its robust and dependable burning capabilities. DVDFab costs $39.99 per month, while a free trial version is also available if you want to check it out.
If the earlier entries in this list haven't caught your fancy, here's another good software you can use to burn DVDs on your Windows PC. It is called DVDStyler and is one of the best DVD authoring software that we'd recommend.
DVDStyler is a free, open-source DVD burner that offers many dynamic themes for customization. You can also make your own menu from scratch and insert vectors, buttons, text, photos, etc., anywhere on the menu screen. Finally, before burning DVDs, users can preview and test them with the software.
DVDStyler is a fantastic open-source tool for burning DVDs and making customized DVD menus. It contains a plethora of capabilities that allow you to burn your DVDs using a range of options. It is an open-source tool, making it entirely free to use.
Last but not least on this list is AnyBurn. This is also a good option that you can use to burn your precious memories onto DVDs and save or share them.
AnyBurn is a powerful DVD creator that is both free and user-friendly. It enables you to conduct various CD and DVD burning tasks, and extensive lessons are available online. It has a well-designed interface: a basic yet engaging classic Windows-based interface that does not require any specific tech expertise from you.
The software installation process is simple. The AnyBurn software can burn files to a disc, clone, erase a rewritable disc, and even build an image file from other files or discs. You also get the ability to create backups of your files to CD, DVD, and Blu-ray discs. Like the previous entry on our list, AnyBurn is free to use.
FAQs
What is the best software to burn MP4 to DVD?
Wondershare Uniconverter is the best software to burn your videos to DVD. With this software, you can burn most media files to DVDs, including MP4 videos.
How do I create a DVD-video file?
You can create DVD-Video files using most of the software in this list, like Wondershare Uniconverter, Wondershare DVD Creator, etc. When you add your files to such software, you can choose your file type and convert your files to DVD-Video.
Conclusion
We hope that our blog has assisted you in locating the best DVD burning software for Windows that meets your requirements. Our testing shows you'll get the best experience using Wondershare Uniconverter. Still, whether you're a novice or a seasoned user, you'll have a fantastic experience with the correct DVD-burning tool. So please don't put it off any longer and start making your lovely DVD creations immediately!
* Readers like you help support TheSweetBits. When you buy something through the links in this article, we may get a small commission at no extra charge to you.