Managing Disks on Windows? Here're the Best Partition Managers
Utilities   •  Updated on Apr. 27, 2023
Many drives come with a single partition set up, but all storage devices are treated as a mass of unallocated, free space when they contain no partitions.
Want to make one hard drive act like two and more?
The drive needs a partition to set up a file system and save any files to the drive.
Having partitions on a hard disk works like having different hard disks, although not precisely the same. It's a great way to organize your files, folders, and applications into their virtual drives.
Whether you're working with a new drive or just looking to partition an existing one, though, these best partition manager tools will surely come in handy.
RELATED: How to Partition a Hard Drive in Windows 11?
What is a partition manager?
Partitioning creates multiple regions on the hard disk to allow the operating system and partition manager software to efficiently and separately manage information in each region.
Partition management programs let you create, delete, shrink, expand, split, or merge partitions on your hard drives or other storage devices.
The partition managers are also useful in creating more space for a new operating system, copying the data stored in the hard disk, reorganizing the disk usage, and disk imaging. Backing up files and restoring the backups are possible with partition manager software too.
Well, all-in-all, there are advantages of disk partitioning that may come in handy, and they are:
Easy OS installation(multiple OS) / re-installation
Better availability of storage space
Better management of storage space
Better file organization
Using many file systems at once
Simpler backups
Potentialimproved security
Let's start with standard: Windows 10/11 Disk Management
Windows comes with a native disk partition manager. Creatively called Disk Management, it's functional but uninspiring. However, it gets the job done with relatively quick speeds and a fast process.
The Disk Management tool is built into Windows 10 to create, delete, format, extend and contract partitions. It can also initialize a new hard drive with a Master Boot Record (MBR) and GUID Partition Table (GPT) partitioning structure.
The tool lacks some of the features of some of the best third-party partition manager tools—in fact, it still looks like something from Windows 2000—but it gets the job done. Third-party partition managers also include advanced features such as creating bootable disks, creating a FAT32 partition larger than 32GB, recovering information from damaged volumes, and extending volumes into unallocated space to the left of the volume without error. So, if you need any of those features, it might be worth looking around the following standalone disk management utility instead.
Top 3rd-party tools to manage hard drive partitions
When looking for the best Windows Partition Manager software, we looked at design, ease of use, management support (create, wipe, resize, merge, split, extend, copy or clone partitions, etc.), format partition support, migrate OS to SSD/HDD, rebuild MBR, defragment on MBR & GPT disks, and whether it has the ability to convert dynamic disk. While not everyone needs all of these features, we felt like this was a good guide to help us as we examined the market.
Enter, EaseUS Partition Master Pro – the professional partition manager full of features from EaseUS. I have been using this tool for quite some time, and while it does have all the features that the native Windows Disk Management tool comes with, it also comes with the features mentioned above.
User interface & experience
As you can see in the image below, the first screen you see as soon as you open the program is relatively self-explanatory.
Only relevant tasks are enabled when a partition is selected. This takes much of the guesswork out of deciding what you need to do to complete a task. In addition, since the software is installed onto your hard drive, you work within the familiar Windows environment without the need to boot from a Live CD.
Disk & partition cloning
The Disk Cloning feature in the EaseUS Partition Master Pro is one of the most used features in these types of tools. This feature is beneficial when you want to replace your disk drive or have the same software and OS setup on another computer.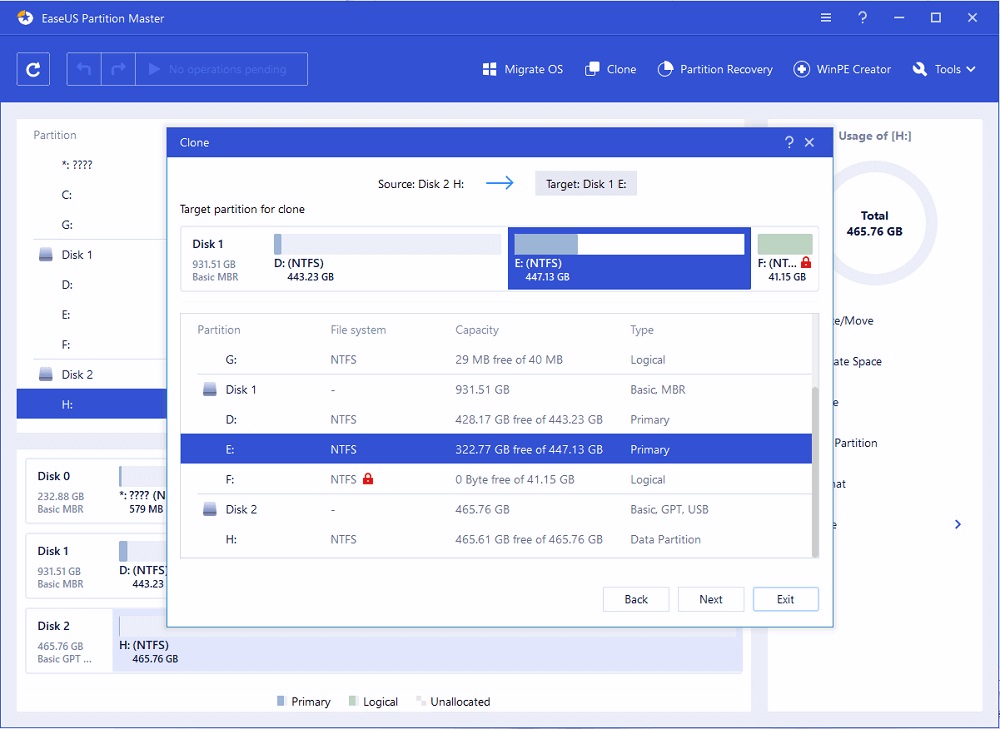 The cloning process will copy and replicate everything, including the data, the partitions, and everything from the source disk drive.
Depending on the type of disk you're cloning to or from, it will take some time to clone the disk. For example, if you're cloning an SSD to another SSD, things will move faster, but the process will take some time if a hard drive is involved.
Merging partitions
Windows 10/11 Disk Management can help you merge partitions, but you cannot combine two partitions directly or merge partitions with a non-contiguous unallocated space.
When you merge two partitions, EaseUS Partition Master guides you through creating a single bigger partition. This is very useful in the cases where you have the central C: Drive as the OS partition, and you're running out of storage on that part of the drive.
Merging the two partitions will also save you the trouble of reinstalling your OS again and then partitioning your hard drive from the start.
Convert MBR to GPT (Fix Windows 11 Issues)
Windows uses a Master Boot Record (MBR) or GUID Partition Table (GPT) for their storage drives. So, it is necessary to convert MBR to GPT if you're updating to Windows 11 from an older version such as Windows 7.
Hence, EaseUS Partition Master is a great choice to help you convert MBR to GPT without losing all the crucial data. All you need to do is select the disk to convert and choose the 'Convert to GPT' button. It doesn't require any partition formatting and will help you keep all your files.
WinPE bootable disk creator
This tool will let you create a bootable image of your current disk setup. You can choose to save it as an image ISO file or create a bootable USB or a CD/DVD from the tool.
This will be very helpful if you run into issues with your hard drive, and if you have an image saved, you can literally restore it on another drive and use the disk as your normal computer quite easily.
Availability & pricing
EaseUS Partition Master Professional is available for Windows. You can download the free trial version from the developer's official website.
The Partition Master Professional version is priced at $39.99. The price seems steep, but the developer offers TheSweetBits readers an exclusive 30% discount. For users with less stringent requirements, there's a free home version of Partition Master. There is also a server version for use with Microsoft's server operating systems.
Verdict
As mentioned, I have been using the EaseUS Partition Master Pro for quite some time now, and overall, I find this partition manager the most efficient and to the point tool for the purpose. Mainly because, unlike some other alternatives, the EaseUS one gives me to-the-point tools.
One downside that I think this software has is the user interface. It's not that it is tough to use or something, it is indeed relatively easy to use, but it does have a bit of a learning curve. It is recommended that any newbie who hasn't worked with such programs go through the manual first.
Read our full EaseUS Partition Master Review here.
If you're looking for an alternative to EaseUS Partition Master Pro, we suggest checking out AOMEI Partition Assistant. With the ability to handle multiple disks and partition operations at a complex level, it is a great contender for all Disk Partition software in its segment.
With an eye-catching color scheme, all icons are easily recognizable, and navigating around is never a problem. However, we wished for the dark mode on AOMEI Partition Assistant to match the Windows dark theme.
We have tried and tested AOMEI Partition Assistant for several disk partitioning purposes. We have found it reliable and made several complicated tasks easy for us.
For instance, features such as Migrate OS to SSD, Partition Recovery Wizard, Bootable Media Wizard, Data Recovery, etc., are unique tools that come in handy and can be seen in only a few premium partitioning software.
To conclude, AOMEI Partition Assistant's Professional Edition is an all-rounder and the best pick out of all editions. We believe that AOMEI Partition Assistant has room for improvement, and they need to re-evaluate the editions and provide better customer support.
Check out AOMEI Partition Assistant detailed review here.
The MiniTool Partition Wizard Pro is an excellent alternative to EaseUS Partition Master Pro. Primarily because of the similarity in the way both programs work. They have the very same options and price, and they do the same things.
Whatever points I have listed for EaseUS Partition Master Pro above also stand valid for MiniTool Partition Wizard Pro. But the MiniTool option comes with many additional features that might be useful to a lot of people.
You get options to change the cluster size, delete dynamic volumes, and other advanced options like migrating the OS from MBR to GPT disk, which can be tricky.
If you want a to-the-point partition manager, then EaseUS Partition Master Pro will work the best for you, and if you're someone who wants extra features as well, then the MiniTool Partition Wizard Pro will make more sense for you.
Are the freely available tools any good?
There are both premium paid tools and ones that you can download and use for free when it comes to partition managers. But keep in mind that the free tools have a minimal set of features and functionalities available.
Even developers such as EaseUS or MiniTool offer free tools for the purpose, but they essentially do the same things that the native Disk Management tool on Windows does. If you need advanced features, it is always good to go with a premium option since the free tools aren't as good.
GParted is an entirely free-to-use, Linux-based partition and disk management tool that works with Linux, Windows, and macOS. It has to be booted from either a USB stick or a Live CD/DVD. The tool has features such as creating or deleting partitions, resizing or moving them or changing the labels.
The best part about GParted is that it supports file systems across different platforms, so you have support for HFS and HFS+ for macOS, FAT16, FAT32, and NTFS for Windows and EXT2 EXT3 and EXT4 for Linux based systems.
While the software has many features, you must put the software on a bootable media drive and then use it, making it less user-friendly. On the other hand, the software is entirely free to use, and you don't have to pay to download and use it.
Paragon Partition Manager is another alternative that can be used instead of EaseUS or MiniTool if you want. The thing about this partition manager is the fact that this one has a very straightforward user interface and features.
It has all the essential features that a partition manager should carry, including splitting partitions, undelete partitions, and more. It also comes with other features such as Backup and Recovery, Drive Copy, and Disk Wiper.
You have the option to download the freeware version of Paragon Partition Manager but keep in mind that the functionality of the freeware is limited to a certain extent. For example, you can only use the freely available features such as undeleting a lost partition. You also get options for backing up your current hard drive in the form of an ISO image either on your hard disk or on removable media.
Active@ Partition Manager is a freeware partition manager that is completely free to use. However, while it is free, it does come with all the necessary features that a partition manager should have in the package.
You don't get features like creating a clone of your disk or moving your OS from a hard drive to an SSD, but you get features that allow you to create a disk image, create partitions, and format them. It has nowhere near the features that tools like EaseUS or MiniTool offer, but it is a good program for newbies since it is freeware.
FAQs
What is the best partition manager software for Windows 11?
While there are a lot of partition manager apps for Windows, you can't be sure if the app is good or not. However, through our testings, we found out that EaseUS Partition Master was the best pick and provided a great overall experience for partitioning and managing the drives on Windows 11. So, we would recommend using it as your primary partition manager.
Is EaseUS Partition Master safe?
Yes, EaseUS Partition Master is safe to use. It has no malware, spyware, or adware and provides an easy-to-use and clutter-free UI with some powerful tools that help you manage, format, or create partitions quickly.
What's the best alternative to Acronis Disk Director?
Acronis Disk Director has been a go-to Disk Partition software for many years. However, the lack of updates and development has turned it into legacy software. We believe that the best alternatives for Acronis Disk Director are EaseUS Partition Master Pro and AOMEI Partition Assistant.
Does Windows 11 have a partition tool?
Yes, Windows 11 does have a partition tool. It is known as Disk Management, and it is also present in Windows 10. It essentially provides the same tools as the other partition management apps on the list but is built into Windows and can be accessed from the search bar. However, the UI is a little dated and might need getting used to.
A final word
Finally, it all boils down to the partition manager that gets the job done for you. EaseUS Partition Master Pro is a great program and has to-the-point features, while the MiniTool Partition Wizard Pro has the features that EaseUS has to offer and then some extra ones.
However, it all depends on you, and if you want something free and built into Windows, we recommend using the default Disk Management tool. GParted also stands out from the rest when it comes to a free partition manager, and while it is a bit complicated to use, it is the only free option available with all the essential features.
* Readers like you help support TheSweetBits. When you buy something through the links in this article, we may get a small commission at no extra charge to you.