The Best Screenshot Apps for Mac (Free and Paid Options)
Utilities • Updated on Sept. 22, 2023
Editor's note: We've updated this guide with a worthy mention for capturing text from images and other digital documents.
Taking a screenshot on Mac has never been easier. You press Command + Shift + 4, and you will have the file saved to the Desktop. But a good screenshot is more than simply capturing the screen or window. You may have to make additional changes like annotations, redaction, or highlighting.
Of course, macOS Mojave and later versions come with a few editing tools, but they are barely enough. Even more so when you have to prepare a tutorial or share screenshots containing sensitive information. Do not worry, though. You can count on third-party screenshot apps for Mac in these instances.
At TheSweetBits, we heavily depend upon screenshots, especially for preparing the best how-to content and reviews for our readers. It also means we have to use the best screenshot apps available for macOS. And we thought we should recommend some of these tools for those in need.
Before we check out the best third-party screenshot apps for macOS, we should look at the built-in way to take screenshots — and why it may not be enough.
Built-in macOS screenshot.app
As we mentioned earlier, you can access the native screenshot utility on Mac using some keyboard shortcuts.
You can press Shift + Command + 3 to capture a screenshot of the entire screen
You can press Shift + Command + 4 to capture a screenshot of a select area
You can press Shift + Command + 4 + Space Bar to capture the screenshot of a specific window
The Good
By default, macOS will save the screenshots to Desktop. But, of course, you can change the location through the Screenshot app settings. You can also use the app to record a video of the screen. Apple has integrated a timer into the Screenshot app as well. So, it's all a piece of cake.
The Bad
Despite all these standard features, the native screenshot utility is not enough when you want to take better screenshots. For instance, there are no options for enhanced annotation or editing. You cannot customize the entire workflow and enable the cloud-sharing, either.
The Ugly
Also, you cannot use the native screenshot utility everywhere. For instance, it does not let you capture the content from Apple TV. These issues might come in your way if you have to take professional screenshots regularly.
On the bright side, many third-party screenshot apps can help you overcome these issues! They also offer multi-device syncing, scrolling screenshots, and advanced editing tools, among other features. But you should know what's best for your needs.
Top screenshot apps to snip on Mac
Here's what we did:
We tested over 20 screenshot apps for Mac and chose the best four options. More importantly, we have recommended the best apps for particular needs. For instance, if you need ultimate editing options, we have one recommendation. On the other hand, if you want something straightforward, there is something else.
1. CleanShot X — Best Overall Screenshot App
We believe CleanShot X is the overall best screenshot app for macOS right now. It combines a balanced set of features with an intuitive User Interface. More importantly, the app integrates so well with macOS that it can compete with the native screenshot utility.
Incredibly Easy to Use
Once you have installed CleanShot X, you can access the app from the menu bar. Alternatively, you can press one of the keyboard shortcuts. You can choose between modes like All-In-One, Area, Full Screen, Window, Scrolling Capture, Text Capture (OCR), and Screen Recording. There is also a built-in timer function.
Rich Editing/Annotation Tools
Once you have captured a screenshot, you can easily edit it using CleanShot X. The annotation tool offers an impressive variety of actions, such as cropping, highlighting, redacting, drawing, marking, etc. You can insert shapes and text content as well.
Well-integrated with the Cloud
Creating better screenshots is also about sharing them easily! With CleanShot, you can sync and share your screenshots within a single click. You can click the Upload button, and CleanShot X can copy the link to your clipboard. You also get some advanced features like team management and self-destruct control.
Advanced Features
CleanShot X goes beyond the expectations you may have from a typical screenshot app. For instance, it has a fully-fledged OCR engine. Similarly, you can capture high-quality screen recordings and GIFs. In addition, features like click highlights and webcam view make CleanShot X an excellent tool for content creators.
Customizable Workflow
You get to decide what happens when you capture a screenshot. In that way, CleanShot X is customizable to a great extent. For example, you can show or hide desktop icons when you capture something. Similarly, the app gives you great control over the export quality, crosshair modes, padding, shadow, etc.
Pros
An intuitive and productive UI
It integrates so well with macOS
It offers advanced editing options
Suitable for content creators
Cons
Many features are limited to the paid version
Pricing: You can use the basic features of CleanShot X for free. However, if you need all features, you should get the paid version, which costs $29 (one-time payment) or $9.99 per month per user (Setapp subscription).
2. Snagit — Best for Screenshot & Screen Recording
Snagit is often called the best screen capture software for good reasons. We think this fully-fledged screen capture tool from TechSmith deserves a place on this list. We recommend you consider this app if you need advanced editing and screen recording features.
Made for Professional Screenshots
Snagit is designed for those who need to take professional-quality screenshots and screen recordings. The core features are optimized so that you can expect the best results. For example, you can record video and audio when you capture the screen — a suitable approach for content creators.
Comprehensive Features
TechSmith Snagit does not compromise the richness of features, either. You get to use all-in-one and scrolling capture on the standard side of things. The app also supports animated GIFs and lets you record screens from your macOS/iOS devices. There are also plenty of annotation/editing tools in the package.
Smart Tools
We found the editing options on Snagit to be smarter and easier to use. For instance, it has a 'Step Tool' that comes in handy while preparing tutorials and a 'Grab Text' tool to extract text from screenshots. You can also count on pre-made layouts and templates if you want to make a quick video/GIF.
Instant Sharing
You can easily share your screenshots with other platforms as well. For instance, Snagit easily integrates with Google Drive, Dropbox, Microsoft Teams, Slack, and Word. By the way, you can also capture screenshots or record videos from most apps.
Incredible Support
Snagit comes from TechSmith, one of the most popular software developers. So, you can expect a fabulous after-purchase experience and tech support. You can also count on the rich documentation and step-by-step tutorials.
Pros
Snagit enables a professional workflow
Advanced features for editing videos
It supports video and audio recording
Excellent tech support and community
Cons
It does not offer a free version
Pricing: You can purchase Snagit 2022 for a one-time charge of $62.99, which is a little high. You can explore education/enterprise discounts as well. Read our full Snagit review here.
3. Monosnap — Best for Cloud-based Workflows
We recommend you check out Monosnap if you are looking for additional features for sharing screenshots within your business. Even though it packs the standard editing/annotation features, the better focus is on how easily you can create a workflow with screenshots.
A Nifty macOS App
Unlike CleanShot X, Monosnap is available for Windows, macOS, and Chrome. And the macOS app is simple yet elegant. It does not consume a lot of space or resources. Even so, you can capture different screenshots, including full-screen, window, and area. You can use the app to create GIF and video content as well.
Easy Editing
Though Monosnap does not have as many features as CleanShot X, there are ample ways to annotate or edit your screenshot. You can use tools like highlighter, blurring, shapes, and text. You can also export the image to your desired photo editor app.
Made for Cloud
You can easily set up integrations between Monosnap and cloud storage providers like Amazon S3, Google Drive, Dropbox, and social media platforms like Facebook and Twitter. So, the app will save your screenshots to a secure folder as soon as you capture them.
Enterprise Options
You can do more with the enterprise plan from Monosnap. It will give you access to awesome features like team management, quality control, custom sharing, and enterprise-grade security. You can also get tailor-made workflows.
Pros
Suitable for enterprise-based needs
It packs standard editing options
Enhanced integration with the cloud
It supports multiple capture/recording options
Cons
The free version lacks many features
Pricing: You can get a limited free version, which gives you 2GB of cloud storage and supports most formats. If you want additional features, the non-commercial and commercial plans cost $2.50 and $5, respectively.
4. LightShot — Best Free Screenshot App for Mac
LightShot is the best free screenshot app for Mac by all means. Before I shifted to CleanShot X, LightShot was my go-to option for great screenshots. So, if you do not want to spend money on a screenshot tool, you can check out LightShot.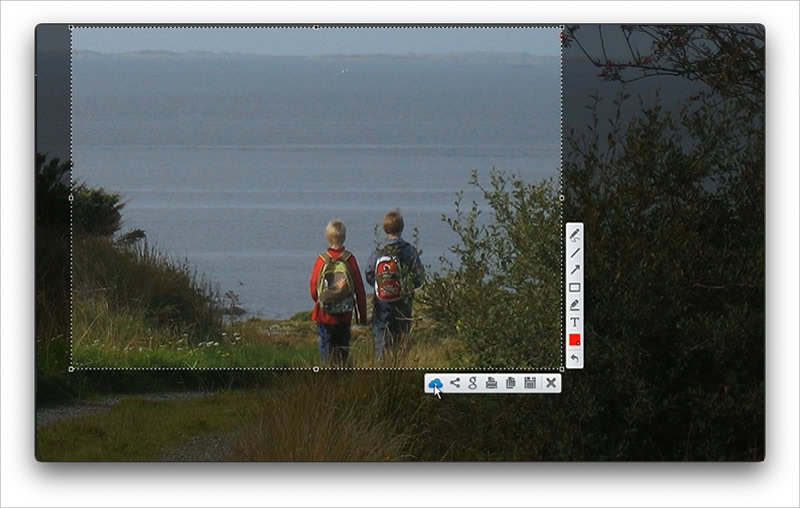 Quick and Easy
Setting up and using LightShot does not take more than a minute. And you can capture screenshots of the selected area with just two clicks. Once you have captured an area, you can access the annotation/editing tools from the integrated widget.
Sufficient Editing Tools
Though not a lot, the editing tools from the LightShot package are sufficient for most users. You can add a variety of elements and annotate the screenshot. You can also add text boxes and shapes to the image. It also features an integrated sharing interface.
Quite Lightweight
Unlike Snagit, LightShot does not consume a lot of system resources. So, you can use the screenshot function even while running heavy-duty apps. Once you have set up the hotkeys, you won't even know the presence of LightShot.
Multi-Platform
LightShot is available for various platforms, including Windows, macOS, Chrome, Opera, and Firefox. So, you can enjoy the same workflow on all your devices. Once you have gotten used to the app's simplicity, you will not want to change.
Easy Sharing
LightShot also lets you instantly upload and share your screenshot. You will receive a notification once the file has been uploaded. Then, you can copy the link and share it with others. So, if you need quick workflows for screenshot sharing, LightShot will not disappoint.
Pros
A simple and lightweight design
It does not consume many resources
You can easily upload and share screenshots
You get standard editing options
Cons
It lacks multiple screen capture modes.
Pricing: LightShot is free to use and does not contain any ads. You can download it from the official website, and the app is also available for Windows.
Worthy mention
If you have been looking to capture a small portion of the screens to save text, images, videos, and save files that are impossible to copy-paste, then Textsniper app is worthy mention here. Textsniper is a Mac snipping tool that helps capture and copy text from images, PDF files, videos, or any other digital sources that contain text.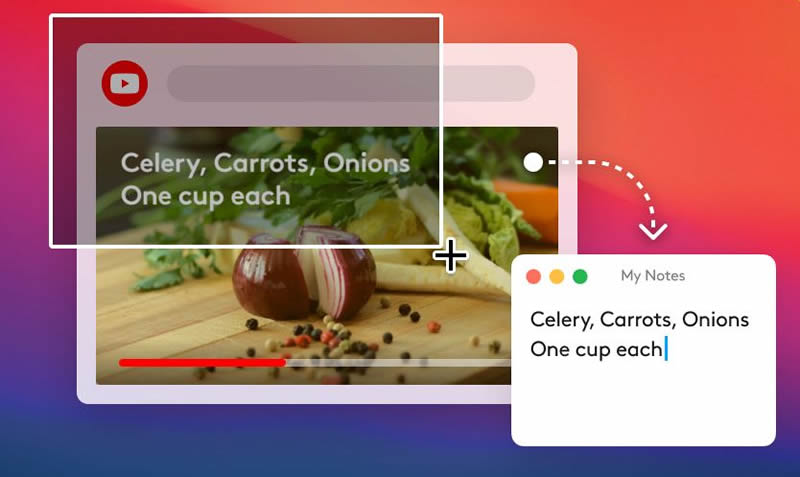 The app is quite simple and easy to use, it uses OCR technology, you simply select 'Capture Text' from the menu bar,  the text inside the selection will be quickly recognized and copied to the clipboard. This is a convenient and effective technology that extracts and recognizes any text that is non-editable and non-searchable on your Mac's screen. Read our full review of Textsnipper here.
Textsniper starts price at $7.99, you will have a 7-day money-back guarantee, and you can also download and give the app a try.
Droplr is a comprehensive screenshot tool compatible with both Mac and Windows. It primarily caters to business and enterprise users, offering high-resolution screen capture capabilities along with cloud storage and enhanced security features, all available through a monthly subscription. It seamlessly integrates with platforms such as eBay, Mailchimp, Intercom, Slack, and more.
Once your screenshot or recording is complete, it's automatically saved to your Droplr cloud account, with a link conveniently copied to your clipboard for instant sharing with your team. While it offers the option to record videos in 4K resolution, there are limited video editing capabilities, primarily limited to trimming the video length.
Droplr is starting at $6/month. Free trial is available.
Considerable FREE alternatives
We have also shortlisted some of the options you should consider. Unfortunately, they did not reach the top, but these FREE screenshot apps offer a good experience.
Skitch is a straightforward screenshot app for Mac, and it comes from Evernote. So, if you use Evernote for your note-taking needs, Skitch will easily integrate with your workflow. The User Interface is simple, and you can quickly add shapes and text content to the image.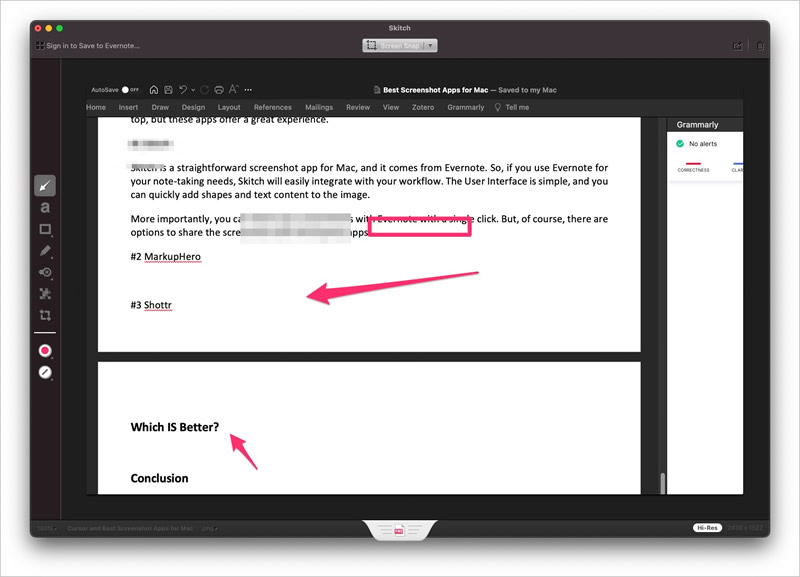 More importantly, you can share your screenshots with Evernote with a single click. But, of course, there are options to share the screenshot with third-party apps. However, we thought the performance aspect could be better.
Skitch is available for free, though.
Gemoo Snap is a new, free and easy-to-use snipping app for taking quick screenshots for any kinds of projects. Same to Textsnipper app above, it has the ability to Recognize Text (OCR) for grabbing unreadable text from the image.
Personally, we love the Screenshot & Beautify feature as it allows to capture screenshots and beautify them by adding annotations, arrows, text, shapes, and numbers. Though it's in beta mode, these editing tools still save more time for video creators, marketers, and project managers.
Gemoo Snap is free, it's compatible for both Mac and Windows OS. There is also a Chrome Extension that helps take screenshots from the web page.
MarkupHero is another free screen capture and annotation tool for macOS. You can use the app on not only Mac but also Windows, Linux, and Chrome. As its name suggests, the app delivers an experience focused on annotating your screenshots.
We also love how integrated MarkupHero is with the web platform. It means you can share your annotations and ideas with others. Furthermore, you can edit your notes on the go. The app offers some collaboration-oriented features in the enterprise plan.
You can get a free version of MarkupHero, which is excellent.
Shottr is a killer choice if you have an old Mac! The app weighs only 1.5MB but delivers several cool features. For instance, you can get scrolling screenshots and markup screenshots on your Mac. In addition, the app lets you zoom in on pixels as well.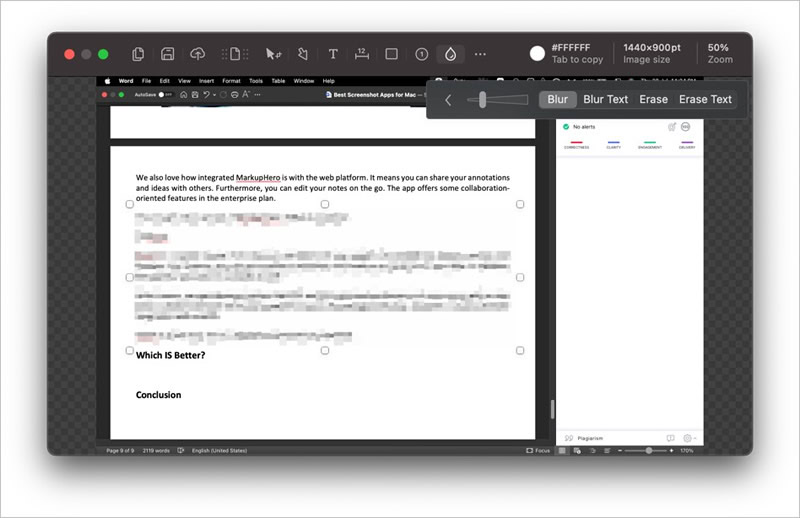 What's more, you get advanced options like OCR and M1-optimized performance. It even comes with a color picker, a feature we have not found elsewhere. Overall, the package looks okay. However, it could use better integration with macOS.
Shottr is a free app, but it is regularly maintained and updated.
Choosing the best screenshot taking app
Here's the thing about our coverage of the best screenshot apps for Mac.
You can expect a better screenshot capturing experience, no matter which app you choose. However, if you want to know our opinion, here is what we think.
We recommend CleanShot X as the best screenshot app for macOS for apparent reasons. It packs almost all the features you need to take professional screenshots. At the same time, it does not stress out your Mac, either. It offers a free plan, but we think the premium upgrade is a worthy investment.
But, hey, feel free to check out other options (including the free ones) if you have specific needs.
See also:
* Readers like you help support TheSweetBits. When you buy something through the links in this article, we may get a small commission at no extra charge to you.