BetterZip 5 — A Powerful and Well-Integrated Archiving Utility for Mac
Archive Utility is hands down one of the best apps that macOS ships with. With its effective integration with Finder and context menu, this utility makes archiving a simple task on most Macs. You can most archiving functions from the context menu and even customize the process via Preferences. But that's just it. That's where we draw the limit of how productive the Archive Utility is.
This is one of the reasons why many people think about using third-party archive utilities for Mac. Previously, we had done our detailed coverage on the best archiver tools for Mac, and BetterZip was our top pick. So, when we knew that BetterZip 5 was out, we were more than excited to try it out. MacItBetter, the developer behind BetterZip, says that the latest version packs an innovative set of features.
In this article, we have attempted to do a review of BetterZip 5, exploring the newer improvements and the overall archive management experience that it offers.
What is BetterZip 5?
BetterZip is a third-party archive utility software that is available for macOS. When compared to the built-in Archive Utility app on macOS, BetterZip provides an advanced, flexible and powerful way to create, manage and control archive files on your Mac. As you can guess, the tool also has broader compatibility in terms of archive formats.
Now you must have the basic idea of BetterZip. Let's see how this next-generation archiving software can improve your macOS workflow.
Getting started with BetterZip
Installing BetterZip on your Mac is a simple affair, regardless of where you download it from. And, if you got it from Setapp, the installation takes just a few seconds. After those few seconds, you can manage all archive files on your Mac using the BetterZip system. Let's see how that works, though.
The first thing you notice is that BetterZip has a dedicated archive manager interface. This is something we couldn't have in the default utility manager. You can use this interface to create/extract archives. All you've to do is simply drag and drop the files.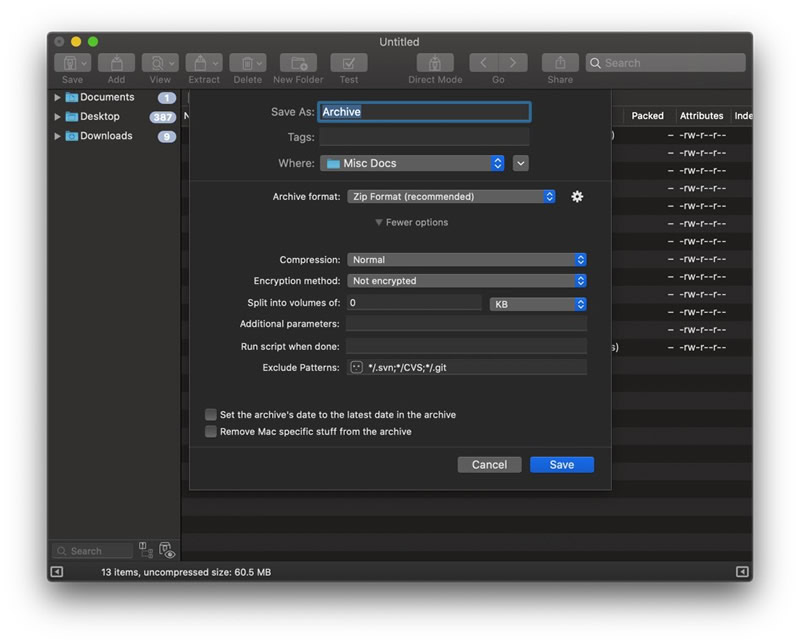 The advantage here is that you can create an archive that has files from multiple folders. You can simply drag and drop everything that I want in the compressed file, and voila. You can press Command+S and save the archive file in a format of your preference.
As you can guess, there are so many advanced options like the Compression method, Encryption standard, etc. Once you press the Save button, BetterZip will instantly create and save the archive file. We should also note that BetterZip supports a variety of archive formats, but more on this later.
Long story short, getting started with BetterZip is easy as a piece of cake. You will find it easier if you've used WinRAR or WinZip before.
What's inside BetterZip 5?
Support for Archive File Types
When you choose an archive utility, it should be able to manage different types of archive files, not just ZIP and RAR. In case you didn't know, there are so many compression files other than ZIP and RAR.
While ZIP & RAR are the most common archive formats as of now, others like 7zip and TAR offer additional features like tighter compression and security.
With the release of BetterZip 5, the archive software supports all the following formats:
ZIP
TAR
TGZ
TBZ
TXZ
7-ZIP
Apple Disk Images
Zstandard
Brotli
RAR
Yes, you read that right. You can use BetterZip 5 to open and create Apple Disk Images. We are talking about the DMG files you have seen while installing apps on macOS. By the way, you should keep in mind that the tool can read and extract not-so-common formats in the list as well.
There is a small complication with RAR files, though. You can seamlessly open and extract RAR files, but you need to use a command-line utility to create a RAR archive file. For the typical user, it means clicking a button from the Preferences pane.
BetterZip 5 will automatically download the RAR archive helper and install it on your Mac. The next time you open the Save dialogue box to create an archive file, you can find RAR in the list of available compression file formats.
Integration with macOS
Integration with macOS is one of the reasons why BetterZip 5 is more popular than other archive utilities in the market. In the latest version, the developers have gone the extra mile to integrate BetterZip 5 with apps like Finder and macOS in general.
As soon as you install BetterZip 5 on your Mac, it becomes an integral part of the Finder interface and, more importantly, the contextual menu. This means you can perform a variety of compression/extraction tasks without even opening the BetterZip window.
Even better, you can access different presets that you have set up in the app.
Contextual Menu Integration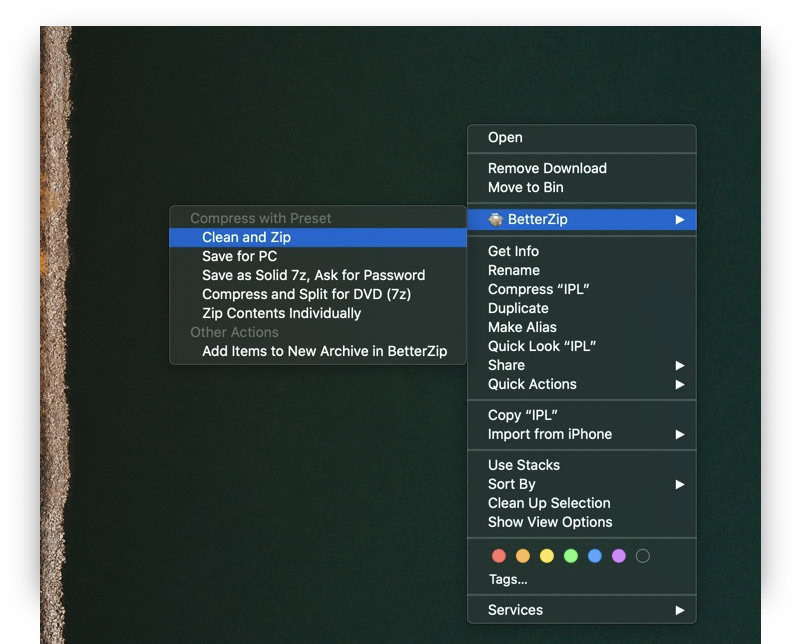 As you can see in the screenshot, when you right-click on a file/folder, there is a BetterZip sub-menu. Using this menu, you can access the different presets — both built-in and custom-made — on BetterZip 5. As soon as you click on the corresponding button, the archiver will run the preset and give you the result.
In this case, if I click on the Clean and Zip button, BetterZip will create an archive file containing that single file or everything inside the folder. On any day, these options are convenient for anyone. It's just awesome that you can control what appears on the submenu.
Finder Menu Integration
BetterZip 5 integrates well with the Finder interface as well. In the screenshot below, there is an extra button on the toolbar section of Finder. You can use this extra button to access presets and other actions without leaving the Finder window/tab.
In short, the process doesn't get any simpler. More importantly, BetterZip toolbars don't seem to be the bloatware-toolbar that invades our space.
Managing Archive Files
Now that you have seen how well BetterZip integrates with macOS in general, we will talk about how it feels to manage compressed files using BetterZip.
Before we begin, let me tell you something that I don't like about the built-in Archive Utility on Mac. It does not allow us to open archive files temporarily. That is, if I want to access a particular file from a ZIP or RAR document, I can't do it without extracting the entire compressed document. While this is okay in most cases, you can't entirely rely on this thing.
This is where BetterZip makes a difference. When you open up an archived file, BetterZip will open the fully-fledged interface and show you all the contents. If there are sub-folders, you can explore and preview those files.
When you enable Full Screen, the BetterZip interface becomes better than ever. On the left sidebar, you can see all the necessary folders. On the right sidebar, you can get details about individual files inside the archive document, followed by a preview.
By the way, just like you do in Finder, you can Quick Look a file by pressing the Spacebar. This will open up a small window that previews the file, be it a document or an image. So, even if the Preview does not support the file, you can use Quick Look to know what's inside.
This type of management can save a lot of time while handling multiple files. You can even open individual files from the list using third-party apps.
If you want a faster workflow, you can even check out the Direct Mode, which gives you quick compression and extraction features. However, you won't get undo capabilities in this mode.
Altogether, it feels amazingly simple yet powerful to manage archive files using BetterZip 5.
What makes BetterZip 5 great?
Here is a look at some of the top features that we loved in BetterZip. Some of these features were added in the latest version. So, if you are using an older version of BetterZip, you may have some reasons to upgrade here.
Encryption Management, Made Simple
With BetterZip 5, encrypting and managing encrypted archive files is an easy task. As we said earlier, you'd have an option to enable encryption while creating an archived file. Making things easier than ever, BetterZip can not only suggest but also save strong passwords for the document. Its Password Manager engine safely keeps all these passwords.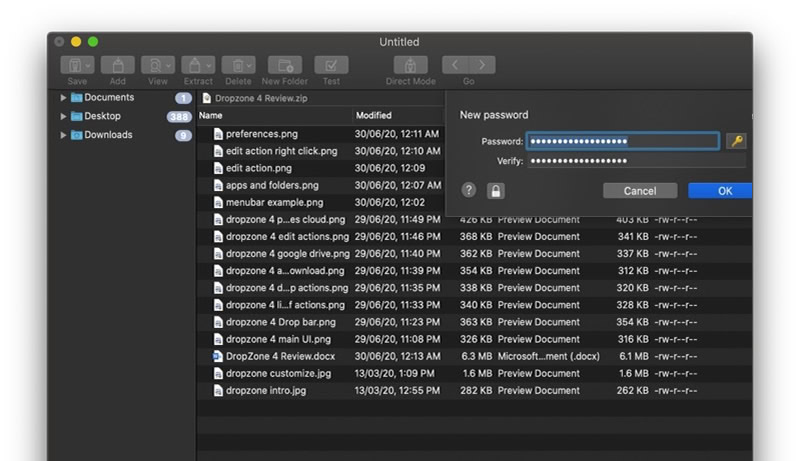 So, the next time you come across the same compressed file, BetterZip will automatically fill in the password. In short, BetterZip can help you create securer archive files without hassle.
Presets for Easy Functions
Presets are probably one of the best features in the BetterZip 5 package right now. You can create several presets that perform predetermined tasks. BetterZip comes with a few built-in presets like Extract & Trash, but you can always add more. As you can see, you get to decide what happens when you select an individual preset from the Finder/Contextual menu.
Needless to say, Presets can save a considerable amount of time. With the full version, you can add as many preset profiles you like. We think that's just awesome.
Full Control
In its own right, BetterZip is an excellent way to manage archive files. However, it is worth noting that it does not impose preferences upon users. Instead, the user gets to control how BetterZip behaves. For instance, you can decide which kind of files can BetterZip open. By default, it opens files like DMG and EPUB, but you may not need that.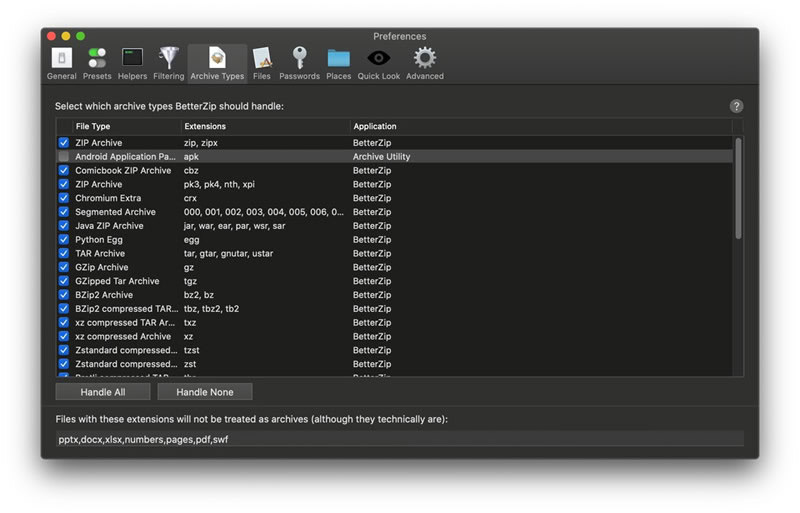 This is an incredible feature because you can keep using suitable files inside. Similarly, you can decide how BetterZip should open the files inside an archive. These can save time, like never before.
Automation
BetterZip 5 has become easier to automate when compared to the previous versions. You can connect the workflow of BetterZip with apps like Alfred, Automator, Dropzone, Hazel, and LaunchBar. All of these apps are awesome in their own right, and BetterZip 5 makes the best use of them. For instance, you can use these automation systems to improve the way you deal with file compression, extraction, and archive file management.
Easy Navigation
Even without the integration and everything, it feels so intuitive to navigate through your file system using this app. BetterZip has an option to keep your regular directories on the sidebar and access the archive files with ease. If there are ZIP files, you can directly open them and see what's inside. Also, the multi-tabbed interface makes things easier.
Keep in mind that you can use all the features like Preview and Quick Look while exploring your directories via BetterZip. You can also search within the directories.
Miscellaneous
In addition to these prominent features, BetterZip packs some minute features that improve the experience. It, for instance, allows you to share a ZIP file using the built-in Share option on macOS. Similarly, a Test button can help you recheck the compressed data for potential errors. All these features come in handy when you work in a professional environment.
What could be better?
Here are a few things that we think BetterZip can improve. These aren't a reason to not buy the superb app. Instead, they can make BetterZip the perfect archive utility app.
While we think the UI is professional, it requires a considerable amount of time to master. Also, we found that the contents are so tightly packed. It would be nice to see a BetterZip upgrade that converts the UI to something more spacious,
We think the developers can improve the options to enable encryption. Currently, it takes many steps to access the areas and set up the password. This can be made simple.
We repeat, these are suggestions for the future, and only for the sake of perfection.
Availability and pricing
BetterZip 5 is available for macOS only. If you are running macOS 10.13 or later, you can install this app and use it for managing archive files.
BetterZip offers a limited free version, which won't run for long. If you need all the features we talked about earlier, you have to purchase a license for just $24.95. We think this pricing structure is completely reasonable, especially when considering the features.
Alternatively, you can get BetterZip through a Setapp subscription, which also brings you so many cool Mac apps.
The bottom line
After trying out the latest version of BetterZip for a few weeks, we have more good things to say than we've ever had. To put it simply, it's the best archiving tool for macOS right now. If you have ever thought that the built-in archiver utility isn't good enough, BetterZip is the best shot.
We mainly loved how fast, intuitive, and customizable the whole package is. Compared to the alternative options from the current market, BetterZip 5 is years ahead, especially in terms of features.  We recommend this tool to everyone who needs to manage multiple archive files with extra features.
* Readers like you help support TheSweetBits. When you buy something through the links in this article, we may get a small commission at no extra charge to you.