Bitdefender Review: Total Security for All Your Devices
As the years go by, the internet becomes more and more hostile. Just a few years ago, we didn't have to worry about anything more than viruses.
Now, danger lurks everywhere. Phishing attempts on emails, ads full of scams, thousands of corporations trying to breach our privacy, PUPs, ransomware, adware – the list never ends.
That's why a good Antivirus program is a must-have tool. Bitdefender Total Security is known as one of the best around, so, let's take a closer look at it, shall we?
What is Bitdefender?
Bitdefender is an Antivirus/security program that's made to protect not only computers but also their users. After all, as we mentioned above, there is much more to worry about than viruses.
That's why security programs, including Bitdefender, are evolving to the point where they can protect us not only from harmful programs but also from harmful people that we can come across online. Phishing attacks are a very popular example.
In case you haven't heard about them, a phishing attack is when someone tries to fool you into providing information about yourself in various ways. That info could be anything from passwords, credit card numbers, and things like that.
For example, one can make a fake website that's basically a copy of your bank's homepage, send you an email which links to that fake website while asking to insert your password, and just like that, before you know it, you just ended up giving away your banking info to a stranger.
Bitdefender aims to prevent this and so many other things from happening while also protecting you against harmful applications, privacy invasions, and more. That's what Bitdefender is.
At this point in time, Bitdefender Total Security aims to deliver security, privacy, and performance enhancements on a single package. Here's all that's new with it.
What's new in Bitdefender Total Security?
Bitdefender has been known as one of the best Antivirus programs for a long time now and Bitdefender total security 2020 is basically an improvement over its predecessor in every single way.
Not only it brings privacy protection improvements, but it also adds a few very useful features. We're talking about microphone monitoring, anti-tracking, and web protection!
Microphone monitoring makes sure that nobody will be able to spy on us through our mic. If an application needs to access the microphone, you'll know about it.
Without Bitdefender, there is no way to know what programs are using the microphone and when they are doing it. The only exception is with Google Chrome which should warn you before a website gains access to your mic. But, that's about it.
Then there's anti-tracking. In case you don't know about it, there are many websites that keep an eye on what websites we visit, what we're buying online, and more.
That mainly happens for ad targeting. But, some companies sell our data in exchange for money. And that's one of the main things that Bitdefender is trying to prevent with anti-tracking.
Last, but not least, there's also web protection. See, when it comes to online threats, the first thing that most people tend to think about are viruses and malicious programs in general.
However, the reality of the situation is that the web is plagued with scammers and phishing attacks. That's why Bitdefender aims to protect us not only from malicious apps but also from malicious people.
Web protection achieves that by using both archives of websites which are known to be harmful and with behavioral analysis tools that keep an eye out for red flags.
But, wait, there's more.
Design and interface

When it comes to Antivirus programs, being able to use them with relative ease is very important. After all, what good is a security program if we can't even understand how to utilize it?
Thankfully, Bitdefender is quite straightforward to use. The main dashboard delivers some basic security recommendations that you can choose to either follow or ignore, while the left side of the screen gives you access to all of the features.
Speaking of features, they are separated into security, privacy, and performance. This gives you easy access to everything that you'll ever need without having to spend half an hour for a basic setup.
Apart from the main sections/features of Bitdefender Total Security, you've probably already noticed that the left side of the program still gives us access to the notifications, our account, the general settings, and also support.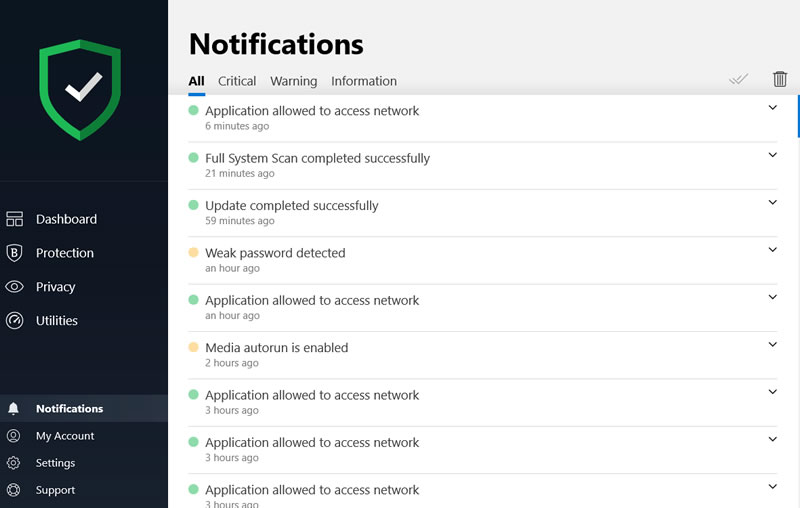 The notifications are an absolutely amazing tool as they display everything that has been going on regarding the security of our device on a single place. That being said, do keep in mind that if there's anything urgent that requires your attention, Bitdefender will warn you with a pop-up instead of just adding it on the notifications tab.
As for the general settings, those can be used to adjust things like the update interval, language, your profile, and more.
The 'My Account' section is more or less just there to display information about your subscription and that's about it.
Last, but not least, the 'Support' section provides you with access to guides which explain how to use Bitdefender, customer support, and the support center which should be able to answer most of your questions about Bitdefender.
That's about it for the design and interface of Bitdefender Total Protection 2020. Overall, we're pretty pleased with how easy it is to use it and we assume that even non-tech-savvy people aren't going to have any issues with it.
Protection
While taking a scroll through Bitdefender's design and user interface, we did briefly mentioned what you can expect to find in terms of protection and privacy, but not what each feature exactly does. So, if you're interested in that, keep on reading. If not, you can move on to our personal experience with it regarding real-world security and performance.
There are tons of protection features that Bitdefender offers. From a classic Antivirus to Ransomware protection.
To be more specific, the protection tab gives us access to all the Antivirus options and settings, the firewall, the antispam, everything that we should know about vulnerability, online threat prevention, Ransomware protection, and advanced threat defense.
But, what does all of that stuff even mean?
Antivirus
Well, first of all, let's start with the classic Antivirus. The job of an Antivirus program is to scan your computer for possible threats and remove them.
This can be done by using a database of known threats. When the security program detects something that matches the database, it instantly quarantines it then warns you about it.
That being said, this is one of the main reasons that you should perform virus scans on a daily or weekly basis. If you go to the Antivirus settings, there is the option of setting scheduled scans so that you won't ever have to worry about forgetting it.
But, as we mentioned at the beginning, that's not enough to protect yourself. That's why you can use other features like the firewall, ransomware protection, vulnerability detection, and more.
Vulnerability Detection and File Protection
One of the things that we found most useful is definitely vulnerability detection. It basically scans the whole system and finds important things that may be bad for your overall security. That could be a weak password, an important update that you missed, etc.
Other than that, we also found the file protection to be very useful. Every time that an application would try to modify our files without our permission, Bitdefender would block it and then warn us about it.
This can ultimately end up being a bit tiresome at the beginning. But, once you go through whitelisting all of your trusted programs, you'll have the peace of mind that everything is safe since nothing can touch them.
Privacy
Our privacy is something that we commonly forget to take care of. But, the truth is that it's just as important as our overall computer security. The Bitdefender developers know this and that's why they have provided us with numerous tools.
The privacy tab has the exact same design with the protection one. And if you ask us, we believe that this is a good thing because you won't have to waste time and effort into getting used to different setups.
As the name implies, privacy features give us access to privacy-related features such as the microphone monitor that we mentioned above, a password manager, the VPN, parental advisor, anti-tracker, and more.
Password Vault
One of the easiest and most effective ones is the password vault. It sounds silly but, think about it.
A strong password is usually long, complicated, and hard to remember. There is the option of saving it on Google Chrome, but that means that if someone manages to break into your account, he also gets access to all of your passwords.
The password manager/vault gracefully solves that issue by offering a secure place to store your passwords.
Browsers can still get access to it and auto-complete forms for ease of use. But the difference is that it happens locally – not over the cloud.
In that way, even if someone gets access to your Google account, he won't be able to steal every single one of your passwords. Brilliant idea, really.
Anti-Tracker, Microphone Monitoring, VPN, and Webcam Monitoring
Other than that, the anti-tracker and the microphone/webcam monitoring tools that we talked about before are also great additions.
With all of that being said, one of the most important privacy tools that Bitdefender gives us is quite possible the free VPN (Virtual Private Server).
This is a tool that normally costs a yearly subscription on its own. So, it's a good thing that Bitdefender provides it for free.
In case you don't know about it, a VPN masks your identity and everything that you do online. From who? Well, anyone and everyone. Your ISP, the websites that you're visiting, and even the government.
Overall, we're pretty satisfied with the privacy protection that Bitdefender offers.
Antivirus testing and performance
We've been using Bitdefender as our main Antivirus program for a while now. So, we're confident that the overall security that it offers is pretty good.
In fact, despite our safe browsing habits, we also happened to witness a couple of interesting warnings about connectivity.
In the end, that turned out to be nothing but a false alarm. But, it's still interesting to see just how far Bitdefender's protection can stretch.
Our only complaint is that sometimes, it can get a bit overly protective. For example, its file protection popped up almost every single time that one of our games tried to save.
And it doesn't sound like much, but when you've got 100+ games on your Steam library, it can definitely get a bit annoying.
That being said, after you're done whitelisting programs, it won't annoy you ever again. Alternatively, there is always the option of turning that specific feature off. But, we're really not sure if that's a good idea.
As far as performance is concerned, we never experienced any issues. If it wasn't for the pop-ups that come up every now and then, we wouldn't even notice that the program is running in the background.
Now, do keep in mind that our test rig is a Ryzen 5 2600 with 16 gigs of RAM. So, we really can't promise that your experience will be the same on a low-end machine.
Though, one thing that impacts performance a lot is definitely a full system scan.
Even our mid-range PC struggled to multitask efficiently with a full scan going on in the background.
So, one thing that's for sure is that you only want to make a full scan when you're not using the computer.
How does Bitdefender compare with competitors?
Obviously, Bitdefender may be a great Antivirus program. But, it's not the only option out there. In fact, there are plenty of others.
But, as far as paid programs go, this is our top pick. In fact, we recently also made another article that lists our best choices and you can check that out here.
It offers a ton of features and allows you to use it on multiple devices of multiple operating systems at once without asking for a ton of money. Compared to some other premium choices, it offers just as much as they do or even more.
To be more specific, you'll find better threat detection and a better overall security system without sacrificing as much performance. Not to mention that it's also very competitively priced and often cheaper than competitors.
To give you a point of reference, Bitdefender asks for 35 euros a year while Avast Premium asks for 80 without offering much more (Pricing may vary from country to country).
However, that's only for the paid/premium variants. If you want something for free, then Bitdefender is a relatively bad choice since it only offers the absolute basics.
Overall, Bitdefender is the best paid option, but one of the worst free ones. If you want more detailed comparisons, you can visit something like AV-Test as they are pros who earn a living by professionally testing security programs.
Pricing
Apart from the free version which offers the absolute basic virus protection, Bitdefender offers 3 more paid variants for home users.
Bitdefender Antivirus Plus starts at 25 euros per year and apart from the absolute basics, it also offers multi-layered Ransomware protection.
Bitdefender Internet Security sits at 5 euros higher for the first year but 20 euros more after that. The only additional option that you get is parental controls. So, not something to worry about for those of us who are still single.
Last, but not least, there is Bitdefender Total Security, the one that we just reviewed. It asks for 35 euros in the first year but 70 after that and it delivers everything that we've mentioned in this article and even more – including free protection for your mobile devices and Macintosh computers as well.
Thankfully, if you're not sure that the investment is worth it, there is a 30-day free trial to see just how well the program fits you or not.
With all of that being said, do keep in mind that pricing varies from region to region and that the business variants are even more expensive.
Conclusion
Overall, Bitdefender Total Security is definitely one of the best paid Antivirus programs that you can get as of now. It's packed to the brim with useful features while also being competitively priced and not draining any system resources.
Some of its popups can get a bit annoying. But, thankfully, there's always the option of turning certain features off. That's all for now.
You may want to take a peek at:
Top Free Anonymous Browsers for Privacy
Stay Safe with the FREE Mac Antivirus Software
* Readers like you help support TheSweetBits. When you buy something through the links in this article, we may get a small commission at no extra charge to you.