9 Best (Free) Online Video Compressors
Multimedia • Dec. 6, 2022
Compressing a video will help you retain as much quality as possible while reducing the file size which can be helpful when uploading or sending videos online.
While most of the advanced video editing tools have this feature as a part of a video export feature, there are online platforms where you can compress your video online but also on the desktop.
And in this article, you'll find 9 of the best video compressors online that will help you compress your video in minutes without much hassle, so keep on reading!
RELATED: The Best Video Converter for Mac and Windows
Best Video Compressor Online
With so many similar platforms, there are plenty of differences you should know in advance so you don't waste time compressing your videos that might not be suitable for your needs. Therefore, down below, you can find everything you need to know about these online video converters so you make the best choice!
FlexClip – Best for Versatility
Movavi – Best for Uploading Options
FreeConvert – Best for Max Uploading Size
Veed – Best All-in-One Compressing Platform
Kapwing – Best for Various Exporting Formats
VideoSmaller – Best for Compressing Videos for Any Device
ZamZar – Best For Secured Compressing
Media.io – Best for All Purposes
Honorable Mention: WonderShare AniSmall – Best for Batch Compressing
1. FlexClip – Best for Versatility
FlexClip is a frequently updated and improved online video compressing platform where you get the ability to convert a video by uploading it from your device/computer.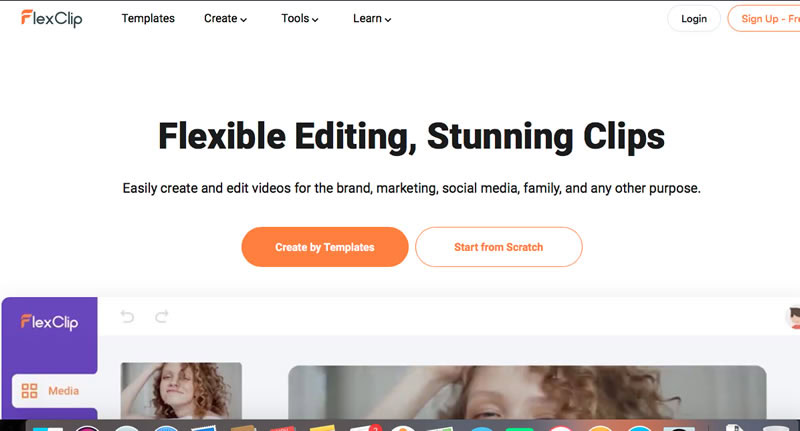 What's unique about FlexClip is that it also allows you to convert a video by pasting a video link and there's even a chance to record and edit a video using your device's camera which is then automatically uploaded and compressed for you.
Before you press the compress button, you also get to choose the desired format and once the compression is done, you'll be able to download the file in seconds without any watermarks.
While the compression is fairly quick, you'll spend most of the time waiting on uploading, which can take a bit longer, depending on your internet speed.
How Does it Hold Up in a Test?
Testing is fairly easy as FlexClip suggests video quality automatically, but you also get to choose between various resolutions.
We tested a video of resolution 1920×1080 that is 12.8 MB big and converted in minutes where the final size was 8.6 MB with no loss in video quality. We've used the automatically recommended settings by FlexClip (we were advised 720p).
2. Movavi – Best for Uploading Options
Movavi is a simple video compressing platform that is best known for providing users with more than one or two options to upload videos. With Movavi, you get to upload a file directly from your computer, but also upload it from online cloud services such as Google Drive, Dropbox, or directly from the URL.
When the first step is done, the second step is to choose the desired output format and resolution which is where you get to choose the type of compression that will match the quality but also reduce the size you are looking for.
The third step is to press the convert button and wait for your video to be compressed so you can download it in seconds.
How Does it Hold Up in a Test?
For the test we've used a short video that is 12.8 MB in size and has a resolution of 1920 x 1080 pixels.
We kept the format to MP4 and the resolution to 720p (instead of 1080p). Compression took only a couple of seconds and the compressed video ended up being only 3.8 MB in size with no visible loss in quality.
3. FreeConvert – Best for Max Uploading Size
FreeConvert is a simple video online compressor and converter where you can choose files from various sources such as the computer, URL, and online cloud services such as Dropbox or Google Drive.
What's most unique about FreeConvert is that it has a great uploading size maximum of 1 GB. But keep in mind that even though it supports larger videos, it might take a bit longer to upload these if you have a slower video connection.
Another great thing about FreeConvert is that you get to choose the compressed video format from the most common standard formats such as MP4, MOV, MKV, and others.
How Does it Hold Up in a Test?
Uploading a small video took considerably a bit longer time than on other platforms, but the conversion process was fairly quick.
For the test, we've used the same video of 12.8 MB in size and 1920 x 1080 pixels. The compressed results didn't have any noticeable video quality loss and yet the size was only reduced to 10.2 MB.
The video we used for testing was MP4 and the output was also MP4, but with plenty of settings, you can notch these settings down without losing much quality and yet reducing video size much more.
4. Veed – Best All-in-One Compressing Platform
Veed is a bit different but interesting video compressing platform because it includes a bunch of additional video services, making it an all-in-one platform ideal for compressing but also recording, editing, and working on your videos.
Even though it's usually a paid platform, you can use it for free for videos under 10 minutes.
Therefore, since it's an all-in-one online video editor, you get to edit videos, use existing templates, add effects, and make certain edits before compressing it.
How Does it Hold Up in Testing?
Veed is a bit more complicated to use than other compressing platforms because of all the additional features it includes.
However, if you plan on using its editing capabilities and additional features, it is very well worth learning how it works so you can take full advantage.
We've used our standard testing video in MP4 format, 12.8 MB in size, and with a resolution of 1920 x 1080p. We used the editor for slight edits and then compressed our video to the same format (MP4).
Made edits didn't affect the size much, and the compression from MP4 to MP4 format left us with only a slight compression in size where video was compressed to 11.2 MB. However, we believe if we choose a different output format, you can save a lot in size if that's your goal, of course, without losing on video quality.
5. Kapwing – Best for Various Exporting Formats
Kapwing is a simple compressing platform that also comes with a mini built-in editor. The whole process takes only three steps.
You have to upload a file, choose the export type and setting (for best compression), and click the export button.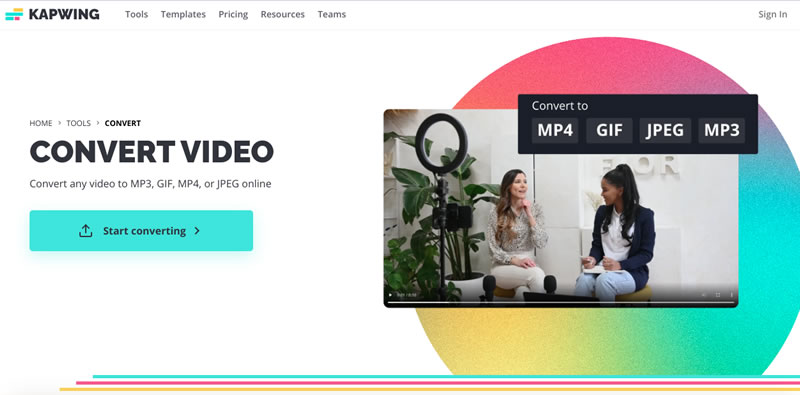 Two unique things about Kapwing is that it automatically converts unsupported video formats into MP4 as soon as you upload your video. Another feature is that it allows you to share a video directly instead of only downloading it to your computer.
How Does it Hold Up in Testing?
Even though Kapwing comes with an editor which is the main interface when you upload a video, it is still a fairly easy-to-use platform even if you're interested in compression only.
We uploaded a video we've used for testing of previously known format, and Kapwing definitely withheld the testing since it provides the best options for compressing the video.
When exporting the compressed video, you can choose between different formats, and the best resolution is automatically recommended but you still have options to choose from. Below that, there's also another great option which is the compression level slider that you can go from a smaller file to better quality.
On automatic settings, the compressed video was slightly reduced in size (down to 7.3 MB) and yet the edits we made using the editor didn't affect the quality of the video or size after the compression.
6. VideoSmaller – Best for Compressing Videos for Any Device
Even though VideoSmaller looks like any other online video compressing platform, it supports up to 500 formats and along with that, it can convert almost any video format type for absolutely free, without even requiring you to create an account.
Not only can you compress videos that will fit various social media platforms such as TikTok, Instagram Reels or YouTube, but you also get to convert videos for specific types of gadgets, such as tablets, smartphones, and others.
Another interesting and unique thing about VideoSmaller is that it also allows users to download the tool on the computer if they would like to compress videos on the desktop.
How Does it Hold Up in Testing?
VideoSmaller held up well in the testing since the upload speed was relatively quick for our small testing video and what surprised us was that the compression was so quick and is automatically followed by the download of the video.
Therefore, the whole process was speeded up in comparison to other platforms.
We've used the same video for testing which is 12.8 MB in size (1920 x 1080 pixel resolution) and MP4 format. We kept the compressed format to MP4, but instead of downsizing the video, we ended up with a larger video (13 MB in size).
Therefore, VideoSmaller is only ideal for compressing the videos to different formats.
7. ZamZar – Best For Secured Compressing
ZamZar doesn't only make video compression online easy, simple, and fast, but it also supports 1100+ formats as it doesn't only help you compress and convert videos, but also images, documents, sounds, and other formats.
What's most significant about ZamZar is the security as they ensure that all videos you upload for compressing are secure and can't be stolen or accessed by others. ZamZar secures this by deleting all uploaded videos 24 hours after they've been uploaded and providing the ability to choose if you'd like to have your uploaded files deleted sooner than that.
With great convenience and user experience, ZamZar is not only secure but also secure and efficient.
How Does it Hold Up in Testing?
The main thing different about ZamZar is that it doesn't allow compressing the video in the same format, instead, you have to choose another format for your video to be compressed.
Therefore, for this test, we chose the video to be compressed to an iPhone preset provided by ZamZar (since they provide many video presets to match devices and needs).
The compression really held up the testing well and the video was compressed so well to fit the iPhone devices, there was no loss in image quality, and yet the video was reduced in size down to 1.4 MB which is incredible.
8. Media.io – Best for All Purposes
Media.io is a mini video editing and compressing platform that's ideal for personal use, but also for educational, and promotional purposes.
On this platform, you get to make slight edits to your uploaded videos before you compress it to the desired format.
There are unique features that you might or might not use that include vocal remover from videos, image background remover, and more.
One thing you have to keep in mind is that Media.io is usually a paid tool, but you can use it for free for videos of up to 10 minutes in length.
How Does it Hold Up in Testing?
Media.io held up well in testing we did without using the editing capabilities yet we only focused on compressing a video file.
The Video file we used was an MP4 format which was 12.8 MB in size and 1920 x 1080 pixels in resolution.
The compression took a bit of time but the compressed version was decent with only a slightly visible loss in quality, but a huge reduction in size (4.8 MB after compression).
WonderShare AniSmall is a bit different from any of the picks you can see in this post because it takes efficiency to another level by allowing users to compress videos in a batch.
This means that you can upload more videos at once and have them all compressed at once, saving you time instead of having to do them one by one.
Another thing about WonderShare AniSmall is that it is not an online platform but it is a downloadable software that's available for Windows and Mac.
Even though it provides batch compression, it is an HD lossless technology that allows you to adjust settings to your needs which is followed by a high-speed compression process.
How Does it Hold Up in Testing?
For testing, we've used a free version of AniSmall which downloaded and installed fairly quickly on a Mac.
The user-friendly interface helped us to easily upload the video file we used for testing. The video file we used for testing was 12.8 MB in size with a resolution of 1920 x 1080 pixels and MP4 format.
For this test, we also introduced a couple more such videos in the same resolution and format to test the batch compression.
The output quality of the videos was high and yet the videos were reduced in size down to 8.4 MB. The batch offer was fairly quick, and AniSmall can convert a bunch of videos simultaneously without consuming too many resources on your computer.
FAQs
Is it safe to compress videos online?
Compressing videos online using online compressing platforms is fairly safe because most of the platforms delete videos users upload after a certain period of time. However, there are video-compressing platform websites that make it even safer by implementing additional security settings such as ZamZar.
Does compressing video affect quality?
Depending on the type of compressing you do (the output format, size, and resolution), it can certainly affect quality. However, most of these platforms are well-optimized to ensure that there's no loss of quality after compression.
How do I compress a video without a watermark?
To compress a video without getting any watermarks on your video, you should only use free tools for conversion instead of trial ones. For example, any of these picks will help you compress your video without any watermarks, so you won't have to worry about this.
Conclusion
Each one of these online video compressors is optimized to help you compress videos without losing quality while helping you convert the videos to another format.
Security is up to par and shouldn't be a concern while there are even all-in-one platforms that can help you do more than only video compression.
What's also great about these compressors is that almost each one of these can help you convert videos to another format if required.
* Readers like you help support TheSweetBits. When you buy something through the links in this article, we may get a small commission at no extra charge to you.