TextSniper Review – Digital Copy Pasting Made Simple
Reviews • Updated on Oct.11, 2022
The Copy Paste mechanism is one of the most popular commands that you can put to use on your computers or smart devices. The command helps in transferring data from one place to the other, whether it is an important address, a field on an online form, or just some file content you need to be moved around. But what if the data is a non-selectable one? From YouTube videos to PDFs, from images to online presentations, from screencasts to Gif's – the data form in the 21st century is entirely digital.
Traditional Copy-Paste will cease to work under these circumstances, which is why there are massive strides being made in the world of OCR (optical character recognition technology). An approach we can have, is getting a hold of the digital data and feeding it manually, but that won't help the efficiency in any means, and hinder your productivity significantly. The one and only solution to this copy-pasting dilemma, is to get hold of a smart tool that brings the best of clipboard features and OCR technology in a single bag, which is exactly what TextSniper does.
TextSniper: the overview
TextSniper is an OCR featured screen capturing tool that helps to pick out and using non-selectable texts. If you are not that familiar with the term OCR or Optical Character Recognition, in simple words, it is a feature that enables a system to scan through and read digital images. TextSniper uses this technology blended with the screen capture feature to allow its users to copy and paste texts from digital media, like an image.
With TextSnipper, you neither need an internet connection nor any unique specification; once you have access to the app onto your Mac, you are good to go.
Get text from the images copied to your clipboard.
Copy texts from non-interactable PDFs and eBooks.
Get your emails, phone numbers, addresses, and other data extracted efficiently.
Get a productive reading of the QR and the barcodes.
Make the AI read out your Ebooks and other documents in a more convenient way.
RELATED: Best OCR Apps for Mac and Windows
Who needs the TextSniper?
Copy Pasting texts over varied platforms is an everyday task. With the world-leading towards the digital medium, most of the texts or data are in the digital form. Having said that, for anyone who spends most of the time on their Apple devices, whether it be for professional or personal reasons, TextSniper can be of great utility.
For instance, if you are a data entry professional, you probably spend most of your working time sorting through digital data. In that case, you already know how far can TextSniper go to improve your overall efficiency. Whether you need to copy text from a non-interactable PDF, YouTube video, screencast or a website that doesn't allow selection of texts, TextSniper is sure to come in real handy. Besides, the tool can speed the overall process of feeding data leading to a more refined competence.
TextSniper is an excellent app for students as well, especially considering the online session scenario that is set to be the future of education. Students can use TextSniper to extract text from online courses, presentations, or video tutorials in seconds and take notes more efficiently, with regular online sessions coming into the scene over varied video conferencing platforms.
TextSniper: detailed review
TextSniper is an easy-to-setup app that makes text extraction from digital data an easy task. If you are someone, who has been into the whole macOS thing for quite some time, dealing with this application won't be that of an unbending process.
Setting Up the App
TextSniper is designed to ensure a hassle-free installation experience. Hover over to official site, download the TextSniper app, install it and run. This is the only procedure you need to follow for making copy-pasting over a non-interactable medium a smooth experience. Once you have the application installed, it is ready and up for running.
After having a smooth installation, TextSniper makes sure you have a similar experience moving forward. The simple user interface, the overall screen capturing procedure, getting your Text ready, and other small details like popping up of a thumb's up icon as the desired Text gets copied.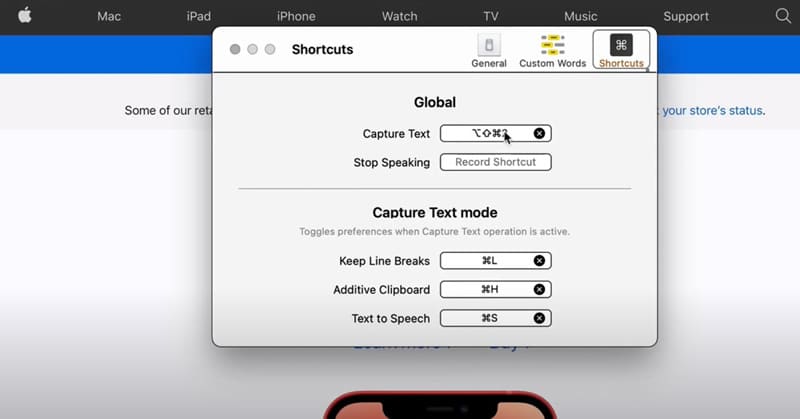 We personally liked the fact that the app allows you to quickly learn about all of the features of TextSniper on the fly, without having to dive deep into the nitty gritty of it all. In addition to that, gestures and keyboard shortcuts hold up for efficiency even more.everything adds up to a pleasant user experience.
TextSniper in Use
As already mentioned, working with TextSniper is as simple as it can get. Follow along to get started with it.
Start things off by running the app by hovering over to your macOS menu bar and selecting the Capture Text option. To make things effortless, you can press the combination of CMD, Shift and "2" keys and have the application running instantly.
Once the app is running, TextSniper will provide you with a selection tool. Use and drag this to mark or select the area that you wish to copy. As soon as the tool is done copying the text, it will let you know with the help of a thumb's up indicator.
Finally, you now need to open up the notes, editor, or any other destination you want your copied text to get pasted. Hit the CMD+V button, and the text is ready for you to use.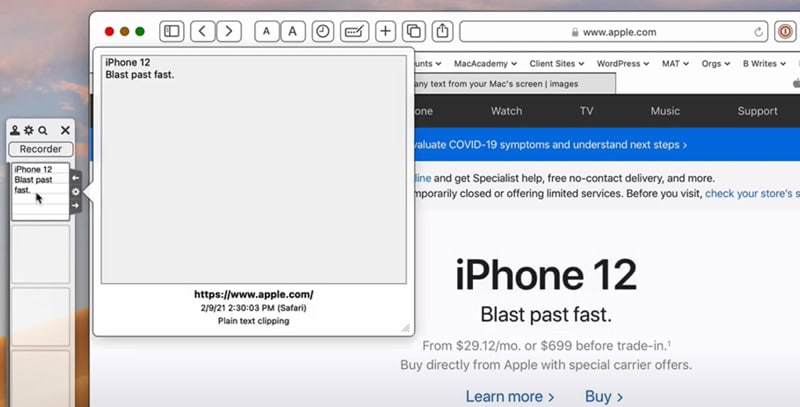 Additional Options
TextSniper is more than just a copy-paste tool. Several other features add up to its convenience and efficiency.
Reliability – Considering the principal feature, you don't need to wait for the Text in the images or the PDFs to get processed. The whole procedure and processing happen in real-time, and TextSniper comes up with the copied text in seconds. To add to that, the lightning processing speed doesn't compromise with the quality, and you can assure yourself that the application will come up with authentic texts nearly every time.
Text-to-Speech – There might be many PDFs or e-Books that are still left unread within your Apple device. The busy schedule might be a reason, or the lack of elation of going through those can result in a situation like this. If so, the text to speech feature of TextSniper is sure to be useful. All you need to do is select the Text using the selector tool and let the application read out for you. Going through long texts is not a headache anymore. Use the Text to Speech feature to enhance productivity more conveniently.
QR Code Scanner – You don't need an additional app to go through the QR codes and derive the information from them. TextSniper comes with an in-built feature that will help you read the QR codes and barcodes, which makes it easy to find the cost price of products online, and has several others uses bundled with it too.
How TextSniper worked out for me
Being a Social Media and Internet guy by profession, I am always circumscribed with the digital form of data. Whether it be an infographic or set of instructions from my clients in PDF formats, I find myself stumbling upon digital data now and then. Extracting important and selective data from digital media like infographics, screenshots, e-books, and many more had been a headache for me back in the days, but not anymore.
TextSniper brought in the convenient solution that made my professional life a relatively smooth one. I neither need to type in texts from the required sources persistently nor asking the clients to avoid data in non-inter-actable formats is a necessity anymore. I use TextSniper to conveniently copy and use texts from whatever media I require to. Besides, whenever I am busy researching on any project at the edge of urgency, I ensure the text to speech feature read out every necessary instruction going ahead.
Pricing
Having talked about all the features and how they can help users worldwide, one of the essential parameters we looked at before concluding, is the pricing. Surprisingly, it doesn't disappoint. The app is available on the developer's official site for just $7.99, which is a pretty good deal for software loaded with several real-life applicable features.
Besides, there is another option that you can go for, and that is the Setapp subscription for Mac and iOS. It is a $9.99/month subscription that provides over 200 premium applications to its user. So, if you are already a subscriber, the TextSniper on Setapp is free for you to use.
Now, suppose you neither have the Setapp subscription nor are you willing to pay for the service before testing it out. In that case, the application comes with a 7-day free trial that is sure to ease things up a bit for you. Also, the developers of TextSniper do provide you with a 7-day money-back guarantee plan in place, so your investment is always secure.
Things you should know
Q: What system platforms are supported by TextSniper?
TextSniper is currently operating over macOS Catalina or newer, full macOS Ventura support, and compatible with M1 Macs. It is not available for iOS or Android OS, and neither for Windows or Linux.
Q: What languages are supported by TextSniper?
TextSniper supports a range of languages than you can work with. However, the app does not function identically across the macOS Catalina and Big Sur versions, and here's a list of the languages that the two support:
macOS BigSur and Monterey: English, Spanish, German, French, Italian, Portuguese, Chinese Simplified and Chinese Traditional.
Under macOS Ventura: all above mentioned + Japanese, Korean, Ukrainian, Russian.
Q: Is TextSniper free to use?
The TextSniper app is available as a premium tool to copy and paste text across from digital media, but you don't have to put your money on the table right away. You can use the TextSniper app on macOS for free with the 7-day trial, or take up the premium model by checking out the pricing section we've crafted above.
Q: Are there any limitations to TextSniper?
Lacks Being Platform-Friendly – If you don't have access to macOS, you are already out of race for using the excellent features that TextSniper brings in. It's compatible with M1 Macs, but requires macOS Catalina or newer, which is a negative point considering the global compatibility.
Text Issues – In our review, we found out that TextSniper is great when it comes to working with general texts from digital media. However, we do recommend that you do avoid using symbols and emojis, as the TextSniper did occasionally fail to read and process those.
Language Constrain – For a Big Sur user, the language compatibility isn't any issue, but unfortunately the same cannot be said for the Catalina users. Unlike the Big Sur version, the TextSniper version for Catalina is limited to the English language only. So, if you are looking to work on different foreign languages you either have to look for different app or a different OS version altogether.
Final verdict
Whether you are a student or a working professional, accessing and using data from varied sources is sure to be an integral part of your daily routine. To ensure you have the data scrapped most efficiently, we recommend TextSniper with confidence. The feature-packed app helps in cloning texts from digital images and goes a long way in presenting them in convenient formats, such as the plain text to speech feature.
From the user experience to the accuracy of the OCR feature, TextSniper is the next-gen solution towards data sorting which revs up the processing speed significantly. Considering the features that load up along with the core features of the app and the reasonable pricing to go along, TextSniper is a utility tool that deserves your attention. With the promise of the money-back guarantee option, you should feel free to try it out, without having to worry about the few dollars you've put into it.
Read also:
* Readers like you help support TheSweetBits. When you buy something through the links in this article, we may get a small commission at no extra charge to you.