Here's All You Need to Know About VPNs
Are you too much concerned about your privacy and security? Do you want to browse safe and anonymously on the internet? Are you a streamer and want to access blocked streaming services like Netflix, Amazon, BBC from anywhere? If yes, you need a VPN. Here, we're arming you with everything you need to know to understand and use virtual private networks.
What is a VPN?
A Virtual Private Network (VPN) lets people securely and browse anonymously on the internet. All the data being sent and received through a VPN connection cannot be hacked into. In other words, VPN adds an extra layer of protection and security to the internet connection.
A VPN also protect users from government surveillance, data snoopers, hackers and other third-party threats. The end-to-end encryption on a VPN makes it impossible for anyone to track your internet activity outside the computer. Since a VPN encrypts all your traffic, your internet service provider (ISP) can only see indecipherable gibberish that is sent back and forth between your connected device and a VPN server.
Over the past few years, VPN has gained a lot of popularity. The main reason for this popularity is mainly due to the rise in internet censorship. Most of the People buy VPN services to access Netflix and other streaming services by changing their location.
How a VPN works?
VPN creates a tunnel between the local network and exits at another location. The data being sent through a VPN is encrypted. The encryption makes it safe and secure to use. The endpoint in the VPN network decrypts the data and sends it securely to the desired location.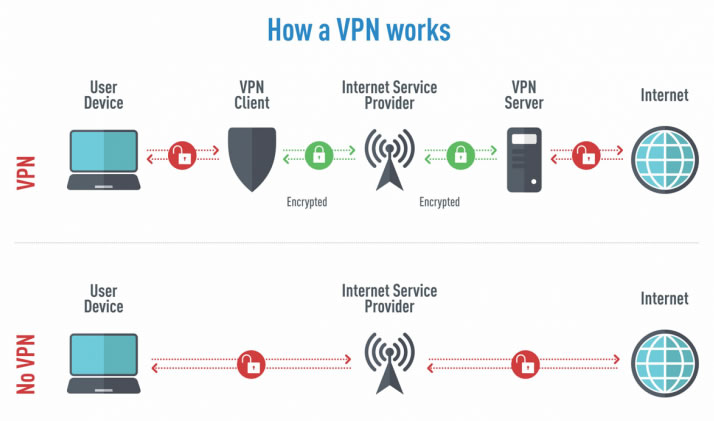 The data that is received on your local network is also encrypted and then decrypted. It is like sending a package to another country which is boxed and unboxed in another location. Nobody can know what is inside it until it is decrypted.
It is a secure way to browse the internet. Also, if the person wishes to access some censored content he can do it just by sitting at home. It gives the user online freedom on any platform.
What are VPN protocols?
VPNs consists of various encryption methods that are used in modern encryption algorithms, technologies and protocols – including AES and SSL. The most common method is 256 bit encryption which is impossible to break because of its unlimited combinations. Don't matter if you have the fastest computer or high-speed systems, none of the system can break it.
A VPN uses several encryption protocols to choose from. Users can select which protocol to choose based on how much security he wants.
What are the different types of VPN protocols?
There are many protocols available by VPN services providers but the most private and commonly used VPN protocol is OpenVPN.
Many VPNs come with several protocols to choose from, such as:
Point-to-Point Tunneling Protocol (PPTP):  The PPTP protocol lets the user create a tunnel. It lets the user access any location on a private server available in the VPN network. It requires low maintenance which is why it is a widely used VPN protocol. It works perfectly on Microsoft Windows.
Layer 2 Tunneling Protocol (L2TP): The L2TP protocol just like PPTP protocol creates a tunnel between two locations. It lets the user access a different location on a VPN network. The encryption on an L2TP protocol is secure. It is mostly used with the IPSec protocol which adds an extra layer of security. The major difference between PPTP and L2TP is, L2TP supports both windows and mobile operating systems. On the other hand, PPTP only supports windows operating systems.
Internet Protocol Security (IPsec):  The IPSec protocol can work in tunneling mode and transport mode. It secures the data which is sent to it. The transport mode encrypts the payload present in the data. Whereas, the tunneling mode encrypts the whole data which is sent and received.
OpenVPN is an open source VPN protocol. It is widely used by people because it has the strongest encryption method. It is suitable for all sorts of activities online.  Like other VPN protocols it also creates a tunnel through which the data is secure sent and received. OpenVPN tends to get slow compared to other protocols but it is easy to use. OpenVPN uses two authentication modes TLS and the Static Key.
Secure Socket Layer VPN (SSL VPN): The SSL protocol uses a three-way handshake method. Which lets the client and the machine establish proper authentication. This method consists of cryptography. To initiate the connection there need to be cryptographic keys stored on both the client's and receiver's machine.
Is VPN legal?
That depends. If the user sets up his own Virtual Private Network or signs up for a VPN service, that is not illegal. These days all the law firms, government agencies, and other organizations use their own VPN networks. It allows them to keep all the confidential data away from hackers and other third-party threats.
In countries like Canada, U.S, U.K and Australia VPN are legal in every way. There are however some countries with censorship laws. In such countries, if the government asks the VPN providers to release information, they are obliged to.
When getting a VPN the user should be aware of which VPN providers keep logs of your online activity. However, if a person is using VPN to do illegal activities online then that would certainly get him in trouble.
Illegal activities include spreading Child Pornography, spreading viruses, committing theft, harming someone etc. Many people use VPN to do illegal activities which makes people wonder if VPN is illegal. But VPN is legal if it is used to do legal activities.
The countries that have banned the use of VPNs are China, Iran, Turkey, Belarus, Oman, UAE, Iraq, and Russia. You can still use VPN in those countries if you are careful.
Why need a VPN?
VPN allows the user to access websites and content with geographic restrictions. If the user wants to access restricted content on streaming services such as Netflix and Hulu he can do that with a VPN. A VPN allows the user to change his location online no matter where he is.
Another reason why a VPN is so important is to protect a users privacy. A VPN connection makes someone's online activity safer. It adds an extra layer of protection on the local network.
Nobody can hack into the information that the user sends and receives through a secure VPN connection. The IP address of the user cannot be located if he is using a secure VPN.
Overall, a person could use VPN for extra security, to safely browse the internet, and to bypass geographic restrictions while streaming or torrenting.
What to look for in a VPN?
Before buying a VPN service, there are many factors to check. Some of the most important factors I would recommend to consider are listed below:
Number of Servers: It is important to go for a VPN with the most servers if you want more bandwidth. A VPN helps create a tunnel between the user and the client's server. It is important that the VPN has many servers to handle the traffic. NordVPN has over 1,000 servers. ExpressVPN has over 1,500 servers, making it one of the fastest VPNs in the market. If you wish to get faster speeds then look for more servers.
Location of the Servers: If your VPN service has several locations to choose from then you would have no lags. If the VPN has locations nearby then you would get high speeds and performance. It is excellent for online gaming. A VPN with a lot of locations would also let you select from several countries. If you wish to stream media on Netflix, Hulu etc you would get several locations to choose from.
Data Plan: There are free and paid VPNs. And some offer unlimited bandwidth and some limited. It is better to look for a VPN that provides Unlimited Bandwidth.
How many Devices it Supports:  It is important to look for a VPN that supports several connections. You cannot stay limited on one device. It is important these days to have a VPN on all your devices. So look for a VPN that allows at least 3 simultaneous connections.
No Log Policy: Look for a VPN that protects your privacy. There are several VPNs in the market with strict no log policies. If you are going to be using a VPN for torrenting then look for a VPN that keeps no logs. Surfshark VPN or ClearVPN has a strong no log policy.
Other Factors to look for: Other than that you need to consider if the price is reasonable. And if the VPN speeds have good reviews. You also need to look for how many platforms it supports.
Which one should you choose?
At this point, your head might be understandably spinning at the thought of all the homework you've got ahead of you. We understand that selecting a VPN service can be a daunting task.
To get a VPN, you can either use a VPN from your workplace, or sometimes host one out of your house — but realistically the vast majority of people are just looking for something to protect them while torrenting or help them watch some media online that they can't seem to access from their country.
The easiest thing to do is simply head to one of these services below, sign up, and download the VPN client for your Windows PC, Mac, Android, iPhone, or iPad. It's as easy as that.
ExpressVPN is the most trustworthy VPN provider we found, with blazing fast speeds, secure connections, easy-to-use applications on every major platform, that can handle torrenting or bypassing geographic restrictions, and just a generally pleasant experience.
NordVPN is a solid choice if you're looking for a quick VPN connection to use at the coffee shop – they have a limited free trial tier and cheap prices. But IPVanish is really easy to use, and supports for torrenting or streaming media.
IPVanish – not quite as easy to use as the others, but you can definitely use them for torrenting and streaming media.
End words
VPNs have become an essential part of our lives these days. With so many online security risks we never know who might be prying on us. It is always to take extra security measures.
So stay safe, and get a VPN. If you are ready to get started, you can check out these VPN guides below for additional information.