Bartender 4 Review: A Definite Upgrade for Productivity Boost
If you follow TheSweetBits, you know that we love Bartender. In fact, we had talked about Bartender as one of the must-have apps in our macOS workflow. Today, however, we have come with something better — an extensive review of Bartender 4. That is right. Despite the tough times caused by the global pandemic, the developers behind the utility have worked towards building an improved version. In this article, we wanted to introduce the new design, features, and how Bartender 4 works with M1-based Macs. We will start with the basics.
Bartender 4: the first impressions
At the surface level, Bartender 4 remains the same nifty tool you can use to manage your macOS menu bar. You can hide the icons that you do not use often and thus clean up the menu bar. Many people find it quite disturbing and distracting when there are too many icons on the menu bar.
True, you may have to spend a second or two trying to find the icon you need. There are even some options to display icons when you need them nearby. Likewise, Bartender 4 brings a level of menu bar customization options that macOS never had and probably never will.
By the way, Bartender 4 has been designed for macOS Big Sur and Apple M1 chips. More importantly, you cannot run the latest version of Bartender 4 if you do not have a Mac running macOS Big Sur. The company also offered a few performance improvements through an Apple Silicon-exclusive version.
Thanks to our Setapp package, we have been using Bartender 4 for quite a while now. Even though the major features remain the same, this version of Bartender has introduced some new tech. We will now look at the significant improvements in version 4.
What's new in Bartender 4?
Here are the additions that we loved the most in Bartender 4.
Fully Optimized for Big Sur and M1
As we mentioned earlier, this version of Bartender has been tailor-made for macOS Big Sur and Apple's M1 chips. If you have an M1-powered Mac, you can install the universal version of the Bartender 4 app. It feels snappy for the most part, and the new features work perfectly. By the way, increased compatibility is one of the smallest features in the Bartender 4 package.
Unlike its predecessor, Bartender 4 can reveal the hidden icons without asking you to click on the Bartender button. This new feature called Quick Reveal works flawlessly when you want to have a simple menu bar but want to access the icons, nevertheless. You can hover the cursor over the menu bar, and the hidden icons will appear without a problem. If you ask us, it is an incredible time-saver.
Bartender Bar takes an intuitive step towards menu-bar item management. When you have enabled it, the Bartender 4 interface will show the hidden icons in a separate bar beneath the menu bar. It means you don't have to see an icon-filled menu bar ever again. We noticed that the feature works perfectly when you have too many hidden menu-bar items.
Bartender 4 now allows you to show and hide icons based on some triggers. For instance, you can set up the Battery icon to be shown when the percentage is below a specific number. Similarly, you can check out an option to show the Time Machine icon only when a Time Machine backup is going on. Likewise, you can pick one of the premade triggers or even a script.
From the very beginning, Bartender has allowed room for overwhelming customization. With Bartender 4, the options have become impressive. You can now not only rearrange the shown menu bar icons but also change the spacing between each icon. If you have an extended display, you can go for the maximum spacing option. On the other hand, if you want to contain as many icons as possible, there is a way.
If you have too many menu bar items, you will love the Quick Search feature on Bartender 4. Using the new search bar, you can find the item you are looking for. Based on the icon, Bartender 4 Quick Search can display dynamic values as well. For instance, if a menu bar entry gives you weather information, the Quick Search entry can show you the temperature — or another value you have selected.
In addition to these features, Bartender 4 also comes with options like AppleScript support and menu bar spacers. As you can guess, the developers have managed to eliminate the bugs and limitations from the previous version.
My experience with Bartender 4
We need some background here. I had the opportunity to test Bartender 4 on both Intel and M1-based Mac devices. Thanks to Setapp, as soon as I upgraded to the M1 MacBook Pro, Bartender 4 was running natively. So, I could understand the overall difference in speed. Everything looks so snappy, and you don't have to wait to see the transitions. Even when you set up so many customizations and triggers, the Bartender 4 app could manage everything smoothly.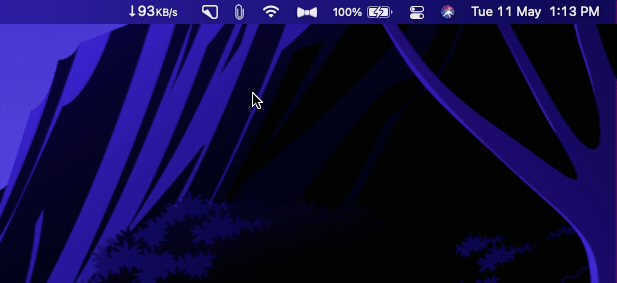 I also loved the return of the Bartender Bar, which is excellent while using the laptop's built-in screen. When I move to the secondary display, the UI offers an ample experience as well. But, customization is the one thing that I loved the most in the Bartender 4 package. It feels so lovely to manage multiple icons and triggers as per the wish. For instance, it is now easy to hide the Wi-Fi icon. It will return automatically if there is no Wi-Fi connection.
Altogether, I am pretty impressed with what the developers have done with Bartender 4. It has fixed many of the issues we had mentioned when we reviewed Bartender 3 as our must-have app. As you can guess, the Bartender 4 app will also stay as one of the apps I cannot live without. We believe it is an excellent move for any macOS app.
Downsides?
Bartender 4 is as close as it gets to the perfect macOS app. Despite my persistent tries, I could not find any problem with the application. It manages to do everything it claims to. As you have seen in the sections mentioned above, Bartender 4 opens up a gateway of options other than arranging your menu bar. So, if that is your primary purpose, you do not have to reconsider your decision.
Pricing
Bartender 4 is still available for the reasonable old price of $15. It is a single-user license.
If you have bought Bartender 3 after April 2021, you can get a free upgrade to Bartender 4 for free. But, if you purchased Bartender 3 much earlier, you would have to pay 50% of the cost: $7.50. In either case, you are getting enough features that make the upgrade worthy of what you pay.
Bartender also offers a free trial of the product for up to 4 weeks. So that you know, it is very addictive.
Of course, you can get Bartender 4 via Setapp, the super-useful app subscription service, as well.
The bottom line
As we have said, Bartender 4 is a definitive upgrade from Bartender 3 by all means. The new version brings in a number of features that boost productivity like anything. The Quick Reveal and Quick Search options are just amazing when you work with multiple menu bar entries. Altogether, we believe Bartender 4 is one of the best productivity apps for macOS.
* Readers like you help support TheSweetBits. When you buy something through the links in this article, we may get a small commission at no extra charge to you.