Top Sound Equalizers for Mac and Windows
Utilities   •   Updated on June 23, 2023
Editor's note: we've looked over this guide and updated the list for enhancing your sound.
Most companies make you believe that you need expensive DACs and headphones to enjoy a premium audio experience from computers. While headphones and DACs are great, they are not the only option. You have the option to use sound equalizers and audio enhancement software available for Windows and Mac. The best part? You can choose between free and paid options.
Even better, you can find a suitable equalizer for different purposes. For instance, one could be a better pick if you require professional-grade features. Instead, some equalizers are beginner-friendly. Anyway, we have created an ultimate list of sound equalizer software for macOS and Windows.
Quick peek
For Mac
For Windows
What is an equalizer?
In case you don't know about them, software equalizers are programs that you can use to adjust your computer's audio. You can put more (or less) bass, treble, and anything in-between.
This means that you can easily make your sound boomier, sharper, muddier, crispier, louder, wider, or in any way you want it. And this works very similarly with amps – except you do it with software instead of adjusting physical knobs.
Not to mention that this is only the beginning. Many equalizers are built to do tons of other things, like adding 3D audio processing, increasing volume, adding more effects, reverb, and tons of other stuff – depending on how deep you are willing to go.
You'll find both free and paid equalization options out there with the paid counterparts often offering more features and a tidier UI. But, if you are new to this stuff, definitely consider starting with the basic free options first.
RELATED: The Best Music Management Software for Windows 
Best Sound Equalizers for Windows
We will now check out the best sound equalizer software for Windows PCs. We have included free and paid options, including third-party and built-in ones. More importantly, we have specified what each equalizer is suited best for.
Realtek Equalizer – Best built-in equalizer for beginners
Almost every Windows PC nowadays comes with some sort of built-in equalizer. More often than not, that's Realtek's equalizer, and you can find it under the taskbar. But it is also likely that your PC does not have the equalizer built in. In this case, you may rather want to check out the third-party equalizers we have listed.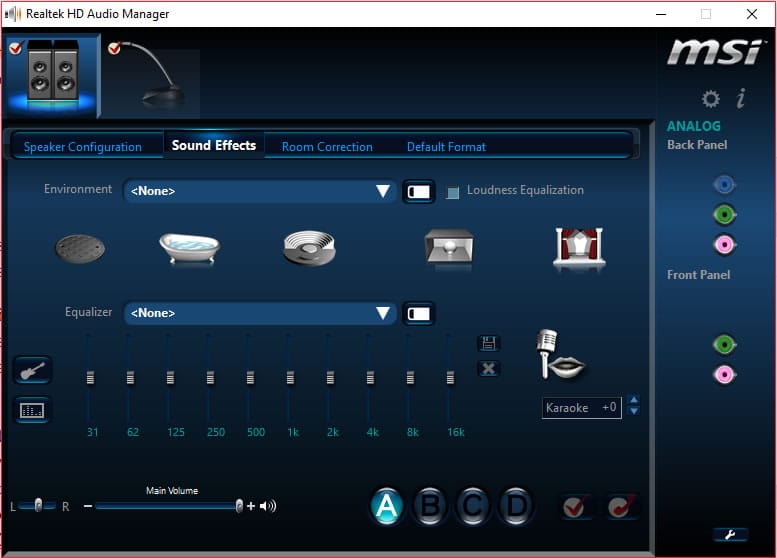 However, if your PC already has Realtek Equalizer built in, it offers some advantages. For instance, the built-in system will already be well-integrated with Windows. Therefore, you can ensure the best audio output via not only system apps but also third-party platforms like Spotify or Tidal.
But, while we appreciate the simplicity and integration of Realtek Equalizer, we cannot recommend it if you need something more advanced. It is also inconvenient that you cannot install plug-ins to improve. So, if the built-in system does not work, you must have a different tool.
We also noticed that Realtek Equalizer has not been upgraded recently. It means you miss out on features like virtual 3D surround sound and virtual profiles. But if you can trade these additional features for the ease of use, it may be for you.
Pros
You do not have to deal with installation or setup
Realtek Equalizer works smooth across Windows
It is incredibly easy to control, thanks to the UI
Cons
This equalizer does not offer professional features
We should understand that Realtek Equalizer is not the most advanced equalizer available for Windows. On the other hand, if you are looking for something that does not take a lot of effort, it is a suitable choice. It is a convenience that you can employ the use of this equalizer across third-party apps as well.
Equalizer APO with Peace – Best open-source equalizer for Windows
Equalizer APO with Peace is one of the best options when you need a professional-grade equalizer for your Windows PC. Even though you do not have to pay for the program, it works so flawlessly. And, if you find its base UI too complex, you can install the Peace extension, which enhances the overall workflow.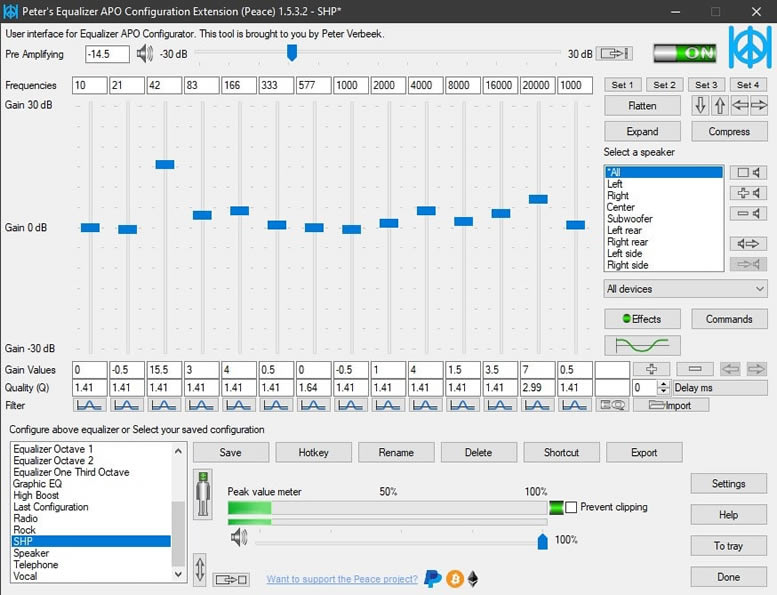 The Peace UI gives you a 15-band equalizer to play with. And if you are only here for the pre-sets, there are 19 to choose from. But mostly, the equalizer pre-sets rarely provide good audio quality in the specific tastes, no matter how good and refined they are.
If you have multiple speakers or headphones, you can also make individual equalizer profiles for each one of them. If even all that is not enough, you could always stick to the 'traditional' APO without the Peace plugin and use other 3rd party plugins. But, for the rest of us, the Peace plugin will be plenty enough.
We have picked Equalizer APO with Peace for the wonderful collection of extensions and plug-ins. These are great when you want to expand the functionality without shifting to a different program altogether. For what it's worth, the plug-in collection for Equalizer APO is impressive.
Pros
It is completely free to use and contains no ads
You can choose between a variety of extensions
It supports advanced features like 3D surround
Cons
You may need more time to set up and get used to it
Overall, if you do not like the idea of paying for software, you should stick to Equalizer APO with Peace. It offers plenty of customization features with the ability to add more features. However, you must have some patience to get through the learning curve.
Boom3D – Best paid equalizer for Windows
As software and music enthusiasts, we've tried plenty of premium equalizers before. And, they don't differ all that much in terms of quality compared to something like APO. Boom3D, on the other hand, offers not only an equalizer but also 4 extra effects that make a huge difference along with 3D virtualization.
It has an intuitive UI design as well. These are all the controls you'll ever need, right there. There are no extra panels or anything like that. Everything you may need is placed right in front of you and can be adjusted with a couple of clicks. You can also toggle between a 10-band and 31-band equalizer designs.
You can pick from 5 different tools – but only one of them can work at a time. We assume this is because using two of them or more at the same time would most likely mess up the sound. For instance, Fidelity can boost the overall quality of the audio output.
On the other hand, Night Mode will optimize the sound for a stable listening experience. You can also use a filter called Ambience to add surround quality to the audio output. Finally, you can also add spatial depth to the audio.
Pros
Boom3D for Windows is one of the most feature-rich equalizers
It does not have a steep learning curve; you can easily master it
You get multiple options to improve the sound quality and experience
Cons
It does not have a free option; only a free trial is available
Conclusively, we can recommend Boom3D for Windows as the best sound equalizer for PC users. Although it does not have a free version, the amount you invest on Boom3D can save the hundreds of dollars you may otherwise spend on premium audio hardware.
FxSound – Best balanced equalizer for Windows
FxSound is a balanced equalizer that can help you control what you are listening to on your computer. This tool can carry out all the functions of a normal equalizer and also comes with some extra features, including customization options.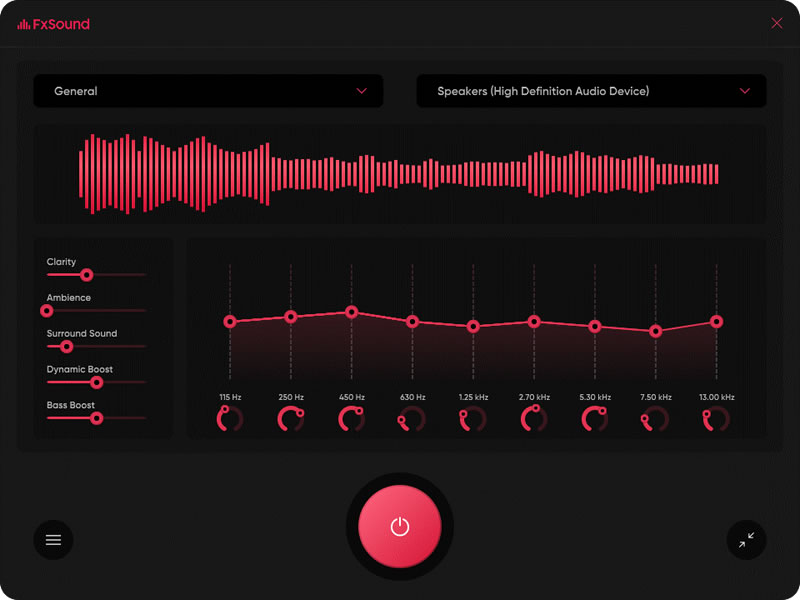 For instance, It corrects the limitations of your audio devices, such as an external speaker or headphones, and helps you resolve any issues with the audio files. The transcription feature helps in boosting up the clarity of voice messages and the voice during any online call or conference.
The twenty-band equalizer helps you customize and balance the sound levels according to your ears and hearing ability. The various options available in it allow you to change the audio output according to the content, such as music, video games, movies, and more.
The audio visualizer helps in an immersive experience and provides a blended experience of the audio and the visuals. While the bass boosters allow you to increase or decrease the bass on your device, the various pre-sets allow you to switch between different contents while viewing them on your computers.
Pros
Provides clearer, louder, balanced, and deep audio.
It boosts the volume without any distortion.
The UI is intuitive and impressive
Cons
The trial version has fewer options.
Compared to a tool like Boom3D, FxSound may not have the same number of features. However, you get a simpler UI and easier ways to get balanced audio from your Windows PC. We wish the trial version was not restrictive, though.
Best Sound Equalizers for Mac
We will now check out the best sound equalizer software for macOS. Even though Macs tend to come with optimized audio, it can often be flat and boring. Therefore, you can make use of the free and paid equalizers and sound boosters we have listed below.
Boom3D – Best overall equalizer for Mac
This is the very same equalizer that we checked out on Windows. If you are willing to pay for something that offers many features while still being effortless to use, you just can't go wrong with this one. Really, all you have to do is just tweak some knobs; that's more or less all there is to it.
Perhaps the best thing about Boom3D is how it optimizes 3D surround sound throughout your Mac. It routes all your audio content through a virtual device and converts it to 3D surround. According to our testing, the feature improves the overall experience for movies, music, and games.
Like we discussed in the case of the Windows version, Boom3D for Mac also offers features like Ambience, Fidelity, Night Mode, Spatial surround, and Pitch control. You can also use an interactive system to customize the equalizer experience, especially if you do not want to choose from existing presets.
If you feel like there is something missing from your equalizer settings like you could use just a bit more treble or bass, but you just can't get it right, you'll definitely want to rely on some of these extra options. They are particularly tuned for these kinds of things.
Pros
Tons of features
Available on multiple platforms
Easy to use despite all the features
3D audio is a welcome addition
Cons
In light of our testing, it is clear that Boom3D is indeed the most impressive audio equalizer for macOS. The app works flawlessly and offers room for customization. Weighing these features, the price you pay is not so high, either. For a deep look, read our review of Boom3D.
eqMac: Most simple 3rd party equalizer for Mac
If you want something that's free, easy to use, and with a few more options than iTunes, eqMac is one of the first equalizers you should check out. Just like with Mac Music' offering, you only get some basic stuff here along with a couple of extra options.
There is a 10-band equalizer, various presets to choose from, an audio booster, and an audio balance knob as well. The good thing is that if even a 10-band equalizer is too much for you, then you also have the option of using the basic option that offers just 3 controls.
It literally can't get any easier than that. But, of course, the downside to simplicity is that you don't get any of the fancy features that Boom3D comes with. For instance, you cannot expect eqMac to compensate for the lack of premium hardware.
However, it is worth noting that eqMac does not consume a lot of system resources. Therefore, you do not have to worry about performance. Because eqMac is open source, it is supported by a great community. So, even if you run into some trouble, you don't have to worry.
It is true that eqMac has some limitations, especially compared to the ones like Boom3D for Mac. Then again, we are looking at a free, open-source equalizer that's more than enough for a casual user. So, it's really hard to go wrong with it.
Pros
Free and open source
Clean UI for the free version
It couldn't be easier to use
Cons
The free version is quite restrictive
Audio Hijack: Best for professional use
If you are a professional who is a lot into audio tuning and recording, you can surely opt for this equalizer. It comes with a number of options that allow you to record the audio from various input devices and from different apps.
It also allows you to tweak the frequency of the input audio and also for the output audio from different output devices connected to your Mac. Furthermore, it allows you to capture the audio from different applications such as Skype, Safari, and many others available on your Mac.
You can also use this to record any type of meeting or podcasts, and it can also be used for live streaming your audio. The 10- band equalizer allows you to configure the audio outputs from the different output devices such as a headphone, speakers, or others.
Audio Hijack also allows you to boost the output of the in-built speaker beyond the maximum level without any distortion. It does an impressive job of improving the audio experience if you have a decent pair of headphones. You also get additional features which allow you to gain more control over the output.
Pros
Allows recording of audio.
Allows customization of audio output.
Allows live streaming
Cons
Not much equalizer options.
The paid version is expensive.
It is clear that Audio Hijack has what it takes to cater to the professional audio recording options for a Mac. You also get some superb options to route and control how your audio is rendered. In the end, this app is worth what you pay.
Mac Music – Best in-built equalizer for macOS
If you only need a simple equalizer that gets the job done, there's no point looking for 3rd party equalizers online. Just use the built-in Mac Music one. After all, every Mac comes with it, and it works just fine for basic adjustments.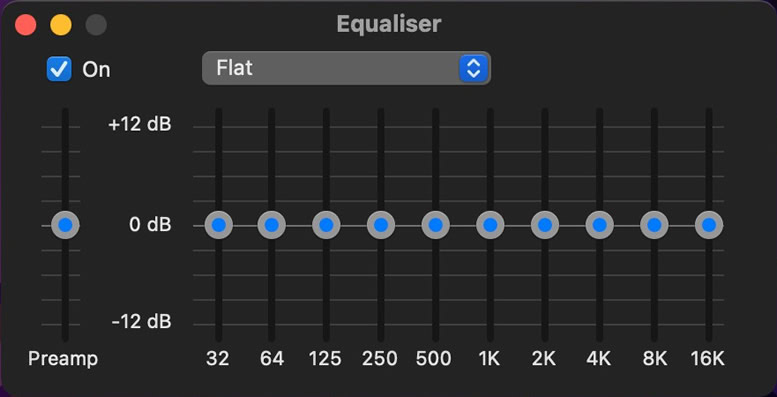 To use this, you just need to open the Music app on your Mac and choose the equalizer option from there. As you can see, it's extremely straightforward and easy to use without any bells and whistles. All you get is a 10-band equalizer along with a few presets and the option to add your own.
That's really all there is to it. If you want a simple equalizer that gets the job done, look no further. But we will not recommend sticking to Mac Music if you need a better audio experience. At the end of the day, it does not improve anything much.
Pros
Doesn't take any space or resources since it's pre-installed
Straightforward to use
Very plain UI that integrates with macOS
Cons
Doesn't offer any additional features
Even though we have included Mac Music on this list, it could be our last recommendation. As we mentioned, this tool does not really improve the audio experience on your Mac. So, you better check out the other apps on the list.
Tips for using an equalizer
Using an equalizer isn't much different than adjusting the bass, mid, and treble knobs on a stereo system. The only difference is that instead of 3 knobs that adjust 3 main frequencies or a combination of frequencies with one knob, you get to play with 5, 10, 15, or 31 sliders depending on your equalizer and option of bands.
Equalizers are easy to learn but hard to master. Think of it this way. On a 10-band equalizer, from left to right:
First 3 sliders: Responsible for bass and warmth
Middle 4 sliders: Mid frequencies. Use for depth
Last 3: High/treble. Use that for sharpness and detail
It's the same thing no matter how many bands you use – except you get more frequencies to play with and, thus, more options while editing.
If you are looking for the best equalizer settings online, don't. First, audio largely comes down to personal preference. Some people prefer warm sound with boomy base while others love flat or sharp sound.
Secondly, your results will greatly differ depending on what headphones or speakers you use and even on your hardware amp. So, you could try asking in forums what settings are other using for your specific audio setup. But, again, it all comes down to personal preference. So, at the end of the day, just experiment with your options and find whatever personally suits you best.
Equalizer FAQs
Q: What equalizer is best for bass?
A: First things first, bass is largely a matter of hardware. No matter how good your software is, if your headphones can't kick or if you don't have a decent subwoofer, you aren't going to increase your bass by 300% or anything like that. That said, we found that APO provides the strongest thump on Windows while Boom3D was the most effective on Mac.
Q: Is there a sound equalizer for Windows 10/11?
A: Windows 10/11 doesn't have its own equalizer. However, most computers use their own version of Realtek drivers that usually also contain an equalizer. Your mileage may vary from computer to computer and whether the latest version of Windows is compatible with that equalizer or not. That aside, Groove, Windows' default music player, also has its own equalizer. But it only works for the music player itself and not for games or other streaming services such as Spotify or YouTube.
Q: Is there an audio equalizer in Spotify?
A: Unfortunately, Spotify still doesn't have its own equalizer on computers – even though there is one on the mobile app. Still, you can just use one of our aforementioned equalizers instead. We've personally tried them during the review process and they work just fine with both Spotify and other music streaming services.
Q: Should you use an Equalizer?
A: 9 times of 10, the answer is going to be yes. Even if you don't know anything about equalizers, installing the simplest one that you can find or using a built-in option and then putting a bit more bass or treble in is going to make an enormous difference. So, give it a try.
Q: How can I improve my bass?
A: If we are talking about speakers, the first thing you should do is make sure that the subwoofer is turned up to your liking. And if your speakers don't have a subwoofer, definitely consider investing in ones that do as it makes an enormous difference for bass lovers. As far as equalizers are concerned, simply adding more base is not enough. You also need to balance things out. For example, if your sound becomes muddy and the bass overwhelms everything else, try increasing the higher frequencies a little bit to even things out.
Q: Why is Spotify so quiet?
A: If you are trying to boost your audio levels in Spotify with an equalizer and it still sounds quiet, you may need an external amp. And that's especially true for those of you who are using audiophile headphones with very high levels of resistance.
Q: How do you turn down the bass?
A: The left sliders of an equalizers are the ones that are responsible for bass. Lower these and things should calm down a little.
Final thoughts
These are our top picks for now. All of them have their own pros and cons, so, choose whatever personally fits you best.
Again, from our tests, we found that FxSound provides the strongest thump on Windows while Boom3D was the most effective on Mac. But, if you need a balance of features and control, you should try Boom3D for Windows as well.
On the other hand, if you need advanced control over recording options, you may want to check out Audio Hijack.
READ ALSO
* Readers like you help support TheSweetBits. When you buy something through the links in this article, we may get a small commission at no extra charge to you.