Freeform for iPad, iPhone, and Mac – A Quick Review
Since Apple announced its collaborative whiteboard app Freeform, we were excited to check it out. But, to be honest, it was a long wait time, considering the announcement was made at WWDC 2022 in June. This Figma Whiteboard competitor was made available through the public/developer beta of iOS/iPadOS 16.2 and macOS Ventura 13.1, but we decided to wait for the final release.
Apple released the public version of iOS 16.2, iPadOS 16.2, and macOS Ventura 13.1 over a week before, and we have been using the Freeform apps since. Today, we shall see what this whiteboard app offers and how it improves the overall experience on iPhone, iPad, and Mac.
What Is Freeform?
Freeform is a collaborative whiteboard app designed by Apple for iPhone, iPad, and Mac devices. However, unlike Figma Whiteboard or other whiteboard apps, Freeform integrates tightly with the Apple ecosystem and services. Therefore, one could use this app to fulfill several tasks.
For instance, the Freeform app is a great note-taking space where you can create beautiful and informative notes. Similarly, you can use the app to brainstorm ideas with friends or colleagues. You might as well use the app to store your thoughts for later.
But probably the best thing about Freeform is the collaboration options it offers. You can have up to 100 collaborators working on a single Freeform board and easily share these boards using email, iMessage, and links. As you can guess, Apple has designed this app for personal and professional needs.
It's also worth noting that Freeform works with a variety of file types. You can drag and drop PDFs, links, and photos to add them to a board. We have seen these features on other apps, but none offered such a unified space.
How Is It Different From Notes?
It's okay if you think Freeform is similar to Notes. The Notes app on iPhone, iPad and Mac offers many of the features of Freeform. For instance, you could create flexible notes and share them with people. There are also options to keep essential links, photos, and documents.
But a deeper look makes us understand that Freeform differs from Notes at many levels.
First and foremost, Freeform offers a really flexible workspace where you can draw, type, create diagrams, or attach links. In addition, you can choose from a growing library of shapes and alignment guides to make your boards look great. Similarly, these boards can easily accommodate sticky notes, photos, and docs.
More importantly, the Notes app supports only a few types of content. You can add a document or a photo, but that's about it. However, on a Freeform app, you can add practically anything. As a result, it's a great way to organize your ideas and thoughts for long-term projects.
Last but not least, the collaboration capabilities of the Freeform app are not as limited as the Notes app. You can use the Freeform app to deal with personal and professional tasks. For instance, it's no small thing that a single board can accommodate up to 100 collaborators.
But to answer a different question, the answer is Yes.
You can use the Freeform app as a note-taking app on steroids. It brings together many features we've seen on third-party apps like Nebo. You do not have to limit your notes to a single-page canvas. A single board on Freeform can be flexible enough to include all your wondrous ideas.
Best Ways to Use the Freeform App
As we said, flexibility is perhaps the best thing about the Freeform app for iPhone, iPad, and Mac. It means you can use the app according to your requirements. However, we can give you some ideas to help you get started.
Use Freeform as an enhanced note-taking app. You can create flexible notes that contain a variety of elements.
Use Freeform to keep your ideas organized. For example, a board can accommodate links, text, photos, videos, documents, etc.
Use the Freeform app to brainstorm and visualize your ideas. You can do it alone or by collaborating with friends or colleagues.
Use the app to keep track of important information in your life. It can be in the form of sticky notes, drawings, or doodles.
You can also use the Freeform app as a temporary storage space. Because all boards are synced with iCloud, you can access information from all your Apple devices.
In short, you do not have to hold back when using the Freeform. This whiteboard app can adapt to the many requirements you may have.
Now that you know how Freeform works, let's quickly review how it performs on iPhone, iPad, and Mac.
Freeform for iPhone: A Quick Review
Even though the Freeform app is designed and optimized for iPhone, the small display of the device can be a hindrance. You can zoom in and explore different elements on a board, but that's about it. You don't get enough real estate to make the best use of Freeform boards.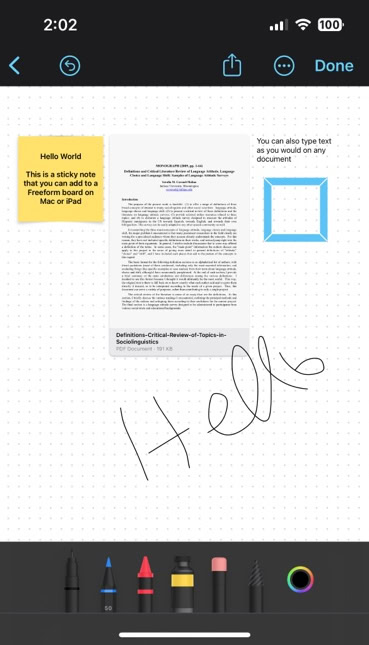 For instance, the Freeform app for iPhone allows you to draw and sketch. But, because you need to use your fingers to do all these, the overall experience is not ideal. It's one of the rare instances when you wish Apple Pencil worked with iPhone.
But the super-fast iCloud Sync comes in handy more often than you think. You can shift between boards and add photos/videos from your device. It is also a great way to access documents that you have added to one of your boards.
Freeform for iPad: A Quick Review
We believe the Freeform app works the best on iPad—thanks to Apple Pencil support and the larger screen real estate. Similarly, with iPadOS 16.2, most iPad models have what it takes to be a computer. It means you can efficiently deal with documents, photographs, and other complex elements.
If you already have a Magic Keyboard connected to the iPad, the collaboration part also becomes easier than you think. You can use the cursor to take care of collaborators even as you use the Apple Pencil to navigate through the board and sketch items.
Altogether, we think you can get the best out of this whiteboard and collaboration app if you have an iPad, accompanied by Apple Pencil and Magic Keyboard. Of course, the portability of iPad devices will also be a factor in the long run.
Freeform for Mac: A Quick Review
We had a mediocre experience with the Freeform for Mac. While Macs offer better screen real estate, the lack of drawing/touch input is a dealbreaker. Though you can use the mouse or trackpad to sketch items on a board, you cannot create a masterpiece, per se.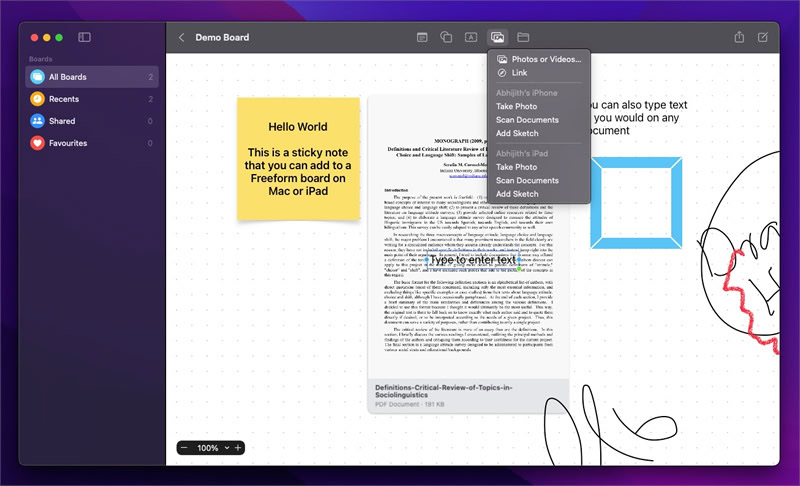 However, the advantages of better real estate cannot be understated. If you use Freeform as a place to organize your ideas, files, and documents, the macOS app is an apt choice. And we think it's going to be an awesome choice if you have a graphic tablet connected to your Mac.
Conclusion
We hope we have given you some insights into the Freeform app and how to get started. When used on iPad, Freeform can help you the most—becoming a note-taking app, brainstorming platform, and drawing app, among other things.
But, in the end, how much you benefit from the app depends on how integrated you are with the Apple ecosystem. For instance, if you have an iPad but do not use a Mac, you cannot benefit from iCloud Sync. On the bright side, the Freeform app might as well be a reason for you to get an iPad or Apple Pencil.
* Readers like you help support TheSweetBits. When you buy something through the links in this article, we may get a small commission at no extra charge to you.