How to Download YouTube Videos to Your iPhone?
YouTube is the central library of video content on the internet – whether you want to enjoy music, entertainment, or educative content. Being able to download YouTube videos makes it easy to access videos even without an active internet connection, and a simple search online will reveal dozens of YouTube downloader tools.
Unfortunately, with the countless number of software that claims to download YouTube videos, there are also risks. Malware, Adware, and other harmful components do get injected into your devices through this random software. And if you are using premium devices such as the new iPhone 15, you'd want to make the most of what YouTube has to offer.
But what if you want to download YouTube videos to iPhone 15 and watch them even when there isn't WiFi or mobile internet connectivity? YouTube has made it possible to do this, as long as you pay a premium price for it, but there is another way around it too. We're here to discuss everything you need to know about how to download YouTube videos to the iPhone 15, so keep reading!
Official way: YouTube app with YouTube Premium (iOS app)
YouTube has been a go-to place for creators and audiences for a long time now. The Youtube library has grown to over 800 million videos and 2.1 billion monthly active users since its inception. This made YouTube a perfect place to introduce premium features for people who like more control on the platform as a user.
YouTube Premium has many features, including an ad-free viewing experience and one-click YouTube video download. In addition, YouTube Premium is the official way to download YouTube videos on your iPhone 15. So, how can you do it?
Follow the below steps to download YouTube Video on your iPhone 15 using YouTube Premium.
First of all, you have to subscribe to YouTube Premium. To do this, open YouTube, click your profile picture, and tap Get YouTube Premium. You can pay and subscribe to YouTube premium from here, and your YouTube will automatically change to YouTube Premium.
Step 1: Open Your YouTube App on your iPhone.
Step 2: From the YouTube Premium homepage, navigate to the video you want to download.
Step 3: On the bottom bar of the video screen (On the row where the Like button is), you will see the Download button. Click on it, and the video will start to download.
To access the downloaded video, go to the Downloads on the library section of the YouTube app.
You can only watch and access the YouTube video using the YouTube App and not from your Gallery or file manager. This is perfect if you only download the YouTube video to watch them later. It downloads the video in its highest quality, and you can access it anytime.
But what if you want to download the video for other purposes? What if you're going to share it with your friends and family? You will need a secure YouTube downloader free of malware and viruses.
Easy yet efficient way: SYC 2 (desktop app)
SYC 2 or Softorino YouTube Converter 2 is a desktop app available for both macOS and Windows which can download and transfer the video to your iPhone very quickly. It can also download videos from other sources such as Facebook, SoundCloud, Vimeo, and more.
Using this app to download YouTube videos is very safe, easy, and efficient. You can convert the video to audio or ringtone. You can also downgrade the resolution of the video to different quality.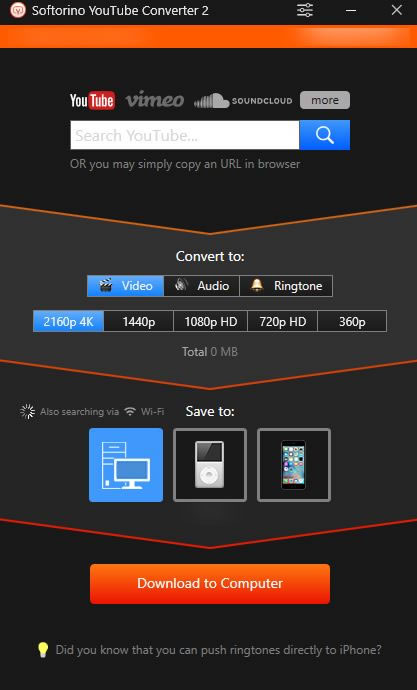 So, here are the steps you can take to download a YouTube video to your iPhone using the SYC software from your computer.
Step 1: First, download the software from their website and install it on your computer.
Step 2: Request a trial activation key which will be sent to your email. Activate the trial version of the software.
Step 3: Now, you can either search for the video using the search bar on the screen or copy-paste the URL of the YouTube video on the box.
Step 4: Let the video be parsed, as it will take some time to complete. In the meantime, connect your iPhone with the USB or wirelessly through WiFi.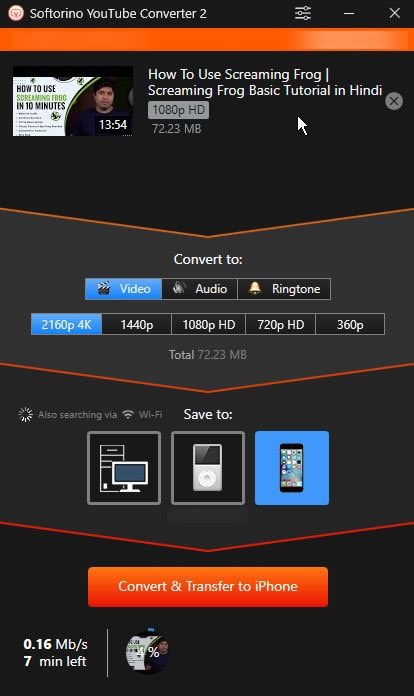 Step 5: After the video is ready to download, Choose your device and click the Convert & Transfer To iPhone button at the bottom.
After the click, it will send the video to your iPhone, where you can access it from the Photos app.
Note: Since you will be using this software for the first time, your iPhone will ask you if you trust the source. Then, you can click Trust to begin the transfer.
If your daily use device is a Mac along with your iPhone, Softorino YouTube Converter PRO is also a great tool to download YouTube videos. This version of SYC is designed and built with more features and is available for Mac devices only.
This tool is built for professional users with an enhanced design, direct-to-iOS transfers, metadata editing for audio and video downloads, 6x download speed, folder destination, and more. So, if you are a professional and have to download YouTube videos regularly and work on them, you will love this tool.
FAQs
Can you legally download videos to your iPhone?
Yes, downloading videos to your iPhone is legal as long as it is for personal use. But if you are going to use the downloaded video, full or partial, as your work, it will be illegal and a violation of copyright. In the case of YouTube videos, the fair-use policy gives you the right to use them fairly, with permission, and with due credit to the creator of the video.
How to download audio from YouTube to iPhone?
To download audio from YouTube to iPhone, again, you can use SYC 2. Simply paste the URL of the YouTube video you want to download audio from, select audio instead of video, connect your iPhone or other devices, and click Convert & Transfer. It will only download the audio of the YouTube video.
Where to find the downloaded video on iPhone?
To find the downloaded video on iPhone, simply open the Photos app, tap on Albums on the bottom and scroll down to Media Types>Videos, open the videos and look for the video you downloaded.
Wrapping up
Therefore, downloading YouTube videos to your iPhone is straightforward. You can use the official method of YouTube Premium, which is simple. Or, if that solution would not do, you can use tools such as SYC 2 or SYC Pro on your Windows or Mac and transfer it directly to your iPhone.
However, if you are a professional, the second option would be the best choice as you would get more features and control over the videos you download.