How to Run Windows Games on macOS with CrossOver
Despite what Apple claims every year, the gaming experience on Macs has not improved much. Even when you have the fastest Mac desktop packed with maximum graphics performance, you cannot expect a decent experience with AAA games. Most AAA games are not optimized for macOS, either, making things worse. It becomes a problem even when you have a dedicated GPU.
So, it is okay if you think about running Windows games on macOS. Now, you may think that you must have a Windows virtual machine to run Windows games. However, this is untrue! You can also use a compatibility layer like CrossOver for Mac to run Windows games on macOS. So, for most people who do not want to mess with virtual machine setup and Windows licenses, it makes sense to use CrossOver.
In this quick guide, we have explained two methods to run Windows games on macOS with CrossOver. For those who do not know, CrossOver Mac is a Microsoft Windows compatibility layer system. It is designed to translate Windows commands to a language that macOS can understand. In this way, CrossOver Mac makes it possible to run Windows apps (and games) on macOS with little effort.
Method #1 Install Windows games directly on macOS using CrossOver
You can use this method if you want to run lightweight Windows games on macOS. However, you have to make sure that CrossOver has a good compatibility rating for the game. For instance, let's say that you wish to play a classic game like Road Rash on your Mac. To accomplish it, you can follow the steps given below.
1. First, you have to download and install CrossOver on your Mac. You can either purchase the app or go for a free trial, which you can use for 14 days.
2. Now, click Install and search for the game you want to install via CrossOver. In this case, we have to search for Road Rash, which is fortunately compatible with the system.
3. Now, you have to find the .EXE or .MSI installer for the game. You can download the file from one of the online sources out there. Thanks to the compatibility check, CrossOver Mac will create the most suitable bottle for the game. In the case of Road Rash, Windows XP is the appropriate choice.
4. Once you have found the EXE file, you can choose the file using the Finder window. Then, all it takes is a single click on the Install button.
5. You have to wait while CrossOver prepares the system for the game you have selected. Depending on the type and size of the game, the process may take up to a few minutes. You will also have to go through the setup process.
6. After this point, you can launch the game from the CrossOver window. You should be able to play it without any issues.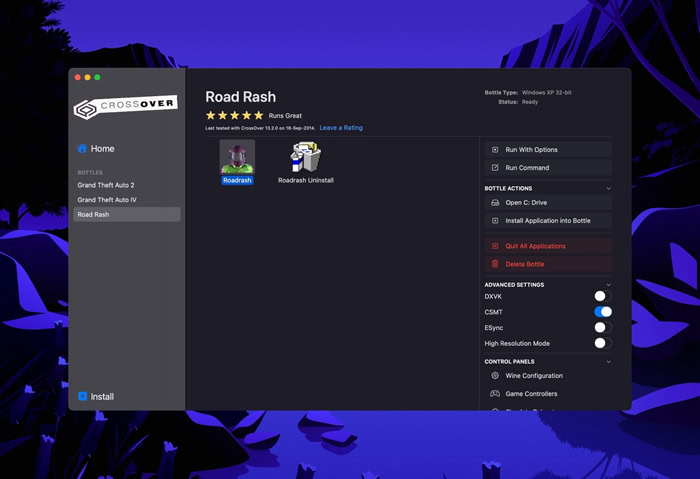 As you can guess, this method works when you have the installation file handy on your side. It may not work when you want to deal with an AAA game like Grand Theft Auto. In these cases, you can use the other way.
Method #2 Install Steam via CrossOver to run Windows games
If you cannot directly install a game using CrossOver, you can use Steam. The digital distribution service is a great way to play popular games, including AAA titles. Even though Steam is available for macOS, you would find the Windows version much better in terms of performance. So, it makes sense to use the Windows app of Steam.
It also happens that CrossOver itself relies on Steam for some titles. For instance, if you try to install Grand Theft Auto V on your Mac via CrossOver, you will have to download and set up Steam in the first place. But, by setting up the Windows version of the Steam app on your Mac, you can find an easier method to explore and install popular gaming titles.
The steps you have to follow are as follows.
1. Open the CrossOver app on your Mac and search for Steam. You can find a few options, including the Steam VR app, but you have to select the core Steam app.
2. In a second, you can see the Steam page from CrossOver. As the page says, CrossOver will install the Steam Windows app on a Windows 10 bottle. However, you do not have to worry about this aspect. Instead, you simply have to click Install.
3. Now, you have to proceed with the installation wizard from Steam. The process may take up to a few minutes because Steam will download around 350 MB of installation resources.
4. Once you have finished the installation process, you will have to log in to your Steam account. After this, you can use the Steam app as you would on any Windows PC. Of course, the actual performance of individual games will depend on your Mac's hardware resources.
As you can see, this method involves only a few steps but opens up the opportunity to install a wide variety of games across different categories.
In our experience, this method ensures maximum compatibility for AAA gaming titles. For one, you do not have to worry about internal compatibility since Steam will be launching the game. Moreover, you can use the big library of Steam to download content. It means you do not have to download the game installers from many official websites.
FAQs
Can CrossOver run any Windows application?
CrossOver for Mac claims to run almost any Windows application. Because CrossOver is a Microsoft Windows compatibility layer, it can emulate different OS versions based on your needs. For instance, you can create a Windows XP or Windows 10 bottle to run a comparatively older app.
Which Windows games can I run using CrossOver?
Even though all Windows-based games are supposed to work with CrossOver, it is not always the case. As it happens, you have to check the individual listing on CrossOver to see if a Windows game is supported. But you always have an option to try installing the app via a distribution platform like Steam.
How to play PC games on Mac without installing/running Windows?
You can use CrossOver to play PC games on Mac without the need of installing Windows or running a virtual desktop with Windows 11. You can use the same method to play Windows-based games that are available through Steam.
The bottom line
We hope you found a convenient way to run Windows games on macOS. Compared to other methods, such as dual-booting Windows-macOS and virtual machine, CrossOver is less expensive and straightforward. You do not have to spend money on a Windows license, either.
READ NEXT