Is EaseUS Partition Master Safe (A Review)
EaseUS Partition Master is a disk management tool. It helps you to free up space in the disk of your PC by managing various partitions in the hard drive. Most of the time, managing your PC's disk space might come across as a tedious task.
Therefore, using tools such as EaseUS Partition Master, your work can be organized and easily done.
Related: The Best Disk Partition Manager for Windows 11
Is EaseUS trustworthy?
When you work with electronic devices like PCs, the key important task is to save all of your data. This task enables you to use a data recovery tool for better access and an easy way to tackle your data. And there are a lot of options available to you when it comes to selecting a data recovery tool.
EaseUS has gained a name in the past years as one of the popular software used for data recovery. While many people rave about its data recovery and backup tools, some reviews suggest the opposite. And thus, comes the question. Is EaseUS safe?
Apart from its excellent functions, EaseUS provides proper safety, and for that very reason, EaseUS is safe to use. EaseUS automatically sends out encryption when you use it for data recovery purposes, and you can customize this process however you want.
Moreover, the company offers this tool with a 156-bit SSL which is a pretty good standard for the technical part. The bottom line is that the EaseUS tool is user-friendly and also trustworthy.
In addition to Partition Master Free and Partition Master Pro, EaseUS also provides tools for backing up data such as Todo Backup and tools for transferring your data such as Todo PCTrans.
What is EaseUS Partition Master?
We already got a brief idea about EaseUS Partition Master in the introduction and its usage. Also, as mentioned before, it has a user-friendly interface compared to the other software in the same field.
You can create sub-partitions or logical ones within a single disk and merge them without deleting any data. Further, you can share, format, recover or even clone partitions. EaseUS Partition Master is available on each Windows version up to 11.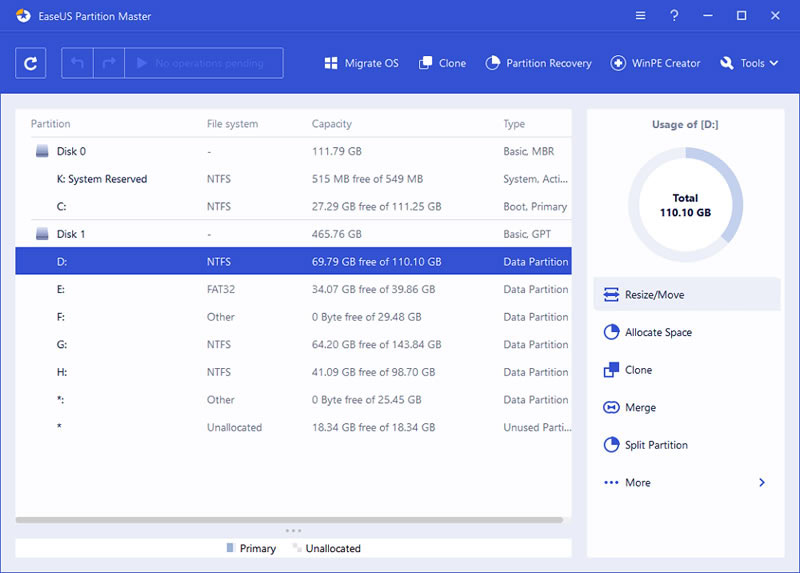 What are the differernces between Free vs. Pro edition?
If your need is basic partition tools, then the free version is satisfying. You can resize the segments with the help of the free version. However, merging or cloning the system segments is not possible.
The free tool can be used for 8 TB of hard disk space, so if you are aiming for a larger space, then go for the professional or the server plan instead of the free one.
Professional and server plans offer features like partition recovery, OS migration, and many more. It also comes with unlimited hard disk capacity, thus making them the best plan to invest your money and time.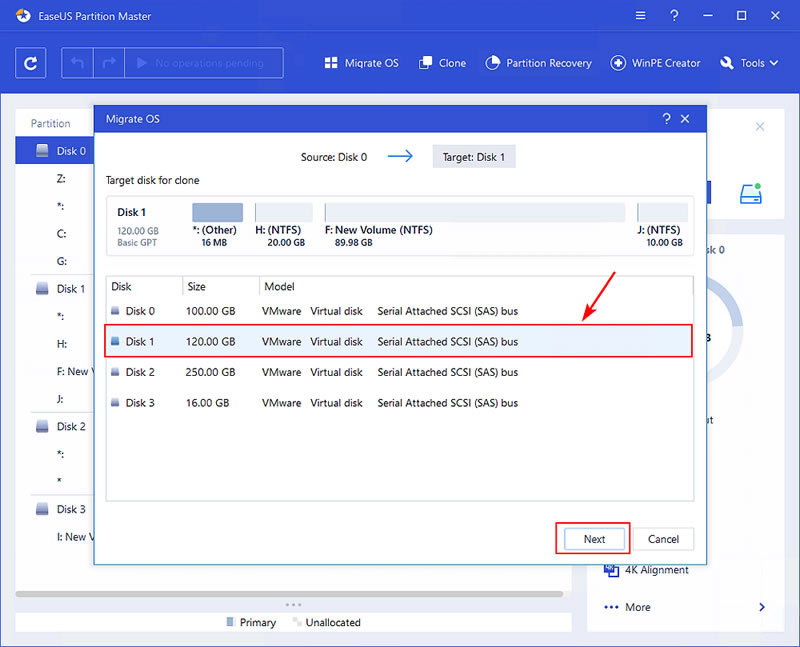 How to use EaseUS Partition Master?
In this session, we will briefly go through the key benefits of using EaseUS Partition Master and how it helps you organize your hard drive.
1. Partition resizing and merging
Through this tool, you can resize each of your storage spaces. You can manually enter the size you need or slide each partition icon right or left to activate this feature. In the same way, if you want to save space or free up a particular unit, then go for the merge feature.
2. OS migration and cloning
EaseUS allows you to migrate and clone operating systems without losing your stored data. EaseUS gives you a fast and simple process to achieve this. However, this feature is not available in the free version.
3. Data erasure
This feature is excellent if you are aiming for a disk format. It is possible for you to completely wipe your data with the help of the app's partition editor. So, if you have a drive filled with malware, you can just format it completely in seconds.
4. WinPE bootable disk setup
By creating a bootable disk, you can optimize the data recovery process. This is useful, especially in situations where a system crashes. You can recover all the partitions lost during the crash, which doesn't require an OS.
5. SSD alignment
The devices that use a Solid-state drive instead of a regular hard drive require SSD alignment. SSD increases the drive's lifespan by decreasing the number of repeated writing operations. As a result, this feature improves the overall performance of your device.
6. File system conversion
The EaseUS Partition Master allows users to convert the file system systematically without losing any data. You can easily convert FAT versions to NTFS versions that transfer large files and are ideal for hard drives.
This is perfect for users planning to move from an older generation of Windows to the newer Windows 11 or Windows 10 platforms.
Is EaseUS Partition Master a malware?
The company has claimed that its product is not malware, has been tested by a malware detection program, and is safe to use. Nevertheless, this evokes doubt in the users while researching a disk recovery tool.
The main drawback of EaseUS Partition Master is that the free version does not provide all the needed features to help your hard drive function. So, the only alternative option you can try is to use the free version first and if you are satisfied with the interface, then go for the paid plans. Always run a virus scan test or malware detection test, if possible, before using this software.
Many users have provided proof and test results showing that EaseUS is safe to use. When you install this software on your device, potentially unwanted programs can get inside your device. But these are not malware or viruses; you have to uninstall them and run a scan.
In short, you can completely trust EaseUS products, and its partition master is not malware.
Is EaseUS Partition Master safe and worth using? Our verdict
EaseUS Partition Master is a useful tool for managing your hard drive. Of course, the cost for the paid versions is a minor drawback, but at the same time, it might be worth a try if it means helping you sort out your data.
This software has its fair share of pros and cons, but the pros definitely outweigh the cons.
Pros
The software is user-friendly
Allows the upgradation of hard drives
Safe to use
Allows easy editing of partitions
Easy way to clone and merge exact copies of the drives
Has a backup option
Cons
Sometimes need to restart applying the changes added
No lifetime free upgrades
You can claim a refund within 30 days after the purchase if you don't think it's for you. Overall, the EaseUS Partition Master tool seems to be a safe experience and worth a try. This is even warranted by people loving the functionality of the products introduced by EaseUS.
Users are also satisfied with the user portal, where complaints seem to be managed and resolved by the customer service team.
FAQs
1. Can I use EaseUS Partition Master for free?
Yes. You can use the EaseUS partition manager tool if you opt for the free version. This version can be downloaded directly from EaseUS's official website. However, the free version has only limited features compared to the paid versions. So, it's recommended to upgrade to the pro version.
2. How much does an EaseUS Partition Master cost?
EaseUS Partition Master Pro has various editions, and each of these editions has different price rates. Also, more features are added with the increase in the price.
The Professional edition costs $19.95, the server edition costs $259, and the unlimited edition costs $599, respectively. These editions have a free trial and server, and unlimited editions offer lifetime upgrades.
Alternatively, a professional edition is suggested for better use at a relatively lower cost than other editions.
See also:
* Readers like you help support TheSweetBits. When you buy something through the links in this article, we may get a small commission at no extra charge to you.