Is OnyX Mac Safe? How to Put It to a Good Use?
OnyX Mac is one of the most helpful system maintenance utilities available for the macOS. The OnyX Mac is free of cost, which means you can download it from the website and access all the features without bothering about anything.
A very interesting thing about this OnyX Mac is that the developers release a new application with the release of a new macOS. This means that there is a specific version of OnyX Mac for every macOS, so you will have to be careful when you are installing it.
OnyX allows you to perform various tasks such as rechecking the permissions, reorganizing the file structures, checking the hard disk structures, and restoring the indexes. Some of these tasks may take some more time, but they will prove to be very effective in the long run.
Is OnyX Mac safe?
Yes, OnyX Mac app is absolutely safe to use and trustworthy and will not harm your device at any cost. One thing that you should keep in mind is that you should install that OnyX Mac only that is specifically made for your Mac's OS.
However, if you use any version of OnyX other than the one developed for that specific macOS version, you may face some issues like longer boot time, buggy Mac, or any other on your computer. Also, when you use some of the specific features, the browser data may be deleted, so make sure you remember all your passwords.
OnyX Mac is safe to use, and even Apple's community claims that it to be so. However, while downloading OnyX Mac for your computer, be careful about the OS version of your Mac and the OnyX version compatible with that macOS version. Also, be careful of the permissions which you are giving to OnyX while it is being installed.
Getting started with OnyX
Now let us see how you can start your journey with OnyX Mac and use it for the maintenance of your computer so that you have full control over all the processes taking place on your computer.
To install OnyX Mac on your computer, you can go to the website of OnyX and download it directly from there.
When you visit the OnyX download page, you will see a message strictly advising you to download only the version of the OnyX compatible with your computer's OS.
You need to check the OS version of your Mac, and after that, you can simply check the compatibility of the OnyX software with the OS of your Mac and download and install the compatible ones from the website.
The OnyX Mac also comes with some add-on applications that make the user experience extraordinary. Also, these add-ons prove to be very useful in the day-to-day usage of the Mac and help in the betterment of the user experience.
The add-on applications of the OnyX Mac are as follows:
· Maintenance
It is an operating system cleaning and maintenance utility for macOS that can be used to perform miscellaneous computer maintenance tasks such as rebuilding databases, cleaning cache data, and many more.
· Deeper
It is a personalization utility for macOS that can be used to enable or disable the hidden features in Finder, Dock, Safari, Music, and many more Apple applications.
· CalHash
It is a utility that can be used to calculate and compare the checksum (or message-digest-footprint) of a file.
· Access Menu
It is a customizable utility for macOS that can be used to access the start-up disk's folders from the menu bar quickly.
All these extra add-on applications can be downloaded in the same way as you can download the OnyX. These add-ons are also unique for each OS version, so you need to install the same version as that of OnyX to work correctly.
How to put OnyX to a good use?
The upper menu of OnyX comes with a lot of options that, when used properly, can help enhance the performance of the computer. Let us see how you can set up and use these options to better your Mac.
Using OnyX to perform maintenance tasks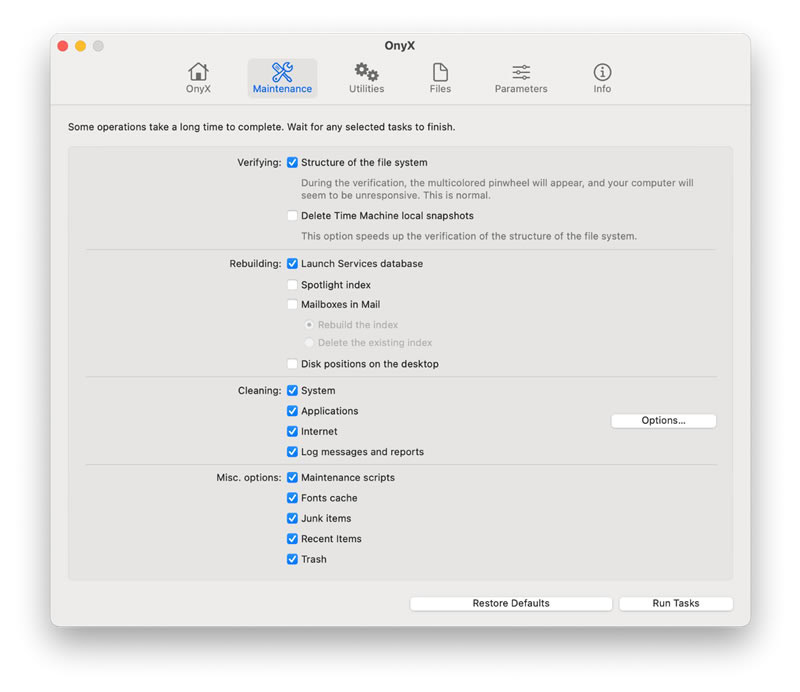 You can perform various maintenance tasks on your computer using the Maintenance application of the OnyX app. Various tasks such as verification, rebuilding, cleaning, and others can be carried out.
Some of the tasks that can be performed using this are:
Verification of the structure of the file system.
Deleting the local time machine snapshots.
Rebuilding of index, mailboxes, disk position, and many more things.
Using OnyX to clean up disk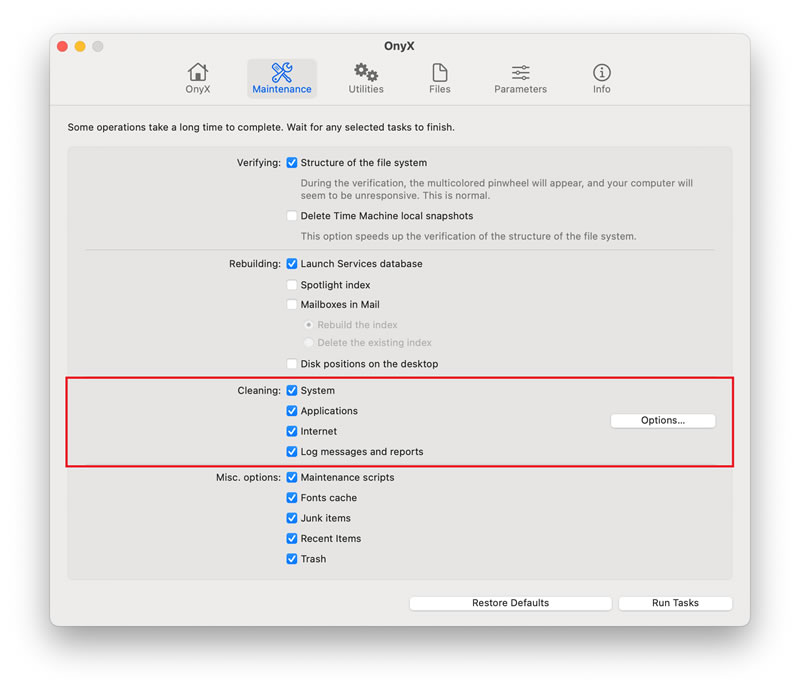 OnyX can also be used as Mac cleaner for cleaning up the occupied space on your hard disk or SSD (Solid State Drive). Various disk cleaning options allow you to clean the space on your disk and free it up for other data and applications to provide a seamless experience.
The different cleaning options available in OnyX are:
Removal of duplicate files.
Removal of system files.
Removal of outdated applications.
Removal of sensitive internet data.
Removal of junk and trash files.
Easy and secure deletion of confidential data.
RELATED: Top 7 Free Mac Cleaning Software
Using OnyX to perform various system checks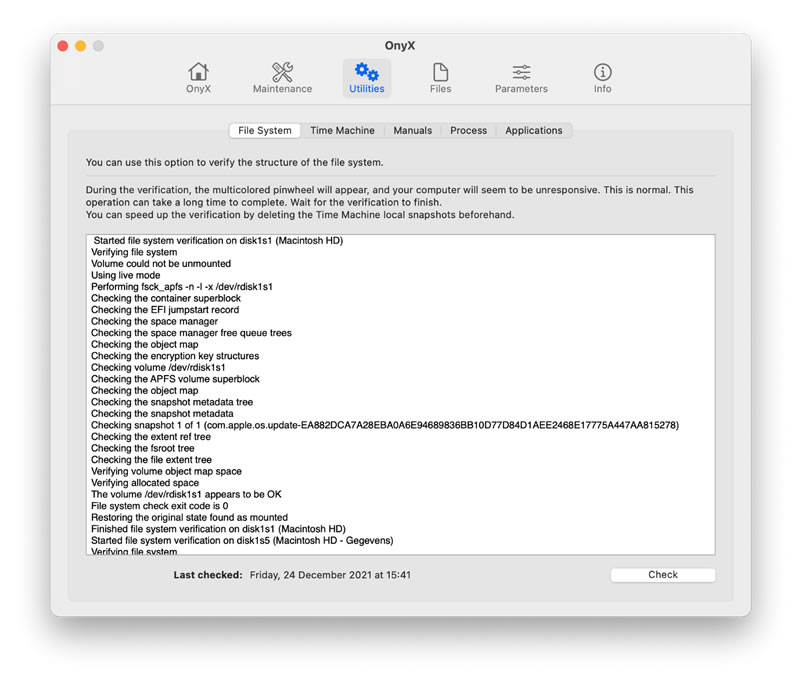 You can perform various system checks using the "Utilities" feature. These system checks can help in the proper functioning of your computer. The different system checks are mentioned below:
File system check
Check for snapshots
Check for the reasons for the app crash, find the solution to it, and perform its repair.
Check for the applications consisting of the hidden system utilities.
Using OnyX to check for the files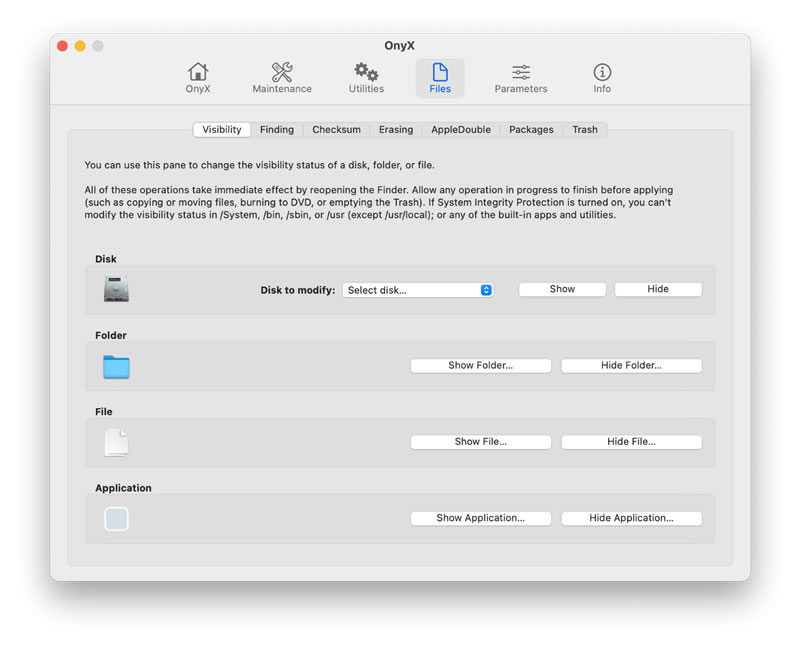 You can also perform various operations on the files to keep a regular check on the files on your computer. You can perform these operations using the Files option. The various options provided are:
Check the visibility of files
Perform the checksum of the files.
Scan the package files.
Using OnyX to tweak system settings
It allows you to tweak the system settings and customize them according to you. From here, you can decide:
A new path for the screenshots to be saved.
How many recently opened files will show if you open any folder.
Changing the format of the screenshots.
Setting up the lock message and many other things.
This is one of the best features provided by the OnyX Mac. This allows you to gain control over your device.
Using OnyX to get information
You can use the Info option to get the information about your computer. The various pieces of information which you can get are:
The software and hardware information – number of processors, processor speed, processor name, screen resolution, and many more.
Checking the device's memory, volume, software, security, and many others.
The various use cases discussed above can be used judiciously to perform various operations that can help in a better and enhanced performance of your computer.
Alternatives to OnyX
Here are some alternatives that you should use if you don't like using OnyX:
MacKeeper – It is a great alternative to OnyX and brings a whole lot of additional features and a clean UI that is on par with OnyX.
Sensei – It is an app with a user-friendly interface. You get many monitoring and customization tools with it, which can help you to manage, monitor, and customize your Mac with ease.
MacBooster – It is an excellent Mac management app that comes with some extra features, such as Turbo Boost, a dedicated privacy protection tool, and more, along with regular tools.
Conclusion
The plus points of using OnyX are that it is totally available free of cost, which makes it easily available for the users. Also, it's one of best Mac cleaners to clean and optimize your Mac from every aspect. It also comes with many other features that make it worth using.
On the contrary, it comes with some drawbacks like most of the processes, once initiated, take a lot of time to complete, the user interface is very outdated as compared to other utility softwares, and the most annoying thing is the availability of a number of applications for different OS versions, which makes it very confusing while downloading.
Finally, to conclude, all I can say is if you are searching for a utility software that can help you in carrying out all the work in one place. Then, OnyX Mac is the software you should opt for. Since the software is free of cost, so you will not have to spend any single dime.
Also, the software provides a number of valuable features that make it very engaging to use. The various add-on apps provided by OnyX add a plus point to the software. So, if you are a macOS user, OnyX Mac is worth giving a try.