Top 9 Optimization Software Utilities to Tune Up Your Mac
Utilities   •  March. 7, 2022
Like many of you, I shifted from Windows to macOS to get superior performance and smooth experience. However, I had this false idea that Mac devices don't need optimization and maintenance as such. Of course, that didn't last long.
As I started using my Mac for resource-intensive tasks and more apps, it started becoming somewhat slow. It took me, however, a few months to understand why Macs also need performance-boosting. Wondering why?
Just like Windows, macOS also generates temporary/junk files over time. Now, if you use your Mac for simple tasks like web browsing or checking email, this won't be a problem. However, if you are into jobs like video editing, software testing or development, the junk file can slow down your Mac.
The other problem is that these files may take up a lot of space from your Mac. Of course, this isn't ideal for your Mac storage, either. As you keep installing and using more apps, you have to face space crunch on your MacBook, iMac, or iMac Pro.
And, this is why we have to take a few apps that can help you optimize your Mac for better performance and usability.
Top 9 Mac optimization software
AVG TuneUP is probably the most useful optimizers tool out there. It easily help you uninstall apps with a single click, find duplicate copies of files, remove bad or similar photos, and clean trash files from your Mac.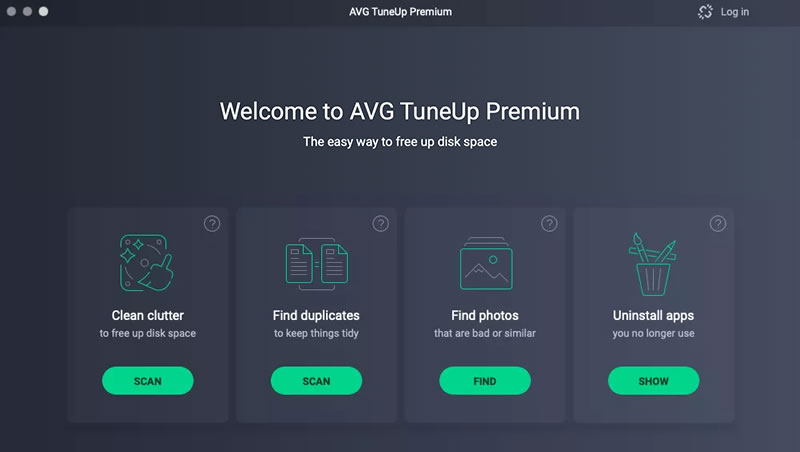 That's a whole lot of features that can help you get more space and optimize your Mac for the best performance. I loved the "Clean Clutter" and "Uninstall Apps" tools as they helped me remove all the unnecessary apps and trash files that were on my Mac.
However, the "Find Duplicates" and "Find Photos" tools were a big no-no for me. It didn't help me clean any files, or maybe I just have a clutter-free Mac. Well, it depends from person to person, and maybe you'll have great value with it.
Pros
Awesome cleaning tools
Minimal UI
Has a fast scan process
Cons
The premium subscription costs a lot
Find Photos tool may not work as it is intended
Pricing
You can get AVG TuneUp for Macs running macOS 10.11 (El Capitan) or above. It comes in the following pricing options:
$29.99 for 1 device
$34.99 for 10 devices
2. MacBooster: The Mac Maintenance Tool
Are you getting random errors, bugs, or performance drops that annoy the hell out of you? Well, if that is what you're experiencing, then MacBooster is the tool for you. It helps you maintain your Mac with a lot of features that would straight up boost your Mac.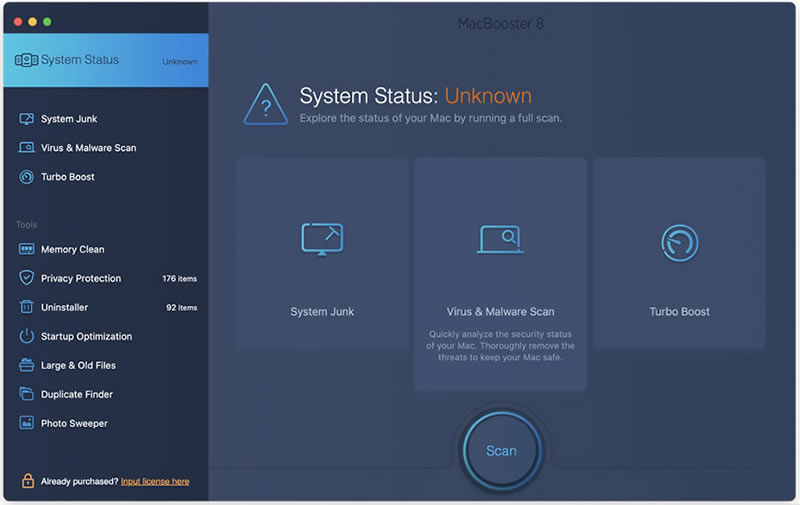 The "Turbo Boost" tool is the best I've used. It cleaned all the background apps in one go, and I noticed an immediate boost in performance. I do a lot of video renders, and if you, too, face huge performance drops while rendering, then this tool will help you get a lot of performance in just a single click.
However, not all the features were a big hit for me. I was not too fond of the long scan times it took to scan my Mac, and just like the TuneUp app, it didn't help me clean any photos or duplicate files. Other than that, the app is awesome, and it will help you maintain your Mac better.
Pros
Awesome "Turbo Boost" tool
Protects your PC from viruses and malware
Optimizes apps for startup
Cons
Offers very limited buyer support
Pricing
You can try it for free with a 14-day trial period, and after that, it will require $2.49/month for the premium subscription. It works on all macOS devices running on version 10.9 or higher. Monterey is also supported, and it runs smoothly on the latest M1 chips
3. MacKeeper: The Optimizer Tool for Security
MacKeeper is one of the most value-friendly apps on the list. It comes with a lot of amazing features and helps you protect your privacy and security online or offline.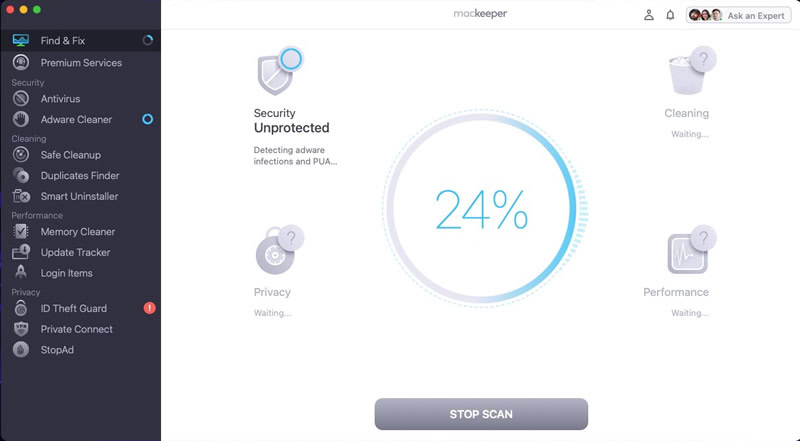 I love the Antivirus, Adware, Malware, and VPN tools. They help you clean any viruses or malware on your Mac and clean any adware files that may annoy you while using apps or services. You also get an ID Theft Guard that works with the VPN to keep all your online browsing private and secure.
However, it can take a little time to get used to as it has many features that you can use. But, the thing that I hate the most about the app is the "Premium Services" support page that can get really annoying easily. Read our full review on MacKeeper here.
Pros
Value for money
Amazing tools to keep yourself secured
Built-in VPN and Malware cleaning tool
Cons
The support page is right on the tool panel, which can be annoying at times
Pricing
MacKeeper is compatible with devices running macOS 10.11 or later. So, any Mac running macOS 10.10 or older would not be supported. It comes with three different pricing plans to choose from:
12-month plan for 4 licenses – $4.15 per month
12-month plan for 1 license – $3.35 per month
1-month plan for 1 license – $14.95 per month
You can also get it for free by using the 30-day trial app. However, it is hugely limited and will only clean your Mac once.
4. CleanMyMac X: The Mac Storage Clean-up Utility
CleanMyMac X is very similar to MacKeeper in features, but one thing it does better than any other app on the list is the Cleanup utility it comes with. I had the most success cleaning junk and large files with it.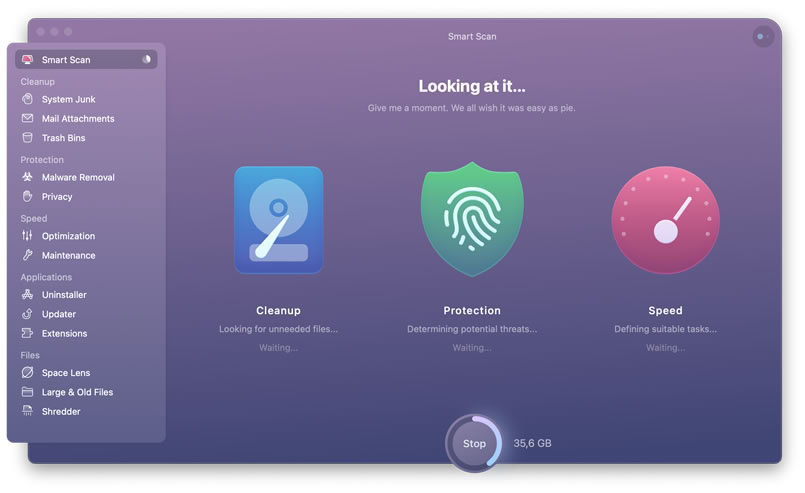 The app helps manage your Mac and improve the overall experience by clearing background apps, trash files, and even extensions. So, I was really impressed with it. It also has a tool known as "Space Lens", and it is really useful in analyzing your disk space and all the files that occupy the space.
Related: How to Use CleanMyMac X? Is It Safe? (Beginner's Guide)
There are not a lot of cons about it. The UI is simple, and I love the overall design. However, I would really love them to improve on the malware detection module, it's not entirely adequate. We'd love to see some improvements in this area.
Pros
Easy-to-use Interface
Versatile cleaning options
Presents a great space lens for analyzing your storage space
Large toolset
Cons
Security module needs work
Pricing
CleanMyMac X works on macOS 10.10 and later, including macOS Monterey, and it also offers native support for Macs running the latest Apple M1 chips. You can get it with two different pricing options:
$34.95 for a 1 year and 1 device subscription
$54.95 for a 1 year and 2 devices subscription
$79.95 for a 1 year and 5 devices subscription
5. Sensei: The Mac Performance Monitor
Sensei is a monitoring and performance optimization tool that is designed to help you track everything on your Mac. You can see the amount of battery left, total RAM consumption, graphics usage, storage consumption, and a lot more.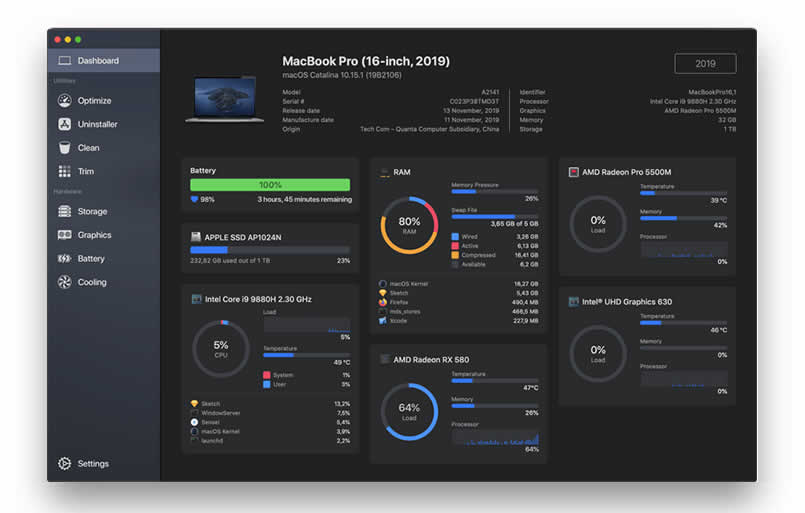 It can also integrate into your menu bar to display all the important data right at your fingertips. You can also optimize your Mac's performance by cleaning background apps or trash files. But, it shines at system monitoring, and I would recommend using it for that.
Pros
Awesome for monitoring your Mac's performance
Can kill background apps to save RAM
You can also integrate it into the menu bar
Cons
The lifetime version is a little expensive
Pricing
Sensei works on all Macs running macOS 10.15 Catalina and later. You can also try it for free with the trial version or upgrade to a premium subscription for:
1-year subscription for $29
Lifetime license for $59.
Note: The status bar feature only works on macOS 11.3 or later.
6. Bartender:  The Menu Bar Organizer
Bartender and Sensei go super well together, and it's just for a sole reason. The menu bar integration and you can customize your menu bar to include everything or nothing at all. If you love customizing your Mac, then you'll love using Bartender.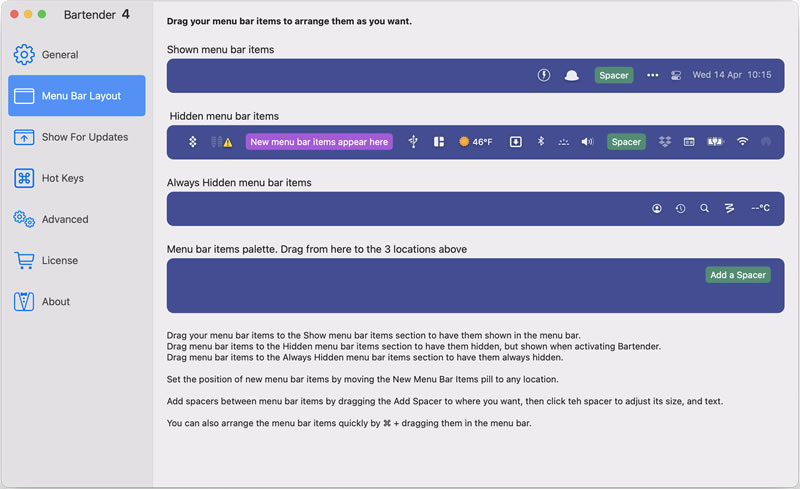 I used it to include the weather icon, the date and time, and network indicators making it an actual minimal setup. So, if you too want to do that, setting up your new menu bar would be really simple and would just take you minutes.
Pros
Great menu bar integration
Easy to use UI
4-week trial version
Cons
Only compatible with Big Sur and Monterey
Pricing
Bartender 4 is only compatible with Big Sur and Monterey. So, if you are running an older version of macOS, you would need to download the older Bartender 3. You can try it for free with a 4-week trial version or upgrade for $15 for a single license.
7. Alfred: The Better Spotlight
Is Spotlight not working for you? Well, if you want to improve your Mac's search function, then Aldred is for you. Unfortunately, it's not the same Alfred from Batman that all of us want, but it still is impressive.
The app is a glorified search tool that can look for files, apps, and everything else on your Mac. All you need to do is install it and run the app. Finally, search for the thing you want to use, and it'll work like a charm saving you a lot of time from the get-go.
Pros
Fast search and lookup times
It is installed in seconds and is very lightweight
Has a clean and minimal UI
Cons
Pricing
Alfred works on Macs running macOS 10.11 or higher. You can use it for free or get the Powerpack for:
$32.51 for a single license
$54.93 for the mega supporter bundle with lifetime upgrades
8. Magnet: The Windows Manager To Organize Your Workspace
Switching from a Windows PC to a Mac? Do you miss the instant window snapping that Windows comes with? Well, now you can have that on your Mac with the help of Magnet.
It can also be integrated into your menu bar so you can snap apps quickly and effectively. Oh, and it has keyboard shortcuts that are perfect for multi-tasking with ease.
Magnet can work with a total of six external displays and can snap windows to any corner of the screen. So, it's awesome if you really want to dive into the world of multiple displays and boost your productivity to the max.
Pros
Window snapping in just a single click
Keyboard shortcuts for instant screen swaps
Menu bar integration for easy access to apps
Cons
Pricing
Magnet is available to download on the Mac app store, and you can get it for $7.99. It supports on macOS Monterey and runs on all devices running macOS 10.13 or later.
9. OnyX: The Free System Utility
Okay, let's just say that you need all the optimization tools from apps such as AVG TuneUp, Sensei, or MacKeeper but for free. Well, you can either use the trial apps, or you can safely use OnyX like a smart person.
OnyX comes with a lot of utility tools that can clean trash and junk files, maintain scripts, clean background apps, and a whole lot more.
However, it doesn't come with a clean UI like the other apps, so you would need to get through many toggles and settings to set everything up. But that's not a high price to pay for a free Mac utility app.
Pros
It comes with many utility tools
It is totally free to use
The app is lightweight and doesn't consume many resources
Cons
Setting everything up takes a decent amount of time
Pricing
OnyX is the only free app on this list and can be downloaded for free. However, there are specific app versions of OnyX for each major version of macOS.
Final words
Macs are highly optimized but using third-party apps to get that extra boost is definitely excellent. While you can just call it a day with an simple optimization app – AVG TuneUp, I would still recommend getting a customization app.
Apps like Magnet, Alfred, and Bartender are great options to customize and improve usability and productivity on your Mac. So, I highly recommend checking those out. Other than that, you can also use Sensei for performance monitoring and get OnyX for free if you're on a tight budget.
There are still a lot of things that you can learn about optimizing your Mac, but the apps above provide great toolkits for beginners and pros alike. Meanwhile, here are some other articles that you might enjoy:
* Readers like you help support TheSweetBits. When you buy something through the links in this article, we may get a small commission at no extra charge to you.