macOS Monterey vs. Big Sur: Is it Worth an Upgrade?
m
acOS has always been on the verge of improvement, and with the recent June 2021 WWDC event, Apple just announced the latest and greatest update – Monterey. macOS Big Sur was released with many issues and bugs, and it was due for an update. Yes, it has been constantly updated with bug fixes, but a new overall update would do Apple well.
macOS Monterey brings many changes and updates to the already decent Big Sur, but is it worth an upgrade? The improvements are looking to be great additions, and the underhood enhancements will make Monterey the next big thing. So let's talk about that and figure out if you really need an upgrade or should you stick with the tried and tested Big Sur update.
macOS Monterey – Is your device compatible with the update, or are you stuck with Big Sur?
Apple has removed support for older 2013 Macbook Air and Macbook Pro models with their upcoming Monterey release, which is a genuine concern for anyone with the devices. However, the following list of devices is supported and will be updated accordingly.
iMac (Late 2015 and later) vs. iMac (2014 or later)
iMac Pro (2017 and later) vs. iMac Pro (2017 or later)
MacBook (Early 2016 and later) vs. MacBook (2015 or later)
MacBook Air (Early 2015 and later) vs. MacBook Air (2013 or later)
MacBook Pro (Early 2015 and later) vs. MacBook Pro (2013 or later)
Mac Pro (Late 2013 and later) vs. Mac Pro (2013 or later)
Mac mini (Late 2014 and later) vs. Mac Mini (2014 or later)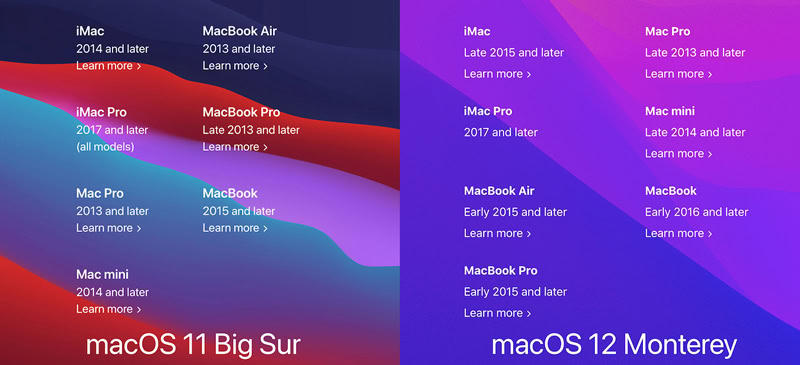 This is where Big Sur shines as it brings support for all older Macbooks and Macs while retaining the impressive performance that Macs are known for. However, Monterey drops this backward compatibility and adopts the latest generation to improve seamless integration throughout the Apple ecosystem.
The problems with macOS Big Sur
Big Sur had a lot of instability issues with the release, however, most of it has already beenoptimized with constant bug fixes. Nevertheless, there are still some remaining bugs and problems that plague the OS, and these are:
Compatibility issues with external displays, which is inherently fixed with Monterey
Freezing apps which doesn't seem to be a problem with macOS 12
Random Reboots that plagued Big Sur are nowhere to be found on Monterey
M1 app compatibility issues should be removed with the 2ndgen update with Monterey
Battery-drain and installation problems are inherently lower on the upcoming update
These are some issues that have still not been wholly fixed, but as we have seen the announcement of Monterey, we can expect Apple to bring the fixes with the new Operating System. In addition, the 12th iteration of macOS is making great strides towards Machine Learning, Artificial Intelligence, and Automation to improve productivity across the OS. This is the continuation of what Big Sur started with the iPadOS like design, and we can see it move forward and evolve into something better with Monterey.
Big Sur improved productivity by introducing a powerful 'Do Not Disturb' mode, which is getting a well-deserved upgrade known as Focus, basically taking 'Do not Disturb' on steroids. The Focus feature will help you 'focus' on essential and necessary tasks while removing all clutter. Unfortunately, Big Sur also gets defeated on privacy and easy integration, and Monterey will improve on all.
The problems with macOS Monterey
Monterey is looking to be the perfect OS, but it still has some problems that Apple needs to fix. However, all these problems are subjective and aren't going to affect everyone. So, what are these, you may ask?
Well, Firstly, Some of the upgrades that Monterey is bringing are limited explicitly to M1 Macs and won't be supported by the Intel Chips. This is a huge concern as a majority of people are still on Intel-based devices, and limiting future features and upgrades is definitely a wrong move on Apple's side. So, sticking with Big Sur doesn't sound 100% wrong and can be the best choice for your device.
Secondly, Monterey will not support the older 2013 Macbook Air and Macbook Pro devices, which will bring further discrepancies to the ecosystem. Hence, you won't be able to upgrade and would be stuck with Big Sur as the final OS update.
Finally, with every OS update comes bugs and incompatibility issues that get fixed with bug fixes. Monterey will be no different as it might bring some compatibility issues with your device and render it useless. However, Big Sur has had many updates, which has made it much more stable and doesn't have many compatibility issues with older devices.
In Short: These are the problems that Monterey will be facing that Big Sur doesn't have:
Features limited to M1 Macs (Bad for Intel and Older devices)
Compatibility issues with older 2013 Macbooks (Big Sur supports them all)
Stability and bugs with devices (The current Big Sur version 11.4 is very stable)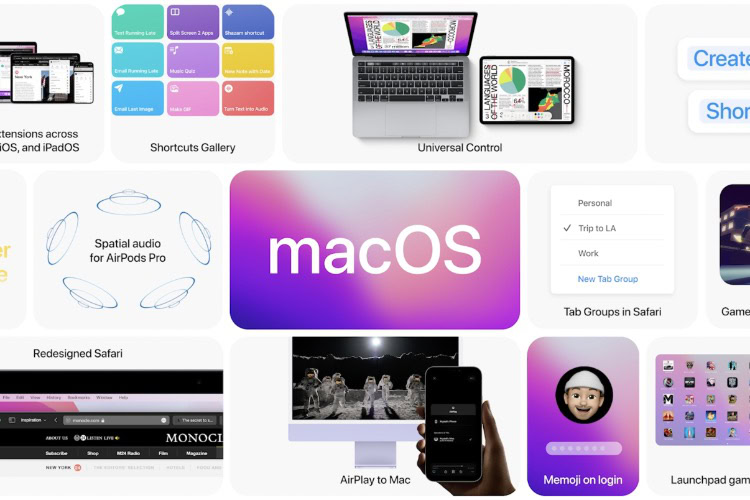 macOS Monterey upgrades over macOS Big Sur
Big Sur has had its fair share of problems, but it does have some good things to boot compared to Monterey. Some of these are minor aspects of the OS, but some can even provide significant improvements for your device. These benefits are:
Big Sur has had time to grow, and the 11.4 update has fixed a lot of stuff while making it more stable than Monterey will be with the upcoming release.
Improved compatibility as Big Sur also supports the older 2013 Macbook Pro and Macbook Air variants, which Apple has announced to be dropped with Monterey.
Security patches for days as 11.4 bring a lot of improved data security and privacy fixes that will be added in for Monterey later.
Finally, Big Sur is currently out and is the only option for all Mac and Macbook users, whereas Monterey will take another 4-5 months to be available for the regular person.
Some of the benefits mentioned above were already starting to be integrated with Big Sur. Still, now with Monterey, you can manually automate scripts and tasks for better and faster processing times. We can also expect to see a much more seamless design with big icons, which will be similar to iPadOS and iOS so that users can get a familiar experience across all devices.
macOS 12 Monterey is looking to integrate all your Apple devices much more seamlessly than ever before, and it's getting a lot of changes that will make it the best version to update to. Big Sur was the first macOS to bring constant integration with other iOS devices, and Monterey is looking to improve that. Here is a quick look at the new upgrades that are going to take place with Monterey over Big Sur:
Seamless and Universal Control across all Apple Devices
Spatial Audio support
AirPlay being introduced in macOS
Improved FaceTime and audio features
Newly designed Safari and extensions
Automation and Focus increases productivity
Under the hood improvements for Notes and iCloud
Improved Performance throughout the UI
Privacy improvements for the OS and User
All these design and performance upgrades are looking to change the overall experience of how you use your Mac and make it a whole lot better and tightly integrated compared to Big Sur.
[ Related: How to Upgrade to (and Downgrade from) the macOS Monterey ]
Is it safe to upgrade to macOS Monterey?
With everything looked at, Monterey is looking perfectly good to be updated to, but consider the changes and compatibility issues that your device might face and then come to the conclusion of updating your Big Sur device.
Monterey is improving privacy and data control so you can rest easy that you're going to be safe with it rather than sticking to Big Sur with old security patches.
So, should you upgrade to macOS Monterey?
Well, as Apple has promised new features and upgrades with the upcoming OS, it seems like the best move right now is to upgrade to it. However, if you're someone who has crucial data that you can't risk losing at all and are happy with how Big Sur is performing for you, then we would advise you to backup your Mac first, then hold back on the update and let it roll out to see how it fares with your device and how stable it is to use.
With that said, if you are still using a 2013 Macbook Pro or Macbook Air, then you're stuck with Big Sur as Apple has officially dropped the update support for these devices and is moving forward with newer generation models. Finally, consider all the upgrades and features listed above so that you can be ready for a stable release by the end of the year.