YouTube Video Editor: Tips and Best Alternatives
Creating a perfect script and shooting a video accordingly aren't the only things that build up to an engaging video, there is more to it. Taking care of how well you stitch the different elements is equally significant and that is the editing part.
With the growing competition in sight, YouTube editing is not limited to basic adjustments anymore. Thus, it is important to have access to the appropriate tools. Finding one from the long available list can be a bit tricky. But this article will help you figure out the exact ways and ensure you have the list of best YouTube video editors alternatives ready and up for running.
YouTube's video editor in YouTube Studio
But wait before you gear up and jump into trying out different video editing tools, there is a simple alternative. To ease things up to a certain extent, YouTube came up with its Studio for creators. So, if you are looking for some quick edits, YouTube Studio ensures to take care of it.
YouTube's in-built video editor is a simple yet very powerful tool to use. Although it is just a free-to-use tool, it comes with all the essential features required for enhancing any video. The in-built editor aids a YouTuber with every necessary tool for editing their videos, from trimming to splitting.
First things first, it is not like any advanced video editing tool. The built-in YouTube editor is a simple to use editing tool that lets you come up with quick and basic edits. Although it lacks all the advanced editing options, it is still a handy tool for anyone just starting out. With that being said, let us look at the key features of this built-in editor and walkthrough the methods of using them.
How to use YouTube's video editor
# Find and Launch the YouTube Studio
To begin with the editing process, the first thing that you need to do is sign in to your YouTube account. Once you are signed in, you can find the YouTube studio proceeding as follows:
Step 1: To the left side of the YouTube page, you will have an option called 'Your Videos' click on that.
Step 2: Hover over to the desired video and click on the pencil icon that appears adjacent to the video. This will open up a new page.
Step 3: From there on, hover to the left side of the screen again and click on the 'Editor' option.
Step 4: Clicking on the 'Editor' button will take you to YouTube's in-built editor, where you will have access to the essential tools for editing your YouTube videos.
As you make your way into the YouTube editor, the first thing that you will come across is a simple interface with your video timeline. From there on, you can zoom in, zoom out, control the playback speed, trim split and do much more with the general adjustments. The tool also comes up with an undo/redo option that can help you revert any mistake committed.
Let us take a look on how you can use these tools for editing your YouTube video.
#  Trim the Start and End of a Video
If you are wondering how you can trim and split your videos, well the YouTube's in-built editor has a solution to it. For getting into the trim mode, all you need to do is click on the 'Trim' option from the main editing screen. Once you are in the trim mode, you can proceed as follows to get rid of the unwanted portions from your YouTube video.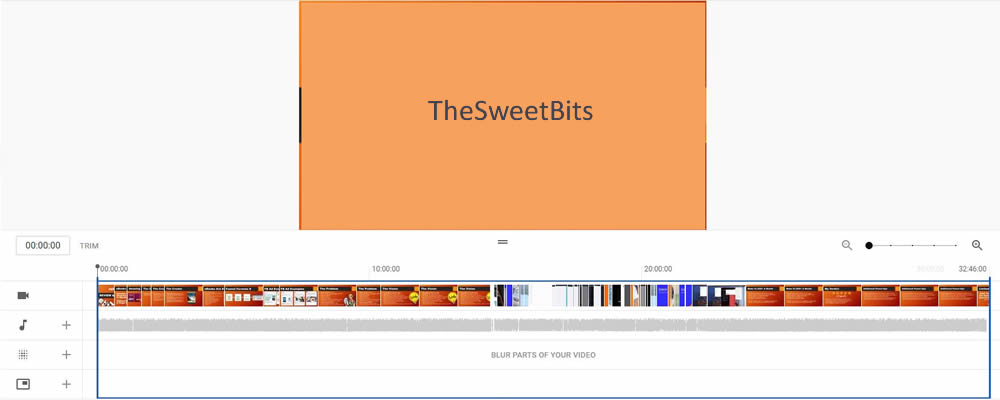 Step 1: In the Trim mode you will notice a blue and a white line across the video timeline while you are in the Trim mode. For getting your video trimmed, all you need to do is grab the bar and drag it to the desired portion, either from the beginning or the end.
Step2: As soon as you are done with the drag and drop, click on the preview to view the change, and post satisfaction, you can hit the "Save" button.
# Cut a Section Out of  The Middle of a Video
The trim mode can also be used to split your video into parts. For this, you can proceed as follows.

Step 1. Once you are in the Trim section, position the vertical bar on the position from where you want your video to get split.
Step 2. You will then have an option called 'Split' at the bottom of the screen. Click on that.
Step 3. Now drag the bar across the timeline to the portion you desire the video to cut.
Step 4. All you need to do now is click on 'Preview' and check the changes. Once you are satisfied, click on the 'Save' button to continue.
# Blur a Person or Object in the Video
If you are not willing to show a particular element in your video, adding blur can hide the same. YouTube allows you to either apply a face blur or custom blur hiding different elements.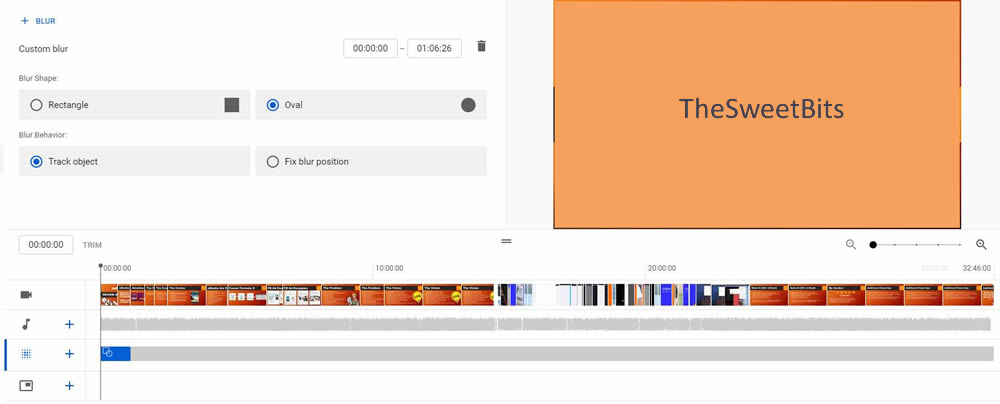 Step 1. The first thing you need to do is select the video and get yourself in the editor mode.
Step 2. From the video timeline, click on the 'Add Blur' button and select 'Custom Blur' or 'face blur'
Step 3. Clicking on the button will open up a different editor from where you can select the elements or faces of the individuals that you want to hide or add blur to using various shapes.
Step 4. Once done, click 'Apply'.
Step 5. You can then hit the 'Save' button to proceed with your edited video.
Editing Tip: After applying the desired blurs, their intensities can be adjusted with simple dragging.
# Adding Royalty Free Music to the Video
The YouTube in-built editor allows its user to enhance their videos with royalty-free music. To get started with the audio section.

Step 1. Hover over to the 'Audio' icon and click on the '+' icon or the drop-down menu.
Step 2. From the drop-down menu, click on the '+' button. Clicking will open up a new button altogether.
Step 3. The newly opened tab features all the royalty-free music that YouTube provides its user to use for free.
Step 4. From this new tab, you can add or replace audio in your video simply by clicking on the 'Add to Video' option that lies next to the desired audio.
Step 5. All that you are left to do is hit the 'Save Changes' button and have the audio rooted in your video.
Editing Tip: Once you have the audio added, make sure you manage the 'Audio Saturation' slider precisely. This option generally controls the volume in which the audio will get embedded in your video. Having the slider to the extreme right will ensure the added music dominates the audio section. On the other hand, having the slider to the extreme left denotes the opposite situation.
# Adding an End Screen or Other Elements
End screens and other elements represent the templates that pop up as your YouTube video tends towards ending. These majorly includes videos and subscribe prompts. When we talk about YouTube SEO, this feature plays a significant role. With the help of a YouTube editor, the process of adding an end screen becomes simple.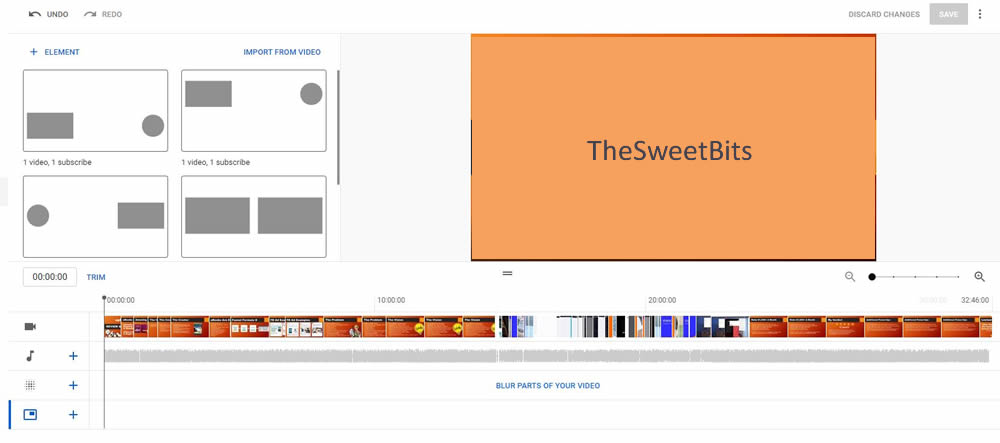 Step 1. Once you are in the video timeline, you have a 'Add an End Screen or Add an Element'. Icon. To begin with, the addition process, click on that.
Step 2. A screen shall then pop up with six templates to choose from. Select the desired one and click 'Apply' to continue
Step 3. Click on the template that layers over your video to select the video files that you want the end screen to display. You can either select a specific video or let YouTube choose one according to relevancy or the time of upload.
Step 4: You can then select the time for which you want the end screen to appear on the timeline itself. Post selection hit the 'Save' button.
YouTube no more advanced editings, any alternatives?
Talking about the availability of professional video editing tools, the choices are many. The choice of working with one, however, is subjective. Although the in-built YouTube editor opens up a wide range of possibilities for editing your desired videos, certain limitations might compel you to seek an alternative.
As YouTube studio lacks various advanced options like the green screen effect, the implementation of vivid filters, etc., using the inbuilt editor will limit your editing capabilities. Moreover, with YouTube's editor, you can neither work offline nor can edit the files that are yet to be uploaded. YouTube creator studio works only with the files that are already uploaded.
An alternative, however, can also bring in some constraints especially dealing with videos for YouTube. Considering the advanced options that one will get exposed to, using an external editing tool might not be a handy option for beginners. In addition to that, with YouTube studio no longer in use, you will get deprived of the enormous list of licensed audio files. Thus, it becomes crucial for you to take the content you use under serious notice to avoid copyright troubles.
So, considering the positives that an external YouTube editor brings in to the whole editing and performance scenario, it is time to look at the best options available that can indeed be a better alternative to the in-built YouTube Editor.
Talking about one of the popular alternatives to the official YouTube editor, the Filmora Video serves its purpose excellently. Available for both Mac and Windows, the Filmora Video Editor gifts both basic and advanced features in a video editing scenario. Thus, making it a perfect alternative for both beginners and advanced professionals.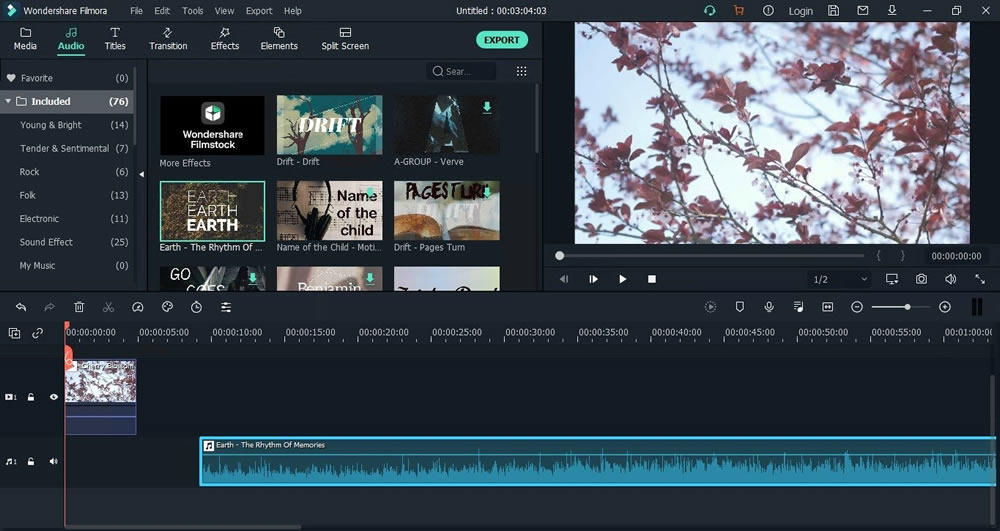 Pros
Besides being an easy-to-use tool, this software brings in more features than YouTube's built-in video editing tool. The prime features that highlight include:
It allows trimming, splitting, and cropping of videos in just simple clicks.
With Filmora, you can add multiple videos and stitch them into one.
Filmora allows the addition of audio from the offline library.
The tool comes with multiple filters that can go a long way in enhancing the overall video.
It supports green screen effects that correspond a lot towards advanced options.
FromMP4 to MKV, from AVI to WMV, this tool supports multiple video formats to work with.
Cons
Unavailability of licensed audio, image and video files.
Pricing
The pricing of Filmora is a bit on the complicated side. The company brings in different plans for Mac and Windows altogether. This is how the pricing plan looks like:
For Windows: Windows users enjoy four types of subscriptions based on validity. The monthly subscription that comes with a validity of 1-month costs $7.99, and the quarterly subscription costs $15.99 for three months. The annual subscription requires you to pay $39.99 for using the software continuously for 12 months. It also comes with a perpetual plan that will cost you $69.99 for lifetime access.
For Mac: Mac users have three types of subscriptions to choose from. The monthly subscription that comes with a validity of 1-month costs $9.99, and the annual subscription requires you to pay $44.99 for using the software continuously for 12 months. The perpetual plan is also available that will cost you $69.99 for lifetime access.
Animoto: a drag and drop solution for video marketers
Less of a video editor, more of a video creator, Animoto is a drag and drop solution for creating YouTube videos.  From instructional to product videos, from vlogs to business videos irrespective of what niche you operate, Animoto lets you create stunning videos for YouTube. You don't need any prior experience to start operating Animoto. The only thing you need to do is combine your desired photos and video clips, add relevant texts and music to them and let the application create stunning videos for you in no time.
Pros
Besides convenience and easy to use nature, the other prime features that make it an excellent alternative to YouTube video editor includes:
From Mac to Windows, it is compatible with every operating system.
It is efficient and time-saving.
It comes with multiple templates to fit into your niche.
The tool automatically customizes the whole layout in accordance with the compatibility with YouTube.
You don't need to get yourself into manual editing as the artificial intelligence of the tool itself takes care of the editing part.
It has its licensed library of over 1 million photos and video clips that can be used to create your videos.
It allows you to embed your logo in the video.
It allows trimming and cropping.
Cons
The software being a relatively automated one lacks user controls like manual editing features.
The images that AI brings up from the stock library might not justify the video's situation every time. Though the precision score is like nine out of ten times, being automated in nature, it might lack efficiency one or two times.
It is a software that operates online. So, you will need an active and running internet connection to work with this tool.
Pricing
The Professional subscription for one month will cost you $29, while for the Team subscription, you will require to pay $79. However, if you choose the annual plan, the software costs $180 ($15 per month) and $468 ($39 per month) for Professional and Team subscriptions.
Lightworks: an advanced option for professionals
Considering an alternative solution for professionals, Lightworks corresponds to an advanced video editing option. From Windows to Mac, this tool is available for users across every operating system. One of the best features that make Lightworks a suitable alternative, though, is the availability of royalty-free audio and video content. Thanks to this feature, you can focus more on leaving your professional touch worrying less about the copyright infringement issues.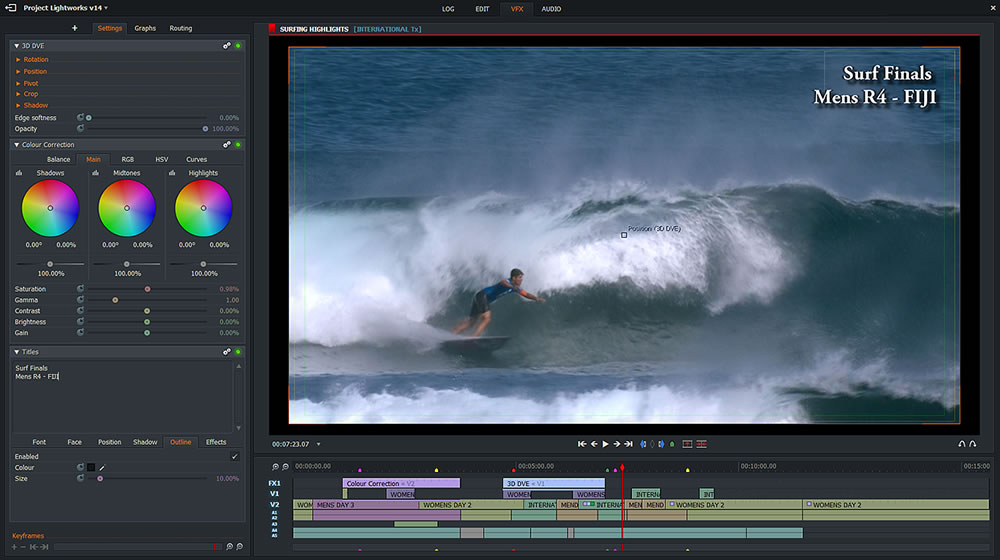 Pros
Although it might not be a fruitful alternative for beginners, if you are an editing professional seeking advanced options to enhance your YouTube videos, the following features are sure to aid in the long run.
It comes with easy timeline editing that will let you perform the basic editing tasks like trim, split, and crop with ease.
You are allowed to combine multiple videos professionally and blend them into a perfect output.
It comes with engaging social media templates that can help you edit your videos into a more enticing one.
It comes with high-end, ready-to-use audio and video effects. The desired FX also comes with a real-time viewing experience.
It allows users to device customized and defined output formats.
It allows professional sequence grading with a precise 32bit GPU and efficient histogram tool.
Supports multiple video formats to work with.
Supports 4K export for YouTube.
Cons
The tool can be a tough one to use for anyone just starting.
The User Interface of Lightworks is quite outdated. This might add a bit to the user disruption.
Pricing
Lightworks provides its users varied plans to choose from. The monthly plan with a validity of one month costs $24.99, and the annual program costs you $174.99 for using the software for one year. However, they also have an outright plan for a one-time payment of $437.99 in which you have lifetime access to the software.
Other honorable video editors for YouTube
Having talked about the best applications that can help you in creating or editing your videos there are a few other tools that deserves some attention.
Coming from the home of Adobe software, the premiere pro is an advanced video editing tool. The tool has been designed to carry out all the complex editing in the video industry. With that being said, it might not be a friendly option for beginners. But for the ones who have been professionally editing videos for quite a long, the Adobe Premiere Pro can serve as an excellent tool to take the editing to next level.
The Adobe Premiere Pro comes with an annual subscription of $19.99 per month.
Final Cut Pro is another high-end professional tool that has been designed for professionals. Launched back in 2011, Final Cut Pro has been going strong for more than ten years now. Apart from various famous YouTubers who claimed to have used this tool for their video editing, Final Cut Pro has been a task force in various Hollywood movie projects as well. But unlike the Adobe Premier Pro, it is specially developed for Mac users only.
The Final Cut Pro comes with a onetime payment of $299.99.
Another simplified tool that can help you create a YouTube video right away. It is a cloud-based application that brings home a convenient solution in creating YouTube videos. All you need to do is have your clips, images, audios, and other resources ready. Once you provide those to Viddyad, it will stitch them into a video ready to be uploaded on YouTube.
Just like Animoto, InVideo is also an online video creator that can help you create stunning YouTube videos. Being featured as the 'Best Value' software in the Video Management industry, InVideo is excellent for transforming any given content into enticing videos.
Time to perfect your youTube videos
Having talked about the best available resources that can help you create the best YouTube video out of all, let me conclude the article with a few tips that can aid in making your YouTube videos genuinely amazing.
Define the audience you want to target and create videos around their point of interest.
Always come up with a script before jumping directly into video creation. This way, you will never lose track while creating the video.
Focus on creating quality content rather than introducing unnecessary elements to aid the length.
Although having high-end shooting devices is not necessary, make sure your video and audio bear good quality.
Keep your edits simple. Fancy improvements may not comply with viewers of every kind. However, if your channel subjects to high-end editing, this tip is not useful.
Having every element of your video blended correctly in an organized manner is essential for devising engagement. It is thus crucial to have access to the most valued resources for editing. Although finding the appropriate one can be a challenging task, but not anymore as we have compiled a list of the best video editors for YouTube in 2021 that can help you convert usual videos into appealing ones.
Meanwhile, here are some other articles related to YouTube: