Sweet Tools to Mount Cloud Storage as Local Drive on Mac
Utilities   •   Dec.24, 2018
Remember the time when Google Drive and Dropbox were so fancy and used only by geeks?
Well, that's just past now.
Cloud Storage services have become so inseparable from our lives, you know. For instance, we do not even know what to do about online documents if it isn't for Google Drive. And, don't get us started on making the files available across platforms.
Despite all these, cloud storage management has remained the same.
Of course, you can install the Dropbox or Google Drive app on your PC and Mac. But, mostly, they just create a folder that syncs with the server — with a lot of limitations. To say the least, they are not the best solution for file operations.
For instance, it's not really easy to copy files between your local drives and the online drives. And, it's where, folks, a cloud storage client comes in.
What is a cloud storage client?
A cloud storage client is a piece of software that lets you easily manage your cloud storage services such as Google Drive or Dropbox. It should be noted that it's different from the dedicated G-Drive or Dropbox app you have seen.
Cloud Storage clients have been designed to convert your online cloud storage into a virtual network drive in your Mac or PC. It means you can access all your files and folders as if you were opening Macintosh HD or Local Disk.
In other words, cloud storage clients will let you mount/map clouds as disks.
Why map/mount clouds as disks?
If you are someone like us, you would have plenty reasons. Some of them are:
You use Google Drive, Dropbox and similar services a lot. It's such a waste of time to open the browser every time you want to download/upload something. It gets a lot tiresome when you have a number of files to upload.
Once mounted as disks, you can use the cloud storage as if it was a native directory in your Mac/PC. It would appear in Finder as though you connected another hard-disk to the computer. It's a superb way to save time, you know.
Unlike the dedicated apps for Google Drive or Dropbox, you can connect multiple accounts using one tool. The best part is that you can even connect your own FTP servers for easy file management. Do you have a website and want to transfer content quickly? There you go.
These tools don't store the online storage files on your computer. Instead, you would be accessing via the web itself. In practice, you are adding extra space to your Mac or PC. It's great if you have one of those 128GB MacBook devices (like mine).
Cloud storage clients are very easy to use as well. Some of the best tools have integration with macOS Finder and Windows Explorer. You get all the functions from context menu — be it renaming, moving or deleting.
So, no doubt, cloud storage clients will totally change the way you manage services like Google Drive and Dropbox.
What to look for when deciding a solution?
Here are some aspects we considered while choosing the best cloud storage client solution. It's nice to have a lot of features but the core things do matter.
Supported clouds: A major reason for using a cloud client is to handle multiple clouds at once. So, it was necessary that the application should be compatible with popular service and a few custom options.
Performance: Of course, the solution should perform well. The last thing we want is to wait in front of the loading screen, you know. Therefore, we have chosen software that perform well on all platforms and can efficiently transfer data to or from the cloud.
Simplicity: We're a bunch of geeks at TheSweetBits but we hate unusable software. So, we wanted the cloud storage manager to be easy to use. From setting up cloud accounts to managing individual files, everything must be intuitive.
Multi-device support: As it happens, many macOS calendars are available for other platforms such as iOS and Android. It's great to have a calendar app that syncs your events, anniversaries and all the agenda with multiple devices you own.
Cross-platform supported: The cloud storage client, regardless the service in use, must be cross-platform support. If you have both PCs and Macs in your office, it is better from a support standpoint to find a single solution that works on both platforms, rather than adopt one product for PCs and another for Macs.
Security: Just because you want to quickly access online storage files does not mean compromising overall security. So, we have chosen a solution that offers top-level encryption and an impressive security protocol.
CloudMounter: a great solution to expand device storage
Hear of Eltima? Well, they are behind a bunch of cool software like Folx. CloudMounter is made by the same developer and is designed to help users who are struggling with low-SSD storage devices. The tool basically started as a cloud storage manager for Mac, later expanding to Windows as well. Wondering how? Watch the developer's video below.
As we said earlier, CloudMounter doesn't store the files on your local hard drive. Instead, a virtual disk would be created and you can manage all the files and folders using this drive. You can use this tool to convert the web storage space into a virtual disk on your computer.
Is it free?
In a way, Yes.
You can use CloudMounter without paying anything upfront. This cloud storage manager comes with a 14-day trial package by default. During these two weeks, you will have complete access to the features offered by CloudMounter.
Past the expiry date, you can use the Google Drive, OneDrive and Dropbox accounts that you added first — without any limit. However, the secondary accounts and other services would become read-only. It means that you can download the files from server but can't upload.
And, yes, you can always upgrade to the paid version of CloudMounter in a jiffy.
So, if you ask us, CloudMounter is practically free. As you can see, you can connect each account from Google Drive, OneDrive and Dropbox and use them without limits. You will have to upgrade only if you need access to other services or multiple accounts.
Yes, that sounds awesome, and it's a great deal.
CloudMounter Pros
The design
Trust us when we say this: CloudMounter is the easiest-to-use cloud storage manager on Earth. In just a few seconds, you would have installed, run, connected and started using this wonderful tool. Of course, the main reason is the intuitive User Interface itself.
Suppose you are someone who has not used these tools before. Even then, you can use CloudMounter with no hassle. Considering that you're doing something awesome with this tool, the UI is quite impressive. And, we love a software that combines intuitive UI and so much power.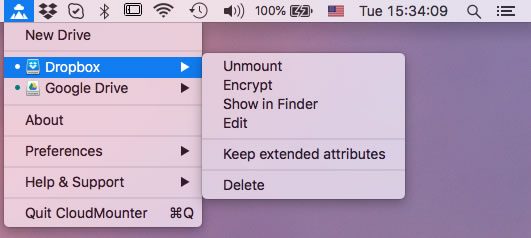 Integration
Integration is a term that every software developer in the world uses.
In the case of CloudMounter, it's completely true. It offers one of the best levels of integration with macOS and Windows.
Once connected, your Google Drive or Dropbox accounts will become a native part of the macOS system. It's really easy to navigate between your files, copy them and add new files to the drives. Every change you make is instantly synced with the online storage services.
It was hard for me to believe that CloudMounter does not store the files on the computer. It feels smooth to access individual files and folders, as if you were browsing another folder in Finder. This is something that we really love about CloudMounter.
Encryption
CloudMounter offers an option to encrypt the drive so that you are safe from security threats. You can do it for almost all the services including Google Drive and Dropbox. It should be noted, however, that you cannot encrypt individual files.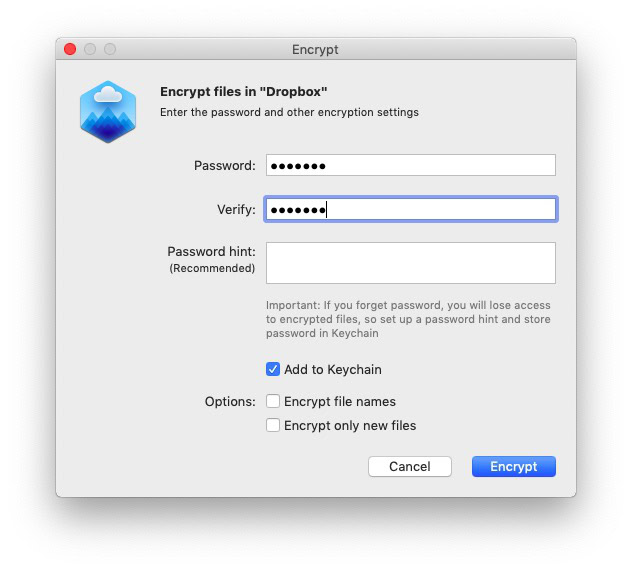 All you have to do is clicking on the Encrypt button you can see in the menu-bar drop-down menu. It turns out as simple as it can get. Once you have enabled encryption, you will need a password for accessing files or folders you've saved in the drive.
Compatibility
As you would have figured out by now, CloudMounter works with Google Drive, OneDrive and Dropbox, but that's not all.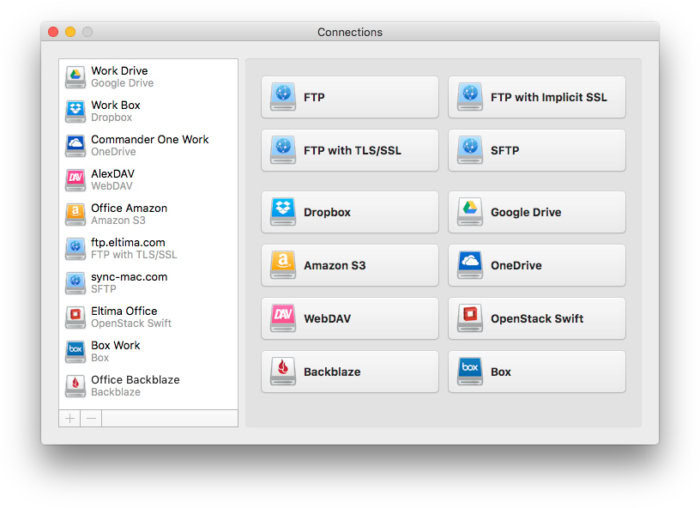 You can use CloudMounter to mount several services like OpenStack Swift, Amazon S3, Backblaze, WebDAV, Box and your own FTP/SFTP/FTPS servers. Regardless of the remote-file/online-storage service you want to use, CloudMounter would work just fine.
And, guess what? It's really easy to mount all these services.
CloudMounter Cons
We never said that CloudMounter is the perfect tool. And, there are a few things that could be better.
For instance, CloudMounter does not have many options for customization. Sure, you can encrypt the disks and everything, but that's it. We would have loved to see some advanced features in the package. Also, it'd be nice to have a fully-fledged Preferences pane.
As far as commons are concerned, CloudMounter offers excellent compatibility. However, there are a few platforms that it does not support. For instance, the lack of Backblaze B2 Services support is something that we didn't love.
How to use CloudMounter?
We just wanted to give you a quick overview on how to use CloudMounter.
First, of course, you have to download and install CloudMounter. You can get it from the official website or Setapp.
Once the installation is done, CloudMounter will show you a dialogue box with the icons of multiple storage services. You can choose the desired option. In this case, we've chosen Dropbox.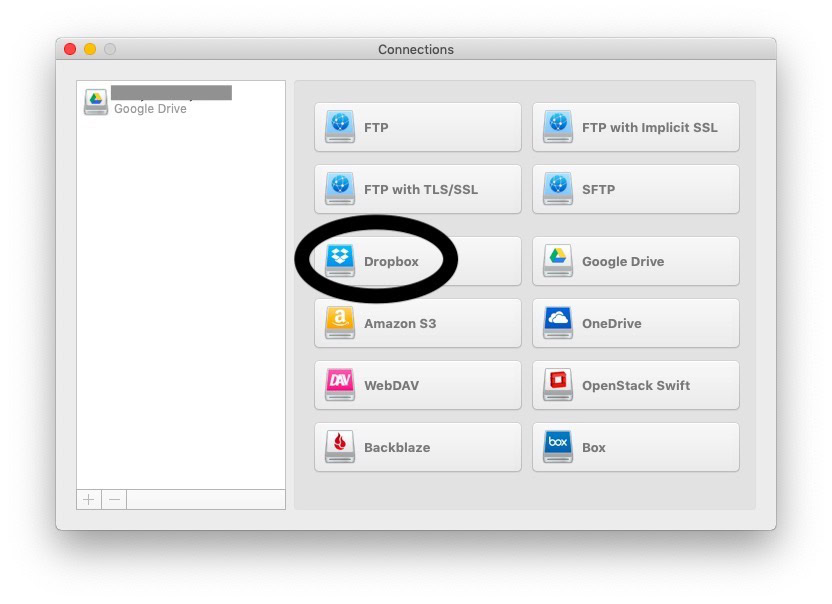 In the upcoming window, provide your Dropbox credentials and sign in. Once you have given the complete permission, CloudMounter will set up the drive.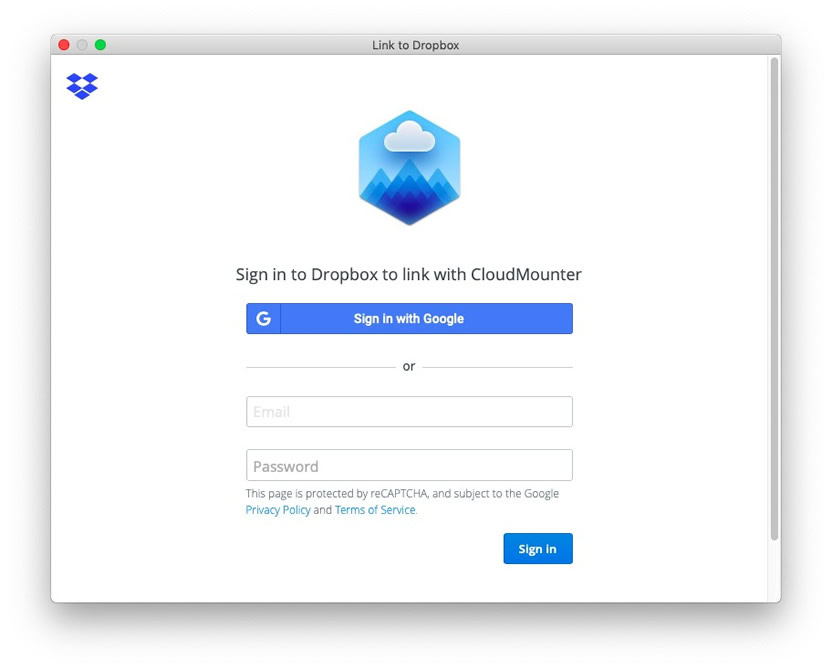 Now, you can see the list of connected account. Hit the Mount button to add the disk into Finder. Now, you can go to the menu-bar icon and manage all the disks from there.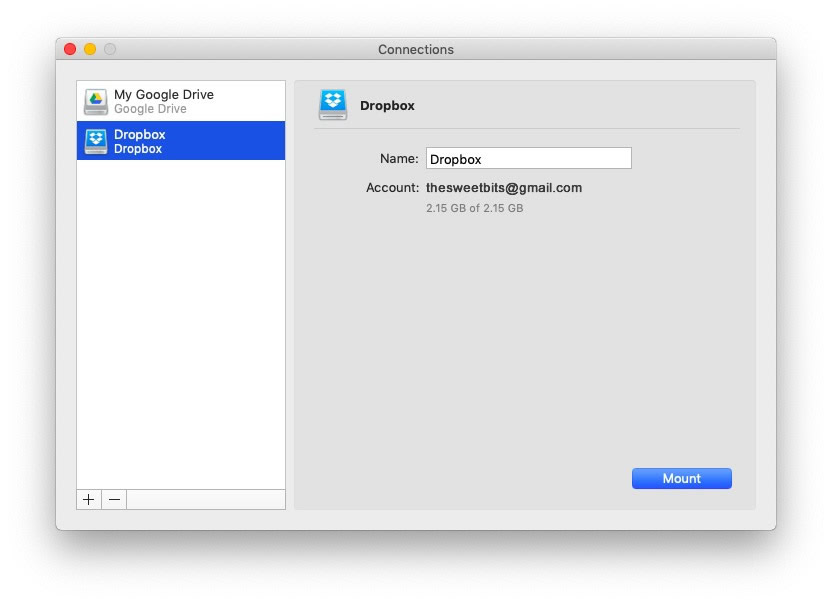 Tada, you have successfully mounted Dropbox as a disk. That didn't take long, did it?
Availability and pricing
As we said earlier, CloudMounter is now available for both macOS and Windows. We've done the testing on Mac but the awesome features are available in Windows as well.
Coming to the pricing, the Pro version of CloudMounter is available for $29.99 for the Lifetime Personal pick. Of course, you can take the better path by subscribing to Setapp, which offers some other apps along with CloudMounter.
Other apps worth mention
CloudMounter didn't reach here in vain. It did compete with some of the greatest apps in market. Some of them are:
ExpanDrive is basically the most popular competitor to CloudMounter. It's available for both Windows and macOS. It performs pretty well in most of the areas, especially compatibility. Unlike our top pick, ExpanDrive has a bigger list of compatible platforms. You can use it for mounting normal ones like Google Drive and dev-oriented solutions like Amazon Web Services.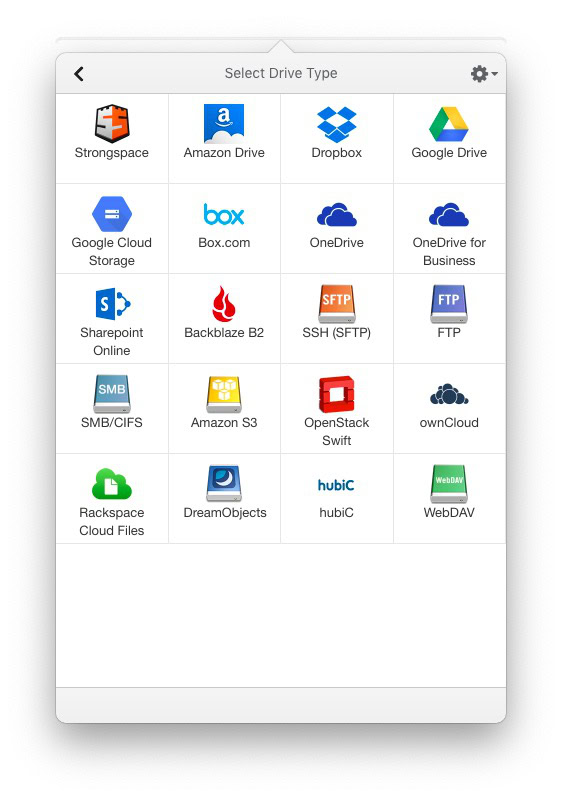 Nevertheless, we believe the UI of ExpanDrive could have been better. It gets the job done, but you have to spend some more time in connecting the accounts and related actions. When compared to CloudMounter, the speeds were not great either. There was a tie in terms of macOS integration, but UI matters the most as far as we know it.
You can download ExpanDrive for free, but the license costs $49.95 each, which is a bit expensive if you ask.
Another popular choice in the market, Mountain Duck is also available for macOS and Windows. It lets you mount popular cloud storage services as drives in Finder or Explorer. Mountain Duck is the best choice if you are looking for an advanced and feature-rich cloud storage manager. It has so many options for customizing the experience.
Once again, the UI and the lack of stability let us down. Probably due to the huge footprint, Mountain Duck seems to take a lot of time for starting up and getting ready. If you are ready to trade speed for a bunch of extra features, that would not be an option. On the bright side, this tool offers smart synchronization, solid foundation among other features.
Mountain Duck is a paid software, which costs $39 per license, but you can get a free trial for a few weeks.
WebDrive is another consideration we had, but it could not reach the top positions. WebDrive says it is the best tool for professionals and newbies alike. However, we found WebDrive to be quite hard to master. As opposed to many of the tools we covered, WebDrive has a fully-fledged interface, but that does not make anything better.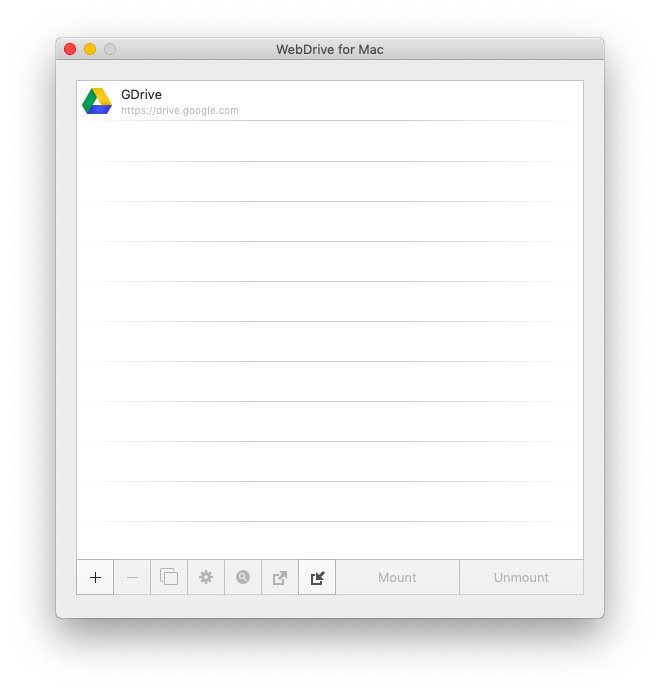 While other competitors were able to get everything ready in seconds, WebDrive takes time to start. And, it is not something every professional would want. On the bright side, WebDrive offers compatibility with most of the online storage services out there. The app also manages to talk about a few features like Encryption and end-point protection, but you know how it goes.
WebDrive is also a paid software, but you can get the free trial for 10 days.
NetDrive is one of the oldest network mapping utilities made for Windows and macOS. Is it still relevant? For one, it performs better than many other tools we've found. One serious problem here is that it has an old-school method for connecting drives. You will have to create an account before you connect your Google Drive or Dropbox to NetDrive.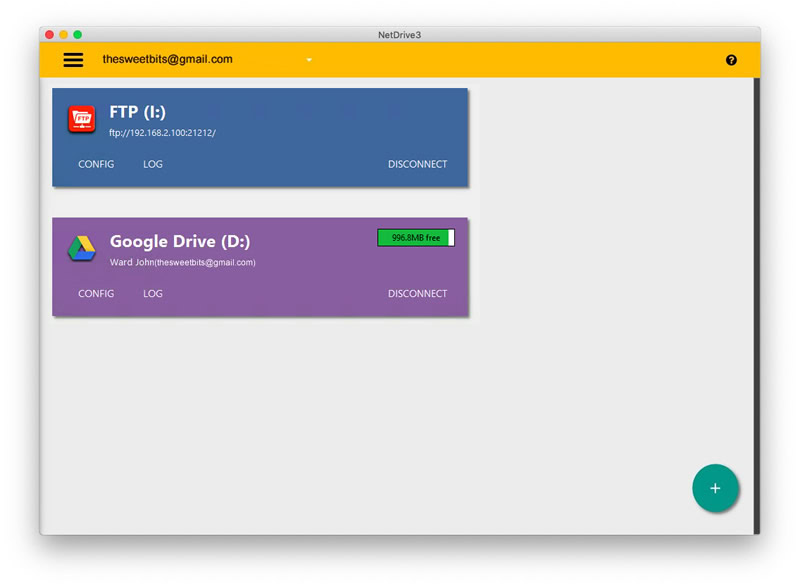 Once connected, however, NetDrive offers an innovative way to manage your cloud spaces easily. We would not say that the UI is intuitive, but the team has tried to up their game. Because NetDrive has been in the field for so long, it offers support for some not-so-new services as well. If you are running any of those cloud services, you can count NetDrive in.
NetDrive offers one-week free trial but then charges $19 per year.
Summing up
Let's make this quick.
Cloud storage is a norm today, do you want to map storage to network drives that's damn easy to use? CloudMounter client can help. Not because other tools are bad, but because CloudMounter packs so much inside its minimized footprint.
And, as someone who has been using CloudMounter for the past few months, I'd recommend it to anyone, on any given day. You are not only making cloud management easier but also saving a lot of space from your Mac and PC.
* Readers like you help support TheSweetBits. When you buy something through the links in this article, we may get a small commission at no extra charge to you.