Movavi Video Editor Plus 2022 Review: An In-Depth Look
Video editing can often get more stressful than enjoyable. But Movavi Video Editor Plus 2022 makes editing easy and fun!
Movavi Video Editor Plus 2022 is a complete video trimming and editing tool for PC with stunning tools and effects. We looked at all the features it provides and how it can help you make your videos better.
*Spoiler Alert* The app is awesome for beginners and is great for editing videos. However, it has some caveats that you should look into before making your decision.
So, what are we waiting for? Let's dive straight into the complete review and look at how you can use the app to improve your video editing skills.
Movavi Video Editor Plus 2022 – overview
Movavi Video Editor Plus brings your videos to life, and it includes all the tools you need to create gorgeous videos. It also helps you create dramatic videos or entertaining slide shows for your business or home very easily. It gives your creativity full reign to impress your audience with some fantastic movies, slideshows, trailers, and more. It is user-friendly, helps you create what you dream, and gives you many options to edit your videos creatively.
A captivating 11+ million pixels of real-time video feedback lets you quickly measure the quality of your output with the waveform monitor. Over 300 high-quality effects will enhance your videos with ease.
A straightforward interface makes editing videos even simpler. Cast your project to devices connected to your network or the Internet with just one click. Plus, you can download video clips now from any website directly into your project using our built-in video sharing browser.
Things that we like
From the coolest effects to an array of tools for editing, Movavi Video Editor has everything you'll ever need to make your videos stand out. The program also delivers dozens of special effects, filters, and titling templates that give wings to your creative process.
Events like weddings, birthday parties, or vacations that you'd like to preserve can come alive on the screen with the help of Movavi Video Editor Plus 2022. So, here are a few good things that we came across.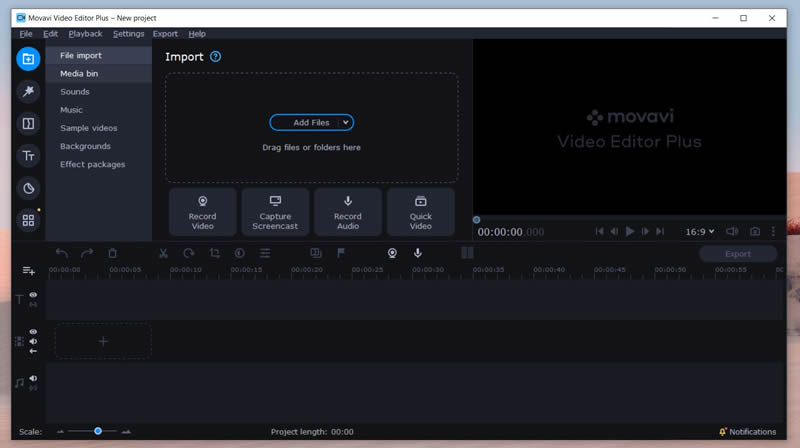 Interface and ease of use
Movavi has a great and easy-to-use UI that is nearly perfect for beginners, other than one slight gripe that we'll be talking about below.
Step-by-step instructions help you get incredible results in seconds, and Smart Analyze allows you to compare the final version with the original. The visual interface provides a wide range of editing tools that includes an anamorphic distortion lens for edit flexibility, complete audio controls, and change up to eight different frame rate options for perfect results.
You can get started with using Movavi Video Editor Plus 2022 by following the step-by-step guide below:
Head on to the Movavi webpage and download the app for your respective OS.
Next, install and run the app. You should see a window pop up similar to the screenshot above.
Finally, click on "Add Files", and you can start working on your video.
Note that the app supports both batch processing and image preview modes, making it easy to import and convert various formats and dimensions files.
Object animation
The unique feature in Movavi Video Editor Plus 2022 is the object animation. It allows you to create a movie from various objects, such as geometric shapes, pictures, or symbols. Animated titles, effects, and characters are a great way to add personality and humor to your videos.
Movavi Video Editor Plus 2022 lets you create them all with just a few clicks. Just select an element from the Object animation menu from the Effects panel. Choose from various predefined ones, including sparkles, animated balloons, pinwheels, bubbles, glowing objects, lasers, and much more. You can also define your text or pattern as an object. Then set the animated effect's speed and watch it magically appear on the screen.
This makes up for a great fun tool that you can use to give your videos an extra punch of personality and character. We really enjoyed the tool and know it's going to be a banger with users.
Scene detection
The scene detection tool is simply brilliant. With the Scene detection feature, you can easily divide a long video into scenes or add scene breaks to add scene-specific titles or credits.
It detects the beginning and end of video clips to avoid wasting time cutting out unneeded footage. Hence, making it easy for the user to create the scenes required for input into our system. So, it's no surprise that we love this feature, and we hope that you do too.
Stabilization
Life is full of action. But does your footage look more like a James Bond or The Bourne Identity movie? With Movavi Video Editor Plus, you can easily stabilize shaky footage, convert it to professional standards, and add artistic effects like slow motion to make your friends' adventures look way more cinematic.
With its 6-axis image stabilization feature, Movavi Video Editor Plus lets you fix camera shake even in your smartphone videos and give your videos fluency, making them natural and intuitive to watch. This feature eliminates jitters and shakiness; you can stabilize up to six degrees of freedom.
Our test provided great results, and so, now you too can automatically reduce drastically blurry footage caused by shaky hands or recording devices.
Overlay
The overlay feature in Movavi Video Editor lets you add an image or video you like to the video track.  Add excitement and flair to your videos with professionally-designed animated overlays.
Whether you're adding stars, clouds, music clips, or transitioning between scenes (such as fade-in, fade-out, dissolve, etc.), Movavi Video Editor Plus 2022 has the capabilities you need. Now with the Overlay feature, it's easier than ever to create attractive movie trailers and captivating photo slideshows.
We used it to add quick fade scenes to our clip, and the result was terrific. So, if you want a swift and easy-to-learn overlay editing tool, then Movavi is the way to go.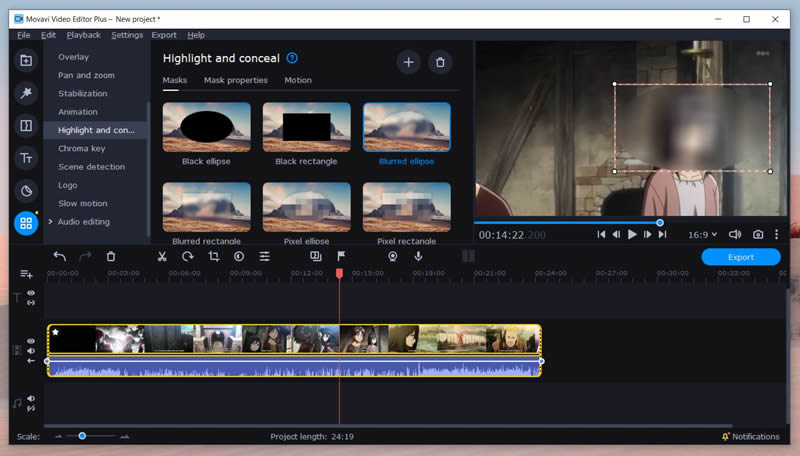 Highlight and conceal
A must-have tool for every video maker, Highlight & Conceal, a revolutionary technology for fast and easy coloring/highlighting of objects in videos that really sets this app apart from the rest.
You will be able to show your videos on their best side by highlighting the important objects and making them stand out. Also, the conceal feature lets you hide unwanted scenes. Hence, this takes your editing game to the next level and helps you improve your editing skills.
The powerful timeline editing tools help you to edit 4-point or 16-point texts, adjust color balance, add transition effects, adjust overlays, and more. And once you have assembled your masterpiece, the power of the slo-mo feature lets you move quickly from point A to point B without any distortion or loss of quality.
It can also cut, join, and crop videos, add intro and outro effects, change the speed of a video clip, rotate footage to correct its orientation, and apply several fun video filters. It is the first to offer a built-in tech encoder designed to output a web-friendly MP4 file for easier uploading to YouTube or social media platforms.
Pan and zoom
With the face tracking and pan and zoom features, i.e., facial recognition and crop, you can track faces and zoom in on them to personalize your videos.
With the click of a button, you can add cool-looking morphing effects or just zoom in on an important detail. Therefore, this feature allows you to control the focal length of your shots and, creating unbelievable edits is easier than ever.
While the pan and zoom feature seemed quite helpful, we felt the maximum potential lay on the touch screen capabilities of your laptop. So, if you do have a laptop with a touch screen, you can just use your fingers to zoom on the stuff you want quickly.
Audio editing tools
Edit the quality of your video with Movavi Video Editor Plus 2022, as this software offers a set of audio editing tools which includes a timeline, noise reduction, and a frequency equalizer. You can copy, cut, splice, and mix sound with the most powerful audio feature set on the market. It can remove noise from an audio track or change a particular audio file's tone, pitch, and tempo.
It has a wide range of effects that let you alter the overall sound, such as adding reverb, echo, vibrato, or tremolo. Powerful tools like the Beat mixing tool allow you to move and manipulate individual waveforms like never before.
You can also use keyframes to sync up all of your audio tracks to your video playback, with automatic cross-fades between each track, all without leaving the timeline. It also has an equalizer tool to add a musical edge to your videos and slideshows.
Hence, with easy audio editing tools, you can work creatively with sound to create stories that are truly your own. Play audio in reverse or vary pitch to sound like different voices or musical instruments, add fade-in/out effects to background audio for ambiance, and more.
Instant movies
Movavi Instant Movie is an innovative way to create unique, fun stories with your photos and videos and share them with friends on social networks such as Facebook and Twitter.
Just pick a theme, select your photos and videos by date, time or event, and watch as the app automatically creates a short video – complete with background music – in a matter of seconds. Easy to use and super-fast, this is a must-have app for all families and friends wanting a great way to share memories.
It's not just editing software; it's moviemaking power at your fingertips. Open your door to instant movies, videos made up only of the best scenes. Just mark the parts you like, and let Movavi Video Editor Plus do the rest. Create Hollywood-style movie trailers in seconds. Use the Movavi instant movies function to import photos and videos from your camera or phone memory, add effects, text captions, transitions, soundtracks, voiceovers, and even animation for some extra flair. We love to use this feature, and we're sure you will too.
Titles and text
Designing titles and creating text effects is a breeze with Movavi Video Editor Plus 2022. This versatile app includes everything you need to create truly effective movie slideshows, promotional videos, and video intros.
You can add colorful and stylish titles and texts to your videos. Simply select a title style in the Title & Text utility and apply it to a sequence in one click. You can change its color and transparency, move it along the timeline, or even use a second text track to add a subtitle. You can even select from a wide range of fonts and sizes to ensure that your titles look just right. Write TEXT over video tracks with the Text Overlay tool. Add up to four text lines of any length, and format them just like you want: change color, layer, and transparency.
Just pick a style of your choice and type in your text. If that is not enough, turn on the new speech bubbles — they instantly transform your texts into stylish speech balloons. Add stunning graphics and special effects to your videos. Make your titles stand out from the crowd with 100+ fonts, 60 templates, and 110 transitions. So, let Movavi Video Editor do the heavy lifting so you can focus on being creative.
Things we didn't like
While the app is awesome to work on, there are some factors that we didn't enjoy using. The UI is great, but it doesn't have titles for the tools on the left panel.
This makes it increasingly difficult for beginners as figuring out which tool does what can get a little confusing.
Other than that, there were a few features that could have been improved. They did work, but the experience wasn't pleasant.
Key takeaways:
While it is not a problem with beginners, the app still lacks some advanced trim modes and other clip pre-trimming tools that you can get with other programs.
The titles/subtitles tool is great but incorporating premade subtitles on a video is very challenging.
The rendering speed is just average. By all means, it's not bad as some other apps, but it doesn't stand a chance with the big league apps. (Rendering a 5-minute video took about 2 minutes and 41 seconds)
It doesn't support color grading and isn't as feature-rich as some other apps.
Movavi also doesn't support the latest H.265 encoding. While a nitpick from me, it might be useful for some users.
Finally, the app isn't compatible with the new M1 Macs, and the fix is yet to be released.
Pricing and compatibility
Available for Windows and Mac computers, it's compatible with the most popular file formats and offers a variety of built-in and downloadable filters and effects, including optical flare and glow.
Movavi comes with a free 7-day trial version which improves compatibility across users.
You can also get the 1-year license / 1 PC for $44.95 or a Lifetime license / 1 PC for $64.95.
Finally, the last option is to get the Video Suite Lifetime license for $84.95.
Note: There are also business options available, and you can get huge discounts if you're purchasing multiple licenses.
FAQs
What's new with Movavi Video Editor Plus 2022?
The latest addition to the Movavi Video Editor Plus 2022, this powerful editing suite helps you make captivating videos easily. You can use it to edit and enhance your home movies while giving you total control of the final output.
The new timeline position features allow moving a clip from one part of your video to another. Finally, the redesigned interface, the new multi-track timeline, the enhanced project management tools – everything has been created to guide you through video editing smoothly.
Is Movavi Video Editor Plus 2022 safe?
The answer is yes! Movavi Video Editor Plus 2022 brings you more of everything that made its predecessors so successful. Movavi Video Editor Plus does not make your computer vulnerable to viruses, spyware, or other malicious software.
However, you must take all the necessary precautions while using any programs on your computer, including this one. The author of the program cannot be held liable for any damages caused by its use.
What is the difference between Movavi Video Editor Plus 2022 and Movavi Video Suite 2022?
Movavi Video Editor Plus 2022 is video editing software which comes 60+ video effects, 100+ audio effects, and 1,600+ creative titles combined with lightning-fast workflow. If you are really serious about making videos professionally, you need to try the Suite toolkit.
Movavi Video Suite 2022 is an all-in-one video solution that makes it easy for you to utilize video/audio editing, video converting, screen recording, engaging video presentations creating, and more. Perfect for both novices and professionals, this intuitive suite offers a range of expertly crafted presets which put making video at your fingertips.
Is Movavi good for YouTube?
Making video montages for YouTube is easy with the Movavi Video Editor Plus 2022. Whether you are making professional videos for your business or just want to shoot fun home videos to upload to YouTube, Movavi Video Editor makes it easy. It is not only powerful but also easy to use.
It keeps your movies always in sync while speeding up your workflow with its integrated media files converter. At the same time, the new enhancements let you organize footage into logical chapters for easy editing.
Conclusion: Movavi Video Editor Plus 2022 review
Movavi Video Editor Plus 2022 is a video editing software that lets you create wonderful videos with ease. With this video editor, you can add effects, transitions, titles, draw on videos, alter colors and images, record voiceovers, and many other things. If you're looking for an affordable yet feature-packed video editor for your personal videos or using it in your small business, Movavi Video Editor is a good choice.
It also features a timeline that displays multiple tracks, letting you add text or video to each one separately. Movavi Video Editor lets you add 3D extrusions to photos and videos, which you can easily animate using the program's fine-tuning tools. Its built-in video editing templates make it easy to impress your family and friends with outstanding slideshows, bullet videos, wedding videos, adventures in nature, or epic time-lapses that you can share on social media.
So, yes, we highly recommend using Movavi Video Editor Plus 2022, and the features it comes with are truly unique for video editing. With that said, we end the review and hope you love using it too.
* Readers like you help support TheSweetBits. When you buy something through the links in this article, we may get a small commission at no extra charge to you.