Is CCleaner Safe? A Review of CCleaner in 2023
Reviews • Updated on June 17, 2022
Looking for a cleaner for your PC/Mac? Are you not sure if CCleaner is the way to go? I'll help you figure that out in the next couple of minutes.
CCleaner is a PC cleaner tool that has been around for more than 15 years now. However, back in 2017, the platform faced negative consequences throughout the year. But is CCleaner safe to use in 2023?
Well, make sure you stick till the end so you don't miss out on any point that might help you make a decision about CCleaner.
CCleaner issues: a brief history
If you don't know, CCleaner has faced unpleasant scenarios several times. When Avast acquired the company back in 2017, the tool got hacked twice. Even Microsoft flagged several registry cleaning utilities that included the CCleaner Registry Cleaner as well.
Allegations around CCleaner weren't over there. CCleaner, a malware, started featuring headlines for negative reasons as it could gather sensitive data and forward the same to a third-party US-based server.
All this resulted in the tool getting tagged as a potentially unwanted application. However, it has come a long way since then and is probably at its strongest point.
Is CCleaner safe now in 2023?
The fact that CCleaner has seen infringements a couple of times, or maybe more, positions its level of safety under serious questionnaires. The versions that reported issues were 5.33.6162 and 1.07.3191, and the systems majorly under impact were the 32-bit Windows-powered ones only.
Later though, subsequent updates promised efforts to address all sorts of cases revolving around the Trojans. The good news is that recent testimonials featured on Trustpilot justified that the promises were indeed kept. Moreover, most reviews posted on the CCleaner platform over the last 1 year reflect that the tool is safe to rely on.
The situation has fairly brightened up for CCleaner recently. With no negative reports being bagged from the past one-year, the tool seems to have started living up to the 13 years of solid reputation.
Also, downloading and installing CCleaner on your system is no big deal. In fact, if you know how to proceed, it won't take more than 5 minutes to set everything up. Just download the "setup file" and install it on your device.
What's CCleaner like in 2023?
Until this point, you've most probably figured out that CCleaner is an all-in-one utility that helps keep your computer free from useless files. No doubt there are numerous other software pieces available that promise something that sits along similar lines. However, CCleaner is promisingly different.
In case you're wondering what drives CCleaner to stand apart from the rest, the following section will answer exactly that.
User-Friendly Interface
Admit it! No matter how technically sound you're, encountering a rather complex scene right after launching an app won't leave a pleasing mark. CCleaner seamlessly tackles the situation with its super-flexible interface.
To top that, CCleaner's interface wonderfully manages to fit in all the crucial optimization oriented action-buttons at the convenient possible position.
New Performance Optimizer
In the latest CCleaner 6, the app adds a new feature – Performance Optimizer – attempts to scan and put all inactive programs chewing up your PC's resources to sleep to help optimize your PC performance, but it smartly re-enables the apps as soon as you need them.
First, a quick scan returns a list of programs sorted by the impact to the PC's performance according to CCleaner's algorithm. On our test system, 10 programs were identified by Performance Optimizer. Four of them, Anydesk, Microsoft OneDrive, Microsoft Excel 2019 and Wondershare MobileTrans, were listed as having a high impact on the performance. The remaining 6 programs were listed with a low impact.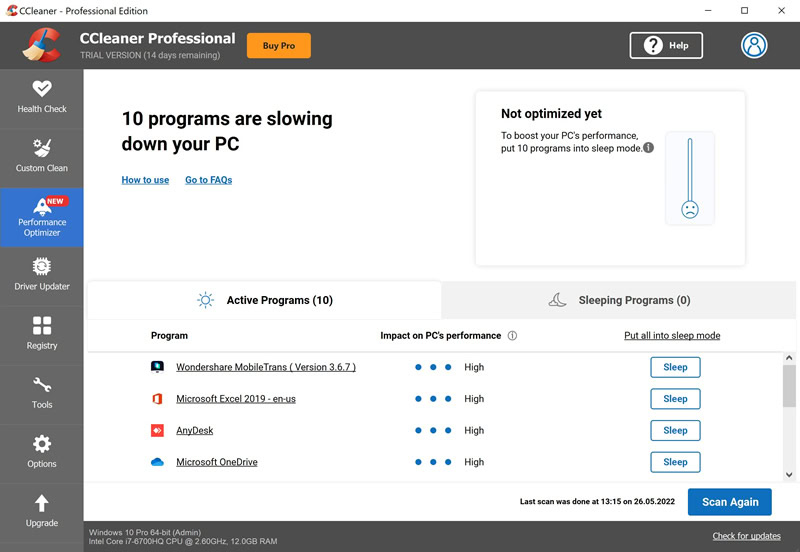 Next, the program gives you the option to put them to sleep. Here be careful with any apps that should be running in the background all the time. For example, you may use Microsoft OneDrive to continually back up files, in which case you would not put this app into sleep mode.
CCleaner's Performance Optimizer looks like a useful tool to speed up PCs that are slowing down. According to the developers, this function can deliver up to 30% more battery life and up to 34% more performance on both new and old PCs.
Robust Registry Cleaner
Dealing with an unworthy extension of unused files located in the system registry is indeed a hefty task, at least for many. The list of entries sitting inside the Windows registry comprises all sorts of corrupted files, shortcut messages, and more.
The fact that you can't just head over, locate each, and delete them simultaneously complicates the situation. This is when CCleaner's Registry Cleaner feature clicks in. The feature operates in a semi-automatic mode where it engages in collecting all the deletable records first, followed by letting you decide the ultimate fate.
The issues caused by detrimental entries in the Windows registry folder are no stranger. Thankfully, CCleaner does take the responsibility of helping users cruise out of trouble pretty efficiently and logically.
Enhanced Cleaning Tools
At the end of the day, if you tend to install CCleaner, the majority of the time, you'd be employing it to help your system get rid of garbage files. Now, without any doubt, the utility serves pretty well, which is why the cleaner feature is among the most recognized ones.
Unlike most of the utilities, the cleaning functionality of CCleaner explores a deeper dimension. It's so deep that if I start serving them one by one on your plate, you might start to feel drowsy. To avoid that from happening, I've sectioned the cleaner features in the following four segments.
Custom Cleaner: It is a free-for-all feature that enables users to choose and delete junk sitting on their systems easily. Everything from internet cache, browsing history, temporary files, and more can be seamlessly eliminated with no hassle whatsoever.
Deep Cleaner: Just as it is named, the deep cleaning feature lets you find and eliminate unwanted files throughout the system. However, unlike Custom Cleaner, Deep Cleaner needs users to own the Pro edition.
Scheduled Cleaner: This is again a feature exclusive for licensed users. It is a great utility for those who wish to schedule and run system cleaning. This offers a convenient way to check and remove junk and ensures restricting unwanted files from accumulating.
Smart Cleaner: It is a paid upgrade to the already mentioned Custom Cleaner feature. It loads up with brilliant functionalities that aid users in making the system monitoring process a breeze. Among many, one that stood out for me was the Automatic Browser Cleaning. I know getting rid of browser history isn't a challenging task, but there is no denying that we often tend to ignore that.
Driver Updater
Again, a premium feature that ensures your computer's drivers are updated. It is essential for you to keep your PC drivers updated as they help you be secure, remove bugs/errors and even improve performance.
Duplicate Finder
Duplicate files aren't troubling anymore as CCleaner brings this tool that can filter your drives and find all the annoying duplicate files. It can even look for similar-looking photos and help you delete the ones you don't need.
PC Health Check
CCleaner's comes with a new PC Health Check tool that analyzes your PC and recommends all necessary fixes. It can automatically optimize and update your PC to perform better and is more secure.
Some Other Handy Features
In addition to the well-optimized cleaning setup and convenient user interface, CCleaner is home to several minor but handy elements. Here are a few of them worth knowing about:
Drive Wiper: This feature lets you wipe off all the deleted files and free the concerned drive(s)
Large File Finder: With this tool, you can effortlessly list the files whose weight rests on the heavier end.
Disk Analyzer: It scans and reveals information on the files taking up space in your system.
Uninstaller: A one-click utility that helps repair, rename, and uninstall desired apps.
Task Killer: A blessing for RAM-concise systems as it helps free up RAM by simply stopping pre-running tasks and cleaning some associated memory.
Startup Manager: Trouble reliever for those who are concerned with automatic startups. This tool allows you to choose the programs that should or should not run as soon as the computer boots up.
System Restore Manager: Designed to allow users to alter the status of scheduled checkpoints.
CCleaner 2023: things that could be better
Although everything associated with CCleaner seems to be perfect, some elements still need attention. Firstly, the Large File Finder is an exclusive feature for Mac platforms, thus leaving Window's users a bit disappointed. Well, you might not find many complaints about that, but the developers should start considering the Windows side as well.
One more thing that puts me off is the efficiency of the Quick Scan feature. I understand that the very tool is made available for all and can't be as good as the deep scan. Sadly, nothing about this feature feels good. Everyone deserves better, if only by a small margin. What I'm trying to say is that if anyone tends to use the Quick Scan, he or she must get something out of it.
CCleaner for Mac: is it as good as the Windows version
The query whether CCleaner for Mac is as good as the Windows version isn't that concerning when you're dealing with the basic (free) version. However, if you opt to buy the services, there are a few things to consider.
Without any doubt, the premium CCleaner software for Mac packs some super-efficient tools, like Real-time Monitoring, a Large File Finder tool, Automatic Updating, and more. But compared to what the Windows version has to offer, Mac users seem to run a bit unlucky. Also, the fact that the software costs a couple of dollars more, there is indeed a genuine reason for disappointment.
That's everything you need to know about CCleaner. I've uncovered the tool and discussed the abilities and the disabilities from possible vivid angles. A quick reading session will help you settle whether CCleaner is worth your time or not.
Is CCleaner 2023 worth using?
The answer is a resounding yes. Thanks to everything that CCleaner packs in, the tool is more worth keeping than just giving it a single try. I won't say CCleaner is perfect from every dimension, or it is something revolutionary, but it is genuinely a tool that can aid your system in a better way.
Pros
Packs fascinating features
Super-friendly user interface
Availability of free license
Cons
The Quick Scan feature isn't that efficient
Pricing rests a nit on the higher end
No iOS version is available as yet.
Pricing
The pricing for CCleaner starts at $0. Yes, you read that right. Users can avail free trial that neither requires email confirmation nor payment information. However, you can still get the premium subscription at $24.95/year. The CCleaner Summer Sale is now ON! Click here to get CCleaner Pro or Pro Plus for HALF PRICE (50% off).
Verdict
Well, CCleaner isn't cheap. However, the amount of utility it loads justifies the price tag to a considerable extent. Also, free usability is a plus, but encountering all sorts of restrictions is obvious.
Offering all of the foundational features, CCleaner free version brings you Basic Heath Check, the renowned Registry Cleaner, a Custom Clean feature, Duplicate Finder, and plenty more disk and system management features that make it a formidable tool. However, the CCleaner Pro version brings along Scheduled Cleaning, Advanced Health Check feature, a built-in Driver Updater, Deep Clean tool, and plenty more, making it worth the extra bucks.
It provides great value for all PC and Mac users and helps improve the overall experience of users. So, why not download the trial version of CCleaner Pro and decide for yourself?
* Readers like you help support TheSweetBits. When you buy something through the links in this article, we may get a small commission at no extra charge to you.