NetSpot Wi-Fi Analyzer Review – Reclaim the Internet
Reviews • Updated on Aug. 13, 2021
Keeping up a robust Wi-Fi network around your home and office is essential in this day and age. NetSpot claims to be the one-stop solution to troubleshooting Wi-Fi networking issues, and with this review, we put it to the test.
Many could argue that the reason smartphones finally made it into the world is that there was viable wireless internet to support it. While 4G cellular technology is relatively new and still making its way to the masses, Wi-Fi has been around for decades, first introduced by Nokia in its revered 9000 Communicator series. Since then, not just the mobile world but smart devices, in general, depend on stable Wi-Fi connectivity to maintain the world order.
As perfect as the invisible spectrum of the internet sounds, it is far from it. Every user experiences some sort of drop-in connectivity, tanking data transfer speeds, and spotty connection in some regions of the home or office. It can be a frustrating chore to figure out what is going wrong in your wireless network configuration. There are plenty of tools used by networking professionals to analyze Wi-Fi networks and provide you a proper foot plan of how good of a job is the wireless router doing.
What is NetSpot?
NetSpot is a Wi-Fi analyzer tool that helps you gather as much information and data on your network as possible and ease out the troubleshooting process for professionals and home users alike. WiFi-related problems can be challenging to fix, and hence, analyzer tools such as NetSpot ensure that you have optimal router placement and better connectivity throughout your place.
Just as the name would suggest, this Wi-Fi analyzer app is designed to, well, analyze your Wi-Fi network based on every available parameter. Putting the technical jargon aside, a well-equipped Wi-Fi scanner tool would help you put the strength of your Wi-Fi network to the test, decode the network congestion, and how it is negatively impacting your wireless networking experience. By figuring out these metrics, a robust Wi-Fi analyzer tool would effectively guide you towards optimizing the Wi-Fi network.
Why NetSpot?
Every major Wi-Fi network analyzer we looked at, allows the user to pick between the available wireless spectrums of 2.4GHz, as well as 5GHz. By gathering the right information from available access points, and the wireless channels they are on, the user is able to collect insightful tips that can help towards directly improving and then maintaining optimal network connection quality. When looking for a befitting Wi-Fi network analyzer, NetSpot made its way to our radar for resolving the most common, as well as severe Wi-Fi networking related problems.
Regarded by Lifehacker as "an amazing OS X utility for mapping out Wi-Fi networks", we were curious to see if the stellar review still stands, after a few years since the original review.
Is NetSpot safe?
Yes, NetSpot is entirely safe and easy to use. We scanned the application for all malware and spyware and found no trace of breaches. In fact, the app doesn't even require any unnecessary permission to any other hardware and just uses the Wi-Fi and network permissions for scanning and managing all your Wi-Fi issues and problems for an overall better experience with browsing the internet.
Who is it good for?
NetSpot is a simple and easy to use Wi-Fi analyzer app that works wonders for providing you with the best in-depth analysis of your wireless network and is suitable for:
People who know how to tinker with their Wireless connection to improve their connectivity, range and data transfer speeds with other connected devices.
Professionals who work as network analysts need a tool that can help analyze, map, and solve Wi-Fi-related concerns and problems.
Home users who face issues with their access points need a better graphical analysis of their network and connectivity regions.
How to resolve Wi-Fi issues with NetSpot
In its early days, NetSpot was limited to being available as a macOS-only app, which did numb down its potential quite a bit. However, it was a relief to use the app not just on Windows PC, but also mobile devices, allowing us to run a quick and affirmative Wi-Fi analysis on the fly.
Step 1. Install the NetSpot app
Head over to the NetSpot official website to download and install the app. Then start using NetSpot Free or Activate your account to use the premium features.
Note: NetSpot is available for Windows PC, macOS X, Android OS, as well as iOS, so make sure you fetch the right setup file based on your device's operating system. The NetSpot Free version only covers the Discover feature of the app, with the Survey feature left locked for premium users.
Step 2. Analyze the Wi-Fi networks
Once we had the NetSpot app up and running, it was time to look at the two main features of the app – Discover and Survey right at the top of the taskbar. We started off by clicking on the Discover tab and waited for NetSpot to find and display all of the available wireless network connections in your area. The complete range of metrics are displayed on the screen, and users can also conveniently view specific details such as the following: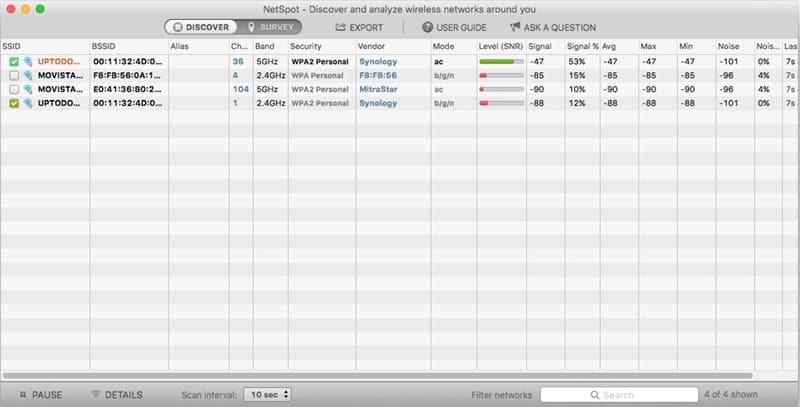 SSID –The name of the wireless network
Channel –The channel on which the network is broadcasting (1, 6, 11, etc.)
Band –The network band on which the network is broadcasting (2.4 GHz or 5 GHz)
Security Type –The level of network security set (WEP, WPA, WPA2, etc.)
Mode –The specific 802.11 protocol is followed by network (a/b/g/n/ac)
Level (SNR) –The Signal-to-Noise Ratio level of the network
Signal level – Displays the strength of the network signal
Noise level –How much noise interference is the network experiencing
Note: All the details can be clicked on for further information or infographics and graphs for the signals, noise, frequency band and transfer rates. These infographics help understand the overall dynamics of your Wi-Fi system and can help you improve your data transfer rates and the ping for the connection.
Step 3. Mapping the Wi-Fi network
A winning feature of the NetSpot Wi-Fi analyzer in our opinion, is the Survey feature. Allowing us to put it all into a visual perspective, we could experience a better picture of how optimally our living area received the Wi-Fi signal. The Survey tab at the top allows you to Start a new survey and create separate zones of the floor space, either by loading a floorplan sketch or drawing a rough floorplan yourself.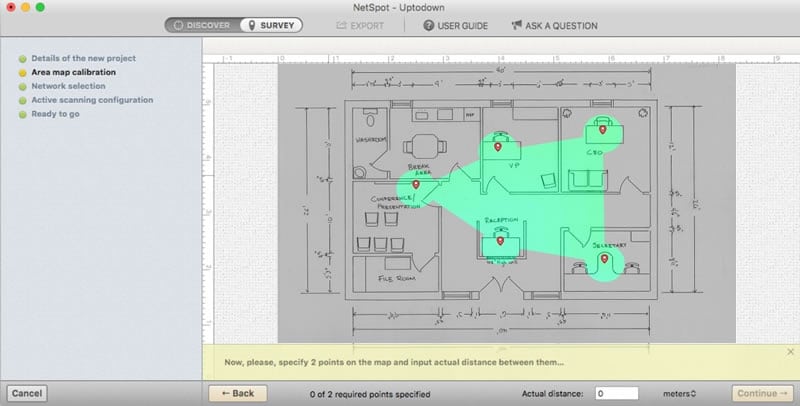 NetSpot also allows you an option to add hidden networks to the Wi-Fi area map, but the feature is limited to PRO users. Albeit mapping out the entire zone, and even the whole floor requires you to move around the laptop to scan different spaces of the room. However, it is a one-time effort, which definitely pays off since NetSoft brings back a complete visual view with heatmap visualization too.
Step 4. Improving and analyzing your Wi-Fi network
Finally, you can analyze the "heatmap" from above and check to see if your Wi-Fi network is working correctly and has the spectrum all over your house or workplace for excellent connectivity or range. You should check and analyze the following items from the drop-down menu. These include the "Signal Level" of your network, the "Signal-to-Interference Ratio" of the connection, the "Noise Levels" with detailed graphical reports for easier understanding, the "Quantity of Access Points" around you, the "Download and Upload rates" of the connected network, the "Wireless Transmission Rate" and finally a "Troubleshooting" tool for quick and easy fixes.
After you're done analyzing your connection, all you need to do is to export the "heatmap" by clicking the "Export" button up top and then adjusting your router and access points accordingly to the map for a better and seamless Wi-Fi connection all over your house.
Is NetSpot free?
Yes, NetSpot has a free version and includes other builds that have better functionality and features for a price. Here are all the NetSpot editions so that you can pick the right choice for you.
NetSpot Free: The free edition of NetSpot is most beneficial to primary home users. It proceeds with a few limitations that restrict your ability to create visual maps of the wireless network and helps you better improve the coverage and connectivity of your wireless home or work network and helps you better improve the coverage and connectivity of your wireless home or work network.
NetSpot Home: The ideal plan for every homeowner to purchase, including a full-fledged Discovery mode, makes this special edition a preferred choice. The plan comes with advanced features such as Smart AP detection and passive Wi-Fi surveys and would run you just $49 for a lifetime purchase of the app. The home edition is also available in Setapp, which offers a subscription to some of the best Mac apps available.
NetSpot Pro: A more premium solution to Wi-Fi analysis, it features a fully functioning version of NetSpot. Designed to be useful for both home and primary business users, it packs both active and passive Wi-Fi surveys for better informatics. The total price for the package will cost you about $149, which can be pretty expensive if you don't know what you're getting yourself into.
NetSpot Enterprise: Designed to be a complete and final solution to the Wi-Fi woes of any organization, it is certainly priced that way too. The Enterprise edition has the mapping and analysis capacity of a workforce office space, giving you a visual angle into the network coverage. Finally, the expensive price tag of $499 would seem like a hefty fee at first, but the experience and features it delivers would soon be part of your everyday life and help out keep track of all network-related issues in your office.
NetSpot for Android and iOS: NetSpot also has apps for all Android and iOS devices. However, their functionality is limited and doesn't compete with the app's desktop version but is perfect for quick fixes.
NetSpot: Is it for you?
Now that you know what a Wi-Fi analyzer is and how good a free app such as NetSpnot is for improving your Wireless connection, let us take a look at a few cases to confirm if NetSpot can help you solve your problems:
Get NetSpot:
Case 1: If you have connection troubles and need a fix that can help improve your Wi-Fi range and speed all over your house or workplace.
Case 2: If you can't seem to figure out why you're having troubles with your Wi-Fi router, and you have sufficient knowledge with the terms such as SSID, Channels and Transfer rates.
Case 3: If you need it for work and fix WiFi-related issues and know how to use a heatmap and other analyzing tools for better and more efficient network connection and Wi-Fi spectrum.
Don't Get NetSpot:
Case 1: If all you want is to have better data transfer rates for a quick download or something from your Wi-Fi network, using and learning NetSpot will take more time than just physically getting closer to your Wi-Fi access point.
Case 2: If you don't have some experience with Wi-Fi networks and don't know what basic terms life SSID or Frequency Bands mean.
NetSpot pros
A recognizable tool for Wi-Fi analysis among macOS users for years, NetSpot is now available as a cross-platform app across Windows, Android OS, and iOS too, owing to its popularity. We were glad to see that the basic concept behind the app is to make it uber-simple for the end-user to run down a complete analysis of their home or work wireless network, optimize the connection by patching the holes in its performance, and troubleshoot any existential errors that exist.
NetSpot Discover Mode: The concept behind creating the Discover Mode by NetSpot is to cast a wide net across the entire Wi-Fi network and rope in as much data possible. When we tried scanning important information about our wireless network, the service also helped us double down by capturing details of every Wi-Fi network in range, and arranging all of the metrics in an interactive table format. It offers us a simplified way to view complicated parameters such as network coverage, performance, signal level, noise, channel band, security, and more.
NetSpot Wi-Fi Surveys: The problem with most wireless network mapping tools we have tested is their appearance, and general design, which is built towards performance, but not towards the end-user. We're sure, just like us, you aren't too keen on being hit with anything more than stats and numbers that may not make sense at times, and that's where the Wi-Fi Surveys features swoops in to save the day. Acting as a visualization tool to create an informative floorplan of your wireless network range, NetSpot offered us multi-layer support for our two-story office space.
Wi-Fi analysis made simple: The service makes it easy to manage, visualize, audit, plan, troubleshoot & deploy Wi-Fi networks. Offers all of the data in a tabular form to confirm the hotspots location is correct & radio channels are properly specified. The Wi-Fi survey features is its strongest in recognizing dead zones on the wireless network with the visual Wi-Fi map. The visual representation of data makes easier than ever to understand your wireless network spread across the area, without the need for excessive technical knowledge.
Versatility on every platform: The multi-platform app for Windows, macOS, Android, and iOS allows you to analyze your Wi-Fi network coverage from anywhere. Offering a neat and clean user interface, NetSpot backs its design with an elaborate list of premium features divided into different pricing plans for all budgets. Apart from being equipped with the firepower to optimize your wireless network, NetSpot has created a community of users through its elaborate tutorials and tips to use the service.
NetSpot cons
The free trial version of NetSpot comes with none of the fancy bell and whistles, such as zone mapping, visualization, and advanced network management features.
The mapping feature can be a bit challenging for users who aren't tech savvy. Thankfully, NetSpot offers a library of tutorials and quick guides to shorten the learning curve.
Even as the free-to-use version, NetSpot was able to impress the folks at Ars Technica, whose positive feedback about the visual mapping suggested that the "visuals it generates are an absolutely invaluable tool", and our observations do confirm it.
Conclusion
The easiest part about NetSpot, is everything about it. Don't get us wrong – we're not here to shamelessly promote the wireless network analyzer tool with no comparison to it. The verdict we have settled on comes after years of using subpar Wi-Fi analyzer tools that either offered a decent user interface, or the top features – but never both of those things.
After comparing the installation process, and the general workability of the Wi-Fi analyzer, we can confidently conclude there isn't a competitor that puts user experience on the front foot like NetSpot does, without holding anything back in terms of performance.
We hope this review of the NetSpot Wi-Fi analyzer tool convince you to take the app for a spin and get your Wi-Fi network worries sorted.
* Readers like you help support TheSweetBits. When you buy something through the links in this article, we may get a small commission at no extra charge to you.