10 Duplicate Finder Apps That Will Optimize Your Mac's Efficiency
Utilities   •  Updated on May 9, 2023
Update, 5/9/23: Checked content for accuracy. Updated Tidy Up 5 to version 6.
Too many duplicate files are something that can ruin your macOS experience. Why you ask?
These files take up a bonkers amount of storage, make your file system messy, and confuses the hell out of us when we want to find a specific file. Do you recall when you tried to edit one photo but edited another, similar photo? Well, I do, and I regret it.
These are also times when you think about how to remove duplicate files from your Mac for a new year's resolution. Not knowing where to start is one of the issues people deal with. However, the second most common issue is not knowing if you deleted all duplicate files on your computer/laptop.
In this post, we'll teach you some of the simplest yet best techniques you can use to get your duplicate files deleted. We have combined them with a few nifty tools to make this process a lot quicker, yet the job will be done thoroughly.
RELATED: Best Memory Cleaner for Mac to Free Up RAM
Can my Mac find and delete duplicate files?
Many Mac users forget that Apple's built-in apps have some particular options to help them find and list duplicate files in just minutes.
# Finder app
It's a mighty tool integrated into every Mac computer. All you have to do is open Finder and click File -> New Smart Folder. In there, you can set up the kind of file list you would like to look out for and the type of files you would like to list. Finder will do all the work from there, and it will come up with a list of all files on your Mac.
When you see a list, the last step you have to do is go through the list and find duplicate files. Even though you will still have to do the work manually – it won't be hard to find duplicate files as they'll have the same name and will be listed one under another.
# Photos App (for macOS Ventura users)
Yes, Apple has added a nifty feature to macOS Ventura in the Photos app that detects duplicate photos and videos for you. In the Photos app, simply click Duplicates in the sidebar. You will see any duplicates automatically appear here as above image, and you can delete or merge them.
# Are Finder and Photos good enough for finding duplicates?
Even though Finder and Photos can be a great option to start with – They're not ideal or as powerful as some third-party picks we've tested. Finder is good at displaying all files, but it cannot just automatically delete duplicates with great accuracy. You can forget about finding files or images that are similar as well. Photos is extremely easy to use, but it may not be perfect, as some duplicate photos not showing up has been a common issue on Ventura, also some Mac users reported that they can't find all duplicate photos.
What is an alternative solution, you ask? Think of third-party tool that gives you finding super-powers.
And with that, let's take a look at the top duplicate finder and remover tools for macOS (shown below).
The top duplicate file finders for Mac
#1 Gemini 2: The classic Mac duplicate finder
Gemini 2 is everything we've described in the section where we taught you how to find the most suitable remover tool for your Mac.
Setup and interface
The download takes only a minute or two, and the installation needs only a couple of seconds. What meets you next is one of the simplest and greatest interfaces we've come across during our testing. Gemini 2 was given the Red Dot Communication Award in 2017 in the Communication Design category on the design front.
All you see in the interface is your Mac and the green button that starts scanning for duplicates. Nothing is deleted for good, so that's one thing that will make removal a lot easier. Gemini 2 asks for your permission and review before it deletes something from your Mac.
Detect & delete duplicates
You can easily call Gemini 2 an 'Intelligent Duplicate File Finder'. It is because it uses an exclusive algorithm, which not only helps you identify duplicate files but also spots and detects similar files, quickly telling copies from originals and adapting to the way you work with it.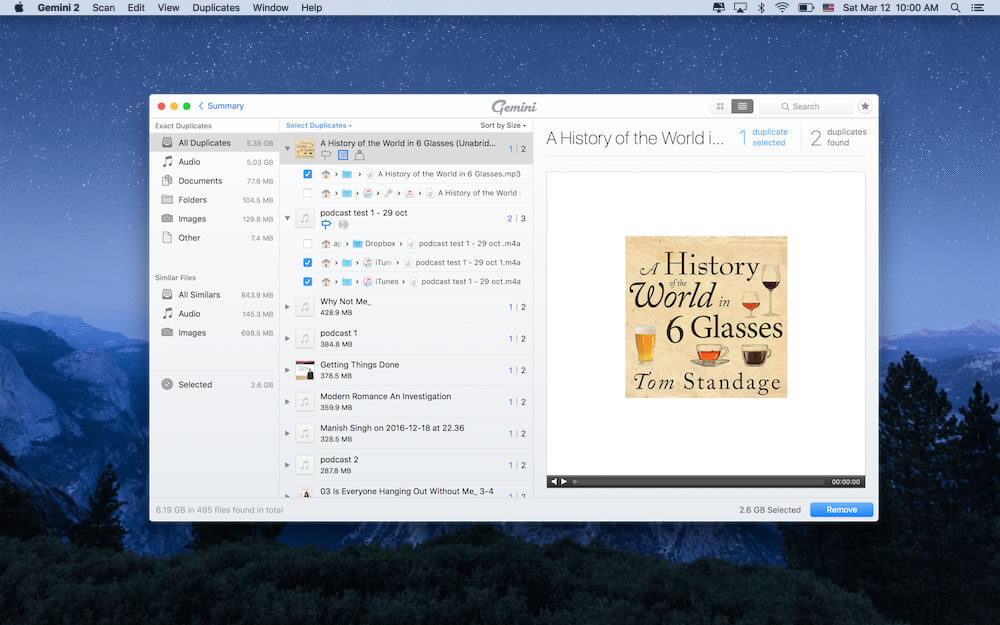 While using Gemini 2, we found out that it provided multiple options to scan folders and directories on our Mac. Depending on your Mac's storage space, consumed space, and performance, the scanning process may take a few seconds to a few minutes. Of course, as a user, you would not mind this — as long as Gemini 2 finds all duplicate files present.
Spot and shred similar
Duplicate files and similar files are different, you know. But both can be a curse for your storage space at a time. Gemini 2 has a smarter way to recognize and remove similar files from your Mac. The app goes even a step further by listing two similar files. Thanks to its intelligent design, we could see the difference in file size, modified date, or the directory.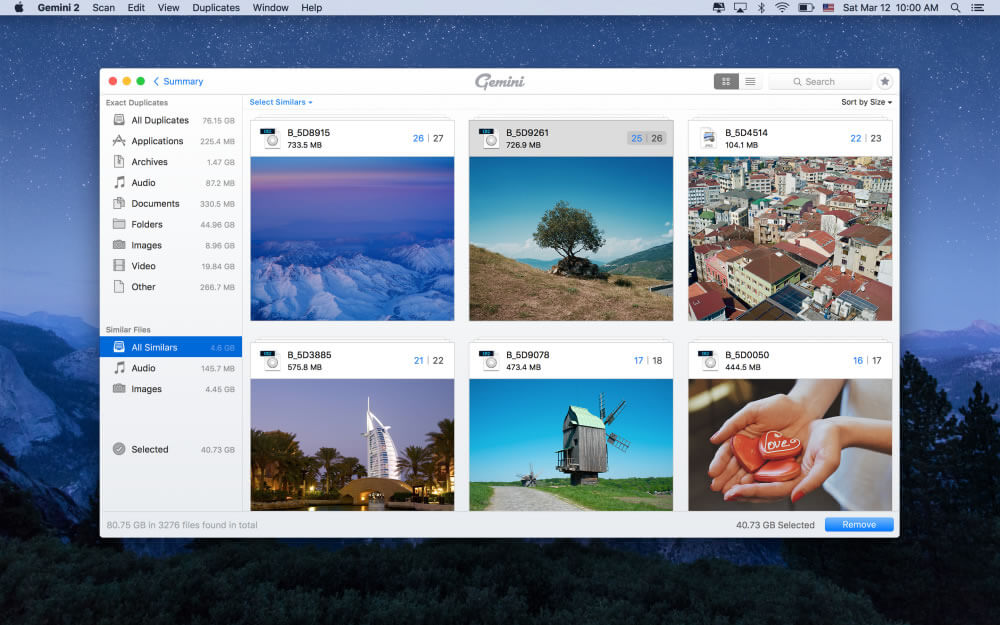 This works great if you have a series of burst photos stored in a folder, the difference between them might not be noticeable. However, the space occupied can be significant. With Gemini 2, you can browse through the duplicate photos, pick the ones you want to keep and discard the rest.
Room for improvement
It takes up a lot of resources during its scan, which can slow down your Mac
the price tag might be a bit over the top for people who don't clean up their Mac regularly
Pricing and availability
Gemini 2 is available for Mac only. On the bright side, it works on all Mac devices, including the ones running the brand-new macOS Ventura.
You can purchase Gemini 2 at about $24 for one plan to be used on one Mac. Gemini 2 is available on Setapp as well.
#2 Tidy Up 6: A most powerful option
There are times when you need better control and customization over the duplicate file finder and removal process in your Mac. In other words, when you are an advanced user, you need a more powerful duplicate finder tool. Fortunately, we have come across the most powerful tool — Tidy Up 6. In comparison with the previous tool, Tidy Up offers a lot more.
New, and improved version 6
One of the most impressive new features of Tidy Up 6 is that it is now native on Apple Silicon and Intel microprocessors and supports Light and Dark Appearance modes. Additionally, Tidy Up 6 can search in Lightroom, Photos, Music, Mail, and Contacts. You can also search for unique items using multiple criteria to locate items with no duplicates, and even handle found items at the administrator level with the installation of a privileged tool, which is particularly useful for cleaning up old Time Machine backups.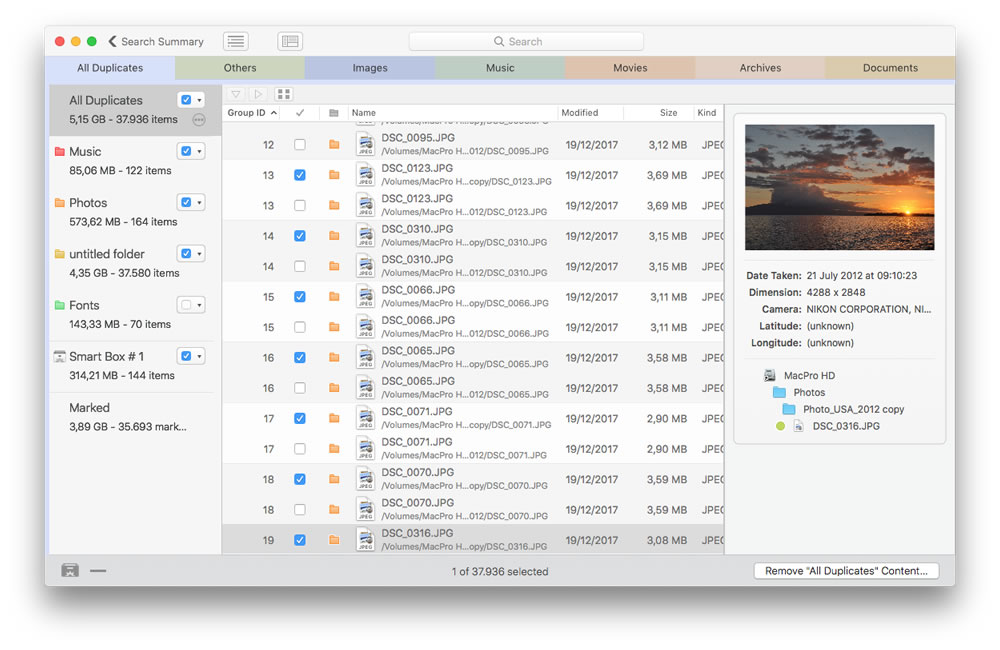 Tidy Up organizes search results by separating the found items by file types, such as music, images, PDFs, folders, etc., and the organization is completely customizable. The search results are displayed based on tabs, each of which has its settings, such as smart boxes, separation by searched sources, view by grid or list, etc.
Simple mode for quick & efficient approach
Tidy Up is everything it says it is, and once you download the quick installation package – the installation will be relatively short. I was greeted with an attractive yet simple interface that had everything I was looking for. You'll see a list with all file types it supports, so if you're looking to tidy up one aspect of your Mac – you can choose that section only.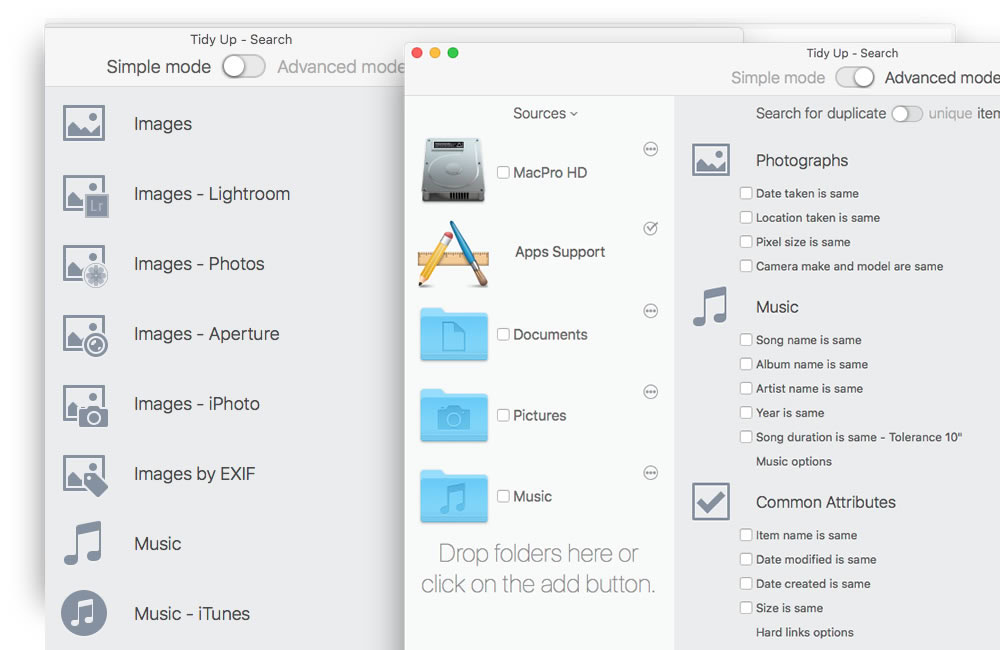 Advanced mode with additional options
However, a press of a button at the top leads you to an advanced mode, which gives you far more options to choose from regarding the file type, name, and size – but it also lets you choose which storage drive you'd like to tidy up.
In other words, the performance levels offered by Tidy Up is off the charts. Even when you are looking for the most specific files, Tidy Up would not have trouble in helping you find them. Just so you know, you can also change the Source files and Drives from the left sidebars. Altogether, customization is the core element when it comes to Tidy Up.
Room for improvement
Customer support should be improved
Sales pop-up strategy to upgrade is a bit too forceful
Pricing & availability
Tidy Up 6 tool is available for Mac, and the pricing starts at $29.99. You can always download the free trial to test the tool.  For three-devices licenses, you can also get their Duplicate Remover Suite Bundle at 25% Off here.
#3 Nektony Duplicate Finder: The closest option to Gemini
If you think Gemini 2 is too simple and want more features, you should check out the Nektony Duplicate File Finder.  It is the closest equivalent to Gemini app, but optimized for advanced control and performance.
A clear design
Despite the powerful functions inside, Nektony Duplicate File Finder is easy to understand and use. It does not confuse the user with complicated designs. Instead, when you get started, you can choose the desired folder and start scanning it.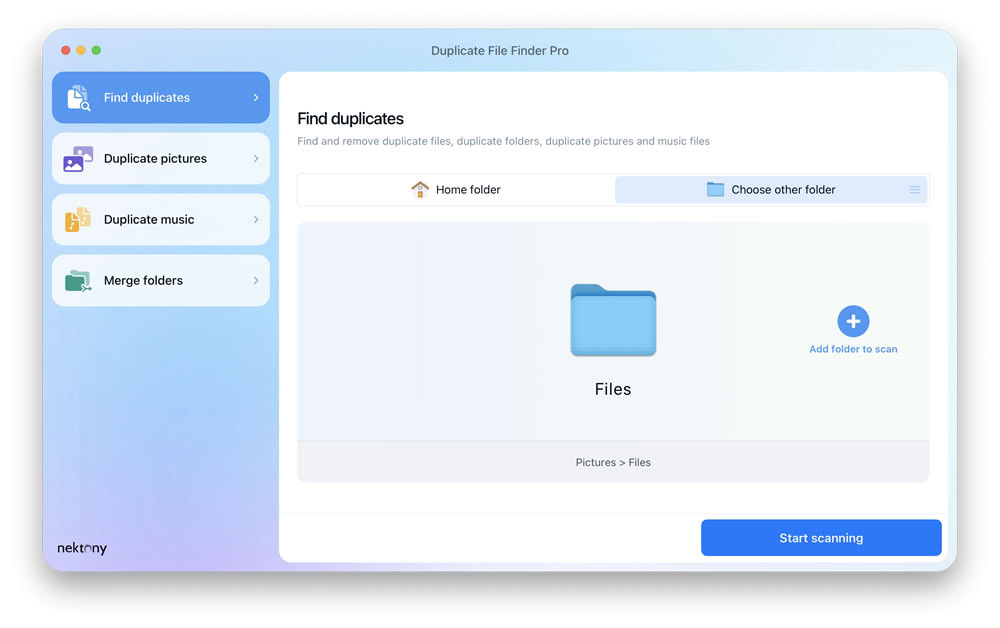 Once it has finished scanning the folder, Nektony Duplicate File Finder shows a pretty colorful graph offering so much information about the duplicate files situation on your Mac. In short, we appreciate the simple UI and design of the tool so much.
Advanced functions
Like Gemini 2, Nektony Duplicate File Finder also gives you hints and suggestions. You can also use the Auto Select function to reduce the time you spend on filtering the duplicates. Having said that, the tool offers a lot more customizable options than the other tools.
For instance, if you find that two folders have similar/duplicate content, you can use Nektony Duplicate File Finder to merge these folders. We found that the UI is more optimized for professional photographers and users who want to 'select' what they delete and keep.
Room for improvement
Nektony Duplicate File Finder lacks smart features that enable quick selection of duplicates.
It can provide too much information.
No dark mode.
Pricing & availability
Nektony Duplicate File Finder is available for macOS only at this point. It has been optimized for Macs with M1 and M2 chips, and you can download the app from App Store.
Most of the features in Nektony Duplicate File Finder are free to use. However, if you want to remove all the duplicate/similar files you have found, you need the Pro version, which costs $19.99 (one-time purchase license).
#4 PhotoSweeper: A dedicated option for duplicate photos
Did you ever feel like you aren't sure which photo to keep/send or what other similar images should be deleted? Having a helper that will help you and even 'push' you to pick one or two photos and delete other similar images is one of the most important reasons you should get one of the removal tools.
These tools can help you achieve that, and that's precisely what they're best for, and another reason why we've spent time testing them out and reviewing them for this post.
PhotoSweeper should be your go-to option if you want a straightforward duplicate photo finder tool to help you. As it happens, the interface is different from what you would expect.
Effective photo-based filters
Compared to other tools in the list, PhotoSweeper offers photo-based filters as well. For instance, when it comes to searching for duplicate files, you can set up the proper criteria, such as not choosing the photographs that were clicked a long time ago. It's also great that PhotoSweeper provides metadata and other data about the image on the sidebar.
Easy photograph comparison
PhotoSweeper has been designed in such a way that you can compare two photographs with the ultimate ease. The app performs impressively well when it comes to finding duplicate and similar photographs. We think the UI plays the most crucial role here. You can even choose between the Viewing Modes — such as One by One, Face to Face, and All-in-One.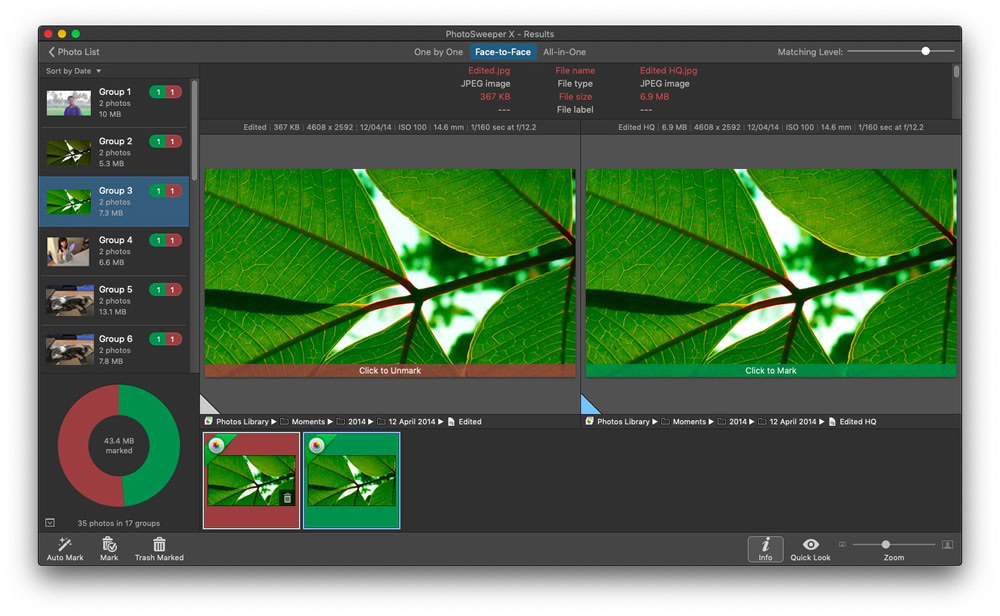 We should understand that PhotoSweeper has been designed for duplicate photo finding only. For someone with that level of expertise, it is a privilege to have control over the scanning and removal process. Also, you would not end up deleting a vital photograph from the library. By the way, PhotoSweeper improves integration with Apple Photos and Adobe Lightroom Classic, and works famously with the latest Capture One Pro 23 and Aperture as well.
Room for improvement
It's not compatible with OS versions before 10.10
Pricing & availability
PhotoSweeper is available for Mac, and you can download the free trial. It's also optimized for the new M1-powered Macs (Apple Silicon). The license costs $9.99.
Other duplicate cleaners worth mentioning
Now, these were some of our top picks, but there are also other options out there that are quite good. Here, we will look at some alternatives that are out there to clean duplicate files on Mac.
#5 Easy Duplicate Finder
If you are looking for an essential duplicate file remover for Mac, you should consider Easy Duplicate Finder. This tool does not have anything fancy to offer here. You have a three-tabbed interface that navigates you in the whole duplicate-finding process. However, we found that the scanning process is comparatively slower than our top picks.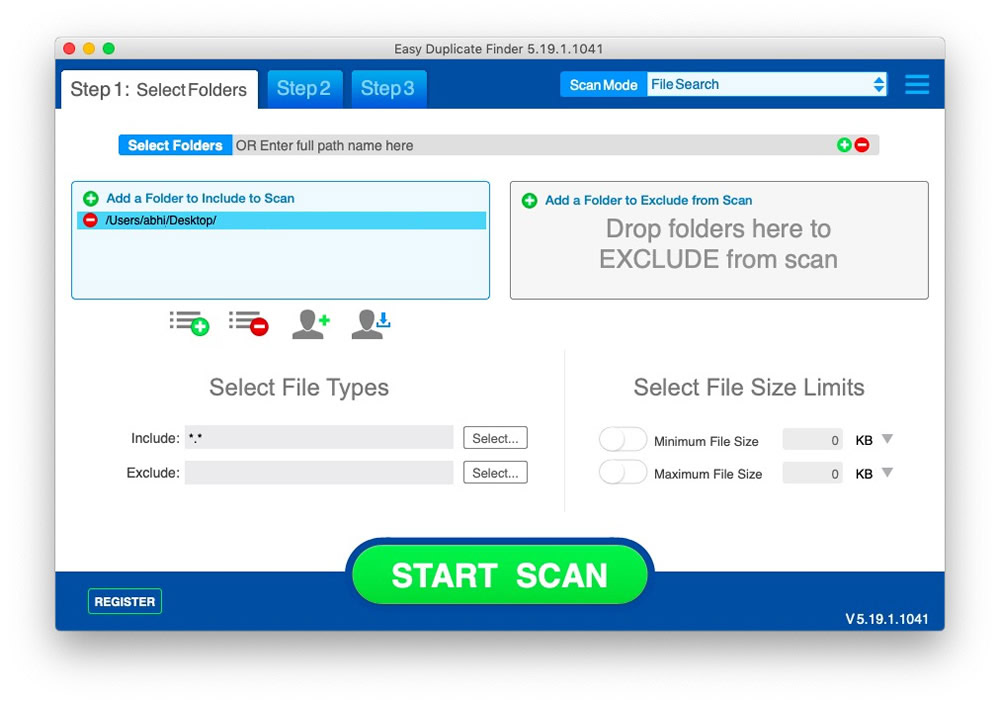 The way Easy Duplicate Finder works is really straightforward. Once you have found the duplicate files, you can go ahead and review the files.
Easy Duplicate Finder is available for both Windows and macOS and is free to use. The trial version provides unlimited scanning and lets you manage 10 groups of duplicate files. You can upgrade by paying $39.95 for 1 computer.
#6 Duplicate Detective
Duplicate Detective is a pretty straightforward duplicate file remover for Mac. It comes from Fiplab, which has developed a number of Mac utilities in the past. Instead of investing in fancy features, this app is trying to offer a seamless experience. You can select the folder, and the app will start the scanning in some time. In the next step, you can review the results as always.
For a simple tool like Duplicate Detective, we think the Review UI is impressive. You can choose between the various viewing modes and easily compare two duplicate files. Even better, Duplicate Detective has separate viewing options for documents, images, music, etc. Although not as smart as Gemini, this app too has a Smart Select option, which is more than sufficient.
Duplicate Detective is available for Mac, and you can get it for just $4.99. A free trial is also available.
#7 Duplicate Photo Cleaner
Besides PhotoSweeper X above, Duplicate Photo Cleaner is an excellent option if you want a straightforward tool to find and remove duplicate photos from your Mac.  You can either drag and drop your image folders, scan for images in bulk, or select the image type precisely. This ensures that you don't miss a single duplicate – but the options don't stop there.
This tool can and find delete similar images, even if they're not 100% duplicates. You also get to select the size limit so you can aim for the photos that take up the most of your storage first to see results quickly and efficiently.
Even though you can free download Duplicate Photo Cleaner, the free version is a bit too limited. You can get the upgraded version via a one-time payment of around $40.
#8 PowerPhotos
PowerPhotos ($29.99) is a macOS tool that enhances the capabilities of the Photos app. It enables you to manage and organize your photo collection, create multiple libraries, and copy photos between them while preserving metadata.
One notable feature of PowerPhotos is its ability to identify and manage duplicate photos. It surpasses the basic duplicate album feature found in macOS Ventura, iOS 16, and iPadOS 16. Apple's automatic duplicates feature lacks configurability and transparency, the tool provides visual matches and customizable options based on image data, offering a more comprehensive solution for managing duplicates from one or multiple libraries.
#9 Cloud Duplicate Finder
While you might be busy cleaning duplicates on your Mac, the fact that you might have plenty of duplicates on your cloud storage might just pass by unnoticed. Cloud Duplicate Finder (CDF) is a web application that lets you remove duplicates from the cloud. It supports OneDrive, Google Drive, Dropbox, Amazon S3, and Box.
While you are using this web app, you can be assured that your privacy is well taken care of as it doesn't access the actual data or content in the cloud.
You can subscribe to the app with a starting price of $5.83 per month for a yearly subscription. The price is lower — $4 per month — if you purchase a 2-year subscription.
#10 Dupin
Dupin is an app that manages your duplicate tracks and helps you to delete them. It is compatible with the Finder, iCloud music library, and Apple Music and comes with keyboard shortcuts as well as customizable toolbars.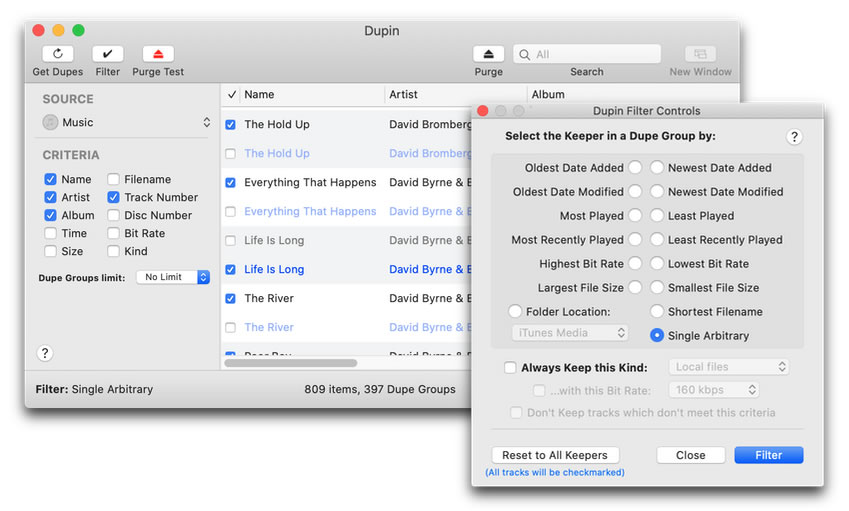 The app lets you automatically select the "Keeper" tracks from the duplicates through different filtering options. From there, you can consolidate the play, skip, and even access rating information from all tracks. This way, you can re-populate your playlists by replacing "non-Keeper" tracks with "Keeper" tracks.
Dupin is available for a free trial, and a registration code can be purchased for $15.
What makes a good duplicate finder and remover?
Not every remover will be suitable for your needs, and that's why it's essential to learn how to find a decent file finder and remover that won't break the bank or, even worse yet — harm your Mac.
Therefore, we have created a quick list & questions of the most important things you should look into before deciding on the tool you'll be using:
Scanning Features: How fast is the scanning process? How deep can the tool scan your Mac? What type of files can it find? Can the remover find similar photos, along with the duplicates?
Preview and Custom Delete: When you have scanned your Mac, how convenient is the preview of the files? Do you get to double-check all found files to ensure the accuracy of the tool? What other options does preview bring? Are you able to delete files selectively? But most importantly, are you able to undo the delete action?
File Compatibility: What types of files can the tool scan for? Is it compatible with the latest file types on macOS? How smooth is finding the files that aren't often used on Mac? Is it compatible with files that aren't common on Mac?
Ease of Use: How quickly can you learn to use the tool? Is it easy to find duplicated? Is removing function going to give you headaches? What is the interface like? Can you easily find your way through the tool and use all features that it has to offer?
Wrapping it up
We hope that this list helped you with finding out the best app to get rid of duplicates on your Mac and keep your Mac clean. With a duplicate-free Mac, you can ensure more productivity along with saving those precious gigabytes to get more space on your Mac (or even a cloud account). Our best picks — Gemini 2 and Tidy Up 6 — really do the job in a flash with minimal effort.
While most of these apps have a handy interface that makes sure that you do not delete your important files and folders, we really recommend backing up your Mac using Time Machine alternatives or online backup services before trying to remove duplicates. So, even if something goes wrong, you will have a backup or recovery them.
We've also got you covered when you're Windows. Check out our guides for Top Duplicate Finder for Windows (Paid & Free Options)
* Readers like you help support TheSweetBits. When you buy something through the links in this article, we may get a small commission at no extra charge to you.