Setapp Review: Another Take on Mac App Store (2023 Update)
Utility   •  Updated on Sept. 25, 2023
There are many things great when it comes to a Mac! You can count on the workflow, smooth User Interface and hardware optimization. Along with all these, there is a well-curated app store as well.
These days, the Mac App Store offers a better interface and a new way of finding interesting apps out there. You can also explore iOS and iPadOS apps on your Apple Silicon-based Mac.
So, many things feel great about the built-in app store. But, it is not all roses!
Who Says You Have to Use Whatever's in MAS?
Here we express a pessimistic outlook for the Mac App Store (MAS). While the following are not always the dealbreakers, they can be problematic for most.
First things first, the App Store is not that affordable. Not everyone can pay for every app they purchase, and the Mac app store consists of fewer free apps than ever. For entrepreneurs and busy professionals, downloading premium macOS apps can prove too expensive. It is also important that most free apps limit their functionality and you need in-app purchases to unlock all features.
Making things worse, the App Store doesn't offer a free trial. That is, there is no option to check out feature-limited versions of apps even if you are interested. It prevents many from testing some of the really popular macOS apps out there. Even though you can get a refund through cancellation, it can be tedious.
The App Store does not have a subscription for apps. Of course, you can get the Apple Arcade pack, which gives you access to popular games. However, the lack of a monthly/yearly subscription for a set of apps is a limitation, indeed. Such a subscription would be a great opportunity to get a curated set of apps every month.
Developers too aren't happy with the revenue policies of Apple. Amounts as high as 30% of overall revenue are being taken as commission by Apple Inc. This is one of the reasons why many developers set up dedicated websites/online stores for their apps. Therefore, purchasing apps from the Mac App Store is not the best way to support developers.
And, here's the worst one: you miss a lot of utility apps. App Store has an impractically strict policy when it comes to sandboxing. This is one reason why users cannot find many customization/utility apps on the app store. Even the available ones are scaled down to fit the policies.
In short, though the app store is great, you cannot find many great apps on the App Store. Even if you just want to check out the available ones, you have to pay A LOT.
We believe these reasons are enough to make you check out the popular alternative to the Mac app store. As time would have it, we have something great to recommend.
Setapp Offers Bold Alternative to Mac App Store
Yes, after checking out the various mac app store alternatives out there, we've found the best one you can find — Setapp.
Setapp is a subscription service for Mac apps. Subscription services are the way forward. Instead of paying for individual apps you want to use, Setapp wants you to pay a monthly fee of $9.99. When you do this, Setapp lets you access a well-curated, regularly updated collection of 240+ powerful Mac and iOS apps.
Apart from launching a subscription service, Setapp also overcomes several bottlenecks seen with the Mac app store. The developers of Setapp say that the collection would have at least one Mac app for one job. And, it's aptly called the 'Netflix for Mac Apps'.
Now that you have a clear idea about what Setapp is, shall we review the different aspects of the service?
What We Like on Setapp
Like we had different reasons for hating the Mac app store, we have many reasons for loving Setapp and what it offers to the users.
If you are someone who wants productive Mac apps without spending a fortune, you would love the factors too, we believe.
For Mac Users
The Simple, Effective Method
There is nothing complex about Setapp. The whole process of subscribing and using Mac apps can be done in a second or so. You subscribe to Setapp, install the client and start downloading the apps you want. And, as long as you pay the subscription fee, you can keep using all the 240+ apps.
The point here is that Setapp does not want you to worry about in-app purchases, upgrades or even ads. You can stay confident that a Setapp subscription brings you the best version of an app.
Did we mention that Setapp offers a free trial program? Well, you can use the service without any limits for a full week. During this period, you can install all the apps in the collection and use them. Considering that the Mac app store does not even offer one of these things, it's a great advantage in Setapp indeed.
This free trial was the reason why I became a regular subscriber of Setapp. It helped me understand the real value of the apps in the collection.
Setapp comes with a couple of features that help you choose the right app for your needs. As you can guess, 240 apps can be a huge number. Therefore, you can use the AI-powered assistant to find the right app for a specific requirement.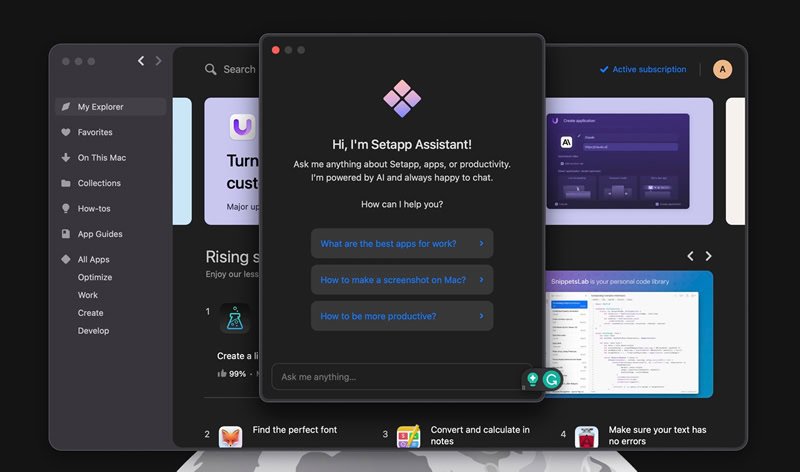 You can also use the AI assistant to clear your common doubts. For instance, you can ask the Setapp assistant to help you convert a PDF into a Word file.
Setapp now offers iOS and iPadOS apps in addition to Mac apps. So, if your favorite Mac app has an iOS app, it will probably be in the Setapp collection. The collection also contains a few web apps that you can access from almost all devices.
Some of the popular iOS apps on the collection include Ulysses, Boom 3D, PDF Search, Session, Structured, and Curio.
Regular Updates and Upgrades
When you have a Setapp subscription, you don't have to pay for individual upgrades. Whenever your favorite writing tool or photo editing suite gets a big upgrade, Setapp will bring that to you. At the end of the day, you will be saving a lot of money, which would otherwise be spent on getting newer versions.
In short, you have all the perks of the subscription system. At the same time, you do not even have to spend a fraction of how much a big app would typically cost.
Better Organization of Apps
Compared to what the Mac app store offers, Setapp arranges your favorite apps in the best way possible. There are different levels of categories like Lifestyle, Creativity, Developer Tools, Writing, Maintenance and Productivity.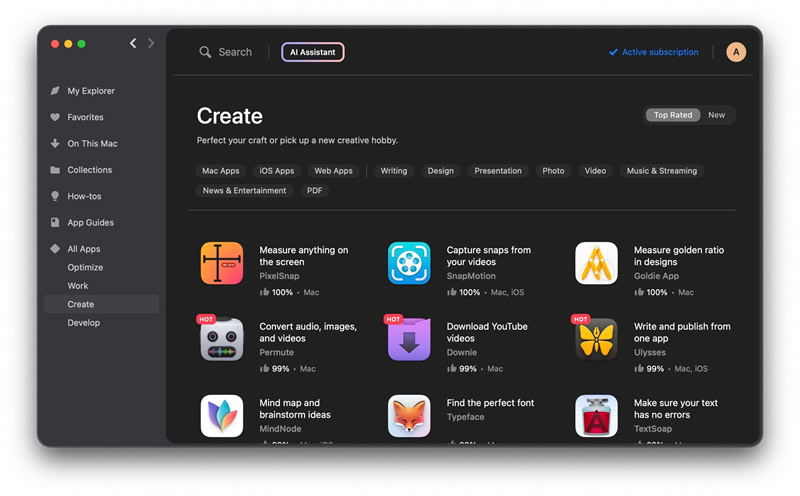 In each of these categories, Setapp has included some of the coolest Mac apps from the market. Each of the apps is hand-picked by the Setapp team, making things less clumsy.
The Handpicked Collection
Setapp doesn't work in a dictatorship where you use apps on the list. One of the features I love about Setapp is the powerful community behind it. You can let the developers know about your favorite apps and there is a chance to include them in the collection.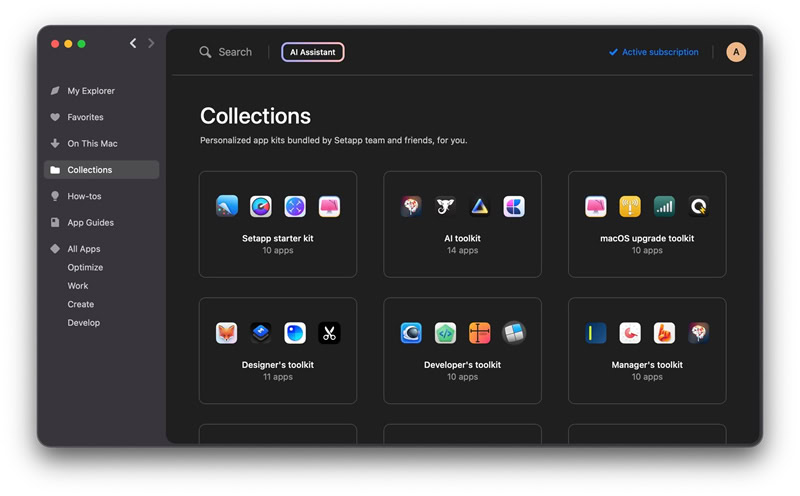 This makes the whole subscription program a better choice for professional users. As a tech enthusiast, I've been a huge fan of the collection from Setapp.
First, here are some reasons why Mac users would love using Setapp instead of the traditional app store.
For Mac App Developers
If you are a Mac app developer, Setapp presents some opportunities as well.
When you make an app available via Setapp, you get paid for it every month. This is great when compared to the deal with one-time purchases. As long as people are subscribing to Setapp, you, the developer would be paid for it. This is a great form of income if you are looking for something more stable.
Less Marketing, More Reach
If your app is in the Setapp collection, you're getting an instant promotion. Thousands of Setapp subscribers would be notified about your product launch and upgrades. This equals to thousands of dollars you would otherwise spend on digital marketing or advertising.
Thanks to the recurring revenue stream, you don't have to frustrate customers through in-app purchases or ads, for that matter. At the same time, you would be getting an ample amount of money as well. So, it's like the best of both worlds.
Just so you know, Setapp is very picky when it comes to the app. But, if you have something unique and worth checking out, your app will have a space in the Setapp collection.
The UI
Using the Setapp interface is also great. There is an explorer dashboard where you can check out the newly arrived apps and apps that are recommended for you. By clicking on the app icons, you can see the content as well as screenshots. It's really quick when it comes to decision-making.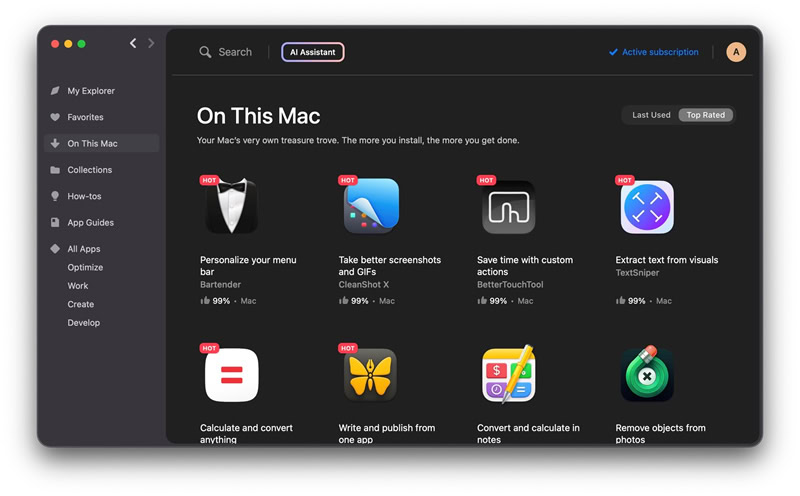 With the recent updates, Setapp also has curated categories such as Optimize, Work, Create, and Develop. So, if you do not know where to get started, you can explore these categories and find out which apps are the best choices.
You can also use the Search bar to find the apps you need for something specific. Even if you do not know the name of the app, you can search with a generic term. Therefore, you can explore the multiple options in the collection.
The Apps
Of course, you would want to know about the apps included in the Setapp collection. We will now have a look at some of the superb picks from each category.
As we said earlier, each of the apps in the collection is cherry-picked by the team. Setapp users recommend hundreds of new/old apps every month, but there's a strict scrutiny process. The Setapp team makes sure that the app deserves a place in the collection and then proceeds.
The result? We have the following collection of awesome macOS apps.
Because Setapp does not have any weird sandboxing policy, you will find some better utility apps. We have, for instance, the sound-boosting app named Boom 3D. On another instance, you will also benefit from Mac maintenance apps like CleanMyMac too.
Mac Apps for Lifestyle Boost
The lifestyle section of Setapp is very versatile. You have a variety of apps from World Clock Pro to a cool one like Wallpaper Wizard. There are also some apps like Boom 3D.
Boom 3D is an awesome sound-enhancer app for Mac. You can use this tool to customize the sound output from your macOS device. It's great if you are an audiophile who cares about the listening experience. It also lets you simulate a 3D Sound experience even with normal earphones.
Downie is more than a YouTube video downloader. You can use this Setapp app to download online videos from platforms like Facebook, Vimeo, Instagram and up to 1,200 other websites. It is a handy tool when you want to keep content on the go.
Folx is one of the best download managers for Mac. It lets you download normal files as well as torrents on the go. You can use the Folx downloader to enable multi-thread downloads. It even has browser extensions to make your life simpler.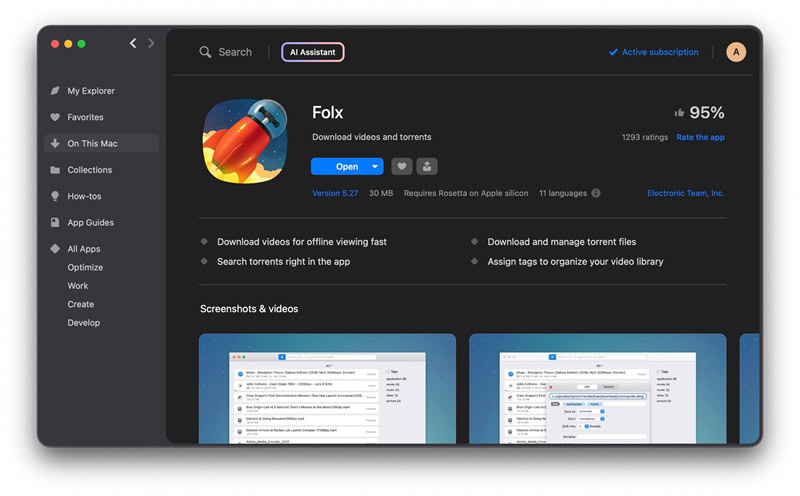 Bartender is another great thing about the Setapp subscription. This powerful utility keeps you sane by hiding less important icons from the macOS menu bar. You can always open the additional icons by clicking the menu bar button, though.
TextSniper is another Mac app that would benefit almost everyone. Ever had the trouble of turning text from an image to text? You can use the TextSniper app to capture the content via OCR and copy it to the clipboard.
Mac Apps for Writers & Content Creators
This is one of my favorite categories in the Setapp collection. As a regular editor, I use and love almost all apps in this list.
Ulysses is probably the best distraction-free writing solution out there. It comes with markup support and various editing options. You can also directly publish content from Ulysses if you're interested. Altogether, its experience is just great and better than conventional apps like Word. Alternatively, you can use Focused, which has a pleasant interface. Or, if you need markup writing, there is Marked.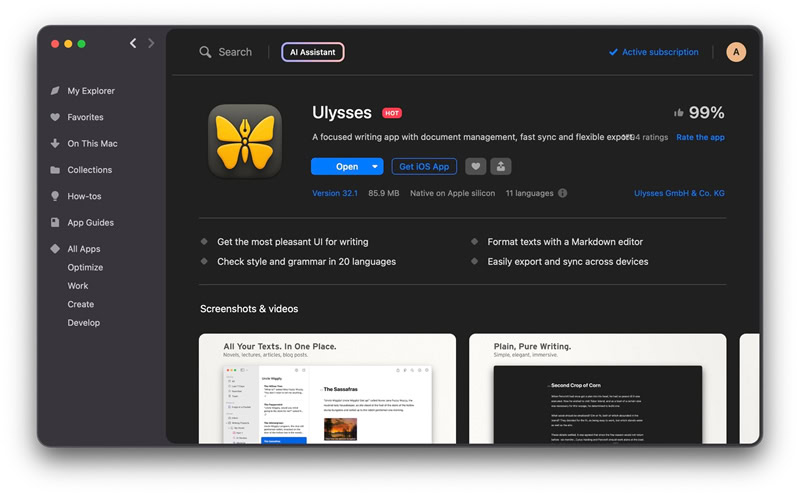 Aeon Timeline is a great app for visualizing your ideas. Be it a business plan or something like your creative workflow, everything can be made into something simple. If you are writing complex stories or novels, this would be of huge help. Alternatively, if you like better options for mind mapping, you can check out MindNode. With MindNode, you get an iOS app that keeps everything in sync.
Craft is a collaboration-friendly writing app available for macOS. The Setapp subscription brings the fully-fledged version of Craft, which also has AI-powered tools now. This app is a great way to create content that stands apart. Or, if you need a focused and structured writing process for something more formal, you can consider MonsterWriter.
CleanShot X is a much-needed alternative to the built-in screen utility on macOS. In addition to offering an intuitive interface, CleanShot X packs many features like overlays and quick editing. If you need a precision-focused app, on the other hand, you should check out Xnapper from the same collection.
TouchRetouch is another great option for content creators. It is a quick photo editor that gets the job done and uses AI. For instance, you can use the app to remove unwanted elements from a photo or clone an element on the photograph. But, if you need a fully-fledged photo editor, you must check out CameraBag Pro.
The Productivity Bunch
If you ask me, the real power of the Setapp collection lies in the Productivity sector. This section consists of some of the best apps I've ever used on my Mac.
Focus is one of the best distraction-blocker apps for Mac for sure. I have been using this for a long period so I don't use Facebook or Twitter during work. It offers a bunch of customization ways as well. In the same way, you can use Session to set up and keep track of Pomodoro timers. It has an iOS app as well.
BusyCal is an upgrade from the built-in Calendar app of macOS. You have options for advanced sync and an enhanced level of customization. You also get features like integrated to-do lists and support for weather & alarms. There are other apps for schedule management, like Dato. On the other hand, you can use WallCal to embed a calendar to the macOS desktop.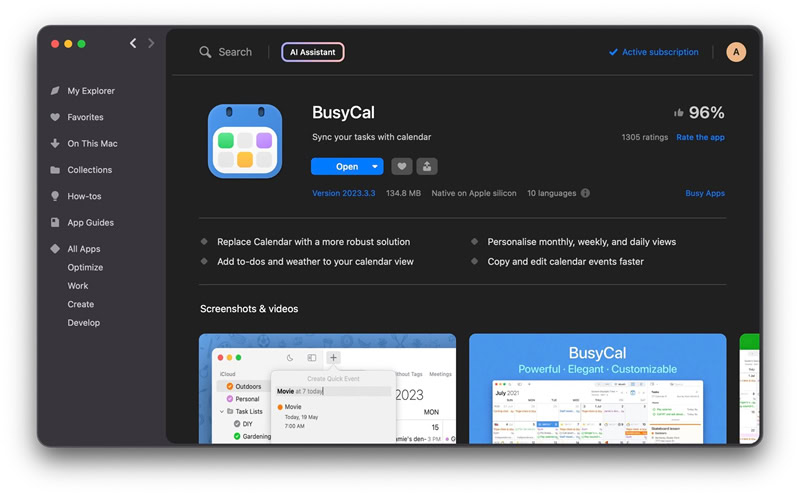 Numi, yet another favorite, is a smart calculator app for macOS. You can use it as a normal calculator, but it has many things inside. It lets you quickly do conversions, use higher-level math problems etc. Sign and word operations are also available in the package. You can also use Soulver if you need a better space for complex calculations.
Grids is an Instagram app for Mac. This app gives a more native way to watch your Instagram feed or upload some photographs. You can even connect multiple accounts to Grids and shift between them effortlessly in a second.
CleanMyMac X is one of the popular Mac cleaning software out there. You can count on this tool if you want to get rid of junk files from your macOS device and start afresh. It offers a bunch of security and additional features as well. By the way, if you want to have an in-depth look at system info, you can use iStat Menus.
AI Apps on Setapp
The Setapp team has added a wonderful collection of AI apps. These apps help you with the different parts of everyday computing.
Elephas is an AI-powered content editor that works across macOS. You can use the generative ability of ChatGPT without worrying about API keys and other technicalities. Instead, you can select the text you want to edit and make instant changes. It is unlike the many ChatGPT-based editors that we have used.
Luminar Neo helps you create better photographs with the help of UI. This advanced photo editor is using AI to understand the frame and recommend the best editing options. The filters on this photo editor are well-curated and customized. You also get some features like object removal and color enhancer.
PDF Search uses the power of AI to search entire documents and provide you with insightful answers. The app is available for iOS as well if you are wondering. PDF Search is an impressive way to search a document with hundreds of pages. Though it uses AI for most features, it is good to have a native app for macOS.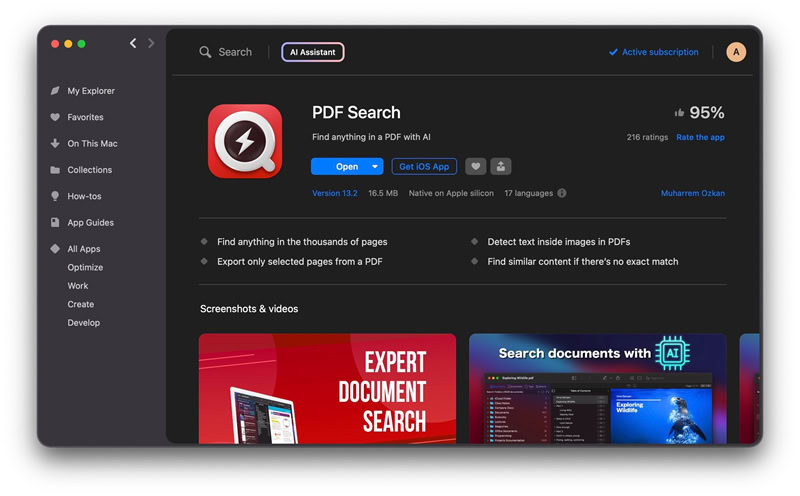 MurmurType is probably the best AI-powered we have come across recently. Powered by OpenAI's Whisper engine, MurmurType can transcribe audio in almost every language you speak. It is also one of the most accurate options out there, with the ability to correct words and conventions based on each language.
Canary Mail is a powerful native mail app that you can use on Mac and iOS. Powered by AI, this email app can automatically sort your emails within your inbox. The Focused Inbox feature is impressive out there and it does not compromise the security aspect. It is also one of the most valuable apps you get from the Setapp subscription.
Mac Apps for Developers
If you are a growing developer, Setapp has some apps for you too. Some of these are hard-core dev while others can be helpful for beginners.
CodeRunner is one of the best multi-language programming editors we've seen. Not only is it easy to use, it offers extensive support for code completion. You get the benefits of an IDE without dedicating a huge amount of resources.
Hype is a unique app for HTML5 content creators. You can use Hype to create interactive content based on the HTML5 platform. If you want to add something more interesting to your existing webpage content, this would be a great help.
RapidWeaver, one of my personal favorites, helps you build HTML websites with ease. Simply choose one of the templates and you can start building. It allows code-level customization, but you may not need that all day.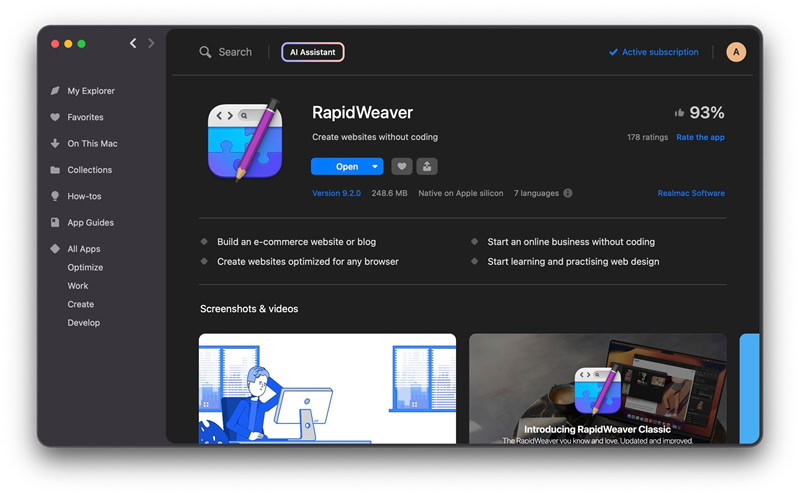 DevUtils is a curated collection of developer tools. You can use the app to quickly access generators and debuggers. The best part is that you can access the tools without an internet connection — quite helpful if you like to code without distractions.
SSH Config Editor is an effective way to manage your SSH config files from the convenience of your Mac. It will help automate many processes, thus saving a lot of time from your side.
RELATED: Best Mac for Programming | Best Keyboards for Coding
Altogether, the app collection of Setapp is just amazing and so inclusive. You would not miss anything about this deal.
The Pricing
As we said earlier, Setapp offers a 7-day free trial.
It does not require a credit card and you can cancel it anytime. And, if you want to continue using the apps, there are different pricing plans to check out.
If you want to pay monthly, the subscription costs $9.99 per month. But, if you need access to the iOS and iPadOS apps from Setapp, you need to pay $12.49 per month.
You can also check out the Setapp Family plan if you want all your family members to access the subscription from different devices. You simply have to pay $19.99 per month, which is a reasonable amount.
On the other hand, paying annually would bring down the amount to $8.99 per month. There is also now an educational discount price of $4.99 per month for students.
Wrapping Up
This is what you should know about Setapp and how it works. As you've seen, the collection of premium apps is just great for everyone. It does not matter who you are — a writer, developer, student or a designer.
And, by paying just $9.99 per month, you get lifetime upgrades and updates. Within the service Setapp provides are apps for everything from budgeting to improving the performance of your Mac, marketing tools to task management, productivity, Mac hacks and dozens of other useful solutions. You will also benefit from the curated set of iOS and web apps.
Unlike the Mac App Store, there is no difficulty finding what you need, no in-app purchases and no adverts in any of the apps on offer. Download what you need when you need it. Similar to other subscriptions, you've also got the freedom and flexibility to cancel or subscribe again whenever you want.
Overall, compared to what you may have to pay otherwise, Setapp offers incredible value for money. Even though the list slightly changes, Setapp makes sure that you have one of the best apps for every single need you may have.
* Readers like you help support TheSweetBits. When you buy something through the links in this article, we may get a small commission at no extra charge to you.