The Best Personal Task Manager for Getting Things Done on Mac and iOS
Utility   •   Jan. 10, 2022
The last few years have been challenging for everyone. New Year comes with new challenges, and now it is the perfect time to work on your slumped productivity by automating and prioritizing items on your to-do list using the latest task management apps.
We all do many tasks daily, but what if someone managed them for you? What if there was someone to manage your work for you so that you could focus more on working than managing? The personal task-managing apps listed below will do exactly that for you.
So go through the list and choose the task manager that best suits your Mac and iOS devices.
Top task management apps for personal use
1. Things: The Classic App for Mac
Do you have a lot of 'Things' to do? Well, now is the time to get them done. Things is one of the most famous and classic Mac task managers, and it has many valuable features that make it popular.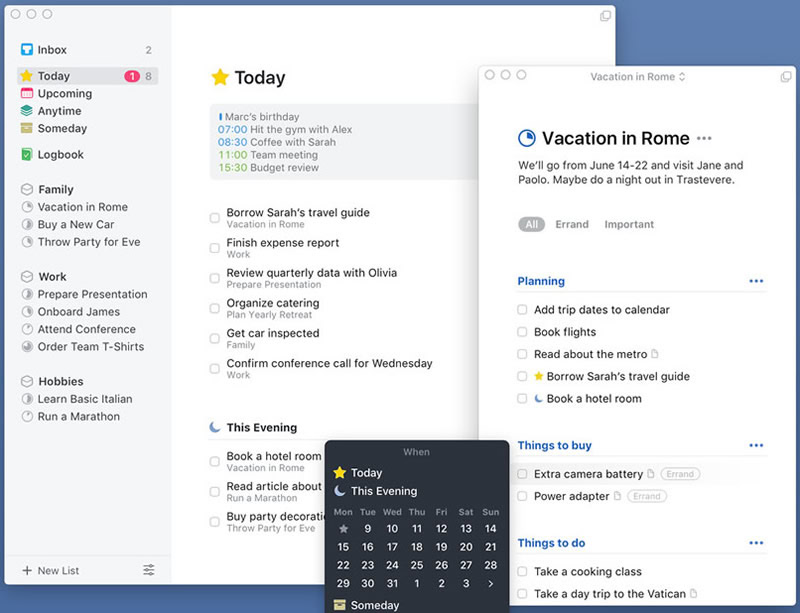 Things offers a UI that will make both Mac and iOS users feel right at home. That being said, if you're using Android or Windows, then move along because only Apple devices are included. To be more specific:
iPhones
Macs
iPads
And Apple Watches
Highlights
To-Do Lists: One of the most vital points of this application is the to-do lists. It has checkboxes and a feature to set deadlines, and you can also add notes to the same.
Reminders and Repeaters: Reminders will remind you to complete your task, while repeaters allow you to repeat a to-do list. So, if you are on a fixed schedule, you need not set it over again in Things as it can repeat it.
Giving Structure: Your tasks can look messy if not organized properly. However, Things has several features to ensure that your tasks are kept well arranged. Achieving this creates several 'Areas' such as Work, Family, and Finance to separate your one sphere of life from the other. It creates clarity on the device and the mind of the user. There is also a markdown feature to structure and style your notes to make them better.
Quick and Easy to use: Did we mention that now you can save time by mailing an e-mail directly to Things to make a reminder of it? There are also Quick Entry and Quick Find options to create and find notes quickly to save you some time. The application has a simple interface as well, making it very user-friendly.
Expensive: The app itself is pretty costly. While it offers many features, one may compromise and settle for cheaper options with fewer features due to the price tag.
No Collaboration Feature: You cannot share your plans or progress with anyone over the app. Sometimes one might need to share specific lists made, but that is not an available feature.
Only for Mac/iOS: Things app only runs on Mac and iOS devices.
Pros
Great for Apple users
The Mobile version is affordable
The design is as straightforward as it can get
Has that Apple feel to it
No subscription service (You still need to pay once, though)
Cons
It doesn't offer collaboration features
Not available for other popular operating systems like Android and Windows
Pricing
There is a 15-day free trial when you buy this application. Moreover, it will be a one-time payment. After that, you need to pay $49.99 for Mac OS, $19.99 for iPad, and $9.99 for iPhone.
2. Todoist: Cross-Plaform App
Todoist aims to free up your mental space by allowing you to scribble down all the tasks in your mind. Additionally, this application has almost all the features you would look for from a personal task manager, from setting priorities to monitoring your progress.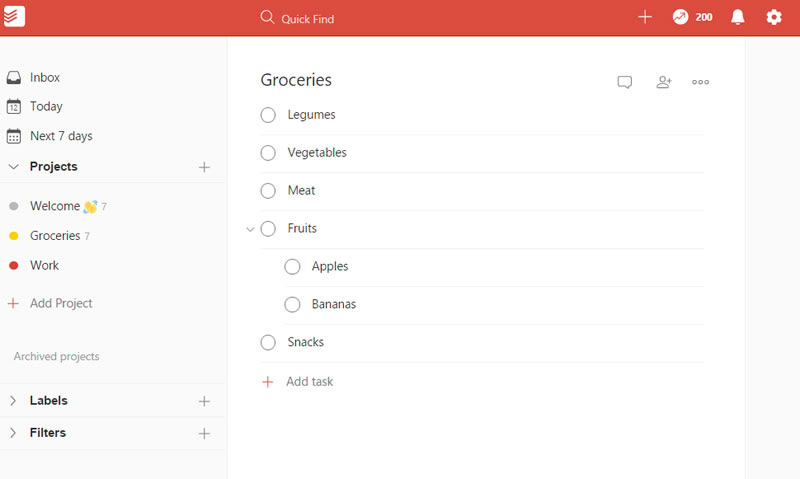 Todoist has been one of the most popular To-do apps for a while now and for a good reason. Apart from the superb UI that's extremely easy to use, it also offers very wide cross-platform support. To be more specific, it works with:
Android
Windows
iOS
Mac OS
Apple Watch
And Android Wear
One of the other amazing features this app offers is that it doesn't require you to create everything from scratch.
Right after the installation, you're ready to set up the weekly and daily schedule without having to mess around with settings.
That being said, creating a weekly schedule can become very messy in no time. For this reason, Todoist allows you to manage everything in projects and tasks, priorities, and also custom labels.
Highlights
Track of Productivity: Todoist shows daily and weekly graphs of how many tasks you've completed and how your productivity has been. In other words, it helps you visualize your performance.
Share tasks: Unlike Things, this application has an option to share your tasks with other people. This feature comes under the heading of 'delegate tasks'. With this, you can easily share your workload with your coworkers and delegate your tasks likewise.
Ease and Comfort: You can add tasks through e-mails and connect them to your Calendar as well. With different labels, boards, and personalization features, you can make the preview of the application fit your comfort.
Other features: You can set different priorities for your tasks, set reminders, and repeat them as well.
Premium: Unfortunately, if you do not have a premium subscription, you might miss out on some features that would have made your management simpler.
Not that simple: Todolist has many different features and shortcuts that might take some time to memorize, making it not so easy to use. There is also a limit on the number of files you can upload.
Other Inconveniences: A common complaint is that the sub-tasks lack some needed features and do not run smoothly. Alongside, when you mark a task as completed, they disappear. It, too, is an inconvenience to many.
Pros
Extremely easy to use
Ready to use right after the installation
Compatible with pretty much all popular platforms
Great UI
A few themes to choose from
Easy to share tasks
Collaboration options
Works offline
Cons
Some useful features require you to buy the premium version
Pricing
Todoist has a free as well as a paid premium version. However, there is a premium subscription that costs $30/year.
3. TaskPaper: Text-based App
Sometimes to-do list apps can be complicated as well. Therefore if you're looking for a simple application that helps you create to-do lists quickly without many additions or hassles, this will be your best bet.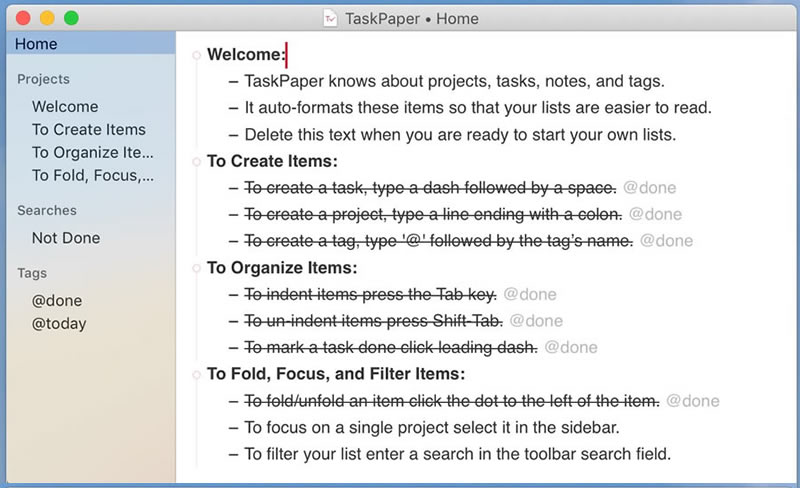 This is quite possibly the most minimalistic To-do app that you'll ever see. It's primarily made for Mac, and as far as simplicity goes? Let's just say that it doesn't differ too much from a traditional paper task manager.
Overall, if you're looking for something that doesn't overwhelm you with a ton of features and offers a simple design for your Mac, do definitely check out TaskPaper!
Highlights
Very easy to use: TaskPaper is by far one of the most accessible apps to manage your tasks. The moment the app opens, you can get to work. There is no need to get occupied with complexities here. This also means you get accustomed to using this app effectively almost as soon as you install it.
TaskPaper Files: The files you create in this application can be easily opened on other text editors like Word.
Setting deadlines for tasks: There is a feature to allow your tasks different urgencies. You can set deadlines here as well. Once the job is over, you can tag it done, and it will appear struck off.
Not many features: If you are looking for a powerful task manager, you should skip this one. Although it can handle your tasks well, it lacks many features that other applications in the market contain. E.g., you cannot add notes or connect to your Calendar like others on this list. Such lacking of features may make it a pass.
Tracking progress: TaskPaper will not do much beyond showing you what you've fed it. Unlike other applications that allow you reminders and analyze your progress for you, TaskPaper is just a simple man.
Pros
Works across multiple platforms (Including iOS)
Beautiful design
Relatively easy to use
Cons
Not as feature-packed as other options
It has a slightly longer learning curve
Pricing
For iPhones, the cost of TaskPaper is $4.99, and for Mac, it is $24.99.
4. GoodTask: App Based on iOS Reminders and Calendars
Opposite to TaskPaper, Good Task is a potent task manager. It will be of use to you for a plethora of tasks. From a simple checklist to a complicated project, it will help you manage all of it nevertheless.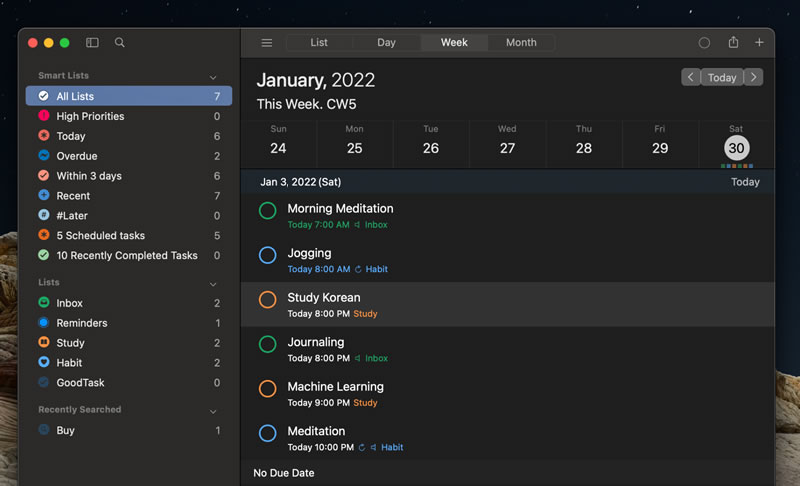 Highlights
Simple interface: Despite all the top-notch features this app provides, the interface is simple. You would typically have no trouble navigating through this application.
Smart Lists:  Smart Lists will help you filter the tasks you've saved already and filter them for you as you wish. It will save you a lot of time when looking through lists.
Syncing and sharing: Good Task can also sync itself with your Calendar, and that will allow you to access your reminders and other important dates to ensure you don't miss anything and get the work done. You can also share your task lists with others through this app, and this feature also makes this app stand out.
Customizable themes: Tired of using the same bland pieces given by all other apps? A good task will let you customize the theme. With it, you can create a theme that best soothes your eyes. After all, if the app's theme makes you feel at comfort, you are more likely to use it and go through your tasks.
Set tags, priorities, and recurring events: With Good Task App, you can add various tags to your tasks and add different levels of importance for them. It makes it easier to filter them out when you need to go through them. Alongside, if you have a repeated task, you can set recurring reminders.
You can also use snippets of texts to your reminders and tasks to top it off.
Slow Syncing: Unlike other apps that sync quickly, a complaint about this app is that it takes time for the reminders from the Calendar to sync with the app.
Confusing at first: If this is your first time using a personal task manager app, you can be a little lost in the beginning. It is usually because of the wide range of features this app offers.
Pricing
For Mac, the cost of Good Task is $39.99 with a 14-day trial period. The price is $9.99 for iPhone and iPad, respectively, and there is also a free version available for iPhone and iPad.
5. Nirvana: Cloud-based Task Manager
Tired of being distracted and unable to focus? If you require an application that would push you to achieve your personal goals, give this one a try. Whether you attain Nirvana or not, this app will at least make sure you get the work done.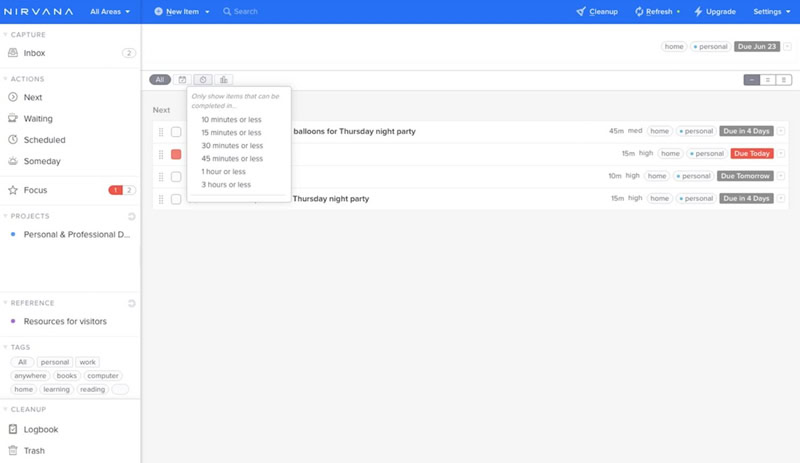 Highlights
Pricing: The main thing that catches our eye is that this application is free to use. Compared to other items on the list, which are pretty expensive, this one quickly takes the wheel here.
Prioritizing upcoming tasks: In Nirvana, you can also set due dates for your tasks. Now, if your added task is due soon, Nirvana will automatically star the task and bring it to your notice so that it doesn't get left out.
Add tags and areas: Nirvana also has a feature to add titles and areas to your tasks, making it easier for you to sort them out.
Average Interface: The interface of this app isn't as good as other applications on our list. More than often, it feels too cramped up, making it a little uncomfortable to use and harder to get started with it as well.
No reminders: The biggest downfall here is that there is no provision to add reminders for the task you've set. Unlike other apps that set reminders, you'll only be writing down goals and checking them out.
Slow: A common complaint is that the app doesn't work as smoothly when changing between areas or adding tags and areas.
Pricing
The app is entirely free of charge to use. You can upgrade it to a premium version for $29.99/year or $49.99 for a lifetime purchase.
6. 2do: Flexible Task Manager
Do you have something to do but are procrastinating? Then let the 2Do help you. This app is designed to be speedy in adding and managing your tasks. All in all, it does what it aims for quite sound too.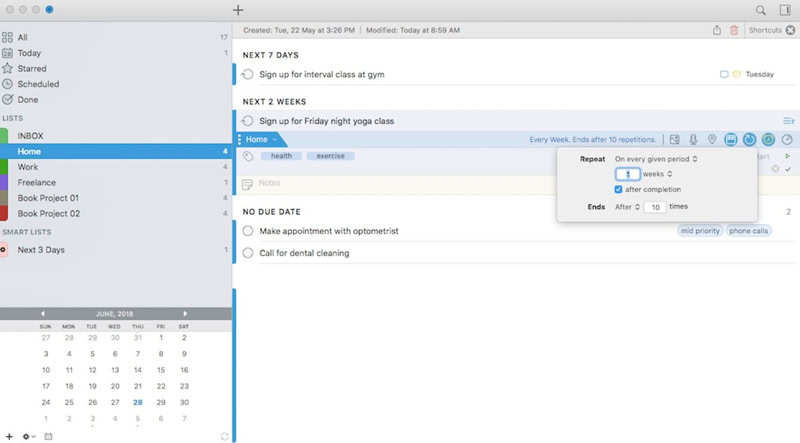 Highlights
Create Projects: You can create projects in this app in a matter of seconds. You can also set deadlines for it, give it a good name and add notes to it.
Adding Context: You can do your tasks and reminders through this app. You can add alerts, durations, photos, deadlines, location, voice recordings, and so much more around a task. You can also set recurring tasks on this app.
Sorting data: The context about the task that the app collects pays off there. The sorting of your tasks will be near perfect. Once you add a location to your task, you can get notified to do that task when you're near that place. That completely seals the deal.
Syncing: Like all the apps above, you can sync and share information through this application.
Confusing at first: If you are not familiar with the usage of productivity apps, it may confuse you at first. Looking at so many features in one place can be overwhelming for a first-time user.
Time-consuming in the beginning: Because it is so much you can customize and add to your tasks, you may spend a lot of time perfecting it. But once you do, it'd be worth the wait.
Pricing
This app is initially free. If you want a premium version, you need to pay $19.99.
It is odd hearing the word Microsoft and Apple being spoken together. But bear with us because this one's a fair deal too. It is a free application that is quick and easy to use.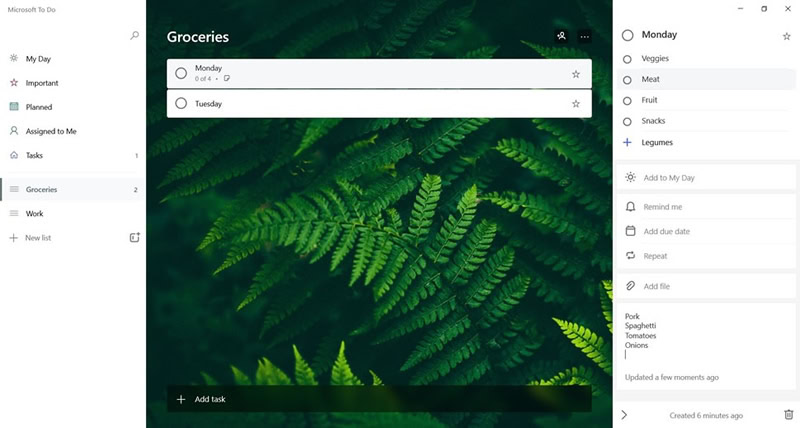 One of the best things about this particular app is that it's completely free to use, and it works for both Android and Windows devices.
In terms of features, you can expect to find the standard stuff: Task and sub-task creation, custom lists, reminders, stuff like that.
True, MS To-Do is not quite as good as Todoist in terms of productivity. Especially for professionals who want to work with a lot of collaboration-related tasks.
However, that doesn't change the fact that it gets the job done for us without asking for a penny.
Highlights
Free: The application is free of cost.
Very Simple to use: Microsoft has kept it simple with this app. It has a very user-friendly interface and is easy to use. Even if it is your first time using a task manager, you should use it without any issues.
Contains all must-have features: It includes all features like syncing, sharing, lists, priority settings, etc., that you would generally expect from such an app.
Fewer Features: This is a reasonably simple task manager than others on the list. Compared to the other powerful tools here, its features look relatively mediocre.
Compatibility Issues: You would have a Microsoft Product on your Mac or iOS device, which might pose some compatibility issues as To-do is primarily designed to work on the Windows platform.
Pricing
This is an entirely free-of-cost task planner. There are no in-app purchases either, and all the features are free.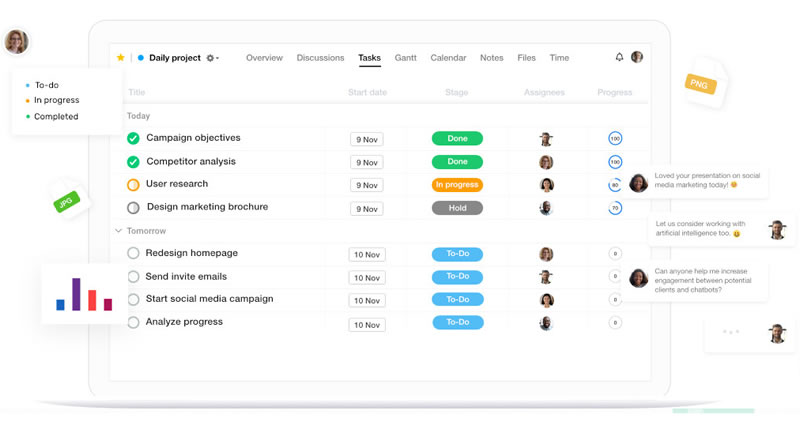 With ProofHub, you can keep track of your daily tasks and get them done. Never miss an important email again, or forget to write down a meeting details. The simpler and faster way to manage your daily tasks.
Organize all your projects in one place and keep track of who's working on what.
Work with your team via the calendar, email, or instant messaging.
Use time tracking to keep track of your project timings.
Pricing: The Ultimate Control plan, with all basic and premium features, is priced at $89 month/flat when billed annually.
Get tasks done in style
Overall, there is no clear winner. Each solution has pros and cons. The great thing about taking what you want from these tools and tips is that you can develop something that works perfectly for your unique situation.
Let yourself experiment and find how digital to-do tools and paper-based managers suit your daily needs.
In conclusion, we hope that our list helps you figure out which task manager to use. Above all, now it's time for you to get onto trying these apps out and hop back on track with your productivity.
* Readers like you help support TheSweetBits. When you buy something through the links in this article, we may get a small commission at no extra charge to you.