Ulysses Review: A Wholesome, Well-crafted App to Level up Your Writing Experience
Writers have always complained about not having a distraction-free space for writing. Their complaint is legitimate as most of the text editors out there are studded with feature buttons that often gives a cluttered impression for anyone who has an eye for neatness.
For instance, Take Google Docs — one of the most popular tools for writers. Its interface can poke your eyes as there's no dark mode. Any night owls out there? Besides, if you need a clean and distraction-free writing environment, then Google Docs might be of little help.
Now, if you are a Mac user and are looking for distraction-free writing experience, then there's an app out there that can help you get the job done. It's called Ulysses, and it's available for Mac, iPhone, and iPad.
Ulysses claims that it is the "ultimate writing app" with all features and tools that can help you take your writing project from a mere concept to a published work.
But how true do these claims stand? Well, we will find that out in our Ulysses review, where we look at its pros and cons. But before that, let's dig into the features of Ulysses.
Ulysses new features and benefits
Ulysses comes with a host of new features, along with a set of exciting new updates that can surely redefine the way you look at writing on your Mac, your iPhone, or iPad. Let's dive into them straight away!
Focus and productivity
The primary feature of Ulysses revolves around prioritizing focus and productivity — two factors that affect writers the most. It offers a clean and distraction-free editing which can help you get your job done in no time.
It has a markup-based text editor to mark relevant passages, comments, and headlines — you don't even need to lift your fingers off the keyboard.
There's also a themed editor, which means that you get to decide what the editor looks like by handpicking color pallets, and even downloading user-generated themes from the Ulysses Style Exchange. Good fun!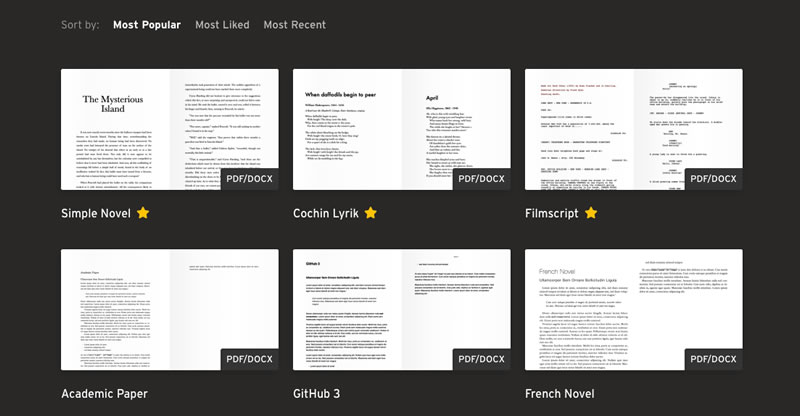 Other features such as keyboard navigation and typewriter mode take your writing experience to the next level by making it highly personal for you. Well, what else could one have asked from a text editor?
A helpful walkthrough
When you install Ulysses, you will notice that the app takes you through its interface through an in-app tutorial, which is excellent if you are new to Ulysses and don't want to miss out on any of these features.
The tutorial is short and quick and covers all the aspects of the app. The demo docs are also about features of Ulysses. It's a great way to gain familiarity with the app.
Organization and management
Another critical aspect of writing is the ability to organize and manage your tasks.
Ulysses comes with a single library for all tasks, which means that there is no need for saving dialogues or any searches from finders. Everything is just there, easily auto-saved, and effortlessly manageable.
There are also hierarchic groups that can help you break your projects into groups. The option for attachment lets you have additional information attached to your work while writing goals let you keep a check on the words you have been writing so that your progress never goes unnoticed.
Effortless synchronization
Synchronization is an essential element if you use multiple platforms for work.
Ulysses has full cloud sync for macOS and iOS. It also lets you add Dropbox folders to your text library, which means that if you like storing your texts in plain files, then you can easily have them saved online, which also makes collaboration with others much more accessible.
Ulysses review: Pros
Ulysses has several pros that you'd like as a writer. Here are some of our favorites.
An interface to fall in love with
Ulysses has a modern and clean interface designed to keep you focused and comfortable while you are striking your keyboard to craft those words.
Well, we tried comparing Ulysses with other text editors and realized that Ulysses managed to retain our attention the most.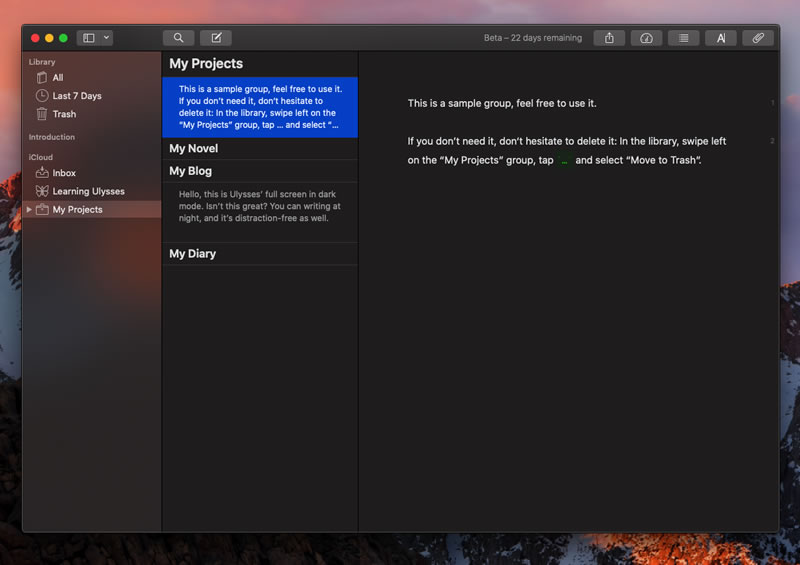 The interface of Ulysses is divided into three neat sections. On the left is your library. Here, you can access your current and past projects, as well as projects that are resting in your trash. There's also an option to access the category of your projects, broadly characterized in novel, blog, and diary.
The middle section highlights each of these selections so that you can individually select their sub-elements.
Then, the right side of the screen is your text editor, where you get to write and edit your work. Click on maximize and whoosh — you land on a full view. It's the epitome of writing experience, ultimately distraction-free, a charm for the senses, a lure for your fingertips.
Of course, you can customize how this interface looks by clicking on the button on the top left section. There, you can choose which elements show up on your interface and which do not. You also get to add a second editor, and that's pretty cool if you are doing some side-by-side writing. It's an excellent tool for research-based writing.
Once you select a project to work on, you can access other features from the top right of the screen, such as export, word count, structure, markup, and attachment.
The interface is crafted in such a way where the number of clicks are reduced. You focus more on your keyboard and writing.
Practical tools to level up your writing experience
The interface of Ulysses is such that it is quite easy to miss out on those fantastic writing tools that it has. Well, you wouldn't want writing tools to clutter up your experience, but you'd want them around — immediately when you need them.
Firstly, you can turn on the macOS spell check on Ulysses while you are typing, or you can just run it later so that you don't see those red marks while you type — another feature towards a clutter-free writing experience.
There are also live document statistics that you can turn on by just clicking on the toolbar icon on the top of the interface.
Writing goals give you immediate feedback on the progress that you have made while writing. The word counts show you the number of words that you have typed.
For those wanting some discipline in their writing, Ulysses' writing tools can come to great aid. It can be configured to meet deadlines — it will tell you how many words you need to write to achieve your daily writing goals.

Besides, image attachments and notes are a great way to keep track of all the references that you might use while writing. It's a great way to keep your thoughts, notes, links, and references in place without having to worry about using an additional app to note them down.
Powerful search with filters
Admit it — it's a pain to go through your Finder, again and again, to dig out that piece of writing that you have been working on.
Ulysses' powerful search features make finding documents a walk in the park.
The quick open feature — accessed by pressing Command-O — shows you everything that is matching in Ulysses with your search query. Simply click on a result or press enter, and the app will take you straight to the page.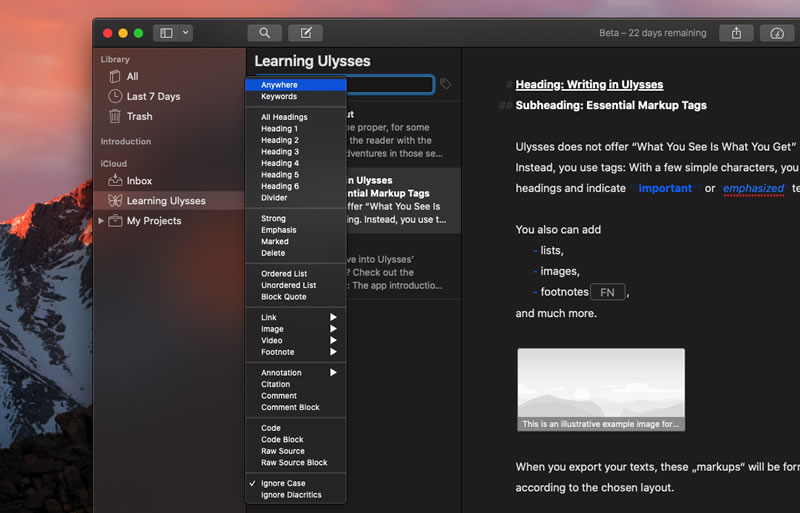 The Find option — accessed through Command-F — lets you search within the text and even make replacements. Yes, it works the same way as your other word processors. The Replace feature is especially handy if you are trying to group change some of the things in your documents.
Then, there's the Search in Group feature, which you can access by pressing shift-command-F. It lets you search within your current group. It is an effective search feature you can configure to search for formatting, keyword, text, notes, headings, and more.
Well, these were some handy search tools, but we are yet to talk about the most powerful of them all — the Filter option.
The Filter option lets you place group searches in your library as smart folders. For instance, you can use them to keep track of keywords such as 'on hold', 'in progress', or 'submitted' to keep track of which writing is at what stage. You get to specify more than one search criteria, which we think is excellent as they set up permanently in your library, and you don't have to perform manual searches again.
Export and publish like never before
It's tedious — writing everything in one place, copying all of it and pasting it in your online editor, and then reformatting it before hitting the publishing button.

Ulysses is quite aware of this, so it comes with a powerful publishing feature, which saves you a lot of time you'd otherwise spend switching between apps and editors.
You can publish your text directly from within Ulysses on WordPress and Medium. It can have them published either as published posts or as drafts. You can add your accounts through the Preferences settings in Ulysses.
There's also a live preview which shows how your output will look like. The preview uses the WordPress Twenty Twenty theme.
Multiple export options provide you more control over where you want your writing to be — just pick a preferred format, and you are good to go.
Ulysses review: cons
Ulysses is a charming app, but there are a couple of things about it that we wished could see the light of day.
Not for Windows
While Ulysses is crafted to please your senses, it is still not available for Windows, which could be quite disappointing for writers who use Microsoft Windows.
There are fake Ulysses apps for Windows, but they are no good when compared to the original app, of course.
With the surge in requests for having a Windows version of this app, it could be time for Ulysses to look into developing a Windows version to add complete compatibility to the app.
Added functionalities
It would be helpful if it had the option to pin sheets to the top of a group would also be handy as you would get to focus more on important projects.
Pricing not for everyone
A lot of people are opposed to paying a subscription fee for Ulysses, and thus, the move to have the app on a subscription basis invited a lot of controversies. Many people think that subscription should be for apps that you can't do without.
But could you do without Ulysses? Is it an app that you need and are willing to pay for it through a subscription-based model? Well, for that, you might have to use the app and find out yourself.
Suggested use cases for Ulysses
If you have decided to get on a journaling routing — yes, journaling is great for you — then Ulysses could be one app that you might fall in love with. It's separate 'My Diary' section puts all your journaling work in one place. It's so custom that it almost feels like a digital diary — it's not overwhelming at all. You can actually focus more and pen down your thoughts like never before.
Custom themes only enhance the experience.
Novel writers need a space where all the focus is on writing. Here, features such as writing goals help a lot to get a flow in your novel-writing process.
Ulysses is also great for those who want to bring some discipline to writing as writing goals are perfect to gauge your progress through a new story, book, essay, or novel.
You can even explore your productivity at night — thanks to the app's dark mode, which lightens up the load on your eyes. The night mode also helps in journaling as you face less strain on your eyes. For individuals who are into some late night journaling, Ulysses can be the ideal app.
Markdown note-taking is another aspect where you can find Ulysses helpful. It can help you easily categorize your writing so that you are well aware of your categories and sub-categories.
You can easily label your writings into different categories — all of which are neatly shown in the interface in a clean, distraction-free manner.
Another great use case of Ulysses is research. You can mark passages or add reference to Ulysses, which you can categorize the way you want. Markdown editing takes your research to the next level as you can neatly put down things without the fear of cluttering up your screen. A clean research always yields fruitful results.
There's also the ability to add clips and attachments, which can help you drive more information to your primary research — everything at one place so that you don't feel distracted.
Ulysses can also be used for archiving. If you have a lot of writing under different categories, you can neatly add the, to Ulysses in categories and subcategories. Everything syncs online and can be accessed on your iPhone or iPad. With so much accessibility at hand, you won't have to worry about losing your work anymore.
Ulysses pricing
Ulysses works on a subscription model — a universal subscription that works across your Mac, iPhone, and iPad. You can download it from the Mac App Store and the App Store, respectively.
There are two subscription options — monthly and yearly.
The monthly plan starts at $4.99 per month, and the yearly plan comes at $39.99. There's a special discount for students.
Ulysses is also available on Setapp.
Final words
Finally, a complete app for writing with a strong emphasis on publishing — yes, that's how we feel about Ulysses. The feeling is universal — so is displayed in its high rating. It's even the editor's choice on the App Store.
Ulysses very well acknowledges that writing is a multi-stepped process and involves various subsets such as brainstorming, compiling, researching, editing, revisions, and publishing. Ulysses has all elements that take you through the process without any hassle.
We are sure that you will enjoy Ulysses as we did — it takes writing to the next level and empowers you with added productivity and creativity.
Ulysses doesn't disappoint, much like the hero of Greek literature from where it derives its name.
* Readers like you help support TheSweetBits. When you buy something through the links in this article, we may get a small commission at no extra charge to you.