The 10 Best Apps for Staying Focused (Free and Paid)
Utility  •  Sept. 6, 2020
People say that staying focused gets things done and increases productivity. But did you ever try being productive when using a laptop?
We know that even the slightest thing can be a distraction and getting lost for hours on YouTube is just two clicks away.
Focus and productivity are a skill, and with proper practice, anyone can become more focused, get more things done in a shorter period of time, and stay on top of their work at all times.
Down below, we'll show you the top 10 apps for staying focused, but you'll also find our categories that will help you out with the choice.
Focus is the major component of productivity
By definition, the focus is the component that allows you to concentrate and put attention to the most urgent problems.
As we all know, we can adjust our focus. We also know exactly where we should adjust our focus to.
Even though it sounds so simple in practice – adjusting the focus and staying focused for a period of time can be really hard.
Why?
It all comes down to your habits, the way you do things, and the way you take action on certain tasks.
Things can go even way further. There are high chances that you've tried a couple of "next best things" to improve your focus.
But in reality, in about 85% of situations – it all comes down to the basics.
So is this article a great place for you to start? Of course, it is. Each one of the apps listed in this article is made to efficiently shift your focus, but also learn how to keep your concentration high by taking things back to the basics.
If you're a "productivity master" – we believe that these apps will also help you keep up your focus and even improve it to an advanced stage!
Top 10 apps for staying focused
Coffee is a go-to for many people who want to stay productive and efficient. However, even coffee can't help keep you from all distractions available on your laptop.
However, the apps listed below are designed in a way to help you achieve the ultimate focus.
1. Todoist – Comprehensive To-Do List
In order to stay focused, you need to know exactly what you have to get done. If you're bad at keeping track of tasks and the time runs out all the time on you – Todoist might be a great choice.
Todoist is a modern to-do list app that allows you to organize your work life and personal life at the same time.
Whether you're looking to free up your schedule, balance your work & personal life, or only have a clear to-do list to follow throughout the day, Todoist can help.
Todoist app is very simple to use and it allows you to free up your mental space, keep everything written down, and never worry again about forgetting to finish up even the smallest task.
The interface looks very similar to an email app so you are able to keep categories, organize different to-do lists, and yet access everything within the app in just a couple of clicks.
This efficient app is very light, it's available for both PC and Mac & iOS and Android smartphones, and it's free to use!
2. StayFocusd – Limit The "Time-Wasting" Websites
If you catch yourself wasting your time on entertainment websites way too much – StayFocusd is an app that could help you build healthy & productive habits.
We've tested dozens of apps that simply block out websites for you – websites such as Facebook. But what if you have to use Facebook for work and yet you sometimes get distracted?
That's where StayFocusd comes in play. StayFocusd is a simple extension you can add to your browser, and yet it helps you stay focused by restricting the amount of time you can spend on certain websites.
You get to choose which websites you want to add to the list and you even get to set the time you will need to spend on these sites.
For example, if you're running ads on Facebook – you can approximately measure the time you need to complete the task so StayFocusd can help limit the usage of Facebook before you find yourself scrolling down the feed during your work time!
StayFocusd extension is free to use and it's available for Chrome browser.
3. Tomato Timer – Easiest Time-Tracking App
Did you ever feel like you just can't force yourself to stay focused? That's a normal feeling everyone feels because focus can't be retained for a long time at once.
Focus is directly connected with attention span and as an adult, we can be most productive (focused) for about 20 minutes.
Tomato Timer is based on the Pomodoro technique which limits each one of your tasks to 25 minutes.
This helps you stay the most focused for the recommended attention span time. After that, you take a short 5-minute break before getting into another 25 minutes of productive work.
The more productive work sections you have – the longer the break you will be able to get after each section.
Tomato Timer is a free web-based app which is free to use and it can be accessed on any device.
It features a simple interface that allows you to quickly set your timer, get the work done, squeeze in the break, and finish task after the task without losing focus.
Tomato Timer is free to use and it's accessible within any browser.
4. Freedom – Block the Distraction Out
Freedom is a typical distraction-blocker app that has a simple and easy-to-use interface that allows you to block websites that distract you the most.
However, what we really like about Freedom is that it is compatible with all devices (including smartphones).
Whatever you're doing and wherever you're going – you can easily stay focused on the go.
Another feature we really like is the ability of Freedom to adjust to your working schedule. All you have to do is set your schedule and create a website list that distracts you the most.
Freedom is compatible with Windows, Mac, iOS, and Android devices and it's free to get started (trial version that lasts 7 days).
5. Focusmate – Block Out Distractions with Virtual Coworking
Are you the type of person who gets all the work done when you're in the office – but you can't get anything done when you're working on your own?
If the answer is yes – Focusmate is an ideal app that offers you a virtual coworking space and the ability to cowork with your friends or colleagues (or even strangers) virtually.
Even before you say it doesn't work – Focusmate is being powered by the science that harnesses pillars of psychology to improve focus and boost productivity up to 200-300%.
Once you download the Focusmate app, you have to decide when you want to work, launch your video session, and then get the work done.
We really like that at the start of each 50-minute video session you get to declare your goal and listen to your virtual coworker's goal before getting the work done.
This way of coworking doesn't only improve focus, but it also keeps people motivated.
Focusmate app is a browser-based app so it's compatible with any device and it costs only $1.99.
6. Forest – Block Distractions by Growing Trees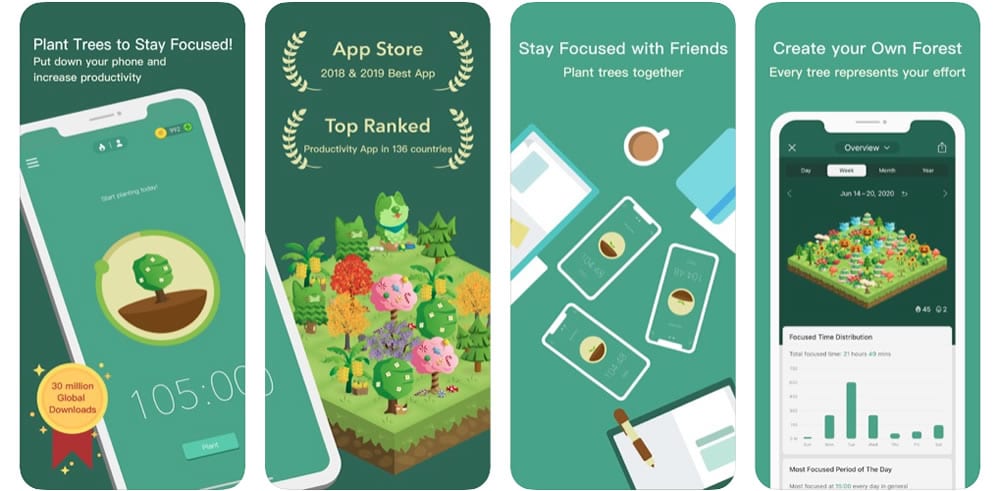 Forest is the most interesting way to block out distractions by "planting trees" as you stay focused and productive.
We really like the interactive interface that metaphorically plants trees for as long as you're focused. However, if you quit the app mid-use, your trees won't turn out as nice.
However, it's not all metaphorical. Forest app actually plant trees in the real world for the focus you retain – so do a good deed!
Growing your own forest might be silly, but it's proven to be an additional motivator so you can stay focused when working, studying, or reading wherever you are.
And even better yet, Forest is very simple to download since it's available on App Store and Google Play for free.
7. Focus@Will – Focus-Improving Tunes
Did you ever feel so stressed or under pressure that you weren't able to think logically and complete tasks you've always been able to complete?
Focus@Will is a music app that consists of tunes and music that is made to boost productivity and increase focus.
However, that doesn't mean that you will have to listen to old and boring sounds that will put you to sleep.
Instead, Focus@Will includes a wide range from tunes, such as anything from Classical Plus to Focus Spa or Uptempo.
The most interesting fact is that this app is created by platinum-selling music producers and it's backed up by world-class neuroscientists.
The interface is very simple to follow and use and yet it's lightweight so it won't be taking a lot of space on your computer or your own time.
With over 2 million subscribers, Focus@Will is available for macOS and Windows, and it'll support iOS very soon. Another great thing is that you can give it a try with a free trial version.
8. Brain.fm – Scientifically Proven Focusing Tunes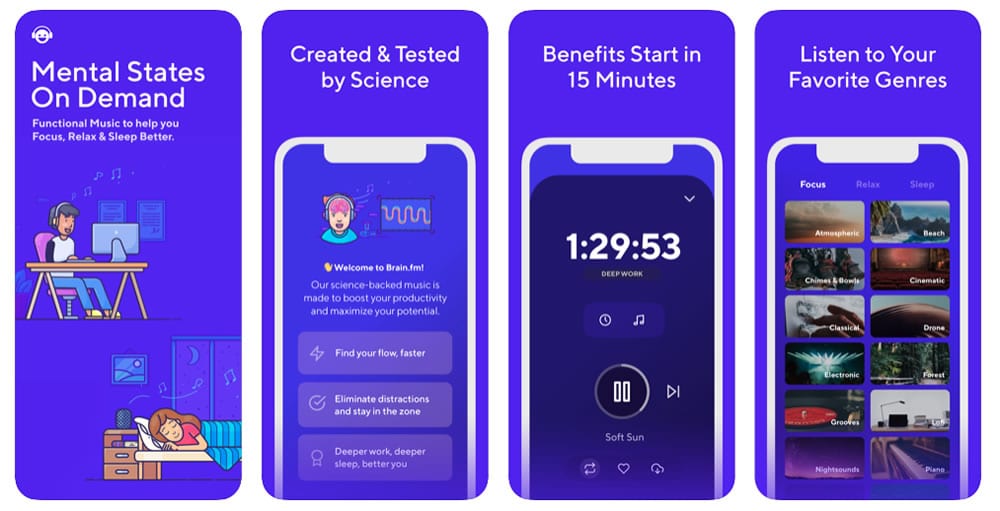 Brain.fm is an app that can help with anything from focus and meditation to even relaxation and good night sleep.
Even though this app might look similar to all other music – it's actually created with the help of patented technology that uses a science-approach to connect music with focus.
The app has been tested on brain and behavior and that's just one of the reasons that Brain.FM app has been featured in NBC News, Vice, Forbes, and more sources.
The app consists of a simple interface that guarantees you focus improvement in just 15 minutes of the use.
When it comes down to tunes – you can expect to find a wide range of sounds and music that ranges from nature and atmospheric sounds to electronic, grooves, or even piano.
Brain.FM has a free trial and it's available on iOS and Android devices.
9. Pocket – Save Content Everywhere You Browse
If your browser is full of bookmarks that you never get to and yet you feel like you still need all of them – you need to improve your organizational skills.
Pocket is a perfect app that helps keep your content organized and well-stored without shifting your focus from the important tasks and work.
Once you store content in your Pocket app, you can access it anywhere (even when offline) to immerse yourself in distraction-free content.
If you've thought that reading industry news or staying up to date with your work has been hard or even impossible on the go – Pocket is the right app to try out.
Our favorite feature is the ability to listen to most of your saved articles and news within the Pocket app.
Pocket is available on App Store and Google Play and it's free to use. It's a fairly lightweight app and the interface is very easy to learn.
10. Unclutter – Tidy Digital Workspace

How tidy is your desktop? Are you having a hard time to maintain focus because of the mess you're currently navigating through?
It's time to declutter your desktop with a perfect app called Unclutter.
The Unclutter unlocks a new convenient place on your desktop that's made for storing notes, files, and pasteboard clips.
This way, you won't be dealing with hundreds of text files, sticky notes, or search button where you end up hopelessly searching for that one file.
Unclutter allows you to group up everything you're working at the moment and keep it right in front of you so your focus doesn't shift or decrease throughout the completion of the task.
Once you download and install the app, all you have to do is move your mouse to the top of the screen to discover the menu.
When you store files, paste text, or store notes, just move the mouse down and the menu will disappear again – letting you work without losing focus and yet having everything you need handy.
Unclutter is only compatible with macOS right now and it costs $19.99.
Focus isn't only about the app
Even though all of these apps seem like really helpful and perfect apps that can solve all focus problems out there – they're not effective unless you really start working on your habits.
Maintaining focus for a certain period of time is a skill and the more you practice it – the better (and longer) it will be.
These apps are a great place to start and even combine with other methods and techniques of self-discipline.
To work on your focus, you should:
Increase your focus gradually
Create a distraction-free to-do list
Start exercising
Memorize stuff (but also write most of the things down)
Read long documents slowly
These are just some of the ways that will help you improve your focus gradually. Combine these apps with a couple of techniques, and as long as you have will – you will be able to increase your focus and attention span in no time!
Conclusion
Whatever you do and whatever your goals are – we all have tasks to do. If you can't focus, you might not perform up to your potential and this will reflect you in the long run.
No matter how hard it seems to stay focused, retain focus, and increase your attention span – it's important to take things slow.
Also, it's a far better decision to make in the long run rather than having to deal with the consequences of the inability to focus on a daily basis.
Any of these apps will help, but remember that will and discipline are also required so you shouldn't give these apps a try to only delete them sometime soon.
Focus is a skill and a habit – and with all other skills, you have to practice them to get better at them and you have to keep them on your good side for them to become a good habit.
* Readers like you help support TheSweetBits. When you buy something through the links in this article, we may get a small commission at no extra charge to you.