OCR 101: What is OCR and How Does it Work
Despite the fact that we live in a digital age, the revolution isn't over yet. There are still places where physical documents are widely used, regardless of whether you own a small business, are a freelancer, or work from home.
If you use scanned documents on a regular basis. You'll agree that it can take a while to scan paper documents for use in digital workflows. OCR technology can make such a conversion process easier, and faster, as well as provide you with more useful data.
RELATED: Exploring the Best OCR Software for Mac and Windows
What is OCR
If you haven't used this technology before, you might wonder, "what is OCR?".
OCR is the abbreviation for Optical Character Recognition, a common technology used for recognizing text present inside images and scanned documents, etc. Almost any image containing written text, whether typed, printed, or handwritten, can be transformed into machine-readable text data using OCR technology.
This technology is also known by the term "text recognition," since it recognizes the text present on the original image/document and converts it into an editable document.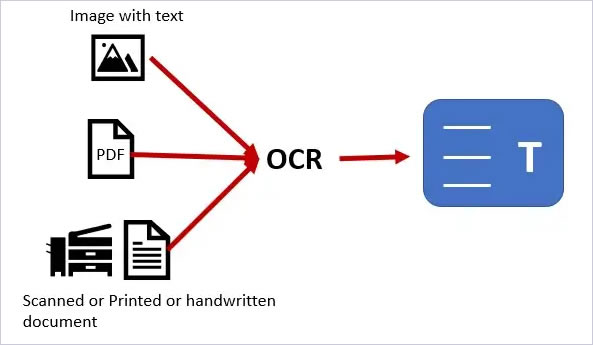 What is OCR used for
OCR technology is used in many fields, but here we will highlight some niches where the usage of OCR software has become integral to their work.
As stated above, OCR technology is used in libraries and archives to convert documents and books into digital form for preservation and ease of access.
OCR technology is also used in the banking sector to process and validate papers for loan applications, check deposits, and other financial activities to mitigate any chances of fraud. It is also used to deposit cheques electronically without needing a teller.
In the healthcare sector, OCR is used to process patient records, including records of procedures, examinations, hospital stays, and insurance payments. This aids in streamlining processes and reducing manual labor in hospitals while maintaining the accuracy of records.
OCR is used by logistics organizations to better effectively track invoices, package labels, receipts, and other documents. This is primarily due to how time-consuming and error-prone the manual entry of these business documents is.
OCR technology is also used for converting documents into text that blind or visually impaired persons can hear and read aloud.
In Law Enforcement, OCR is used to recognize important text, such as that on license plates.
You can even use OCR technology to translate the text copied from an image into another language.
What are the benefits of OCR
Since we now know about OCR technology, let's see what this type of software is used for. If you ponder on it, there are a lot of places where this type of software plays an important role.
Converting scanned documents into editable versions
Probably the most widespread and most important role played by OCR software is the conversion of printed text, like books and documents, into editable versions. This is helpful not only in big corporations and offices where a large amount of data is usually handled but also in libraries where OCR plays a pretty big role in preserving older texts.
OCR allows you to convert physical documents to editable documents with less effort and reduced errors in less time.
It allows for actions like ZIP file compression, keyword highlighting, website integration, and email attachments that are impossible with physical copies.
Allows you to edit documents
While scanning documents allows for digital archiving, OCR adds the functionality of editing to scanned documents, which is not possible in simple digital archiving.
Searching the document forrequired data
Using OCR allows you to easily find your required text in a document by using the search function. This can only be done in conventional documents if the document comes with an index; even then, it is quite a hassle.
What does OCR software do
OCR systems, which combine hardware and software, are used to transform physical documents into text that can be read by computers. Text is copied or read using hardware, such as a dedicated circuit board or an optical scanner. At the same time, software normally does the advanced processing. The software can use artificial intelligence to execute more sophisticated techniques for intelligent character identification, such as recognizing languages or handwriting styles.
Now that we've spent a few minutes talking about OCR in general and discussing its benefits and uses, the next question that arises is, "How does it work?". Well, to properly perform their intended tasks, OCR programs typically follow a four-step process.
First, the part where a certain image is fed into the OCR program for scanning comes. The images of the documents are scanned and converted to binary data. When the scanned image is analyzed by OCR software, the dark areas are identified as text, and the light regions are identified as background.
To make the image ready for reading, the OCR tool fixes any flaws in the image. Some of the ways it corrects these flaws include tilting the scanned paper slightly to remedy alignment issues, erasing any digital image spots, and using script recognition for multilingual OCR technology.
Then comes the main part of this whole process: image processing. Feature extraction and  Pattern matching are the two main categories of OCR algorithms utilized for this function.
After completing the whole process of analysis, the OCR tool transforms the retrieved text data into a digital file. Depending on the specific OCR software you're using, you might even be able to create annotated PDF files that contain both the original and corrected versions of the scanned document.
Which companies are developing the best OCR software
If you've read all the way down to this part of the post, we can safely assume that you've gotten a comprehensive introduction to OCRs and their usage, as well as how they work. Here, we will be discussing different OCR tools being developed by leading companies in this field. We'll be dividing these tools on the basis of desktop and online platforms, which are listed below.
OCR software for desktop
Abby can be considered one of the world's top OCR-providing companies. Even though they provide a wide range of OCR products for large corporations, small businesses, and individuals, their services are extremely good for big companies.
Adobe provides you with the powerful OCR PDF tool as a feature of Adobe Acrobat. Using Adobe's OCR, you can not only instantly convert your required text into an editable format, but the software automatically matches the fonts of the text with your document.
With this OCR, a few clicks can intuitively convert, modify, and turn all your paper documents into a range of digital formats. Not just that, but you can also split and combine your PDFs, safeguard them, and sign them with Readiris.
Online OCR platforms
Rossum offers a wide range of features and functionalities that you may use to take control of your documents throughout your business operations, going beyond simply scanning and converting documents. Rossum's potent OCR engine works with AI technology to understand text and content that is challenging to read. Additionally, you may also handle data and documents using Rossum, put together reports, and more, which makes this a great option.
Docsumo is document AI software with intelligent OCR technology helps you convert your unstructured documents or images to editable text, and you even get the option to edit the text right there on the website as soon as the image is scanned. After that, you can convert the text into whatever format you desire.
How to edit scanned PDFs using OCR
If you wish to edit a scanned PDF using an OCR tool, it can be done in a few easy steps. This is especially prudent when you happen to be dealing with scanned or protected PDFs when you don't have access to the password. To understand the steps to this process, let's take Abby's FineReader OCR tool as an example. In Abby's case, you need to follow these steps to edit your scanned PDFs:
Launch the Abby FineReader application, and open the PDF you want to edit.
Click on the OCR button to scan the text.

Convert the scanned text into your required format, and make any edits needed.

Now, you can convert the finished text into a PDF using FineReader.
How to use OCR for image-to-text conversion
If you've been with us until this part of the post and still are unclear about the "How does it work?" part of an OCR's functions, let's explain that step by step using the Google Docs OCR tool as an example. If you want to use the OCR function of Google Docs to convert text from images into editable text, you'll need to follow these steps:
Open Google Drive on your desktop.
Upload the image to your Drive.
Now, right-click on the image and choose "Open with Google Docs."

Now, Google Docs will take a few moments to convert the text in the image into editable text using its built-in OCR tool.

Once all the text is converted, you can start editing it however you wish.
Final thoughts
OCRs are a vital tool in this age, especially for people who regularly deal with PDFs and images and find themselves in need of extracting text from them. If you happen to be such a person, we hope that this guide to OCR will help you understand "what is OCR", as well as help clear your query of "how does it work?". Each of the tools suggested above is top-of-the-line in its respective niche, and we guarantee that you won't regret choosing any of them to fulfill your OCR needs.
Read also: