BusyCal vs Fantastical, Which is Better on macOS or iOS?
Articles • Updated on Oct.14, 2023
G
etting through your day and managing your time has been important since childhood. It helps teach us the worth of time and make the best use of it, and calendar apps have been around since the golden age of technology came into existence.
The first apps were essential, but with time, the updated variants have become so powerful that you can quickly manage all of your tasks with a simple voice command. When used with clear set goals, these apps can even be better than a real-life personal assistant managing your day-to-day activities, and scenarios such as the following will help you understand the app's worth.
We'll be comparing two top calendar apps for your iPhones and Macs – BusyCal and Fantastical. They are both excellent at bringing a calendar app, but which one comes out on top and which should you use? Well, let's take a brief look at it.
A quick look: BusyCal
BusyCal is a great calendar app that is available to download on iOS and macOS devices. It is also available for Android and Windows devices, and it supports all the voice assistants available on the platform. You get customization options for the overall look of the calendar, and it can use Google, Microsoft and Apple's calendar systems to sync all your events and upcoming holidays across all your devices.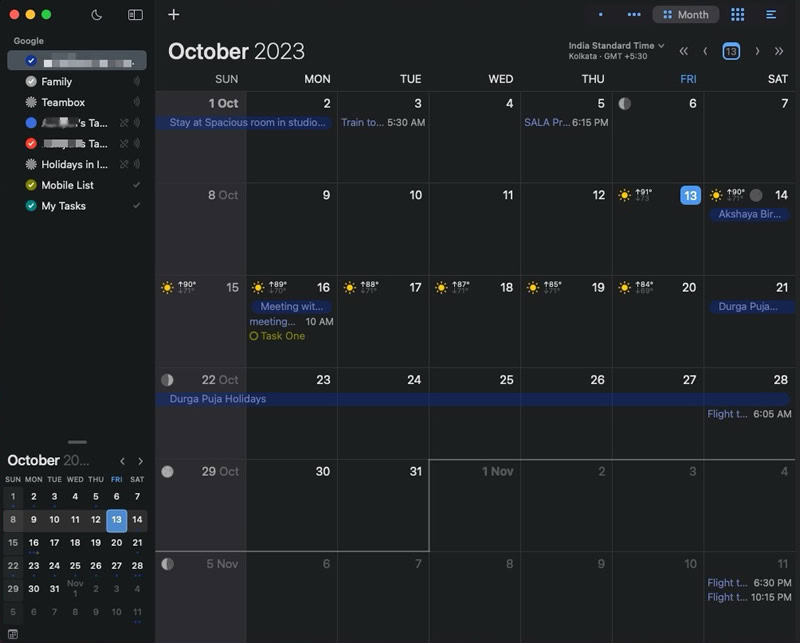 Finally, you can use the different modules of BusyCal to manage your events, reminders, to-do lists, and even alarms. It creates a unified space from where you can manage all these elements. BusyCal is considered the best option for professionals who require maximum control and customization options.
A quick look: Fantastical
Fantastical is another calendar app that competes with BusyCal to take the number one spot in becoming the best calendar app. It also has similar features but offers improvements in the scheduling department as it can allow you to set custom reminders and alerts throughout the day with a single click.
It is also available for all platforms and can use their respective voice assistants to add custom events and reminders. Compared to its competitors, Fantastical offers a better aesthetic arrangement of calendars. It is also known for the more intuitive GUI.
Both the apps have their pros and cons and mostly fight head-on compared with the features they provide. Let us look at which one is better and why you should choose to use that as your primary calendar app for a Mac or iPhone.
BusyCal vs Fantastical: pricing
BusyCal macOS: $49.99 (Free – 30-day trial); also available through Setapp
BusyCal iOS: $4.99
Fantastical macOS: Free, Premium: $39.99/year
Fantastical iOS: Free (Has in-app purchases)
Overall, the cost of Fantastical is higher for macOS and lower for iOS, ever since it swayed from the one-time payment model last year. It is also worth noting that you can get the full version of BusyCal through a Setapp subscription, which would provide you with access to 240+ apps for just $10 a month.
While BusyCal does not come with a free-to-use basic version for iOS, it has excellent value for macOS users who are looking to make a one-time premium purchase only. Hence, BusyCal takes the win in this aspect, and we respect developers who give multiple options to users.
Winner – BusyCal (Fantastical if you want a free option)
BusyCal vs Fantastical: calendar layout
Both apps feature a standard one-month calendar layout that can be customized and filled with all your events and day-to-day activities. The visibility for the events, dates and upcoming tasks is also great, and both apps offer an excellent experience with it.
BusyCal also comes with different view options – Week, Month, Year and List. However, the month option looks and feels the best in my personal preference. We also love how easy it is to manage different calendars with BusyCal. For instance, you can use filters to focus on events from specific calendars—say work or family, for instance.
Fantastical, on the other hand, has a significant push towards colors. It allows you to inherently change and personalize everything, from the look of the calendar to the events. It also comes with multiple views, a weather panel and a separate quick view section on the left, making it unique for people looking for a highly personalized option. However, many of these customization features are available only on the paid version.
Winner: Draw (Depends on personal preference)
BusyCal vs Fantastical: macOS integration
BusyCal has better features for macOS, as it enables you to constantly edit all the tasks and upcoming events with a robust notification and alert system. You can also customize every event notification separately, and it is recommended for pro users who know what they are doing. Hence, it is the perfect app for professionals looking to sort out and manage their time with utmost precision and a simple, clutter-free, easy-to-use look.
However, Fantastical's approach is simple and doesn't involve that much control regarding the notifications, but it shines when you want to personalize the overall look and aesthetic of the calendar. It is much more recommended to be used by beginners, as the comprehensive integration on macOS makes it easy to learn and manage the notifications.
More so, subscribing to the premium version with all the tools to help you manage your workflow makes the app costly for all macOS users. However, if you value personalizing your calendar and having widgets and a menu bar integration, Fantastical is for you.
Winner – Fantastical (BusyCal if you want notification and alert control)
BusyCal vs Fantastical: iOS integration
BusyCal has a clean and straightforward iOS and iPadOS app to help you manage all your tasks and upcoming events with ease. The small display limits how much the calendar can show simultaneously, but the iPad takes full advantage of the powerful features it provides. However, BusyCal shines the most when used with a Mac, and the overall iOS experience feels average compared to the desktop counterpart.
Fantastical is much better with iOS and iPadOS, as it has a much-simplified look and a refined feel for touch-enabled devices. It also supports your Apple Watch and can relay alerts, making it the perfect option for iPhone and iPad users. The iOS app is also straightforward to use, and most of the features are completely free to use.
Winner – Fantastical
BusyCal vs Fantastical: scheduling features
Scheduling all your tasks and events is one of the most crucial parts of the Calendar app experience, and both apps provide excellent customization options.
However, BusyCal takes it to the next level as you customize all the events individually and use custom icons to navigate all your set events easily. You can also add custom reminders and alerts for your day and set how frequently you need to be notified about it.  However, it lacks the collaborative features and home screen integration that Fantastical comes with. You might also feel that BusyCal has a rather steep learning curve, especially in terms of advanced control.
RELATED: The New Fantastical for Smarter Scheduling
Fantastical is a much simpler and cleaner app in comparison. It helps you set events and upcoming tasks for the day with ease and can be used to set custom notifications and alerts for upcoming events. However, it has other features that make Fantastical readily available through the screen. The widgets and menu bar integration help make scheduling and collaborating faster and easier, but you would need to subscribe to the premium version of the app to take full advantage of it.
Winner – Fantastical (BusyCal if you need a simple Apple Calendar alternative)
BusyCal vs Fantastical: cross-platform sync
Syncing all your events through your devices can help you have a seamless experience managing your day across all your devices. It even helps minimize the clutter and have a uniform look across all your devices.
Both of the apps come with cross-platform sync and work seamlessly across all Apple devices.
You can also sync them with Google and Windows devices, and you won't have any problem managing your tasks, upcoming events and work calls from Microsoft Teams, Zoom or other apps with relative ease.
Winner – Draw (Depends on personal preference)
TL;DR – What should you choose?
Both the apps are great, but are built for separate use cases and individuals. BusyCal is a clean, easy-to-use app that is a great deal for light spenders. In contrast, Fantastical takes the opposite approach and integrates many collaborative and customization options with an expensive premium annual subscription plan.
Get the BusyCal app if:
You need in-depth control over all your events and tasks
You are a professional user and want an Apple Calendar replacement
You need an overall cheaper alternative with all the premium features
If you want customizable notifications and alerts for all upcoming events
Get the Fantastical app if:
You need a free app and don't want to subscribe to the premium version
You are a primary iPhone or iPad user and use your Apple Watch to check alerts quickly
If you need a simple and easy-to-use UI with customizable colors and personalization options
If you love having widgets and want a menu bar integrated calendar in your Mac
FAQs
Why do you need a calendar app?
You may wake up without any clues or ideas to get you through the day. However, you know what to do at a single glance through your phone, what events you have coming up, and who you should wish Happy Birthday to. This was just a basic scenario that every regular individual might face daily, and professionals take this to the next level, such as having clear agendas for the entire day and ensuring that they can manage their day most effectively and efficiently for their work and personal life.
Is BusyCal better than Apple calendar?
Yes, BusyCal is much better than Apple Calendar as it has many more professional features and can also be synced across all platforms. Apple Calendar is only limited to Apple devices, and BusyCal helps you expand your ecosystem of devices and brings in a lot more compatibility with different apps.
What is the best app for scheduling?
BusyCal and Fantastical are some of the best apps that you can use for scheduling. It has plenty of tools and customization options for scheduling everyday tasks, doing events, work calls, upcoming holidays, and birthdays with ease. However, it would help if you learned the scheduling tools a bit before going on and filling your calendar with all the events.
Is Fantastical safe?
Yes, Fantastical is entirely safe to use and free of bugs or malware. It is rated as one of the best calendar apps for iOS and macOS devices and has a clean, user-friendly UI that is highly rated by many users. Hence, you can rest assured that the app is safe and secure to use. However, it requires many permissions from a Mac, which is not the case with BusyCal.
Does Fantastical sync with Apple calendar?
Yes, Fantastical can sync with the Apple calendar and incorporate all your previously set events and tasks with a single click. You can also use all the other available calendars from Google or Windows to have a better cross-platform experience.
What makes for a good calendar app?
First, be sure to choose a calendar app intentionally designed to function as a calendar and an activity manager. Secondly, look for apps with a robust notification pane. Also, most calendar apps nowadays come with support for Voice assistants like Siri, Alexa or Google Assistant.
However, if your calendar cannot sync up and take commands with your voice, then it's time you start looking for a new one. Finally, good and easy-to-use UI placements may come in much more handy than any regular run-of-the-mill calendar app.
Final words
With everything covered, we hope you have gotten your app of choice.
However, if you are still confused, we recommend you get BusyCal if you're a primary Mac user and need a cleaner and more powerful Apple Calendar alternative. It offers maximum control over the multiple calendar services you may want to manage.
However, you should get Fantastical if you mainly use your iPhone or iPad to manage all your events and tasks and need a personalized option with widgets, color customization and a menu bar integration for your Mac.
* Readers like you help support TheSweetBits. When you buy something through the links in this article, we may get a small commission at no extra charge to you.