Best Chairs for Computer Programmers
Utilities   •  Oct. 9, 2023
Picture this: your workspace, your throne. Your chair isn't just furniture; it's your partner for those long coding marathons. It's the backbone of productivity, quite literally!
As you find yourself here, you're likely on the same mission – the quest for the best chair for programmers and software developers.
So, stick with us through this guide as we've carefully selected and compiled a list of top chairs perfectly suited for you in this new era of remote work.
RELATED: Best Keyboards for Programming and Coding
Best chairs for programming
We usually spend more than 10 hours working, which includes completing coding assignments and testing apps. When we were in the market for a chair, we had two key things in mind:
It needed to have an ergonomic and body-friendly design.
It should come from a reputable brand with good built-in quality.
Taking these requirements into consideration, we've narrowed down a list of chairs for programmers available on Amazon. You can explore them below, but keep in mind that the prices vary depending on the brand, quality, and features.
Ergonomic chairs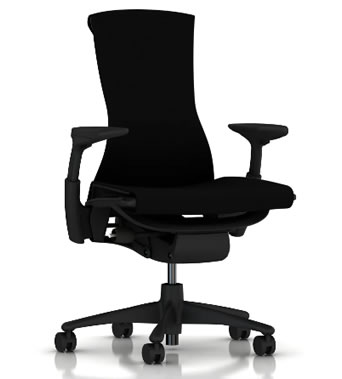 Pros:
Unmatched comfort for extended use
Highly customizable to accommodate various body types
Sturdy build ensures long-term durability
Exceptional lumbar support
Cons:
Comes with a premium price tag
Assembly can be challenging
The Herman Miller Embody isn't just a chair; it's an experience. Crafted with insights from medical professionals, it redefines comfort and productivity for software engineers. Every detail, from its adaptive pixelated support to its spine-like back design, screams premium quality.
While its price may give you pause, the unparalleled comfort and productivity it provides are worth every penny. Whether you're coding for hours on end or enduring back-to-back meetings, the Embody ensures you do it with optimal support.
While its unique design and multitude of features might seem daunting to assemble, clear instructions and a touch of patience can help you get it set up.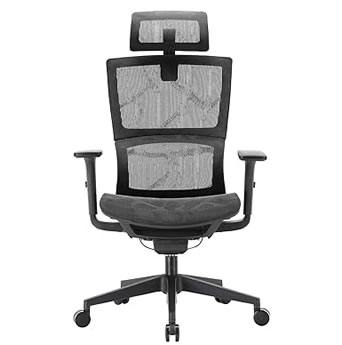 Pros:
Exceptional lumbar and head support
Highly adjustable for a customized fit
Breathable backrest for long work sessions
Solid build quality
Cons:
Some users may find the seat a bit stiff
Assembly instructions could be clearer
In the vast ocean of ergonomic chairs, the Sihoo stands out by striking a balance between affordability and comfort. Endorsed by the Ergonomic Applications Association, it promises a supportive and budget-friendly seating experience.
The Sihoo Ergonomic Office Chair isn't just a seat; it's a commitment to better posture and improved work sessions. While it may not boast the premium price tag of high-end chairs, it doesn't compromise on features.
With adjustable armrests, headrest, and lumbar support, you can ensure you're always comfortable, even during long hours of sitting. Its breathable backrest promotes airflow, ensuring you stay comfortable during extended work periods, making it an ideal chair for programmers.
Despite some room for improvement in seat material and assembly instructions, this chair is a reliable choice that won't break the bank or your back.
Budget-friendly chairs
3. Boss Chair: simple functionality on a budget
Pros:
Affordable price point
Straightforward design suits any office environment
Adjustable settings for personalized comfort
Cons:
Lacks some advanced ergonomic features of pricier models
No adjustable lumbar support, crucial for developers
The Boss Chair strikes a balance between simplicity and functionality. Designed for those who value straightforwardness without compromising comfort, it's a nice choice for developers and programmers who spend long hours at their desks.
While it may not boast cutting-edge ergonomic features, it delivers consistent comfort during extended coding sessions, thanks to its dense cushioning and ventilated mesh back.
Its unassuming design effortlessly blends into any workspace, making it an economical pick for many programmers.
4. Alera Elusion Chair: quality comfort without the premium price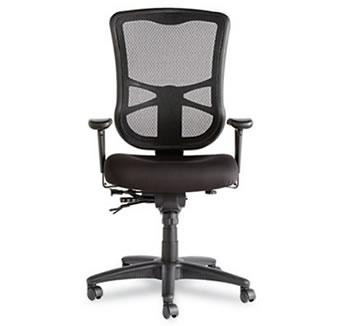 Pros:
Affordably priced without sacrificing quality
Contoured seat design for maximum comfort
Mesh back structure ensures consistent ventilation
Cons:
May lack some ergonomic features
Offers fewer customization options than high-end counterparts
The Alera Elusion Chair strikes a balance between budget-friendliness and ergonomic design, making it one of the most affordable office chairs for developers. It provides essential support and comfort without stretching your budget.
Similar to the Boss Task Chair, the Alera Elusion Chair emphasizes that premium quality doesn't always demand a premium price. Its comfort-focused seat design and breathable backrest create a relaxed and cool work environment, making it ideal for remote work setups.
While it may not offer all the features and customizations of more expensive chairs, its reliability and value are undeniable. For those on a budget who refuse to compromise on back support, the Alera Elusion Chair is a good choice.
Gaming & multi-functional chairs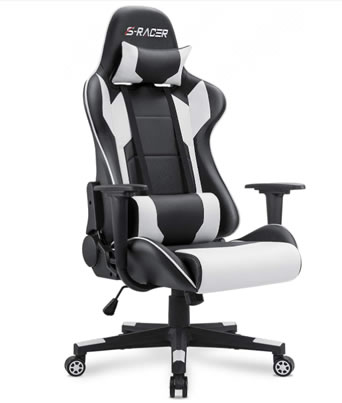 Pros:
Lightweight design
Seat tilt mechanism offers a 90-180° adjustment
Stylish aesthetics suitable for gaming and office setups
Cons:
May appear too flashy for traditional office environments
Cushioning could be improved
The Homall Gaming Office Chair isn't just for gamers; it caters to the needs of programmers, offering both comfort and style. With its seat tilt mechanism and sleek design, it's a chair that looks as good as it feels.
While it's marketed as a gaming chair, its features make it equally suitable for developers, programmers, and anyone who spends extended hours in front of a computer.
The adjustable tilt mechanism ensures you can find the perfect angle for long coding sessions. Its modern design adds a touch of sophistication to any workspace.
Despite its lightweight design, it doesn't compromise on comfort. Whether you're immersed in a gaming session or debugging complex code, the Homall Gaming Chair ensures you do it in comfort and style.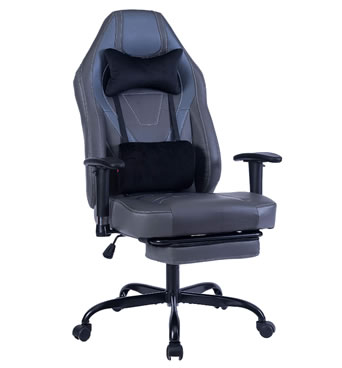 Pros:
Built-in footrest for enhanced relaxation
Premium foam padding for comfort
Adjustable recline for short respites, ideal for remote work
Cons:
Gaming-oriented design may not fit all office aesthetics
Requires more space due to its size
The BOSMILLER Gaming Chair goes beyond typical gaming seats; it's equally compatible with work, making it perfect for long hours at the computer. Equipped with a built-in footrest and luxurious padding, it ensures maximum comfort during intense gaming marathons or while coding complex algorithms.
Its standout feature, the built-in footrest, offers a relaxing retreat during brief breaks. The chair's premium foam padding guarantees a consistently cozy seating experience, and its adjustable recline is perfect for those moments when you need a quick escape.
Although its aesthetics lean towards gaming, the chair provides a high level of comfort that appeals to other professionals as well. If you're drawn to its design and have the space to accommodate it, the BOSMILLER Gaming Chair is a good choice for any tech enthusiast's setup.
Premium & high-end choices
Pros:
Advanced ergonomic design
Wide range of adjustability features
Durable and built to last
Cons:
Finding the perfect adjustments may take some time
The Steelcase Leap Task Chair seamlessly blends elegance and ergonomics. It's not just about looks; it's designed with the modern user in mind, offering a range of adjustments to ensure optimal comfort throughout the day.
This chair stands out with its sophisticated design and cutting-edge ergonomics. Recognizing that different occupations and individuals have unique requirements, it offers a wide range of adjustability features, allowing you to tailor the chair to your precise preferences.
Whether it's adjusting the seat depth, lumbar support, or armrest position, the Leap Task Chair has you covered. While it comes with a premium price tag, the investment is worth it, as it prioritizes your comfort and well-being.
Built with durability in mind, it's a chair that will serve you well for the long haul. For those who value both form and function, the Steelcase Leap Task Chair is a top contender.
8. Herman Miller Sayl Chair: artistic craftsmanship with tailored comfort
Pros:
Features the 3D Intelligent Back, Y-Tower, and ArcSpan
Crafted using eco-friendly materials and features a ventilated unframed back
Provides extensive adjustability and personalization options
Cons:
Premium functionalities come at a high price
The Herman Miller Sayl Chair isn't just about aesthetics; it's a meticulously crafted piece that incorporates an ergonomic design with an array of features for unparalleled comfort. It's an exceptional choice for a premium office chair for developers.
The Sayl Chair's standout feature is its 3D Intelligent Back, which adjusts to your movements, ensuring optimal support at all times. It also boasts the Y-Tower and ArcSpan, which not only give the chair its distinctive look but also provide essential structural support.
Other notable features include its breathable, unframed back, keeping you cool during long work sessions. With a wide range of adjustability options, from seat angle and depth adjustments to harmonic tilt and varying armrest heights, this chair adapts to you.
FAQs
Why do programmers need ergonomic chairs?
Ergonomic chairs support the natural curve of the spine, reducing the risk of back pain and promoting comfortable seating during prolonged coding sessions.
Which is the best computer chair for long hours?
While all do a great job by being comfortable, if you're extremely specific and want a chair ideal for long hours, we suggest the Sihoo Ergonomic Office Chair, Boss Task, Homall and Bosmiller Gaming Chair, and Herman Miller Sayl Chair.
What's the advantage of a chair with a breathable mesh back?
Chairs with mesh backs allow airflow, keeping programmers cool and preventing sweat buildup during long work periods, making them ideal for extended computer use.
Can programmers use gaming chairs?
Yes, many gaming chairs offer ergonomic features suitable for long hours, provided they have good lumbar support and adjustability.
Wrapping up
In this compilation, we've presented top chairs suitable for developers, software programmers, and working professionals, categorized by their features and affordability. For a more informed choice, consider trying the chair in person before purchasing online, as personal preferences may vary.
If you seek affordability, the Herman Miller Embody is a solid choice, while the Steelcase Leap Task Chair is an excellent option for those prioritizing comfort and professionalism.
* Readers like you help support TheSweetBits. When you buy something through the links in this article, we may get a small commission at no extra charge to you.