How to Backup iPhone without iCloud?
It is hard to imagine life without smartphones today. Smartphones are now essential for both personal and professional uses. And in your smartphone, be it an iPhone or an Android, there is your valuable data. And you must back up that data to save it from unexpected accidents where it can be a loss. Therefore, it is necessary to back up all your data and files on your computer or another storage device.
There are many reasons why you might want to back up your iPhone. If upgrading to a new iPhone, you'll probably want to transfer all your data, apps, settings logs, and other content. Perhaps you'll need to factory reset your iPhone and delete everything if you come across a situation where you need to do that.
Altogether, it's best to back up your iPhone regularly to avoid any loss due to accidents. Thankfully, there are several ways to back up your iPhone. In this guide, we'll walk you through the three best steps besides iCloud, so you can keep your valuable data safe and available to you at any time.
Why choose another backup method instead of iCloud?
There are a few reasons why you may want to use a different method to back up your data instead of iCloud:
Limited storage space: iCloud provides limited free storage space, and if you wish to back up significant amounts of data, you may have to pay for it. If you have a large amount of data to back up, you should explore another option with more storage capacity.
Slow backups: iCloud backups can be slower than other methods, especially if you need to back up a lot of data or if you're backing up over a slow internet connection.
Lack of control: iCloud backups are automatic and cannot be customized, so you may not have control over what data is backed up and when.
Security Concerns: Some people may be concerned about the security of their data when it is stored in the cloud and may prefer to use other methods of storing data on their local device or an external hard drive.
Compatibility issues: iCloud may not be compatible with all devices or operating systems. If you are using a device not supported by iCloud, you may need to use a different method for backing up your iPhone.
Ways to backup iPhone data without iCloud
iTunes/Finder
iMazing
Google Drive
1. iTunes/Finder
Did you know that you can back up your iPhone with iTunes? Yes, that's true; you can manually back up apps, contacts, messages, photos, etc., from your iPhone via iTunes and Finder.
And the method is simple; both require you to access your iPhone and make a few changes to the iOS file system. After that, you need to copy the data to a computer or another storage device.
It may take several hours to complete the entire process using this method, but again, the time depends upon the volume of data. Furthermore, it's advisable to back up all your data on one large storage device so that you don't run out of space while backing up individual apps.
Finder and iTunes will only create backups of your iPhone data and settings. They will not back up your media unless you have selected the option to do so in the iTunes Preferences. You can also choose to encrypt your backups to add an extra layer of security.
Now, on to the process: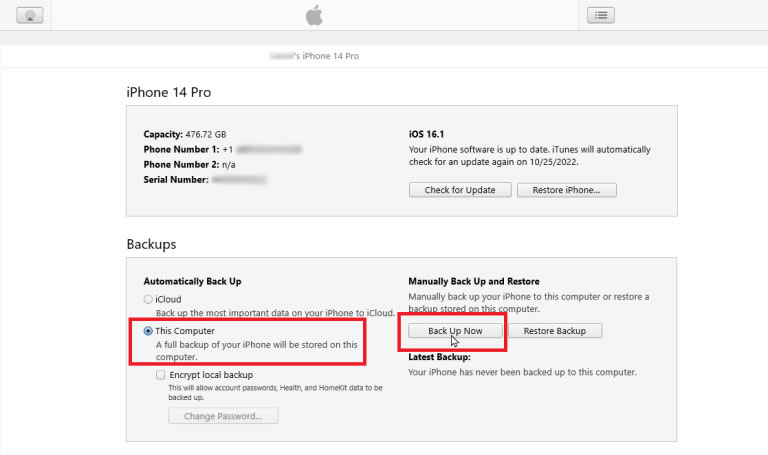 How to backup iPhone data via iTunes (Windows)
Step 1: First, install iTunes on your Mac or Windows PC
Step 2: Link your iPhone to the Mac/PC with a USB cable
Step 3: Tap the "iPhone" button in iTunes
Step 4: In the "Backups" section, click on "This Computer"
Step 5: If you want to encrypt the data, tick the "Encrypt local backup" box
Step 6: Select the "Back Up Now" option and wait for iTunes to back up your iPhone
How to back up iPhone data using Finder(Mac):
Step 1: Download and install Finder on your Mac
Step 2: Plug your iPhone into your Mac with a lightning cable
Step 3: Open Finder and click on your iPhone in the"Devices" section
Step 4: Click on the"Back Up Now" button
Step 5: Wait while the backup completes
2. iMazing
iMazing is an iPhone data management tool that aims to be a replacement for iTunes. iMazing is available on both Mac and PC; it does not sync files in the traditional sense but rather serves as a conduit to backup and transfer files between desktop computers, Mac, iPhone, and iPad.
iMazing is a more versatile version of iTunes without media purchasing or playing. iMazing also does many things that Apple's media player cannot, such as exporting iMessage conversations. With iMazing, you can store these massive files wherever you want and peruse archives with Time Machine-like ease.
When using iMazing, you can choose which data to include in the backup, such as specific types of files or individual app data. You can also choose to exclude certain types of data from the backup.
In addition to selective backups, iMazing also allows you to create full backups of your iPhone, which include all of the data on your device. You can choose to create a full backup of your iPhone using iMazing at any time, or you can set up automatic backups to occur regularly.
iMazing costs $40 for a single-user license, though multi-user licenses are also available.
How to backup iPhone data via iMazing
Step 1: Head to iMazing's website using this link
Step 2: From here, download the app; the website will detect your operating system automatically
Step 3: Install and run the downloaded file and click the "Next"
Step 4: Here, you'll have the option to back up various applications and files
Step 5: Select the files you want to back up and click on "Quick Transfer"
Step 6: Now choose the device you want to transfer your files to and click on "Export All Data" – and it's done
3. Google Drive
Who does not know about Google Drive? After all, it is probably the most popular cloud storage and backup app in the world. Google Drive for iPhone is not different than the web or Android version and offers the same file browser that lets you view, back up, and share documents stored in the cloud.
However, the types of files that you can backup using Google Drive are limited to:
Documents: Google Drive allows you to store and back up a variety of document types, including text documents, PDFs, spreadsheets, presentations, and more.
Photos and videos: You can use Google Drive to store and back up your photos and videos, including both individual files and entire albums.
Others: In addition to the types of files listed above, you can also use Google Drive to store and back your contracts, calendar events, and ZIP/RAR files.
Google Drive gives 15GB of free space, but you can purchase more space via premium plans.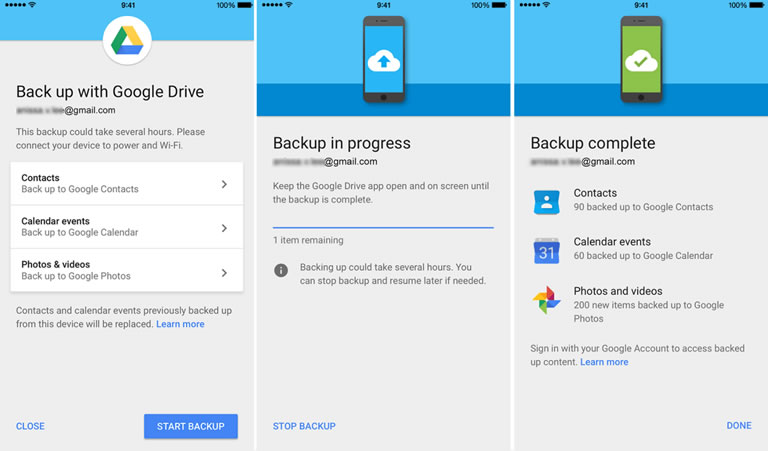 How to backup iPhone data via Google Drive
Step 1: First, install the Google Drive for iPhone app on your iPhone
Step 2: Boot the app and select the menu in the top left corner
Step 3: Tap the gear icon for Settings at the top and tap "Backup"
Step 4: Click on the "Start Backup"
Step 5: After this, Drive will begin its process of backing up your iPhone data
Things to keep in mind when backing up iPhone data
Backing up your iPhone data is critical and must be done with care. You must know everything about what you're doing, or else your precious data may get lost. When backing up your iPhone, keep the following in mind:
Make sure to connect your device to a trusted or already-tested computer or laptop. If your device is lost or stolen, you need to save a backup to a computer that you know it won't get lost.
Before backing up, ensure you have enough space on your device. If not, delete some apps and files or fluff data to make room for your backup files.
Remember to back up all your photos and videos if you decide to save them as well.
Conclusion
Losing your iPhone data would be unfortunate. To prevent that, we've covered three of the best methods you can use to create iPhone backups. With the help of these apps, you can now restore your backup data anytime. This will help you when you switch to a new Apple smartphone or something unforeseen happens and you lose some or all of your data.
We recommend backing up your iPhone regularly, in the cloud, or locally on your PC or Mac device.