How to Clear RAM On Your Mac Computer
Even if you are strange to computer terminology, you'd have heard about RAM. Random Access Memory, commonly known as RAM, is a core component that makes computers work. And your MacBook, iMac, Mac Pro, or Mac mini is no different.
However, seeing that you cannot upgrade your computer's RAM as easily as you upgrade storage or other hardware, you need to use it as a limited resource. It primarily means your OS and apps have enough RAM to function the best way.
So, you must think about clearing RAM on your Mac computer as and when. In this guide, we have covered everything you should know about clearing RAM on Mac computers. But, we think it is a good idea to discuss the basics of RAM first.
RELATED: Best Mac Cleaner Apps to Use In 2023
What is RAM?
As you know, a computer uses different types of memory, and Random Access Memory is one of them. It is a temporary memory where the Operating System and applications store data frequently needed for regular function. Because these transactions need to happen quickly, RAM is several times faster than your HDD or SSD.
As we said, every computer needs RAM to function, and this definition of a computer includes your iPad, Android smartphone, and even a smart TV. However, not all these devices come with the same amount of RAM. For instance, when computers have an average RAM capacity of 8GB to 16GB, smartphones and tablet PCs can work well with 4GB to 8GB of RAM.
Here is how RAM works on your Mac computer. When you boot up your Mac, the Operating System will be loaded first, and some core OS processes will use RAM. Then, as you open secondary apps, they would also continue using RAM. Then, when you close an app, the used RAM space will be redeemed. But, as we said, because most Mac computers have 8GB or 16GB of RAM, they tend to get packed.
With Apple Silicon chips like M1 and M2, Apple has changed how RAM works on Mac devices. It is now an integral part of what is called Unified Memory, which includes not only RAM but also other parts of Unified Memory Architecture. By pooling all these resources, M1/M2 Macs make it possible to distribute resources almost instantly. So, even if you have 8GB of unified memory on your Mac, it should perform better than a non-Apple Silicon Mac with 8GB of RAM.
But, unfortunately, your Mac can exhaust the maximum unified memory available when you run too many apps or processes. As a result, your Mac will become slower, and you will have trouble opening or using other apps. Even if you can load these apps, you should not expect maximum performance from them if your Mac runs out of free memory capacity.
And it can happen due to different reasons depending on how you use your Mac.
RELATED: M2 MacBook Air and MacBook Pro Overheating
Why is your Mac's memory full?
Multiple scenarios may cause your Mac's memory to get full. Here are some common ones.
It is probably the most common reason your Mac deals with RAM insufficiency. When you have too many apps open on your Mac, all of them will use RAM resources to function. Of course, the amount of RAM consumption may vary based on the app and how you use it. But if you have 10 or 20 apps running at a time, it probably is why RAM is full.
One of your apps is taking all the memory
Sometimes, a single app may cause Mac's memory to get packed. For instance, heavy-duty apps such as Final Cut Pro, Logic Pro X, and GarageBand do not hold back regarding RAM consumption. Alternatively, you may be using a RAM-hungry app like Google Chrome. It is also possible that an app you are using is misbehaving, causing the RAM usage to go high.
There are background processes running
An app does not always need an open window to consume RAM. So, if you have too many background tasks running on your Mac, it will face issues with available RAM. The problem is that you cannot understand these apps at first look. Most times, you need to explore the Activity Monitor to come across these apps and quit them.
You haven't restarted your Mac in a while
Your Mac is not supposed to work without breaks, primarily if you use many apps. Therefore, if you have not restarted your Mac in a while, you should not be surprised about the high RAM usage. It could be due to multiple apps running in the background, system junk, or cache.
Your Mac computer has malware
Contrary to popular opinion, Mac computers can also be infected by malware, including adware, spyware, and ransomware. Most of these threats will use your system resources, especially RAM, to carry out shady activities. So, if you have a malware-infected Mac, these malware apps may consume an extraordinarily high amount of RAM.
Updates are running in the background
High RAM usage on Mac can also happen when updates are running in the background. For instance, if you install a new macOS update, your system will need more RAM to set things up. So, expect to see a rise in RAM usage at that time.
We hope you now know why you have to clear RAM on your Mac and make things easier for the system.
How to clear RAM on Mac?
If you are here thinking about clearing RAM on your Mac, we believe your Mac is running slower. Therefore, we recommend following a series of solutions to clear the RAM on a Mac.
In case you do not know, macOS has no built-in function to clear RAM. And manually finding and quitting processes can be tricky and time-consuming. So, we use one of the trusted tools for Mac speed optimization: CleanMyMac X. Let's cut to the chase, then.
Use CleanMyMac X's Dashboard to Clear RAM In A Click
As we said, CleanMyMac X offers a quick way to clear RAM on your Mac computer. To use this feature, you have to open CleanMyMac X and go to the Maintenance section. There, you can find an option to free up RAM. Then, you can select the option and click Run.
In a second, CleanMyMac X will detect potential reasons for high RAM usage and clear them.
Check processes in Activity Monitor
You can always use the manual method if you do not want to use a tool like CleanMyMac X. However, doing so will require a lot of time and effort.
You can open Activity Monitor on your Mac using Spotlight Search. Then, go to the Memory section, where you can see statistics about RAM usage on the device. On the top, you can see a list of active processes and how much memory they consume. Then, on the bottom part, you get a quick overview of how much RAM is free.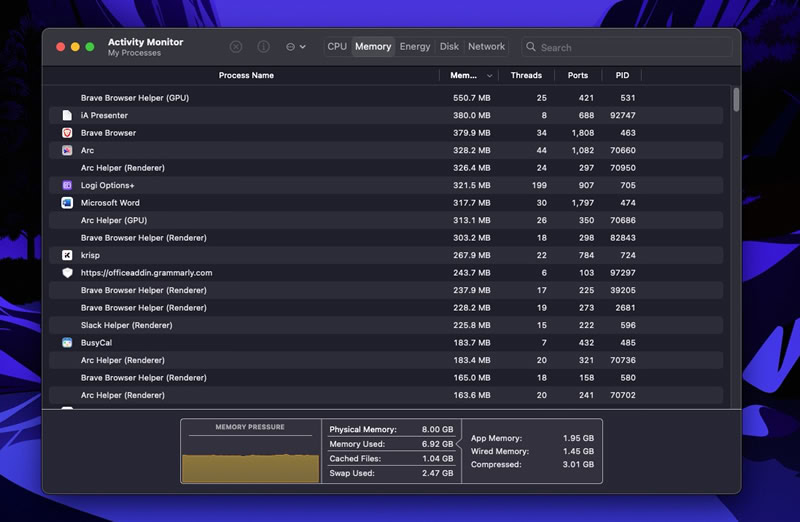 Once you have figured out the processes responsible for the slowdown, you can quit them. However, make sure that you do not stop any critical system processes. It may compromise the functioning of your Mac. By using a smart, automated tool, you can avoid this possibility.
Cache memory buildup is a common reason your Mac is running slow. Sometimes, cache files may use RAM resources to stay in the system. Therefore, it will be a good idea to clear the cache on your Mac. But, once again, manually doing it is almost impossible. So, you can use the System Junk section on CleanMyMac X.
First, open the System Junk section on CleanMyMac X and hit Scan. The app will show you a detailed list of junk files on your system in a few seconds. You can confidently remove all these files to ensure your Mac works at maximum speed.
But, if you simply want to remove the cache, you can select User Cache Files and System Cache Files. Then, you can hit the Clean button, and CleanMyMac X will do the rest. You can use this screen to understand which apps are creating cache files.
Potential malware on your Mac computer can also cause high RAM usage. So, it is a good idea to check for malware and remove them from your system. Again, CleanMyMac X will come in handy. To begin this task, you can open CleanMyMac X and go to the Malware Removal section.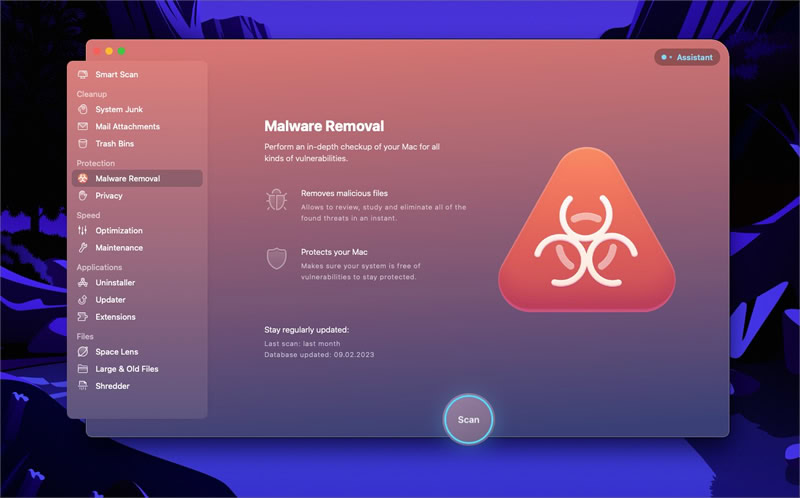 You can click Scan, and the malware removal utility of CleanMyMac X will scan the system for malicious files and apps. Depending on the size of the storage drive, the scan may take up to a few seconds or minutes. But you can instantly remove the file/app if CleanMyMac X comes across any malware on your Mac.
This module is a great way to keep your Mac secure even when it is not running slowly.
This step is a no-brainer. You can click the Apple menu > Restart to restart your Mac computer. You might have to confirm the action based on the settings.
When your Mac has restarted, it will not have active apps, meaning RAM will be cleared.
Problems with user-installed apps can also cause unrestricted use of RAM. To prevent this scenario, you can keep all your applications updated. However, if you have downloaded apps from different sources, updating all of them can be tricky.
Fortunately, you can use the Updater utility on CleanMyMac X to do this job. You can simply open this utility on CleanMyMac X > select all apps > hit update. The CleanMyMac X engine will find the latest versions of all apps and install them while you sit back and relax.
Uninstall apps you don't need
Uninstalling apps you no longer need can also improve the RAM situation on your Mac. You can use multiple methods to uninstall applications from your Mac.
You can go to the Application folder and delete applications from there
You can use the Storage Management utility on macOS to find the largest-sized apps and remove them in a single click.
But, if you need to remove all traces of an app, you can use a dedicated uninstaller app.
Regardless of the method, you must ensure that the app is not running. This way, you will cut down at least one way your Mac's memory is being used.
Prevent programs from running automatically
Sometimes, you do not want to uninstall apps that consume a lot of RAM. Instead, you can stop these apps from running automatically. To make this possible, you must disable the login items and launch agents. Even though macOS offers a feature, which you can access from System Preferences, it can be confusing.
So, our recommended method would be CleanMyMac X's Optimization section. You can use this section to view and manage login items and launch agents on your Mac. And you can get the job done in a second. As long as CleanMyMac X has system access, these apps will not bother you again.
Last but not least, you should ensure that a problematic macOS version is not causing the RAM usage issue on the device. So, if the methods mentioned above to clear RAM on your Mac do not help, you should update to the latest macOS version.
To update to the latest version, you can go to System Preferences > General > Software Update, and your Mac will do the rest.
RELATED: How to Clean Install macOS (Ventura, Monterey or Older)
FAQs
As we mentioned, M1 and M2 Macs are powered by what Apple calls Unified Memory, which packs super-fast storage that can be accessed by components across the system. So, while an M1 Mac might not come with VRAM as such, it can provide the necessary graphics performance. However, you can find a dedicated amount of VRAM on older Mac models.
How much RAM is enough for Mac?
While the amount varies depending on your usage, most people should be okay with 8GB of unified memory on their Mac devices. However, if you feel your workflow could use a boost, you can consider upgrading to 16GB of unified memory. You do not need more than 16GB of unified memory unless you use your Mac for hefty tasks like video editing, 3D rendering, or something even more complex.
Conclusion
We believe this guide helped you clear the RAM on your Mac and get it back to the best speed. But, as we said, clearing RAM is the first step in optimizing your system for the best performance. There are other apps you should use before upgrading RAM or moving to a more expensive Mac!
Read also: