How to Fix Slow Mac After macOS Sonoma Update
Tips • Updated on Sept. 26, 2023
A
fter a long time of waiting, macOS Sonoma is here. It is clear that all Mac users are excited to check out the
new features
Apple has baked. In particular, we believe you are stoked about the interactive widgets.
Here's the problem, though. Upgrading to the latest version of macOS is not always all the fun — especially if you have an older Mac. So, we understand if you are concerned about a slow mac after the macOS Sonoma update. If you had installed the Public Beta versions, you might have encountered these macOS Sonoma issues. In that case, we think it is not a surprise for you.
So, here is a guide to solving the potential slowdown issues you may face once you have upgraded to macOS Sonoma sometime this week. In short, you can make your MacBook, iMac, Mac Mini, or Mac Pro faster after an update.
RELATED: macOS Sonoma Vs Ventura – Performance, Features, and More
Before fixing
Before you get on to the fixes below, you can do a little troubleshooting first and get to the root of the issue. Also, you can make some smart choices to keep your data and device safe. So, the first thing you should be on the lookout for is the following:
Hardware Issues –  If your device has problems with the SSDs or heating issues that cause the performance to drop rapidly, we recommend you take it to an Apple Store to get regular maintenance done. It is not something you would be able to fix on your own or with software. Hence, taking it to someone who knows what they're doing is the best possible solution.
Software Problems – The next thing you should be looking for is whether an app or some other software is the central cause of the slowdowns. Is an incompatible app bugging your system, or is macOS having problems or bugs with its features? If this is the case, you should read below to check out all the best possible fixes on the market.
Create a Backup – After identifying the main issue, you can fix the problem with the solutions below. But, before you do that, you should always make a backup, so if something goes wrong, you can just use the backup and restore your device to its original condition. You can make a backup by logging into Time Machine Settings, where you can configure and schedule backups.
It is also important to keep your Mac in the recommended environment. For instance, your Mac will surely throttle its performance if the ambient temperature is way too high. Therefore, before you put the blame on the new macOS Sonoma upgrade, check whether your Mac does not suffer from typical heat issues.
Quick and easy fixes for a slow Mac
Now that you have identified the problem and made a backup for extra security, we can check these easy and quick solutions to improve your Mac's performance.
1. macOS slow right after an update
If this is the case for you and your Mac is feeling slow right after you completed the installation and updated the OS, the best and quickest fix you can try is to restart your Mac. Most apps and services can keep running and start hogging up all the resources, leading to slowdowns and lag. So try the following:
Click on the Apple button and bring up the drop-down box
Now, click the "Restart" button and let your device restart.
Note: You can hold the power button for a few seconds for a hard restart. However, if the restart does not solve the problem, you can always look at the following fixes below.
2. Use Activity Monitor to kill apps and background tasks
The following fix is not as easy as the first one, but it does help when you need that extra bit of performance. Most apps run in the background for better access but take a lot of RAM and CPU usage. This can slow down your computer, especially if you have an old Mac.
For instance, if you're not using the latest and greatest M1/M2 Mac, expect to see some lags.
The system monitoring solution is quite adequate, and you can do this by:
Head on to your Applications folder and then to Utilities
Next, double-click on "Activity Monitor" to get it running
After your screen looks something like the screenshot above, go to the CPU tab. Here you will see a list of running applications in the background, and click on any that you want to kill.
Finally, select all the apps you want to kill and click on the "X" button to kill the apps and free up some extra performance. You can also kill any misbehaving apps that take up too much performance.
Note: You can also access "Activity Monitor" through Spotlight. Press Command + Spacebar, type in "Activity Monitor", and hit the Return key. You can check the percentage of CPU/Memory an app uses, and if something looks unnatural such as 60% use, kill it to increase performance.
RELATED: In Depth Guide to Mac Activity Monitor
3. Disable Stage Manager
We know Stage Manager is one of the best features Apple has added to macOS recently. However, Apple is open about the fact that Stage Manager takes up a lot of resources. Therefore, if you do not mind navigating around macOS as you used to before, you can turn off Stage Manager.
To turn off the Stage Manager,
Open System Settings and choose Desktop & Dock
Now, choose the Stage Manager section and toggle it
That's it. You have turned off the Stage Manager. Now, you should find that your Mac is a little faster.
4. Check storage space
Another critical issue that can slow your Mac after an update is the storage space available on the drive. Because Apple packs new features, a new macOS version will use more storage space.
As you can see from the screenshot below, only 30GB of total storage space is left. As a result, the system is experiencing some random errors and lags.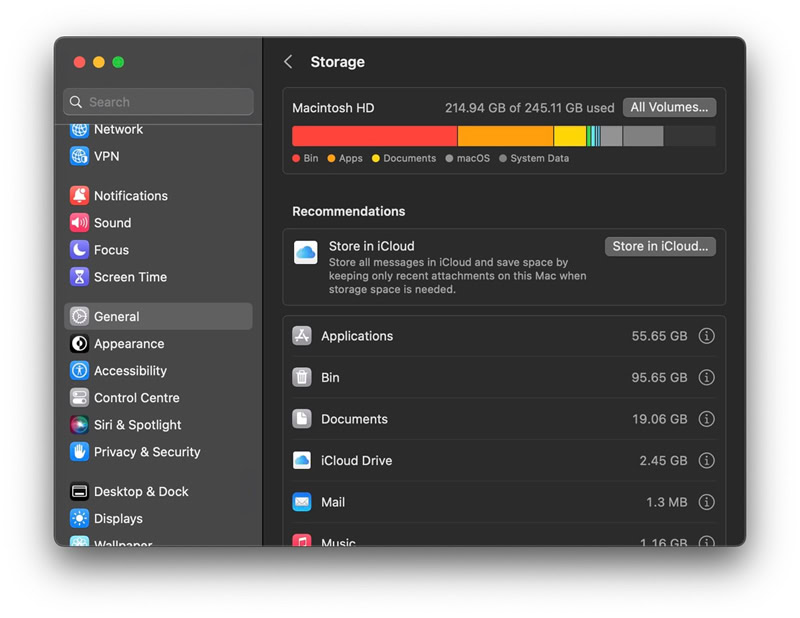 If you have the same problem, we recommend you get rid of unnecessary system files by using a 3rd-party Mac cleaner tool or get an external drive to store some of the data. The minimum amount of free storage should be somewhere in the neighborhood of 60-70GB of free space for smooth and seamless operation. You can check your Mac's storage by:
Click on the Apple Menu icon on the top left and then on the "About this Mac" button
Now select the "Storage" tab, and you will be greeted with a pop-up panel similar to the screenshot above
Note: You can also click the "Manage" button and use the "Optimized Storage" option Apple provides to clear your Mac of unwanted junk files.
5. Update to the latest build
macOS Sonoma is just out and there are many bugs you must deal with. Not to mention all the performance hits you can expect with lags and stutters. So, constantly update the version with new builds and the stable version when Apple releases it. You can check for possible updates by:
Click on the Apple icon in the top left corner and select "System Preferences" from the list
Now, choose "Software Update" and let it check for available updates
If you see something like the screenshot above, then click on the "Software Update…" button
This will start the update process, and once that is completed, you will be greeted with the latest build
Note: You can expect more performance and better optimization as Apple is still working with the new OS. Increasing performance and decreasing the required power will help improve the overall experience with all their compatible devices.
6. Update your apps
Does your updated Mac become slower when you launch a particular app? It could be that the app has not been optimized for macOS Sonoma. Even though most developers roll out their updates during the macOS beta period, some might be delayed.
Therefore, you must ensure that you have updated all the apps on your Mac. You can do it different ways.
To update all the apps you have installed from the Mac App Store, you can use the 'Update All' button that you can find on MAS. It will download the latest version from the developers.
For third-party apps, you can use a dedicated app updater utility. For instance, the Updater utility that comes in the Macpaw CleanMyMac X package will do the job. It will download the latest version of third-party apps from their official website and make things easy.
Alternatively, you can use Homebrew to install and manage the many apps on your Mac.
7. Remove unnecessary login items/startup apps
Start-up apps are helpful, but they take up a lot of performance. If you can live with starting apps yourself every time you boot into the OS and don't need them to launch automatically, you can disable those to get that extra bit of performance and have faster booting times.
Doing so will also fix your slow Mac and improve your experience with macOS Sonoma. You can remove the startup apps by:
Head on to "System Preferences" by clicking on the Apple icon and selecting the respective tab
Next, click on "Users and Groups", select your User, and finally, on the "Login Items" tab
Now, you'll be able to see a list of startup apps, as shown in the screenshot above, and you can simply remove those by selecting an app and clicking on the "-" button
Note: You can add startup apps by clicking on the "+" button and selecting an app. However, remove all the apps from the startup list if you want the best performance.
8. Clear cache
The term cache is something that most of you must be familiar with. Most people have heard the word for their phones, but the cache is also a big part of macOS. This is usually used to speed up processes and apps by storing some app data in the cache.
Still, the system's overall performance can gradually decrease if the files exceed a lot of storage.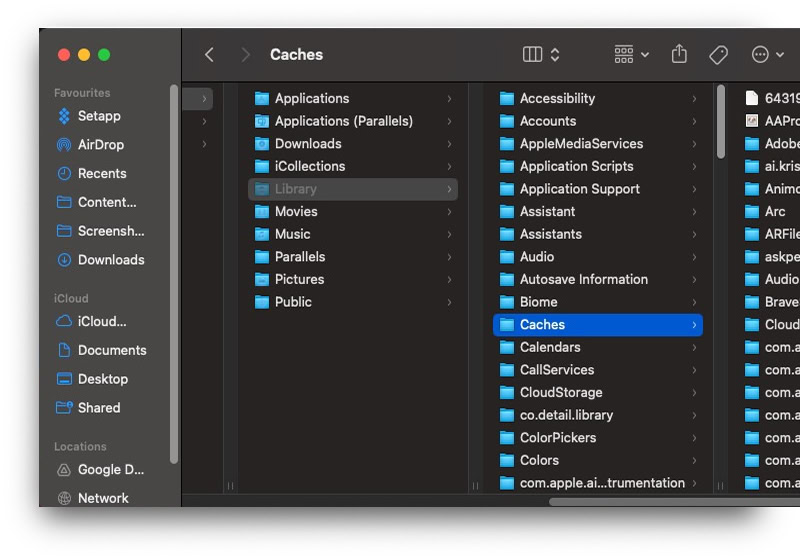 There are three types of cache used by macOS: System Cache, Browser Cache, and User Cache. We do not recommend you delete System Cache as it messes with the applications, but you can go ahead and delete the browser cache to free up memory and improve performance. To do so:
Go to Finder and click on "Go", and choose the "Go to Folder" option
Now, enter the following path ~/Library/Caches and hit enter
Next, you will be greeted with the folders as shown in the screenshot above, and all you have to do is select the cache files and delete them.
Note: Remember not to mess with any system cache files, as it can bring many bugs and issues, which will worsen your experience. Oh, and don't delete the folders, just the files, and you can head on to Chrome or Safari's settings to clear the browser cache.
You could also rely on a dedicated Mac optimizer software – with the right expectations to quickly detox the unwanted caches from the operating system. For example, the System Junk module in CleanMyMac X allows you to easily remove temporary files, outdated caches, and application residue.
9. Clean up your cluttered home screen
This fix is quite simple. All you need to do is remove clutter from your home screen. Apps and Widgets can take up a lot of performance if you're not careful, so go ahead and remove all the unnecessary app icons and widgets from your home screen and keep it clean.
The result should look something like the screenshot below.
Finally, after removing all the clutter, bring in all the apps you use regularly and add those to the home screen for quick access. However, remember to keep it minimal and don't clutter your home screen again.
RELATED: Best Mac Apps to Clean & Organize Your Desktop
10. Reduce transparency and motion
The transparency and motion visual effects are pretty to look at and make the macOS experience much better. However, they take up some resources that can be used for other apps and make your laptop much faster.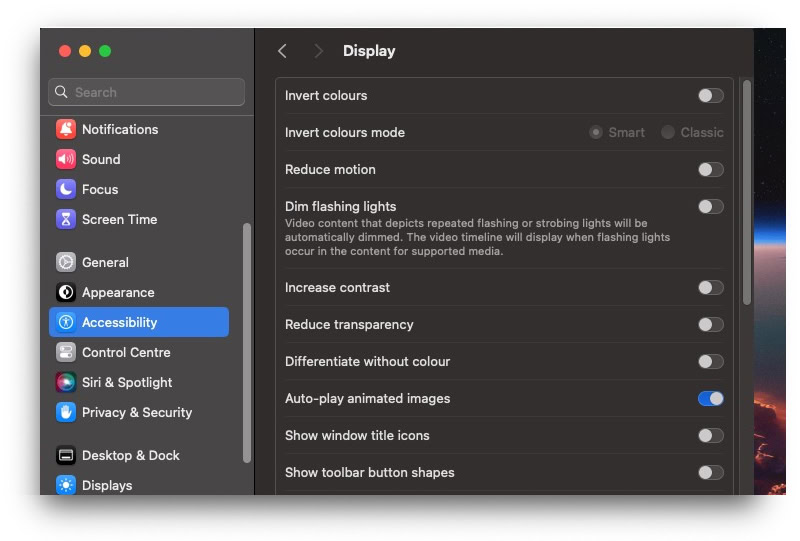 Hence, one way to make your apps run more quickly and your experience seamless is by disabling the Reduce Motion and Reduce Transparency options. You may want to try this option if you want to upgrade a really old Mac to macOS Sonoma.
So, by giving up fancy animations and transparency, you can get better performance. It is a useful solution if you have an older Mac.
You can do this by:
Click on the "Apple" button on the top left corner of the screen and select the "System Preferences" option
Next, choose "Accessibility" and then "Display", as shown in the screenshot above
Finally, check the Reduce Motion and Reduce Transparency checkboxes and close the Accessibility panel
Note: This will remove all transparency and motion animations which may feel a little weird initially, but you should get used to it reasonably soon. Hence, the result uses fewer system resources as there are fewer things to render, which often makes your Mac faster.
11. Reset SMC/NVRAM
If nothing else has worked for you and you are still looking for a fix, you should try this.
Resetting SMC and NVRAM is not something you should often do, as it is one of the most crucial components of your device. All new Macs run on NVRAM or Non-Volatile RAM and are maintained by an SMC or System Management Controller.
This help manages everything from power delivery to the fans and is an integral part of your device. So, only do this if nothing is working and you are comfortable with the process. Then, you can follow the instructions below to reset SMC and NVRAM for your device.
Reset SMC for MacBook Air, MacBook Pro, or MacBook:
Turn off your MacBook and remove the charging cable if attached
Wait for 15 to 20 seconds and plug the charging cable back in
Now turn your MacBook around by holding the left shift + Option + Control and Power keys for at least 10 seconds and release the keys as soon as your MacBook turns on
Reset SMC for iMac, Mac Pro, or Mac Mini:
Turn off your Mac and remove the power cord from the back of the device
Wait for at least 15 to 20 seconds and plug the power cable back in
Finally, wait for another 5 seconds and power on your Mac as you usually would.
Reset NVRAM (works for PRAM as well):
Turn off your MacBook or Mac and wait for around 30 to 50 seconds
Now, Turn on your Mac or MacBook by holding down the Option + Command + P and R keys simultaneously until your device restarts, and you hear a beeping sound
Note: Do follow the steps listed and don't make a mistake, as you can boot into recovery mode, which can be an issue if you don't know what you are doing.
12. Revert to macOS Ventura or clean install macOS Sonoma
The final option to improve your device performance is to either entirely revert to macOS Ventura or Monterey or do a fresh and clean install for macOS Sonoma. This will help clean your device thoroughly, and you can do this by:
Revert back to Ventura:
Firstly, restart your device and hold down the Shift + Option + Command and R keys
Next, from the "Recovery Mode" click on the "Reinstall macOS Ventura" button.
Now, you can follow the steps and downgrade macOS back to Ventura.
Clean install macOS Sonoma:
Once you're back in Big Sur, go to the "System Preferences" panel and select "Software Update".
You will be able to see the Sonoma update there
Finally, click on "Update…" and let it do a clean install on your Mac
Note: This process will erase all your data, so make a backup before proceeding with the above steps.
Finally, if nothing worked for you and even reinstalling Ventura with a clean install didn't solve the issue, you are left with two other options. These fixes can take days and money, so make sure you are ready. So, the solutions are:
Take it to an Apple Store – Taking your Mac to an Apple store will ensure you receive the best fix for your device. The Store can check for any hardware and software issues and remove any problems or replace faulty parts. However, do note that it can cost you some money and time. Therefore, we recommend this method only as a last resort.
Get a cleaning service – If your Mac is facing issues with heat and is lagging due to the CPU being throttled down, you can take it to a cleaning service and get it cleaned out. The fans gather dust and get clogged up, which raises the internal temperature. So, if you have an older model, it can seriously hamper your device's performance.
FAQs
Why is my Mac slow after Sonoma update?
Updating your Mac to the latest macOS Sonoma build can slow down the performance, it's likely due to increased demands on your Mac's CPU and GPU. The additional resources required to support new features and enhancements in Sonoma can strain your Mac, causing performance issues. Consequently, some Macs capable of running Ventura may not meet the requirements for Sonoma.
Should I clear the cache on my Mac?
Generally, No, but if your Mac is experiencing a lot of lag and performance issues, you can clear your cache to help improve the device's overall responsiveness. However, removing all the files is not the way to go, and we suggest you only clear the browser or junk data cache so as not to bring compatibility issues with the system or the apps.
How do you reset the PRAM on a Mac?
Resetting PRAM can be challenging, but it is the same process as clearing your NVRAM. You can either follow the detailed steps above or use this quick and easy process:
Turn off your device and wait for 30 seconds. Now, turn on your device and hold down the following keys, Option + Command + P and R, until you hear a beeping sound.
Note: If you boot back to the macOS Ventura or Monterey home screen, you have successfully reset the PRAM.
Final words
It can feel challenging to fix lags and performance issues, but if you follow the steps and fixes stated in the guide, you can be sure that you'll end up with a fast and smooth device. With that said, we expect that the guide helped you get the performance back in your life.
Read also