How to Restore WhatsApp from Google Drive to iPhone
Are you ditching your trusty Android for a shiny new iPhone? No worries, we've got you covered. Even though you're switching teams, you can still bring all your WhatsApp files from your Google Drive backup.
Individuals who change from Android to iPhone frequently depend on the apps to handle their data automatically and efficiently. For instance, by logging in with the same account on an iPhone, the same account information that is displayed on an Android device would appear.
However, in the case of WhatsApp, transferring data from a Google Drive backup can be a bit more complicated. That is because WhatsApp uses Google Drive to store its backups on Android devices, but it uses iCloud to store backups on iPhones.
The iOS version is all about that iCloud life, while the Android version is all about that Google Drive life. Unfortunately, you can't just transfer your Google Drive backup straight into the iOS version.
It's like trying to fit a square peg in a round hole. And even if you did have Google Drive on your iPhone, and even if WhatsApp did use Google Drive on iOS, the encryption protocols would probably just give you a headache.
As a solution to this widespread problem among iOS users, MobileTrans (read our full review) is something worth considering. Here is how you can transfer WhatsApp from Google Drive to iPhone using MobileTrans.
RELATED: 7 Best WhatsApp Transfer Software 
How to transfer WhatsApp from Google Drive to iPhone using MobileTrans
Step 1: First things first, let's make sure you've got the essentials: a Google Drive account, the WhatsApp app on your Android device, and the MobileTrans app on your computer. If you're missing any of these, go ahead and download/sign up for them.
Step 2: Fire up MobileTrans on your computer and select "WhatsApp Transfer" from the available options.
Step 3: Connect your Android device to your computer using a USB cable. MobileTrans will recognize your device and display it on the screen.
Step 4: Once your device is recognized, select "Transfer WhatsApp messages" and then "From Android to iPhone"
Step 5: This is where Google Drive comes into play. Select "Google Drive" as the backup source and login into your Google Drive account.
Step 6: Select the WhatsApp backup file you want to restore on your iPhone and click "Start Transfer."
Step 7: Sit back, relax, and let MobileTrans do its magic. It may take a few minutes for the transfer to complete, depending on the size of the backup file.
Step 8: Once the transfer is complete, you can disconnect your Android device and connect your iPhone to your computer.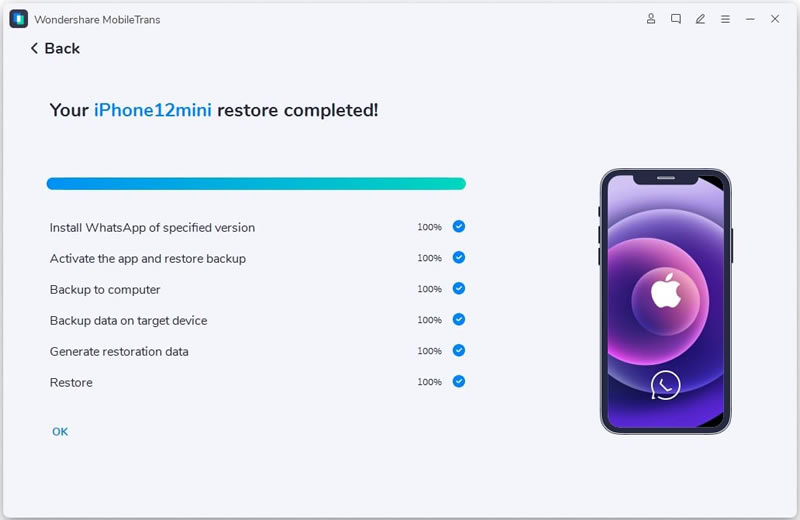 Step 9: Open WhatsApp on your iPhone and verify your phone number.
Step 10: WhatsApp will detect the backup file and ask you if you want to restore it. Select "Restore" and voila! Your WhatsApp chats and media will be back on your iPhone.
As you can see, transferring WhatsApp from Google Drive to iPhone using MobileTrans is a breeze. Just make sure you have all the necessary tools, and you'll be chatting with your friends and family on your new iPhone in no time.
How does MobileTrans work?
MobileTrans is your one-stop shop for all your mobile data needs. This handy software makes it a breeze to transfer WhatsApp data, contacts, text messages, photos, and more between iPhones, Android mobiles, Windows PC, and Macs.
MobileTrans isn't just a one-trick pony. It also allows you to back up your mobile data and restore it to a new device from Google Drive, iCloud, etc. Plus, it even supports transferring data between different operating systems, so you can say goodbye to the headaches caused by switching from iOS to Android (or vice versa).
MobileTrans is superior to other options because it offers a range of device and platform compatibility, including iOS, Android, and Symbian. It also has the ability to selectively transfer data, and the capability to create and restore backups. Additionally, it ensures that there is no loss of data quality during the transfer process.
Furthermore, it's super user-friendly, so even if you're not a tech whiz, you'll be able to navigate it with ease. It's also very safe and secure, so you don't have to worry about any of your personal information getting into the wrong hands. In short, MobileTrans is the ultimate tool for anyone looking to make a smooth transition to a new phone.
The price of the software varies depending on the license type and the number of devices it will be used on. A one-time software purchase for one device starts at $39.95, while a license for three devices starts at $49.95. This makes it affordable for individuals who only need to transfer data on one device, but also offers a cost-effective option for those who need to share data on multiple devices.
For businesses, MobileTrans also offers a business license option that allows for the transfer of data on multiple devices. This is ideal for organizations that need to manage data across multiple devices, such as for employees or team members. The business license option also includes dedicated technical support and a higher volume discount.
MobileTrans is available for Win 11/10/8/7/Vista/XP and for Mac OSX 10.8 – 10.15. You may download a free trial today and experience the convenience of seamless restoration.
Additional tips to backup and restore WhatsApp data
Here are some additional resources and tips to help you backup and restore your WhatsApp data.
Firstly, it is recommended to regularly back up your WhatsApp chats to Google Drive. This can be done by going to WhatsApp Settings > Chats > Chat Backup. You can also set up automatic backups on a daily, weekly, or monthly basis.
If you are looking for alternatives to WhatsApp backup, you can use third-party apps such as Backup Text for WhatsApp or WhatsApp Backup & Restore. These apps allow you to back up your WhatsApp data to your phone's internal storage or a cloud service like Dropbox.
In terms of safety measures for WhatsApp data, it is important to remember to use a strong password for your Google Drive account. Additionally, be cautious of third-party apps that claim to back up or restore your WhatsApp data as they may compromise the security of your personal information.
Read also: