The Best Music Management Software for Windows (Free + Premium)
Entertainment   •  Updated on March.23 2022
The way we listen to our music has changed a lot in the last two decades. From cassette tapes to music CDs to the iPod and now to our smartphones. The music we have been listening to has been through many different notable changes.
Today, we have services like Spotify that let us stream our music of choice over the internet to our smartphones and computers. But a lot of people still have their music files on their computers and smartphones. Managing the music you have on your computer or any other storage device might get a bit painful due to all the genres and albums that get everything mixed up.
To help you with this, you can get music management software tools. You can use these apps to eliminate all your woes, like cataloging your music, syncing them between your devices, and more. They also bring a suite of different music management features that will help you manage your music files in a better way.
Suggested Read: The Best Sound Equalizers for Windows and Mac
Who should get a music manager?
Before we move any further with the review, we need to understand who needs a music management app.
A music management app is for those who have a large media library. In this case, they need something to manage and catalog all these files in an organized manner. A program like a music manager has several features over a simple music player program.
A great music manager can do a lot of things such as tagging, editing, downloading proper album arts for your music albums and files automatically, and a lot more. A simple music player is limited to what it is made for, but music management apps are built from scratch by keeping the handling of a large number of media files in mind.
So, people who have a large number of music files that need proper cataloging, tag editing, and managing can use a complete media library management software to do all this.
What to look for in a music organizer?
The need for a music organizer app has already been established above, but the real question is, what features should you look for in a music manager app?
A music management app should first have the ability to recognize and accept various kinds of music file formats. The most common file formats like MP3 or AAC are accepted by many programs on the market. But in order to become a good music management software, the program should be able to expand the type of files it can recognize and work with.
It should also be able to automatically identify the music files and fill up the missing info like artist name, etc. A manual tag editor should also be present in case the user wants to add some information on their own.
Other essential features include being able to manage playlists, updating the library automatically, syncing with platforms like Android and iOS, and more.
We kept these features in the requirements while looking for the best music management software out there. So, here are a few options that we think are the best in class for all your music management needs.
Free options
MusicBee is a music player software that offers the best possible experience for free. The best part about MusicBee is the beautiful and easy interface to understand. Things look clean and clear, and it is a great beginner app.
MusicBee is more than just music playback. Aside from playing popular music formats it supports automatic tagging, music management, CD ripping, automatic playlists, music conversions, audiobook and podcast support, and more. If you are looking at something that is close to premium music management apps in terms of functionality, then MusicBee is something you should go for. It doesn't list compatibility with Windows 11, but I have installed and used it comfortably on a Windows 11 PC.
Here is a list of tools that you get with MusicBee:
Easy customization with beautiful skins
Groove Music Support
fm, CD Ripping, and Tagging
Easy Sync with Android phones
If you love the ancient Windows green-gray aesthetic, then you'll surely love using Song Director. It has a slightly old-school interface, but that does not mean that this manager is less effective than any others. I do enjoy going back to it sometimes as it offers me an interesting perspective on how technology has changed in just a few years.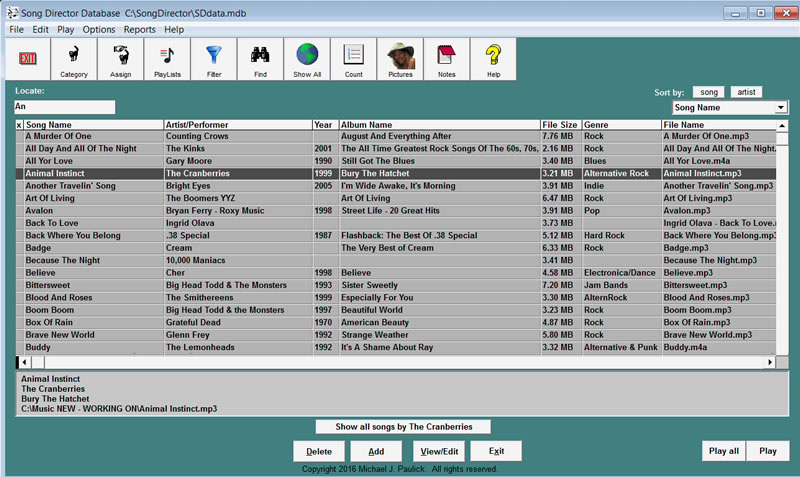 You can use Song Director for free, and it is probably the fastest at scanning through hundreds of music files. You can run most file formats on it, and it also offers a lot of premium features such as:
Easy music integration
Multi-layer filters
Fast assigning and categorizing
View information about Songs
Copy, rename, and move music files easily
Strawberry helps you play and organize music on your new Windows 11 machine with ease. It aims to offer music collectors and audiophiles an unforgettable music management experience. With Strawberry, you will be able to play all your favorite songs and manage your digital music collection and favorite podcasts.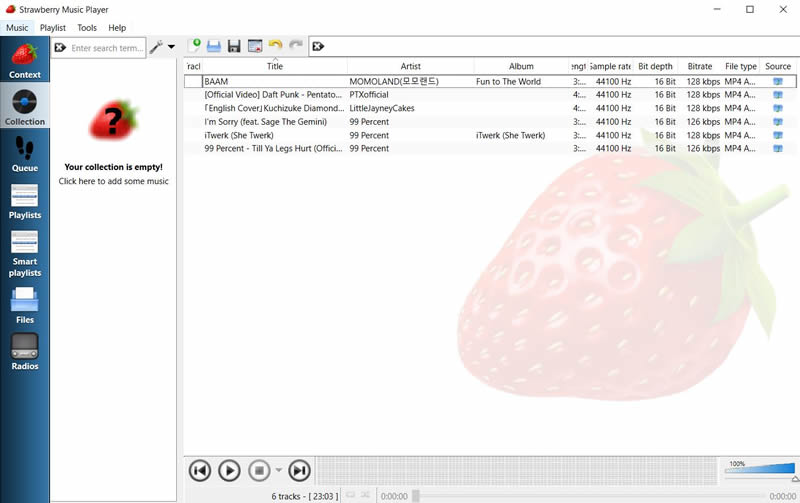 It also comes with unofficial support for Tidal and Qobuz. You can use it for free, and it is compatible with all major operating systems. Here are a few key features that Strawberry offers:
Supports WAV, FLAC, TrueAudio, AIFF, MP4, MP3, and more
Native desktop notifications
Playlist management and playlists in multiple formats
Smart, dynamic playlists
Advanced audio output
Need a clean, easy-to-use, and beginner-friendly music manager app, then MusicBrainz Picard is the app you need. It has all the features that most premium music managers come with, and it also has a modern aesthetic that most people would prefer.
You can use Picard to look up old music CDs, create clusters, play music, and categorize it for maximum effectiveness. Here are a few key points that you should know of before you download MusicBrainz Picard:
Easy categorization and clustering
Quick lookups on the internet
Scan for missing album art, lyrics, and more
To be really honest, I don't recommend using Windows Media Player just because it's old and has been replaced by Groove. However, if you still dig the aesthetic and are comfortable using it, then all the power to you.
There's not much that Windows Media Player really delivers. But, it offers a stable user experience with a clean UI that is appreciated by many. Not to mention, it comes pre-installed on your PC. So, you won't even need a browser to install it.
Here are a few of the features that might get you to use Windows Media Player:
Supports MOV, Xvid, AVI, DivX, WMV, WMA, AAC, and 3GP file formats
It is pre-installed on most Windows devices
It has a clean and straightforward UI
Allows you to make custom playlists and albums
Premium options
MusicZen is created especially by keeping music management in mind. It does not have a built-in media player and is a pure music organization app. MusicZen comes in 2 different versions – a free version and an advanced version. The advanced version brings some extra features that help you have a better management experience.
You get all the basic music management and organization features with MusicZen. Keep in mind that MusicZen only works with MP3 files. Here are all the features that you can expect from it:
Reconstructing music folders and directories
Renaming music files
Easy album management
Filters such as years and genres
Pricing
You can install MusicZen on Windows, and it comes with 3 different plans. A free version, a pro version for $12, and a lifetime pro version for $18.
Pros
Easy music management
Nice and straightforward UI
Integration of tags and all album files
Cons
It only works with MP3 files
It doesn't include tools such as disc burning or instant internet lookup
Aimersoft iMusic is an all-in-one music manager that helps you manage, transfer, download, and record music the way you want. The interface is simple, and it quickly scans through your PC to find all your music.
iMusic is specifically designed to work with iOS devices and iTunes. However, it supports Android and Windows too. It also has a toolbox that is filled with features. This makes it one of the best apps to help you manage your music on your PC.
Here are the tools that you can use with iMusic:
Remove DRM and convert downloaded M4P files to MP3 format
1 click to transfer to enjoy music in a car
It helps youburn downloaded songs and playlists to CDs
Stream and play music you have on iMusic.
Pricing
You can use iMusic on your Mac or Windows machine, and it has three different pricing plans:
1-Year Licence – $39.95
Lifetime License – $59.95
Family License – $149.88
Pros
Amazing music downloader
Easy conversion process
Fast transfers from iOS or Android devices
Cons
MediaMonkey comes with all the essential features that a music management software should have. You can manage up to 100,000+ music files with the program. The software also supports video and audio files like podcasts and more.
The Gold/Premium version has significant advantages over the free version, and you can have different add-ons in MediaMonkey to make the experience even better. The Gold version automates a lot of things like organizing the files, downloading album arts, and more.
Here are a few tools that you can use with MediaMonkey:
Library Management
Automatic Tagging
Auto-Conversion while Syncing
Professional-quality CD Ripping & Burning
Catalog your physical CDs
Pricing
MediaMonkey is available on Windows and Android. You can use it for free with the free 'Standard version' or upgrade to premium with the 'Gold version' that comes with 2 different pricing options:
Version 5 Gold – $24.95
Lifetime Gold version – $49.95
Pros
Powerful & works like a charm
Auto-tagging and auto-conversion are the best features
Flexible with add-ons to improve functionality
Can work with all kinds of media file types and file formats
It can be used to sync Android devices
Cons
A very complex design that can lead new users to struggle
Only available for Windows and Android
Imploded Helium is an interesting piece of software. It is a standalone music management app that has all the essentials that a good music manager needs. It also works with either Windows Media Player or iTunes to scan all your music immediately.
The functions that you get with it are exactly the same as MediaMonkey, but it also is much more "cluttered" than other media managers. You can use all the basic processes to add missing album art, clean unwanted files, organize your music collection, and a lot more. Here are a few functions that you can use with Imploded Helium:
Use Android or iOS devices as a remote
It also has a converter that can help you convert music files to many different formats
Get instant access to your entire music collection, on any device
Web radio channel support
Support for external applications
Pricing
Helium runs on Windows versions 7 and up. It comes with a free version that you can use for basic media management, but if you want the full premium experience, then you would need to upgrade to the premium version for $39.
Pros
Multiple pro tools to manage your music
Support for Android and iOS devices
Converter to convert music to different formats
Cons
Looking for a clean, beginner-friendly, powerful music management app? Well, TidyTag is the app you should be looking at. It is the best metadata editor on the list and helps you edit your music library the way you want to.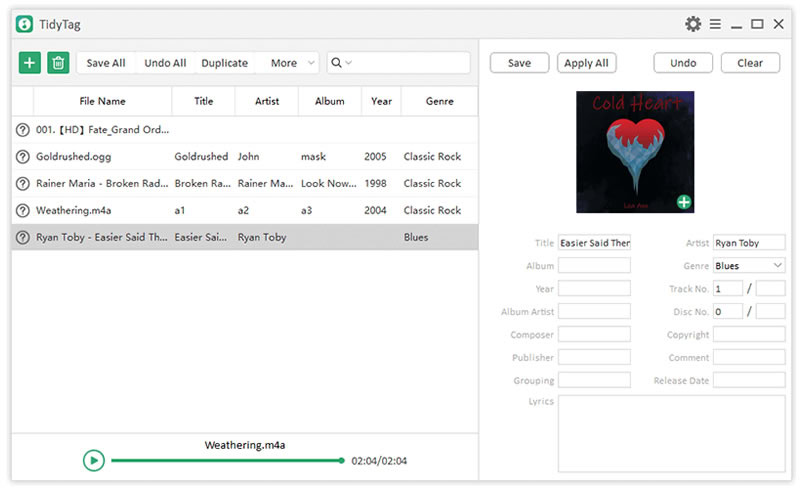 You can also play songs, change their album art, edit tags, remove duplicates, and a whole lot more. The most impressive thing about the app is its UI. Everything is easy to find, and you can get customizing in seconds.
Here's a list of all the features that come with TidyTag:
Remove Duplicates in Music Library
Rename the audio files
Manage files according to their Album, Artist, Album Artist, and Genre
Batch process all missing or incorrect tags
Edit metadata tags like song title, album, artist, release year, and more
Pricing
You can install TidyTag on Windows and macOS, and it comes with the following pricing options:
Lifetime Plan – $25.95
3-Months Plan – $9.95
1-Year Plan – $19.95
Family Plan – $35.95
Pros
Powerful metadata editor
Easy to use UI
Duplicate finder
Cons
Expensive monthly subscription
Pro tips to manage your music
Now that you have the best music managers by your side, here are a few tips that would help you manage your music effectively.
Use Tags: Tags are essential in managing music as they help you recognize any music file in just a sec. So, make sure you add custom tags to all your media library.
Create Playlists: Make sure to categorize your media library and create multiple playlists. This will help you easily find your preferred music library for the day. So, if you want some Jazz in your life, you can just listen to the Jazz playlist and similarly for Rock, Pop, and more.
Filter by Artists: Somedays, you just want to vibe to a single artist, and that's totally fine. All you need to do is filter your music library by artists and search for the one you want to listen to.
Add Album Art: No one loves a plain music library. So, add album art to all the songs on your music library to bring some oomph and pizzazz to your collection.
Final words
We looked at many music management apps and the features that they offer. Yes, they all have their own quirks related to UI, media support supported platforms, and more, but they are very helpful in managing your music library. Plus, you can even use them on Windows 11.
When it comes to music management, Aiseesoft iMusic and MusicZen are incredible apps and offer a great music management experience on Windows 11. So, what are you waiting for? Dive right in and sort out your music library with ease.
Also read:
* Readers like you help support TheSweetBits. When you buy something through the links in this article, we may get a small commission at no extra charge to you.