Top Editing Tools That Make Your Photos Stand Out on Social Media
Entertainment   •  Updated on Dec.12, 2022
We, people, are visual creatures. Our brain works so that we perceive visual information 60,000 faster than text, and that is why content like photos, images, or videos is a must to use in today's digital era for online success.
It's especially true when speaking of social media:
Facebook, Instagram, Twitter, and other networks – all have a common denominator attracting users who scroll feeds: It's appealing pictures that stand out. And no matter how great your content is, it will hardly get much buzz, shares, or viral promotion if you don't accompany it with at least one image.
You know the rules of this game, don't you? Photos should be original, catchy, and high-quality to attract social media users.
The problem is that it's challenging and time-consuming to craft visually pleasing images from scratch every time you need a picture to post on social media. We don't all have the creativity and skills to create diverse designs, and that's why we have so many great tools to assist with photo editing.
Related reading:
Top 11 photo editing apps for social media
#1. VistaCreate
VistaCreate is a free online graphic design software for everyone who needs original and eye-pleasing visuals for professional or personal use. Here you'll find thousands of custom templates to edit for social media, print, or web. Or, you can upload your photos to Vista's editor and design them the way you want, using the tool's numerous editing features.
One of the best features you get with VistaCreate is a background remover, allowing you automatically erase unwanted sections from photos and create new designs in minutes.
#2. Canva
Canva is simply outstanding as a tool to create designs. It has a simple interface that makes it pretty easy to use, and it has a wide range graphics for any social media platform. Whether it be a YouTube thumbnail, an Instagram/Pinterest Post or whatever you want to create.
Canva also makes scheduling your social media content super easy. With the Canva social media scheduler, you can seamlessly schedule designs to any of your social media profiles, right from the design page.
The other mild difference with Canva is that its their regularly-updated range of templates, library of millions of social photography and social video and over 3,000 fonts have made it a staple in the toolbox of marketers and brand owners alike.
#3. PicMonkey
As well as VistaCreate, PicMonkey allows you to use their library of ready-made templates or upload and work with your photos in their drag-and-drop editor. All you need to do is open your file and start customizing it for even better engagement on social media: crop, adjust colors, add filters and effects, you name it!
Compared to VistaCreate, PicMonkey offers more filters and effects focusing on photo editing (like Photoshop). Here you can edit real-life pictures with tools like wrinkle remover, teeth whitening, eyeliner, lip tint, etc.
Another feature to try with PicMonkey is editing your already existing images on Facebook.
#4. Desygner
Desygner has all chances to become your favorite app for creating social media designs. While it has thousands of ready-made templates to choose from, its additional features help you focus on personal photos and your creative freedom.
The tool provides you with a free-drawing pen feature and allows importing PDF, PSD, and SVG files. One of the best features here is the opportunity to upload and save your brand assets (images, texts, logos, color palette, and other elements) and use them in every design later.
With all your assets and pallettes at hand, you will save tons of time on photo editing.
#5. Pixlr
This tool is free and user-friendly, available for iOS and Android, and with two surplus versions – Pixlr X and Pixlr E – for those willing to get advanced editing options. Its main features include standard options like cropping, resizing, shading, applying photo filters and effects, and more.
Pixlr provides everything for crafting appealing social media photos: red-eye remover, teeth whitening, and features like focal blur effect, double exposure, and color splash. Plus, you can create bright collages with options for ratio, style, and background.
#6. Pablo
Pablo is a free app for quickly designing your photos to share on social media. It's a minimalist tool from Buffer, allowing you to place text over images and share them right away or queue up for later.
There's no need to create an account: Just choose an image from Unsplash or upload your photo, decide on the size and shape of the canvas, add filters or other graphics if necessary – and you're all set to go. In Pablo, you can also choose from six default templates, resize photos for different social networks, and reposition text elements.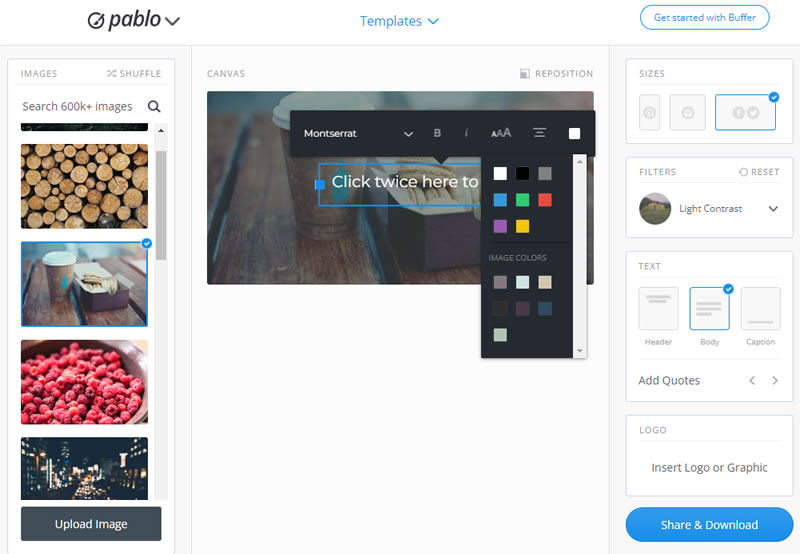 #7. PicCollage
The name of this tool says it all: PicCollage is a free app for both Android and iOS you can use to craft beautiful photo collages on your social media accounts. Here you'll find a few options for grids, backgrounds, and funny stickers to add to your Instagram photos.
Besides exclusive stickers, fun backgrounds, and grids, PicCollage also offers the freestyle mode for creating personalized collages and the doodle feature for drawing and writing on them. The tool also has a Premium subscription option, providing users with several enhanced features and allowing a watermark removal.
#8. Colorcinch
Colorcinch is a go-to tool for creating profile pictures and social media posts. It comes with AI-powered photo effects and editing tools as well as an intuitive interface. You can crop, resize, remove & change background, recolor your photos, create memes and avatars.  You can also play around with its text editor and drawing tools, compress your images and convert them into different formats.
Colorcinch also features a wide collection of hand-picked creative assets, masks, and overlays, just be creative and voila -you'll have stunning graphics for your social media in a breeze.
#9. Quozio
When it comes to photos for social media, we know that quote-based images are a big hit among users. Quozio is an easy-to-use quote maker that will help your pictures stand out and inspire social media followers with some #MondayMotivation wisdom, #FridayMood tips, or others.
Everything you need to do is enter your quote, mention (or not) the author, and add an image to accompany it. Quozio offers dozens of ready-made templates to craft a picture for your quotes. Different fonts and backgrounds are available.
You can save quotes, create boards to organize your quotations by categories, follow other users, and share your photos and profile with friends.
#10. Infltr
Infltr is your most powerful photo editor for iOS and macOS, with 7+ million possible filter combinations. Indeed, it's an app that has gathered all photo filters in one place. You can change them by touching the screen, and editing options like intensity, brightness, contrast, saturation, tint, and others are available for your creative freedom.
With Infltr, you can add favorite filters to a library, create live photos, videos, and GIFs, and apply filters to panoramic shots. Feel free to choose a filter before or after taking a pic.
#11. TouchRetouch
This tool is the best friend of photo makers getting frustrated with unnecessary objects that "photobomb" their works. TouchRetouch removes all accidental distractions from images.
Available for iOS and Android, the tool is affordable for everyone. It can restore your old photos, remove linear objects (like wires or power lines), eliminate street signs and trash cans, remove background people, and clean up your travel photos. Also, feel free to use it for erasing wrinkles, pimples, and skin blemishes.
Bonus: free stock photo sites
In a word
You can't stand out on social media without high-quality and original visual content in your pocket. All the tools above will help save time on photo editing and craft truly outstanding and engaging images for your Instagram, TikTok, Pinterest, Facebook, and other social accounts.
Read more:
* Readers like you help support TheSweetBits. When you buy something through the links in this article, we may get a small commission at no extra charge to you.