Top 11 Free Online/Cloud PDF Editors
Utility   •  Dec. 13, 2022
An increase in the use of online information sharing in the form of PDFs, Word Documents, Presentations, and more has led to the increase in the need for online editors for those documents.
The online PDF editors provide a plus point over the desktop applications as they do not occupy any space on your computer. Also, editing, saving, and sharing documents using these online editors is effortless, just like any offline application.
The online editors are better compared to the offline ones as you can also save the PDFs online on the cloud and access them from anywhere. And so, there will be no issue of data loss. You only need to log in to your account, and you can access all your PDFs in one place.
There are a number of online PDF editors available on the internet. I have chosen some of the best online PDF editors, which you can trust upon for any type of editing on the PDF already created or while creating the PDF.
RELATED:
Our favorite online PDF editors
Adobe Acrobat Online PDF Editor comes with a very interactive user interface and has a lot of distinctive features such as writing notes in the PDF, highlighting the important points, changing the PDF to other formats, and many more.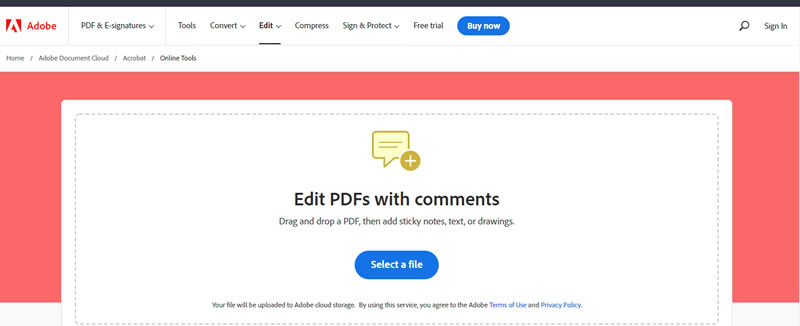 Plus, it has cloud storage that saves all your edited PDFs in one place, and you can access it anytime by logging in using your e-mail and password. Hence, no issue of data loss or forgetting your important documents while going to work.
And it is also accessible through the mobile phone, which makes it even more convenient to upload and edit PDFs.
Notable Features
You can convert any file type into PDF and vice-versa.
You can edit your PDF by adding notes, highlights, and other annotations.
You can compress any PDF and reduce its size.
You can rotate, delete, add, and reorder your PDF pages.
You can fill in the data and e-sign any PDF.
You can merge two or more PDFs into a single one.
Canva is currently the most popular online design tool that has dedicated tools for PDF editing. You can use the Canva PDF editor for transcending your documents to an incredible visually compelling level.
Canva PDF editor by far remains as the easiest to use PDF editor that allows you to import PDF files and enhance their visual appeal. In addition, you can also create PDF documents from scratch or using one of the high-resolution templates. Any PDF created on Canva can later be reopened in most PDF editors.
Moreover, it is relatively easy to get started with Canva. That is to say, you can simply sign up using your Google account. That's it, you can immediately visit the 'Start using PDF editor' section and create stunning visuals.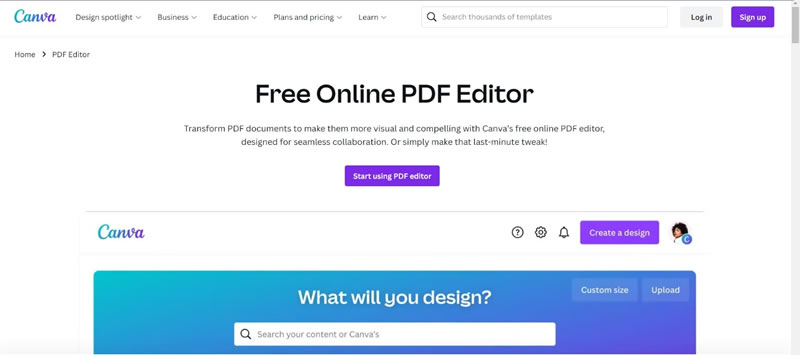 Canva offers millions of templates and elements to premium users. However, even the free version is considerably superior to most other free online PDF editors.
In addition, the developer kicked it up a notch by adding sharing and collaborating tools directly into the Canva PDF editor. That means, wherever you are you can just invite others to collaborate on a project with you at any time.
Notable Features
Fully responsive and allows you to edit PDFs from any device.
Real-time Collaboration tools that allow you to grant others access to collaborate with you on the PDF design.
Sharing tools to directly send over your final PDF to the recipient.
Merge PDF files and reorder pages with simple drag-and-drop tools.
Extract PDF pages, split sections, or insert new at any instance in the document.
3,000+ free fonts available and you can even upload your own.
Color Palette generator.
Cloud storage of up to 5GB in the free plan.
DocFly is a very cool and interesting online PDF editor. It allows you to edit any PDF without any requirement of signing in before editing. You just need to select or drag the PDF file which you want to edit, and you are good to go.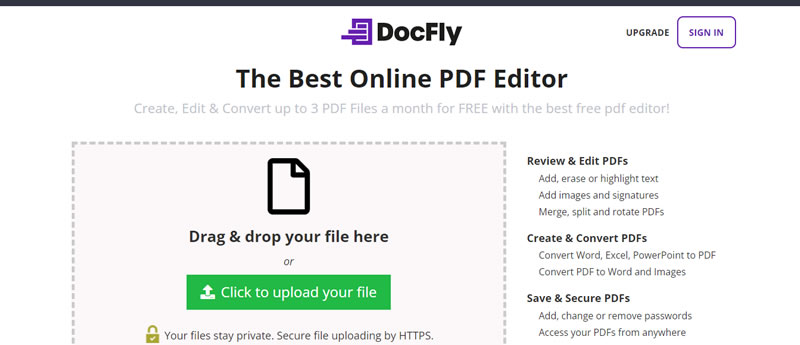 The various editing options such as adding text, erasing the ones which you find inappropriate, highlighting the important ones, and many others make the editing experience impeccable.
It does have cloud storage that stores all your PDFs in one place, and you can access them from anywhere using your credentials. All that you need is an internet connection on your computer or your mobile phone.
Plus, its availability on the mobile phone allows you to edit and access those PDFs from your mobile phone too.
Notable Features
You can create, view, and print a PDF file.
You can edit a PDF file and write on it.
You can merge two PDFs or split a PDF file.
You can compress and protect any PDF file with a password.
You can convert any file format such as Word, JPG, PNG, and others to PDF and vice-versa.
As the name suggests, the main purpose of this editor is to fill out online forms and perform various actions on them. You can easily fill out any PDF form, such as a tax form, contract, and others, from a smartphone or a computer.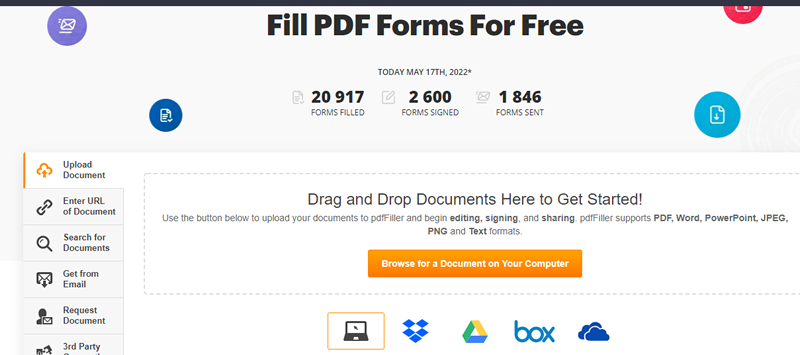 Also, when you are done editing and filling out those forms, you can share them securely at the same time with one person or some teammates just with a few clicks.
Not only PDF Filler allows you to fill and edit the PDF forms, but it also gives you the freedom to create the PDf forms and share them with others. You can easily create fillable forms and connect them to a payment system. The recipients also have a free hand on filling the form from any device which they want.
Notable Features
You can type the information you want to fill in and then move it to its required place.
You can add your signature manually or create a signature using the signature feature.
You get the freedom of choosing any color for filling the form.
You can upload the document from your computer using the URL or get it directly from the mail.
You can also share your filled PDF forms online.
The most minimalistic PDF editor is made solely for the purpose of performing edits on your PDF files. PDF Buddy allows you to perform the basic editing tasks along with some distinct works such as splitting and merging the PDFs.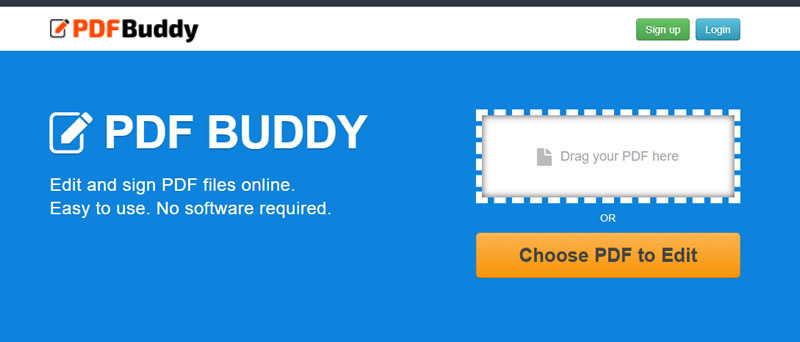 It also keeps a check on the safety and security of the data in the uploaded PDF by using SSL (Secure Socket Layers) and AES-256 bit protection. In addition to this, you can also fill up the PDF forms and sign them using the PDF Buddy.
Notable Features
You can merge and split PDF files.
You can add signatures in PDF files.
You can fill out PDF forms.
PDFescape allows you to gain control over your PDF files not only from the computer but also from your Android smartphone or iPhone / iPad. It enables you to edit and enhance your PDF file through the addition/removal of any images, words, sentences, and whatnot.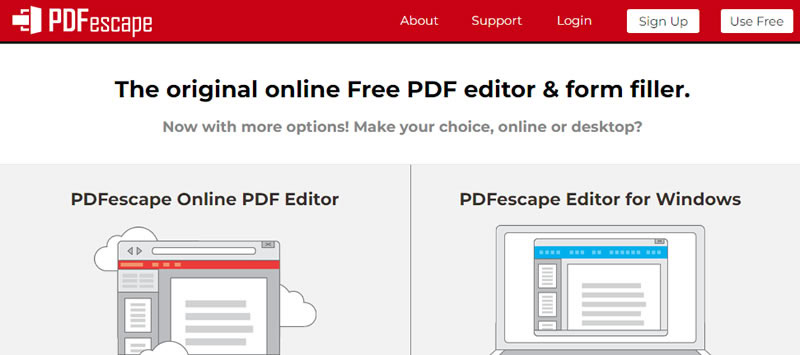 The extra feature of encrypting your PDF files helps in securing the data in your PDF as they can be accessed only by the people who have the password. It has a desktop version too that can help you in editing the PDFs according to your wish even when you are offline.
Notable Features
You can edit and view PDF files.
You can share PDF files online.
You can create and fill out basic PDF forms.
You can encrypt your PDF files using a password.
You can convert a PDF to a Word document and many other formats and vice-versa.
You can add watermark and page numbers to your PDF.
The PDF Candy editor comes with a huge 44 option interface that makes you gain control over your PDF files, not only over the content but also over the security of your PDF.

There is nothing that you cannot do in your PDF using this editor, be it merging PDFs, compressing them, splitting them, securing them, or else. You can do anything that you can think of doing with your PDF.
This editor allows you to be extra productive while you are working with your PDFs.
Notable Features
You can easily convert the files to and from PDF using the PDF converter.
You can split pages, reorder pages, and merge and delete pages of PDF files.
You can add a watermark, header and footer, and page numbers to your PDF.
You can extract text and images from the PDF file.
You can sign a PDF file and fill out the PDF form.
You can secure your PDF file by setting up a password.
Markup Hero is a pro pdf tool that allows you to add annotations to your PDF and share them. The chrome extension makes it much more convenient to use and reach to it.
The annotations that you are adding to the PDF can be in the form of text, drawings, shapes, images, and anything else that can help in enhancing the message in your PDF. You can share the link to the PDF or of a specific page with your colleagues.
The history feature allows you to preview all your markups in one place, and you can even change them from there if you want to before saving the edit.
Another point to note is that you do not need to sign up to use this. All that you need is to go to the website and upload your PDF.
Notable Features
Add markup instantly.
Copy the PNG image or share the link.
Annotate the PDF by adding text, shapes, drawings, and images effortlessly.
Share a unique link to a specific page or whole PDF.
View all the markups and PDFs in one place.
Sejda PDF Compress allows you to carry out all the basic functions which you can do with a similar editor. The most out-of-the-box feature which it provides is the different options while compressing the larger files into smaller ones.
With the compress option, you can compress a larger file into a smaller one, and in between the whole process, you get the options to change the image quality, resolution, color conversion of the image, and many other things. By tweaking these small options, you can surely compress the files into a very smaller pack.
Notable Features
You can upload the files either from your computer or from Google Drive or Dropbox.
You can configure the image quality in the compressed PDF file.
You can change the image resolution on the compressed PDF file.
You can also change the colored image to black and white if you further want to decrease the size of the PDF.
It does not add any watermark to the compressed PDF file.
As you can follow from the name itself, this editor is explicitly developed to fulfill the purpose of merging the PDF files. Besides, you can also carry out all the works which a general PDF editor can do.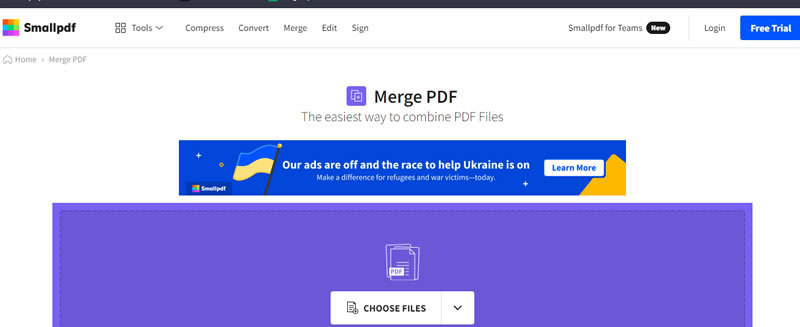 Another thing to notice with Smallpdf is that you do not need to register using your e-mail or any other id to merge PDFs or carry out any work. You just need to go to the website and upload your files, and it's ready to work upon. A chrome extension of this editor is also available.
Notable Features
It does not add any watermark to the merged PDF.
The merging is very secure.
You can see a preview of the merged PDF before downloading it.
The PDFs are stored in the cloud, so the space on your computer is saved.
The term OCR stands for optical character recognition, and it is mainly used to recognize the text in a digital image and convert it into an accessible electronic version containing text.
RELATED: Best OCR Apps for Mac and Windows
Soda OCR PDF Online helps to convert any scanned document, image, and print PDF to editable documents in a few seconds. This function is available free of cost on the website. A desktop version of this editor is also available.
It can also be used to carry out normal works such as editing PDF, adding or removing pages from PDF, converting PDF to other formats and vice-versa, and many other works, which any general PDF editor can do.
Notable Features
You can convert the pdf into other file formats and vice-versa.
You can merge, split, compress, and delete a PDF.
You can rotate and resize the pages in PDF.
You can digitize the documents using OCR.
Wondershare Document Cloud is a cloud-based document management system that can be used to store the PDFs on cloud storage along with editing the PDFs. The available cloud storage is from 1GB to 100 GB depending on the plans.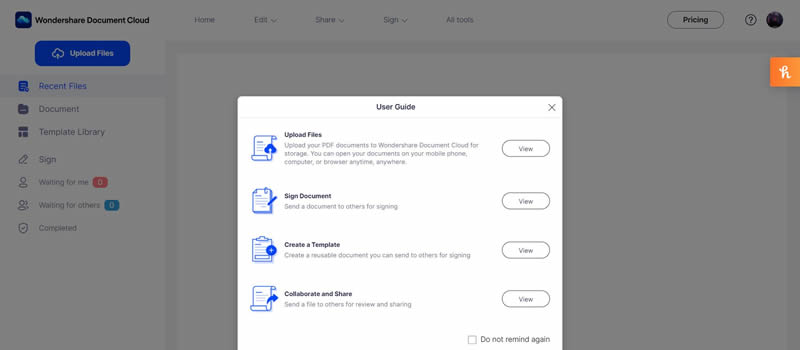 You can also receive comments and annotations collaboratively from the people of your group. It allows you to strikethrough, highlight, and underline the text and post the comments on the PDF documents.
Notable Features
You can share files with your teams and clients with e-mail notifications and links.
You can combine PDFs online.
You can compress the PDFs online.
You can store the PDFs online on the cloud and can access them from anywhere using your login credentials.
Conclusion
If you are such a user who reads and works with PDFs a lot. And you need to edit the PDFs very frequently and perform various tasks with them. Then you can surely try the online editors mentioned above and feel the difference. All the apps mentioned above are excellent in their own fields and are worth giving a try.
If you want some more features along with the ones provided by the free PDF editors, and you do not bother spending some money on buying the editing softwares. Then, you can take a look at our take on the best PDF editors for Mac and the best PDF editors for Windows.
* Readers like you help support TheSweetBits. When you buy something through the links in this article, we may get a small commission at no extra charge to you.