PrivadoVPN Review: Is It Safe and Secure?
Nowadays, it is not whether you need a VPN. Sure, you had that choice a decade back, but the ideas of digital privacy and internet access have drastically changed. So, even if you take all precautions while on the internet, certain situations warrant using a VPN.
On the bright side, there are thousands of VPN service providers. Considering different people require different types of VPNs, you can choose an option that meets your requirements. For instance, some of you may need access to high-speed torrenting, while others want maximum security. But today, we talk about a VPN that claims to check all these boxes: PrivadoVPN.
We have been using PrivadoVPN for the past week, and we have answered some questions you might have about the service. In this PrivadoVPN review, we mainly discuss whether PrivadoVPN is safe and secure before exploring different aspects such as privacy, performance, compatibility, etc.
What is PrivadoVPN?
PrivadoVPN is a Switzerland-based Virtual Private Network service available for Windows, macOS, Android, iOS, Linux, Android TV, FireTV, OpenVPN etc. It claims to be a fast and secure VPN that can keep your online data private and away from various digital threats.
Because PrivadoVPN is based in Switzerland, customers can expect some additional privileges in terms of privacy. For instance, the no-logging policy of PrivadoVPN means your browsing/downloading records will not be kept anywhere. But, as you would probably guess, a no-logs policy alone is insufficient for an adequate VPN experience.
That is why we tested different aspects of the VPN service, focusing on privacy, security, and compatibility. We shall also explain how PrivadoVPN works.
How does PrivadoVPN work?
At its core, PrivadoVPN is not different from the other VPN services in the market. For instance, PrivadoVPN tunnels your internet traffic through an encrypted, secure server and relays the information. This process is designed to go in loops so that you feel like you are browsing the internet as usual.
So, the website you visit sees you are accessing the content from a secure server. Similarly, your ISP cannot know the sites you visit or the files you download. Instead, they will only see a straight line of encrypted traffic to the VPN server.
However, the intensity of the security and encryption is essential when judging the quality of any VPN. And PrivadoVPN does not disappoint in this respect. For instance, PrivadoVPN uses 256-bit AES encryption paired with a stringent no-logs policy so that your data is 100% secure.
Similarly, the developers have included additional features to protect your internet experience. For example, the built-in ad blocker protects you from malicious ads, while the dedicated Threat Protection engine can help you avoid malware, phishing, fraudulent sites, etc. Again, we will talk more about these features later.
Getting Started
We found it effortless to get started with PrivadoVPN. We mainly tested the service on our Mac, but also tried the iOS and Android apps. Here are a few takeaways:
First, to get started, you have to register for an account with PrivadoVPN. Afterward, you can use the username and password to sign in to the PrivadoVPN service on all apps.
The process stays the same regardless of whether you have a paid subscription. Within seconds of logging in, you can see the VPN connection interface.
On both desktop and mobile applications, the interface is minimal and straightforward. You can see a Connect button and a list of available servers below it.
PrivadoVPN also lets you sort the available VPN server locations based on factors like latency or name. You can also set specific server locations as Favorites.
Once you have decided where to connect, you can click the button, and you are good to go. Of course, on macOS, Android, and iOS, you must provide permission to configure VPNs.
In short, getting started with PrivadoVPN is easy and won't take more than a few minutes.
Performance/Speed
While we could not test the speed of every VPN server from PrivadoVPN, we explored what the servers in central locations have to offer. Our testing for performance/speed involved a couple of factors, including but not limited to latency and download speeds. Below, you can compare the speeds we got without and with the PrivadoVPN service enabled.
As you can see, there is not much difference in the average download/upload speed. Keeping these speed-test results apart, we felt that connecting to a PrivadoVPN did not impact our browsing/downloading speeds much. And, having tested at least a dozen VPN services in the past, we believe PrivadoVPN wins this one. You can count on the average speed and performance of PrivadoVPN servers for most needs.
However, we noticed a minor issue with the connection time. Apparently, PrivadoVPN takes more than just a few seconds to connect to a VPN server. It is not as fast as other VPN services we have used. On the bright side, the extra time is due to the intensity of encryption and stability. During our testing, PrivadoVPN servers were extraordinarily stable, meaning that there was no interruption whatsoever.
Overall, we are impressed by the speed and performance from PrivadoVPN. Of course, we understand that download/upload speeds on VPNs are highly dependent on time and server. However, if we have to get an average and provide you feedback, it will be positive.
Is PrivadoVPN secure and safe?
We live in a world where digital threats multiply at unforeseen levels! So, while it is great that PrivadoVPN can provide the best performance and speed, it may not be enough. Therefore, many of you may ask a more important question: is PrivadoVPN secure and safe? We have answered different aspects of how PrivadoVPN deals with privacy and security.
Privacy and Security
Since most of us use VPNs to ensure maximum anonymity and security, data security is a big deal. As we said in the introduction, PrivadoVPN is a Switzerland-based company that is governed by Swiss privacy laws. So, you can count on the zero-logs policy of the company, which means PrivadoVPN does not keep a record of the websites you visit or the things you download.
Considering that many countries across the world take a negative approach towards VPNs and privacy, it is convenient that you can rely on this Swiss company.
PrivadoVPN checks all the essential boxes when it comes to device and connection security. However, it may not have the maximum number of features. For most people, however, the 256-bit AES encryption and kill-switch are sufficient to ensure a secure browsing experience. The kill switch makes sure that all your traffic is channeled through the VPN servers only.
You also get some internet security features built into PrivadoVPN. For instance, the Ad Blocker makes sure that your browsing experience is free from intrusive ads and pop-ups. Similarly, the Threat Protection engine does an impressive job of warning you about malware, phishing, social engineering, etc. You can also use system-wide parental controls to keep your children safe from the evil side of the internet.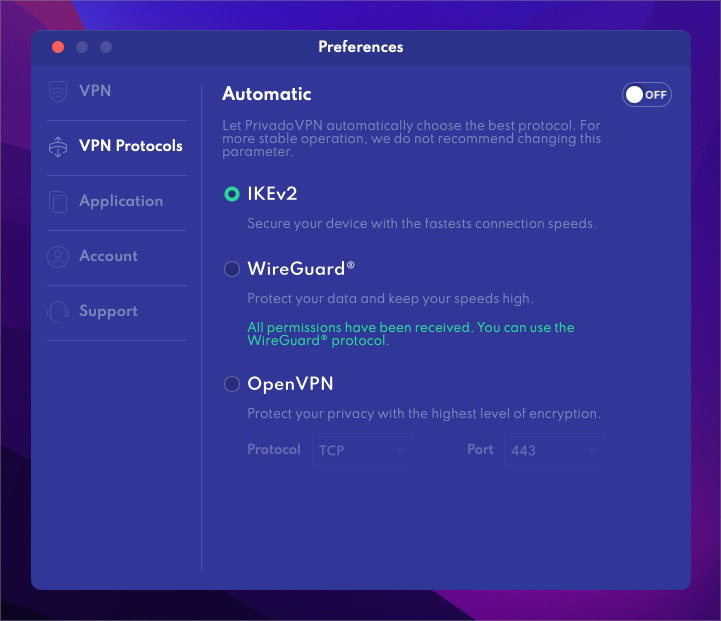 You can also choose between different VPN protocols to connect to PrivadoVPN servers. The options include IKEv2, WireGuard, and OpenVPN. The Auto-Connect feature also is beneficial if your work needs you to stay connected to a particular server region.
Altogether, PrivadoVPN offers satisfactory measures to protect your data and privacy.
Torrenting and Streaming
PrivadoVPN is one of the very few VPNs that offer torrenting support across all servers. So, you can use the service to download almost anything over the P2P protocol—regardless of the file size and other specifics. We tried downloading some media content over torrents and the speeds were impressive. As you can guess, the VPN works fine with traditional download managers as well as P2P download managers.
Things are not as fancy when it comes to content streaming, though. PrivadoVPN works with many streaming services, but we did face some problems with Netflix at times. So, we cannot 100% recommend PrivadoVPN if you are looking for a streaming-optimized VPN. It may face some issues with certain sites. However, if we look at things from a broader perspective, you will find that PrivadoVPN offers a balanced experience.
Together, while we think PrivadoVPN makes a satisfactory case, it should improve things on the streaming compatibility end.
Is PrivadoVPN free?
The pricing structure of PrivadoVPN is easy to choose from.
If you would rather not pay for a VPN, you can go for the free plan, which gives you 10 GB of data per month. It should be enough if you would rather not download a lot of content using a VPN. As we said, the company does not throttle data or sell your information even when you use the free VPN plan.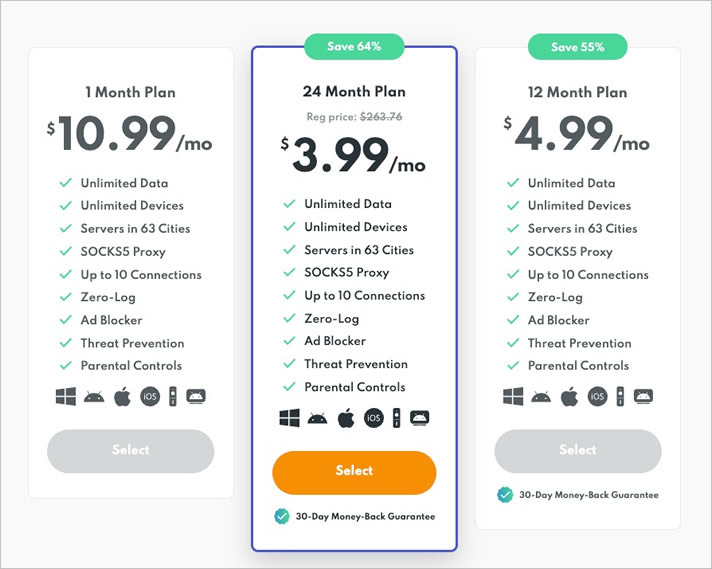 PrivadoVPN offers some reasonable plans on the premium side. You can get the VPN service for just $3.99 per month when you go for the 24-month plan. Similarly, if you can pay 12 months upfront, you can get the same service for $4.99. But if you prefer a monthly plan, PrivadoVPN will set you back at $10.99. All these plans offer unlimited data, unlimited devices, access to 63 server locations, zero-log, ad-blocker, and threat prevention.
Both the 24 month and 12 month plans are protected by a 30-day money-back guarantee. So, if you dislike the service, you can get the entire mount back.
How does its free service compare to its paid plan?
We knew you would ask, so we compared the free service and the paid plans!
The Similar Stuff
Both free and paid VPN plans from PrivadoVPN are powered by the no-logs policy. You do not have to worry about your information being sold. The compatibility of PrivadoVPN apps also stays the same in that you can install the VPN app on almost every device.
The Differences
The most significant difference between the free service and paid plans is the bandwidth and the number of devices supported. The free plan gives you 10 GB of data per month, letting you access up to 12 server locations. You can use only one device at a time. You will also miss out on additional security features like SOCKS5 proxy, parental controls, etc.
The Speed
This, we believe, is the unique thing about PrivadoVPN. Even though you can connect to only a select number of servers, PrivadoVPN does not throttle the speed. So, if you can limit your bandwidth consumption to 10 GB per month, the free plan of PrivadoVPN will offer a premium-quality VPN service.
Overall, we believe the free plan of PrivadoVPN is an impressive choice for many users. And it is a terrific way to check whether you like the PrivadoVPN service.
More questions you may have
We have answered some other questions you may have about PrivadoVPN.
Yes, PrivadoVPN is 100% legal. The company has its headquarters in Switzerland and is governed by Swiss privacy laws. Therefore, you do not have to worry about legality while using the PrivadoVPN services. But, it may be a good idea to double-check whether your country has banned the use of VPNs.
No, PrivadoVPN is not malware. After testing the PrivadoVPN apps on macOS, Android, and iOS, we can say with confidence that the application is clean. It does not run any background apps when the application is unopened. Therefore, you do not have to worry about malicious content on your Mac.
Does PrivadoVPN sell your data?
No, PrivadoVPN makes a fair promise that the service does not sell your data. The service does not keep any records of your browsing/downloading logs in the first place, making it impossible to sell the data. The best part? This no-data-sales policy is applicable for the free plans as well.
Conclusion
Here are our final verdicts on PrivadoVPN.
For most people, PrivadoVPN is one of the best VPN services out there. It does not compromise speeds while offering maximum security and privacy. The no-logs policy and Swiss privacy laws give confidence to keep all things secure. The additional features like parental controls, ad-blocker, and malware protection add value to the package.
However, PrivadoVPN can improve some areas. For instance, it does not perform the best when you want to access all streaming services. So, we would like to see some improvements in the area. On the bright side, you can use the service to stay connected to P2P downloads. And you do not have to worry about data theft, even when using the free version.
In the end, we recommend that you check out PrivadoVPN once!
READ NEXT
* Readers like you help support TheSweetBits. When you buy something through the links in this article, we may get a small commission at no extra charge to you.