VideoDuke Video Downloader Review
It's not a surprise why many people look for dedicated video downloader apps.
The Internet has made it to most of the world, but we can't say the same of good internet speeds. So, video-streaming is not a privilege for everyone. Also, it's good to have some videos available offline if you are going for a picnic or a road trip. This point is precisely where video downloading apps come in.
Video download apps: the good, the bad and the ugly
You can use video downloader apps to download videos from the web. You can access these files later. Such software solutions utilize specific algorithms and conversion utilities to bring you the desired video output. Professionals, as well as everyday users, have been using these apps for years now.
While there are so many video downloaders, we can't trust them all. Certain areas let us down. For instance, most video downloaders set a maximum quality of 1080p or 4K. In a world where we have 6K and 8K displays, this is a let-down indeed.
Lack of compatibility, additional features, and control, etc. also disappoint many users while choosing a video downloader app. And, we are talking about premium video downloading apps in the market. Amidst all this, we have the problem of low download speeds as well.
So, when we came across VideoDuke from Eltima software, we were both surprised and so happy.
What is VideoDuke?
VideoDuke is a dedicated video downloader app that is available for macOS. This tool comes from Eltima, an excellent developer behind so many popular apps like Airy, Elmedia Player, and PhotoBulk. It should be noted that VideoDuke is not a YouTube-exclusive downloader.

However, you can use VideoDuke to download videos from YouTube, among other platforms. Just as we had said, VideoDuke comes with a bunch of advanced features in the package. It also gets rid of restrictions that we commonly see in video downloaders.
Compatibility: where can you use VideoDuke?
VideoDuke lets you download videos from more than 1000 video-sharing platforms. It's impractical to share the full list. So, here are some familiar names:
YouTube
Vimeo
DailyMotion
Instagram
Tumblr
Facebook
Twitter
Reddit
Metacafe
LiveLeak
Vevo
MySpace
123Movies
As you can see, VideoDuke helps you download content from a variety of sources, which is excellent.
Getting started with VideoDuke
Just like other YouTube downloaders I have tried, VideoDuke is incredibly easy to learn. Since it is made for both professionals and everyday users, the User Interface is quite simple. Once you have installed the app, you can see the simple UI to begin your journey.
I found this process to be quite straightforward. It's also worth noting that VideoDuke consumes less space from your Mac. Despite having a browser inside (more about this later), the app doesn't rummage your RAM in the first place.
So far, so good.
The user interface: two ways to download online videos
1) The built-in web browser / Advanced Mode
You can use the built-in web browser to explore different websites and download the content. By default, VideoDuke shows three icons on the screen: YouTube, Vimeo, and DailyMotion. You can click on any of these icons and proceed.
On the lower side of the window, you can see a list of the contents on the webpage. You can select the file format and quality you want and press Download. You can track the download speed and access the file via the interface on top-bottom.
The process is simple. However, there are some advanced features built into this utility. For instance, you'd be able to see associated files on the webpage along with the video file. So, if you want to save a webpage entirely, you can do that.
2) Using the main UI / Simple Mode
In this mode, VideoDuke worked as the other YouTube/video downloaders out there. You can copy the URL of a YouTube video and paste it on the URL bar of the program. In a few seconds, VideoDuke will search for the video and show you the Download interface.
As you can see, you can select the desired file type/quality and proceed with the download. By the way, if you want to do something extra, you can go to Advanced Mode as well. Another thing we loved is that VideoDuke shows all the information, including the thumbnail of the video.
This is the more straightforward method to download any video using VideoDuke.
Browser integration
One thing that makes VideoDuke one of the best video downloaders is the amount of browser integration it offers. You can connect VideoDuke to popular browsers like Chrome, Mozilla, and Edge using a bookmarklet. You can place this bookmarklet on the bookmark tab and press on it when you are on a video page.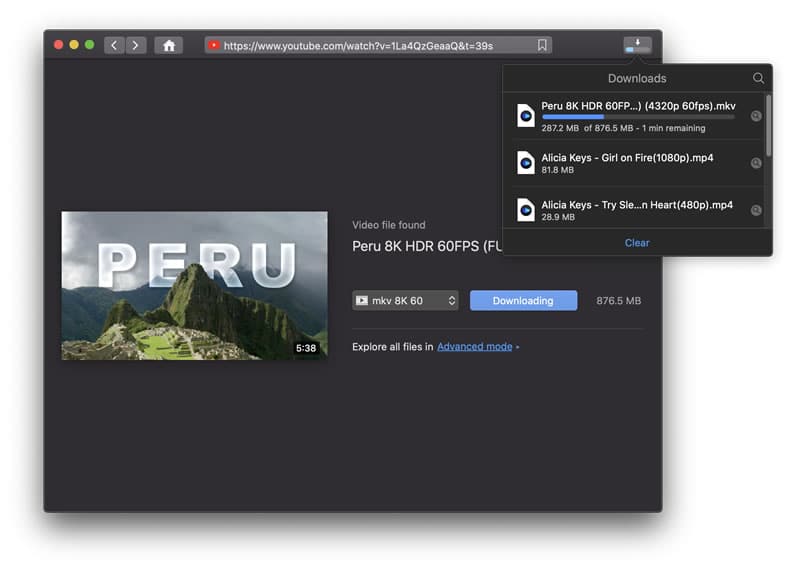 When you press the bookmarklet, VideoDuke will automatically retrieve the URL of the page and load the core video. This works for not just YouTube and Vimeo but also other sites. You will find it more useful while using Instagram or Facebook.
So, even if you cannot find a URL easily, you have a shot at downloading that video.
While we think VideoDuke has an almost-perfect UI, there is one small thing I'd like to see.
VideoDuke offers a fully-fledged interface to download the video and sort out options. However, the built-in download manager area cannot keep up with this performance. It would be great if VideoDuke had one dedicated area to manage video downloads. I found that the space is too small and makes things tough.
A word on downloading from YouTube
As we said earlier, VideoDuke is an all-purpose video downloader. You can use this tool to download content from a variety of sources, including YouTube. However, there are a few features that make VideoDuke one of the smoothest solutions for downloading videos from YouTube.
Up to 8K video downloads
VideoDuke allows you to download YouTube videos with a maximum quality of 8K. Yeah, if you find a video on YouTube with a resolution of 8K, you can download it using VideoDuke. The best part is that you can do it without any change in the UI.
Even better, you can select the desired file format for the 8K video. This comes in handy when you want to download a high-quality video for the 8K or 6K TV you may have. Also, if you use 8K production, this is great to have.
Superb download speeds
Compared to any other video downloader I have tried, VideoDuke offers the best speeds. If you have a good internet connection, downloading a nearly-1GB file will be an easy task. The fact that you can enjoy the same rate while downloading music files is just remarkable.
Also, you can download multiple videos at once by pasting the playlist ID on the URL box. This process is very seamless, and you can have all the necessary video files in the selected folder. There is even an option to get an entire YouTube channel downloaded, along with subtitles.
Audio download options
This isn't a YouTube-only feature, per se. However, since YouTube is a great source of music, let's begin there itself. So, with the help of VideoDuke, you can download and extract audio from a YouTube video. You can do this by choosing MP3/AAC from the format selection or going to the Audio tab.
In either case, VideoDuke will not only download the best audio version but also convert it. So, in the end, you will have the right MP3/AAC file that you can quickly transfer. If you want to download the MP3s of an entire music playlist on YouTube, VideoDuke is the place to go.
Customization
Customization isn't something that you should worry about while using VideoDuke. Everything is in superb flow, and you can follow the suite. However, there is minimal Preferences pane where you can make simple changes.


For instance, you can decide if you want to download subtitles along with the video or not. There are also a few options to change the directory and disable internet plugins to prevent disruption. That's about it, and this seems like an excellent design.
Availability and pricing
VideoDuke is available for macOS.
There is a free demo version of VideoDuke that allows you to download up to 2 videos. You can download these two videos however you like. After that, however, you have to purchase a license that costs $19.95.
There is also a Family version available for $39.95. This gives you three Mac licenses of this wonderful tool.
Pros and Cons
Pros
Simple yet effective UI design
Top-of-the-class download speeds
Broader compatibility
Playlist/Channel/Music download options
Built-in browser and Browser integration
Cons
Download manager could be better
The bottom line
As someone who has used multiple video downloaders and YouTube downloaders, I have tremendous love and respect for VideoDuke. It's such a clean program that gets the job done. For professionals who need a no-fluff, productivity-oriented video downloader, VideoDuke is the place to go.
I also loved the powerful performance and the fantastic transfer speeds while downloading from YouTube. The rates are higher than what I have seen on other applications. I believe we have to thank the powerful tech that Eltima has used.
In light of my experience alone, I'd say VideoDuke is the best video downloader out there. Compared to the fantastic set of features you get, the pricing is quite reasonable. For professionals who need a convenient way to download videos at the highest quality, this video downloader suite can be a great companion.
So, we'd recommend this to all our readers with the confidence that you'd love VideoDuke.
* Readers like you help support TheSweetBits. When you buy something through the links in this article, we may get a small commission at no extra charge to you.