The Best WhatsApp Business Transfer Software in 2021
WhatsApp is no doubt one of the most useful apps to ever come out and its business counterpart is a godsend for tons of small businesses and large ones alike. And so it goes without saying that keeping your contacts safe and then being able to transfer them to a new phone is crucial.
Imagine losing tens or even hundreds of messages for a moment of carelessness. That could certainly be disastrous, no?
So why not make a backup or transfer these messages and the contacts while you still can? It's like a 10-minute process that can potentially save you from weeks of suffering.
The easiest way to do that is by using the best WhatsApp Business Transfer Software that you can find. And that's precisely what this article is about.
Keep in mind that most of the software that you're about to see works not only with the business variant of WhatsApp – but also with the "normal" one.
And with all that out of the way, let us get right into it!
Quick navigation
Disclosure: We sometimes use affiliate links which means that, at zero cost to you, we may earn a commission if you buy something through our links.
What is a WhatsApp Business transfer program?
In case you don't know about it, WhatsApp business transfer software is there to help you transfer and/or backup your WhatsApp Business contacts and messages safely and easily.
We already know that WhatsApp by its own already allows us to do that. However, keep in mind that this is only with Google Drive – not to mention that it's only a single layer of protection anyway. If anything goes wrong with it, you're losing everything.
That is why we highly recommend keeping local backups on your phone and PC even if you're already using WhatsApp's default backup utility. And that's where WhatsApp transfer programs come in handy.
The whole process is so much easier with such software. All you have to do is plug in your devices to the PC, follow the instructions that they give you, and you'll be good to go. So, check some of our top picks out!
Our iOS pick: iTransor (Windows & Mac)
Being able to backup or transfer your messages or contacts is no doubt a huge benefit. The thing is that problems can arise when you switch from one platform to the other (Android to iPhone and vice versa) and nobody likes that.
That's one of the main reasons that we picked iTransor as one of our top picks. You can use it to backup and transfer not only from Android to Android or from iPhone to iPhone, but also between the two.
Not to mention that it's made from iMyFone – one of the biggest names when it comes to iPhone-related software for Mac and Windows computers. So, you already know that you are dealing with something reliable and reputable which is always a good when such things are concerned.
Backup with Ease
Before trying to do anything with your precious contacts and/or messages, do seriously think about creating a backup first.
You can do that with WhatsApp's default backup option. But, as you've probably already noticed, if you're using an Android device, you can only make a WhatsApp backup on Google Drive. And if you're using an iPhone, you can only create a backup on iCloud.
So, if you want to switch from one platform to the other, that can be a bit of an issue. That's why you may want to rely on iTransor's backup feature which works both ways!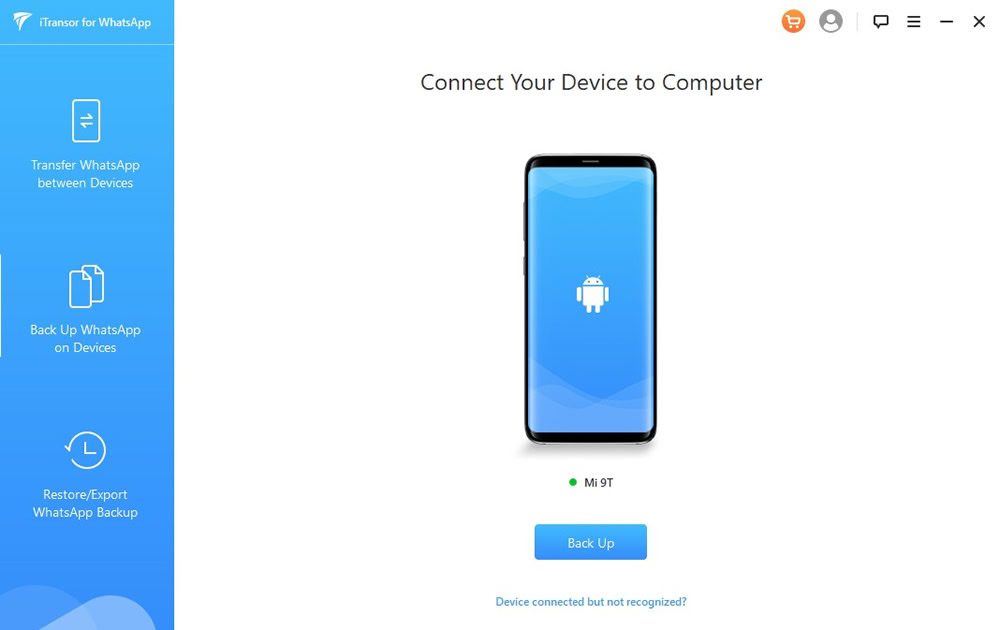 This works with both WhatsApp and WhatsApp Business. All you have to do is open iTransor, head over to the 'Back Up WhatsApp onDevices', then follow the instructions that the software gives you.
We'd love guiding you through it step by step ourselves. But these steps can greatly differ from device to device – particularly on how to enable the developer options and USB debugging. No need to worry about such terminologies cause, again, the software will guide you through everything depending on the phone that you have.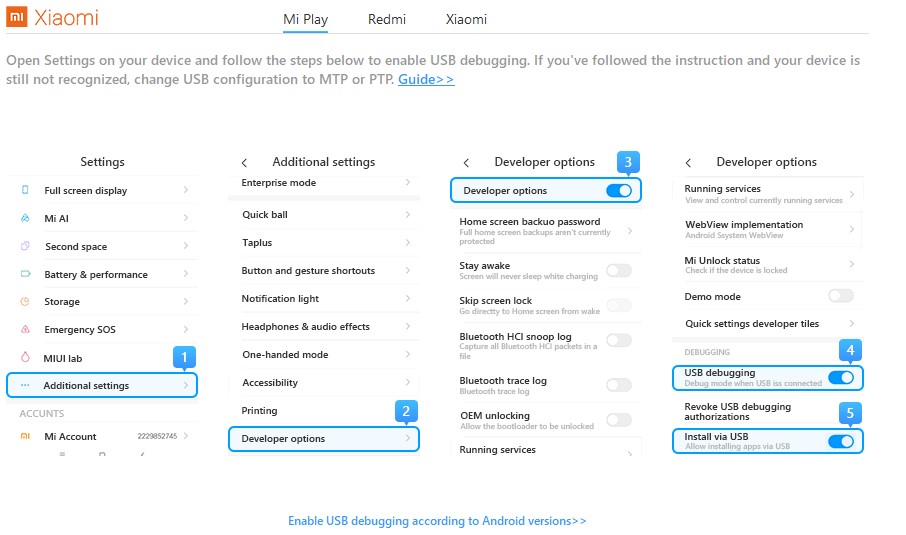 This is an example on how these steps look on a Xiaomi Mi device. Things will be a little bit different if you're on let's say a Samsung device and even more so on an iPhone device.
Speaking of iPhones, unfortunately, as far as backups are concerned, you can only use this feature on iOS devices. According to iMyFone, it's soon going to become available on Android as well. But for now, you'll either have to resort to the direct transfer method, look for another program that supports this feature, or wait until it becomes available on iTransor.
Transfer Everything in a Couple of Minutes
First things first, keep in mind that direct transfer for WhatsApp Business only works with iPhone devices. The regular WhatsApp is supported in both Android and iOS. It's only the business variant that's currently not supported by iTransor for Android.
The process is once again pretty straightforward. All you have to do is:
Connect both of your phones to the computer (You can swap which one is the receiver and the sender with the press of a button so don't worry about the order)
Open the iTransfer program
Select 'Transfer WhatsApp between Devices'
Follow the on-screen instructions
And you should be good to go
It's as easy as that. Again, don't forget that as far as the business variant of WhatsApp is concerned, this will only work for iPhones while the normal WhatsApp works with both Android and iOS.
In order for this to work, you are going to have to allow iTransor to access both of your connected devices. If we're talking about an iPhone, you're simply going to get a pop-up. But if it's an Android device, you'll once again have to follow iTransor's step in order to first enable the developer options and USB debugging.
You probably feel like all this is a bit too complicated. But all you have to do is follow the software's instructions and you'll be good to go.
Pros:
Offers a free trial
The full version isn't that expensive ($30 for a month, $40 for a year, $50 for a lifetime – can only be used with up to 10 devices)
Provides detailed information on the steps that you need to follow depending on your phone
Very easy to install and use
Cons:
The free version doesn't allow you to restore or transfer anything
WhatsApp Business only works with iPhone devices
Our Android pick: Dr.Fone – WhatsApp Transfer (Windows)
iTransor is no doubt a great program. But, as we mentioned before, it only fully works for iPhones. If you want something for both Android and iOS, we'd say that Dr.Fone is your best pick.
The only problem is that it's currently only available for Windows computers. Sorry, Mac owners. Then again, chances are that if you're using Android, you own a Windows computer anyway.
That aside, you can use Dr.Fone not only for WhatsApp Business transfers, but also for the normal WhatsApp, LINE, Viber, Kik, and Wechat as well.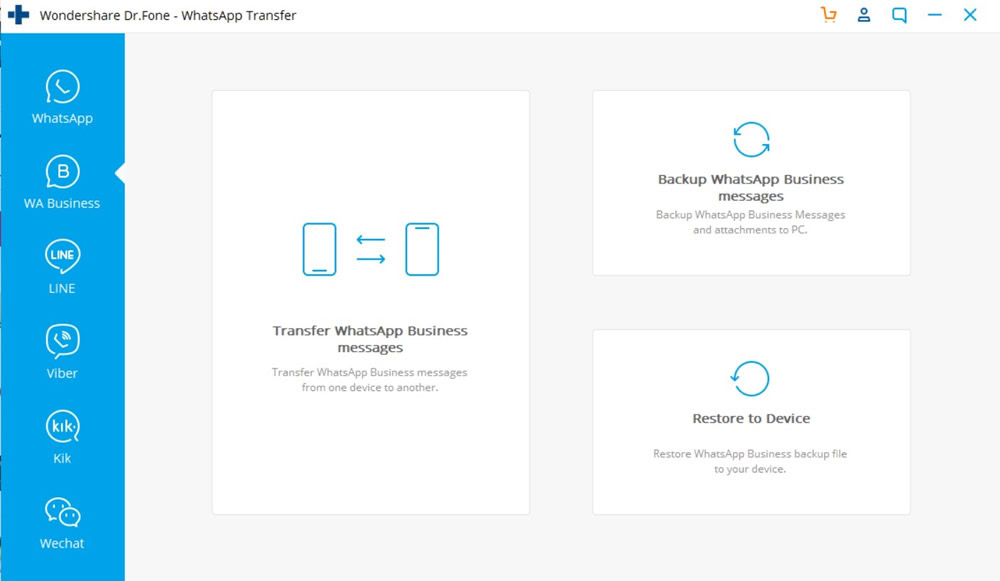 And that's barely scratching the surface. If you're willing to pay a premium, you can also use the main app for creating general backups of your phone, remove a password, repair the OS, transfer everything to another device, and more!
But, generally, the reason we picked this is due to the fact that it's easy to use and that it supports both iOS and Android devices – even if you can currently only find it for Windows.
More Than a WhatsApp Business Transfer App
If you want to transfer your WhatsApp messages and contacts over to a new phone, chances are that there are other stuff that you want to take with it as well.
The good thing with Dr.Fone is that it offers a ton of other features that you can use to make the whole moving process much easier. The bad is that it asks for quite a lot of money when you want to step outside of WhatsApp territory.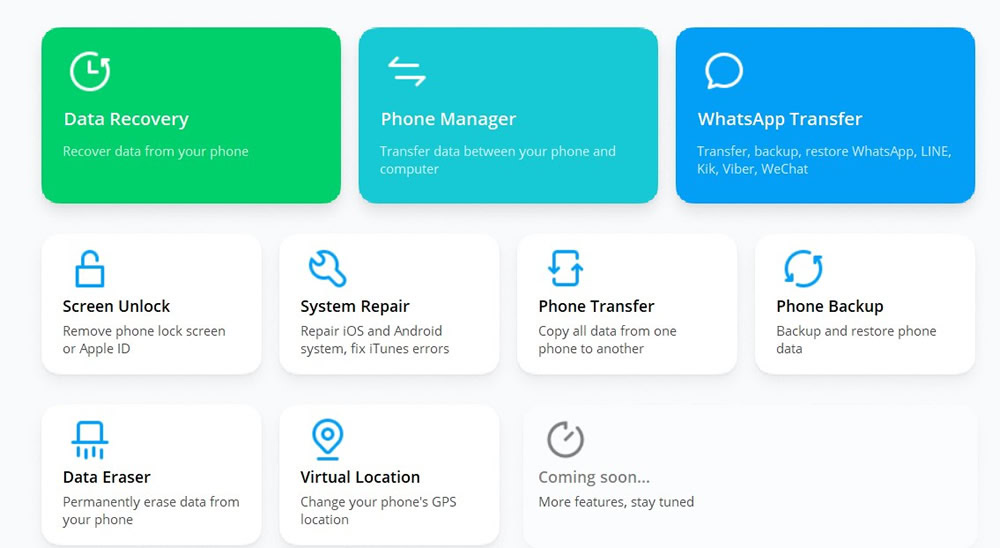 As you can see, we are talking about backing up and/or restoring everything in your device, managing everything through the computer with ease, transferring all your data, erasing it, and more. But, is this all worth near $100? That is your call to make.
But all that is kind of extra anyway. The main reason Dr.Fone is one of our top picks is because it just works. You don't have to worry about the kind of phone that you have and whether we're talking about WhatsApp, WhatsApp Business, Viber, or anything else. As long as you have a Windows PC, your phones, and enough cables to connect everything, that's all you need. No 'buts' or 'ifs'.
Full Cross-Platform Support (But at a Heavy Price)
It doesn't matter if you have an Android or iOS device. It doesn't matter if you're dealing with WhatsApp or WhatsApp Business. Dr.Fone works with both Android to Android transfers and iPhone to iPhone ones – along with any combination between the two.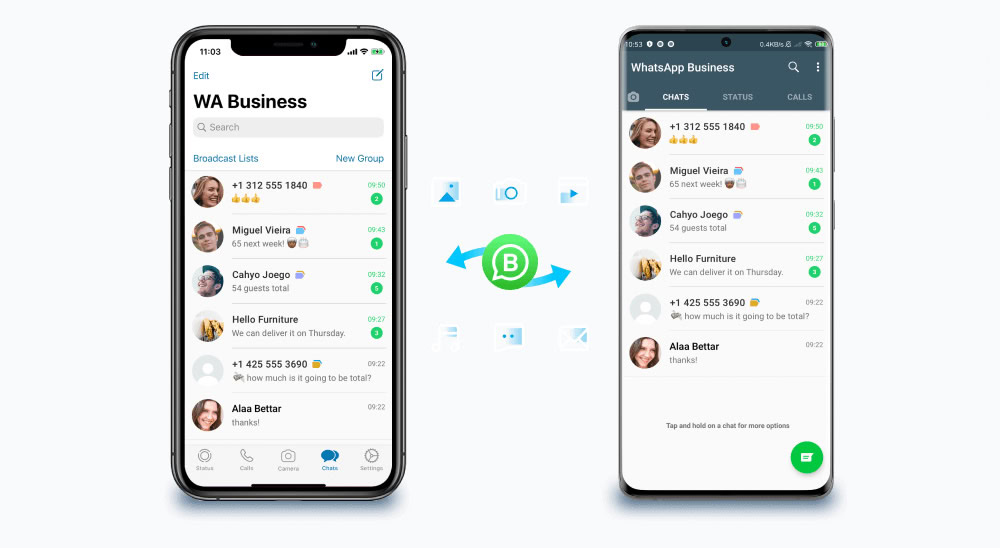 But, as per usual with life, nothing is perfect. We've got both good news and bad news here. The good news is that not only there's full cross-platform compatibility, but also plenty of tools from data recovery to iTunes repair software and phone management. The bad news is that if you want everything that Dr.Fone has to offer, that's going to set you back at approximately $140. Or at least that's how much it costs at the time of writing this article without any discounts applied.
However, keep in mind that you can also just get the stand-alone WhatsApp Transfer version for just a bit less than $30 – or about $20 if you prefer the yearly subscription plan.
At the end of the day, this program deserves a spot at the top of our list if only due to the fact that it's working with both Android and iOS alike. It's too bad that we can't have it for Macs as of yet – but Wondershare says they are working on it!
Pros:
Fully compatible with both Android and iOS with both WhatsApp and WhatsApp Business
Very straightforward and easy to use
Full version offers tons of extra features
Stand-alone version is fairly priced ($22 for a yearly license and $30 for a lifetime license – 1 PC and up to 5 mobile devices)
Cons:
The full version that offers all the extra features costs a lot ($140 on the current discount and $558 without any discounts)
Only available for Windows computers at the moment
Honorable mention: Backuptrans
These are our top 2 picks. One for Macs and iPhone devices and one for Windows that works with both iPhone and Android devices (And that is soon going to be available for Macs as well)!
If, for any reason, you didn't like any of those two picks, there is still more to choose from. You just have to know where to look.
And since we do, we also decided that's worth this alternative WhatsApp Business Transfer program that didn't make it to the top. Feel free to check it out!
Backuptrans is just another solid WhatsApp Business Transfer tool. You can get it for both Windows and Mac – but keep in mind that you need to purchase different versions separately.
Not only that, but there's actually a different version for every little thing. There's WhatsApp transfer for Android to iPhone for Windows, iPhone to Android for Windows, Mac, and vice versa.
The actual cost for one of the products isn't much different compared to the rest of the software that we've already seen. But, if you add even 3 tools together, this can get pretty expensive very quickly.
The UI looks rather beautiful – but also kind of unusual. So, it can take a while to get used to.
Overall, if you only need a WhatsApp Business Transfer tool for a very specific direction (Ex. For Mac and from iPhone to Android), Backuptrans is definitely worth checking out. But, for everyone else, our top 2 options may be a better fit.
FAQs
How Do I Migrate from WhatsApp to WhatsApp Business?
If you're already on WhatsApp and you're thinking about switching to WhatsApp Business with the same account, all you have to do is:
Download the WhatsApp Business app
Backup your chats on the base WhatsApp by using either the default cloud backup or one of the programs that we reviewed (Preferably both)
Open WhatsApp Business
Enter your phone number
And after giving the information that WhatsApp asks for, you should be all good to go. Alternatively, you can use a different number and create an alternative WhatsApp Business account from scratch – just like you did with WhatsApp for the first time.
Why Are WhatsApp Business Transfer Programs So Expensive?
WhatsApp Business is still relatively new. There is not a whole lot of competition among WhatsApp Business transfer programs. So, some of them can take advantage of this fact to bring their prices up a bit.
But, that aside, don't forget that developing complex software such as this costs a lot of money. These people need to get paid somehow and computer programs are not the same with mobile ones where you can just put ads on them and call it a day (Though there are always exceptions).
How to Transfer WhatsApp Business Chat Messages from Android to iPhone
Transferring WhatsApp Business messages from Android to Android often works just fine with the default back-up feature of WhatsApp. However, that's not going to work for an Android to iPhone transfer. That's mostly due to the fact that Android uses Google Drive while iPhones use iCloud – not to mention that the backup files may be incompatible in the first place.
So, what you can do instead- is use either Dr.Fone or Backuptrans Android to iPhone. Just keep in mind that Dr.Fone only works with Windows. Backuptrans, on the other hand, offers a ton of different variants. So, you need to pick the right one.
After that, you simply launch the program of your choice after buying it and follow the on-screen guidance that you'll be provided with.
Wrapping up
These are our top picks for now; at least at the point of writing this article. Cause, after all, WhatsApp Business is still relatively new and the same goes for WhatsApp Business Transfer software.
We can safely assume that it won't be too long before other programs start being developed – if they are not already being developed while we're writing this. After all, as we mentioned above, Dr.Fone is expected to get a Mac variant pretty soon now.
Until then, feel free to stick around for more sweetness! We regularly post articles about software for both Windows and Mac and our subjects range from simple stuff up to productivity programs, photo editing, video editing, and more!
* Readers like you help support TheSweetBits. When you buy something through the links in this article, we may get a small commission at no extra charge to you.