10 Best File Recovery Software For Windows 11/10
A ccidentally deleted an important file? Unsure of what to do with corrupted data? Wiped clean your hard drive? Can't seem to find a file after an update?
Well, if these are the questions on your mind, then don't lose hope. You can still recover your lost data and get back up and running within minutes.
Today we'll be looking at the best tools to help you recover lost and deleted files in Windows 11. All of these tools have been tested and verified, so you can rest easy and get your files back with ease. So, what are you waiting for? Dive right into the list and start recovering.
RELATED: Top 7 Hard Drive Recovery Software for Windows
Top 10 Windows File Recovery Programs
This official Microsoft utility is available in Windows 10's Store and is still compatible and operating with Windows 11, designed to retrieve files you've mistakenly deleted.
It doesn't have a graphical user interface and uses a command-line window to function and recovery files. Still, the recovery process is fast and smooth to make the experience amazing.
Deleted files aren't actually removed from your hard drive. They often are removed if you've written a lot of data repeatedly. So, if you're sure that you haven't overwritten on the files or recently lost some data, Windows File Recovery will be amazing at its job.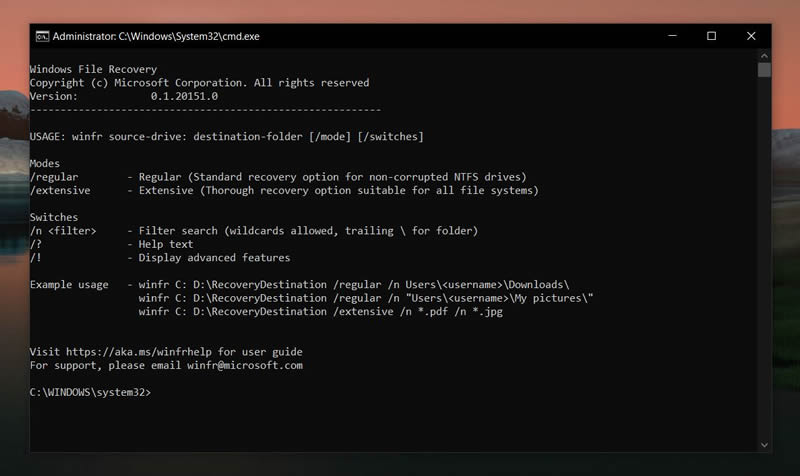 You can install Windows File Recovery straight from the Microsoft Store and just run it from the search panel.
Finally, to use it, run the "winfr command" and specify the drive you want to search. This will look for all the deleted files and recover them into a new specified drive. It's as simple as that, and my experience with recovering files has been great, with an 80% success rate on all the files I've recovered.
Pros
Easy to use
Great recovery process
Entirely free to use
Works well on all newer Windows versions
Cons
It isn't backward compatible and doesn't work on devices older than Windows 10
It has a command-line interface not suitable for beginners
Pricing
You can get Windows File Recovery for free from the Microsoft Store, and it doesn't have any subscription fee, which is perfect for people looking to save some money.
2. Wondershare Recoverit – An advanced way of recovering lost files
Wondershare Recoverit is an amazing backup and data recovery tool that works practically on all your devices.
If you are looking for a way to get some lost data back and backup your existing data, then Recoverit is perfect for the job. It's easy to use, comes with advanced recovery tools, is lightweight, and runs on all Windows 10 and 11 computers for better compatibility.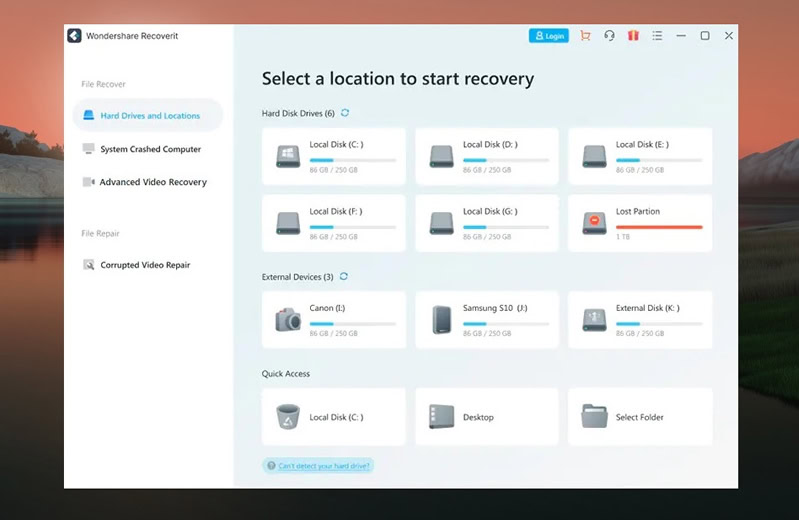 It's easy to download and install. Recovers files from external devices, storage drives and can look for lost partitions corrupted from updating your OS. Oh, and did I mention, it can also repair lost files.
Recoverit was perfect for files lost while updating Windows or through random crashes in my testing. So, if you too are into testing and other things that might crash your PC, I would highly recommend Recoverit to protect your files from any issues.
Pros
Wide variety of backup and recovery options
Can repair lost or corrupted video files
Can recover files from lost partitions
Cons
Recovering large files takes time
Some files can not be recovered perfectly
Pricing
You can get Recoverit for free with a trial version. It also comes in three different price points at $69.99 / month for the Essential version, $79.99 / month for the Standard version, and $99.99 / month for the Premium version.
A pro recovery tool that comes with a lot of features to recover and backup files on your PC. EaseUS Data Recovery is an advanced tool that essentially guarantees recovering files with ease. However, it is slow and can get really time-consuming with many files.
It also has a similar layout and UI to Recoverit and can also recover files from crashes or incorrect updates. However, it shines at recovering files that have been lost recently.
My testings showed that the recovery process was really slow. Even scanning a 64GB drive took me around 40 mins to complete. Other than that, it recovered most of the lost files and did an awesome job at repairing the lost data.
Pros
Easy to use with pro tools
Can recover files from crashes
Recovered files work perfectly
Cons
The recovery process is super slow
The app is quite expensive
Pricing
You can get the free version of EaseUS Data Recovery Wizard and recover up to 2GB, but if you have lost a lot of files, then the pro version would cost you $69.95 monthly, $99.99 annually, or $149.95 for a lifetime license.
Another recovery tool that is quite similar to Wondershare Recoverit or EaseUS Data Recovery Wizard, 4DDiG at first glance, is an exact copy of what the other tools are.
However, that is not a bad thing as 4DDiG has all the same features and more to make up for a slightly different experience.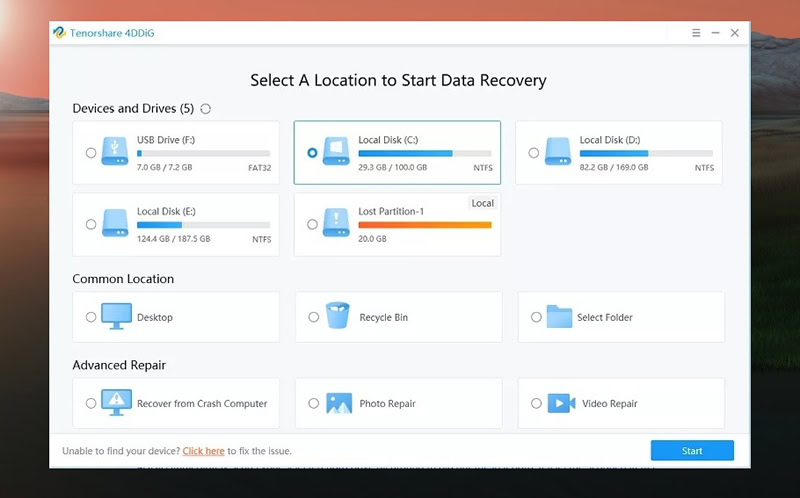 Yes, you can recover lost files, corrupted files, or even recover from crashes, just like the tools above. However, it also brings photo and video repair tools, which is a unique feature in the recovery space.
You can use these repair tools to fix corrupted photo and video files and make them perfect again. So, if you are someone who lost their photos or videos due to any reason, then getting 4DDiG is a perfect choice.
Pros
Can repair photos and videos
Can recover files lost due to a crash
Has support for recovering files from lost partitions
Cons
The recovery time is much slower as compared to other tools
The app can require some time to scan and boot up
It won't allow you to recover files without getting a premium subscription
Pricing
4DDiG has three different plans that you can get. A monthly plan for $45.95, an annual plan for $55.95, and a lifetime license for $59.95.
MiniTool Power Data Recovery has never been the perfect solution to data recovery, and I was skeptical about giving it a shot once more.
However, I'm glad I did. The latest iteration of the recovery tool makes a lot of improvements in the overall experience. It can recover files from all your drives with ease, and you can also connect external drives to recover data from.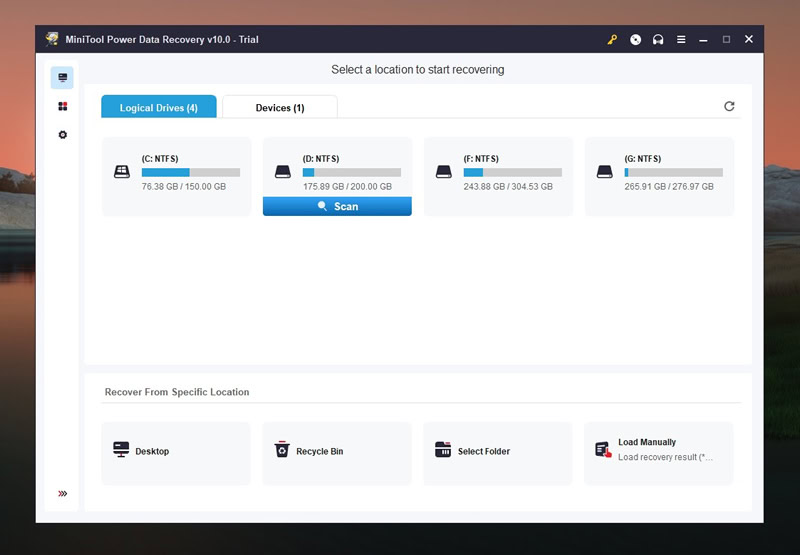 However, in my tests, it wasn't able to recover files lost after crashes or corruptions. So, if that is the case with you, I recommend checking the tools above for a better experience.
Pros
Minimal UI
Quick Scan for recovering files
Cons
It doesn't have advanced recovery features
Pricing
MiniTool Power Data Recovery can be downloaded for free. You can also get the premium subscription for $69 per month, $89 per year, or a $99.00 3-PC lifetime license to get access to all the premium features.
If you want most of the recovery features that you get with other pro apps at a budget-friendly price, then Glarysoft File Recovery Pro is an awesome choice to look at.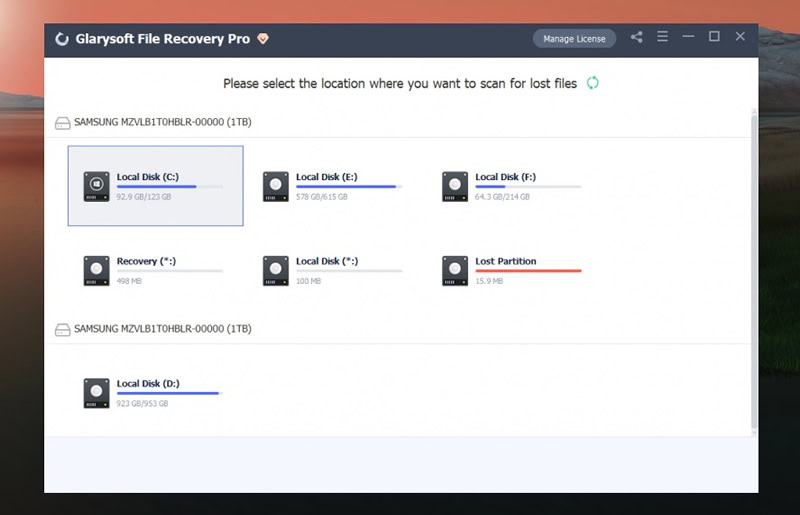 It brings all of the essential recovery tools that you need to scan and recover lost files from your hard drive.
The UI is simple, and recovering files is speedy. So, if you want to recover many small files that you recently lost, Glarysoft File Recovery Pro would fit right in.
Pros
Great recovery process
Easy to use UI
Budget-friendly price
Cons
One-time use for the cheapest option
Pricing
You can get Glarysoft File Recovery Pro for only $19.95, $49.95 per year, or $99.95 for a lifetime license. It also has a great money-back guarantee, so you can try it risk-free without worries.
Suppose you have an encrypted drive that has crashed or lost some data, and you can't seem to recover it with the help of recovery apps. Then Stellar Data Recovery Professional is the way to go.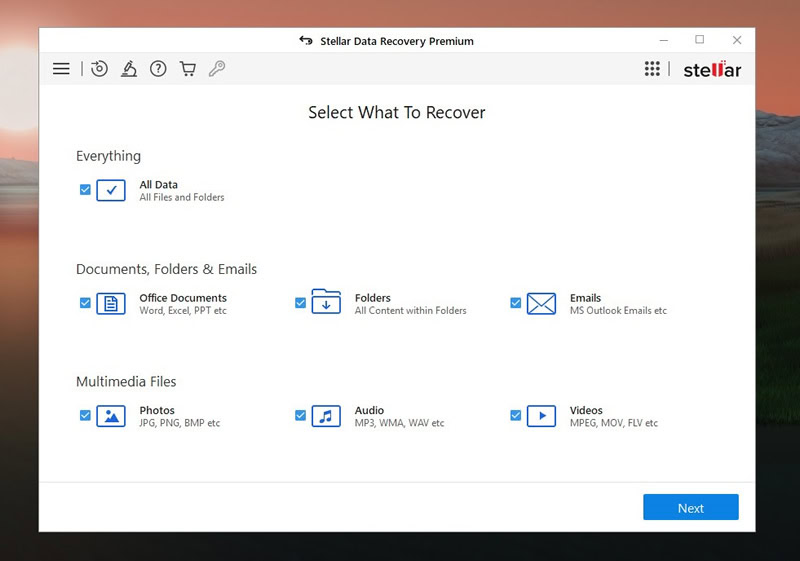 It is one of the best apps on the list that can even recover data from encrypted drives. While the process might be slow, it will most likely get your data back without any errors.
It also supports a lot of file formats and can even recover photos, videos, and audio with ease. It also supports office documents and can even scan crashed drives for lost files.
All in all, it is one of the best apps on the list, and you should definitely be using it if you are on an encrypted drive.
Pros
Can recover files from an encrypted drive
It supports a lot of file formats
It has a simple and easy UI
Cons
The recovery process is quite slow
Pricing
You can use Stellar Data Recovery Professional for free with the trial version or subscribe to it for $45 per month or $75 per year. It also has different plans for businesses and can also be acquired for multiple years, depending on your use case.
8. R-STUDIO – A tool for damaged RAID recoveries
Did a new RAID system go wrong? Accidentally deleted a new file? Do you want to make a new copy of the disk you're using? If these are some of the questions you're looking for, look no further.
R-Studio is an app that helps you recover files, fix RAID errors, copy disks and manage backups with ease. It also has a monitoring system that keeps track of all your files and helps you get them back if you screw up something.
However, R-Studio is a bit challenging and may take you a few tries to get everything working. The UI is not at all beginner-friendly, and you need to understand what you are trying to do.
So, if you are sure what you are working with and know what terms such as RAID or Recovery Over Network mean and how to use them, then you're welcome to give R-Studio a shot. But if you're just a beginner, I would recommend sticking to apps such as Wondershare Recoverit.
Pros
Has super-advanced recovery features
Can recover files from RAID crashes
Fast recovery process
Cons
Complicated UI suited only for professionals
Expensive price tag
Pricing
R-Studio has a lot of premium packages that you can look at. However, the basic R-Studio app clocks in at $59.99 for a single license, and you can bump it up to $674 for a technician license.
9. Recuva – One-click recovery tool for beginners
Are you looking for an easy-to-use, budget-friendly recovery tool for beginners? Well, Recuva is one of the best for the job.
It doesn't have a lot of different features that you can use, but it has a one-click recovery system that will scan your drive, look for the deleted files and recover them as soon as you click on the "Recover" button.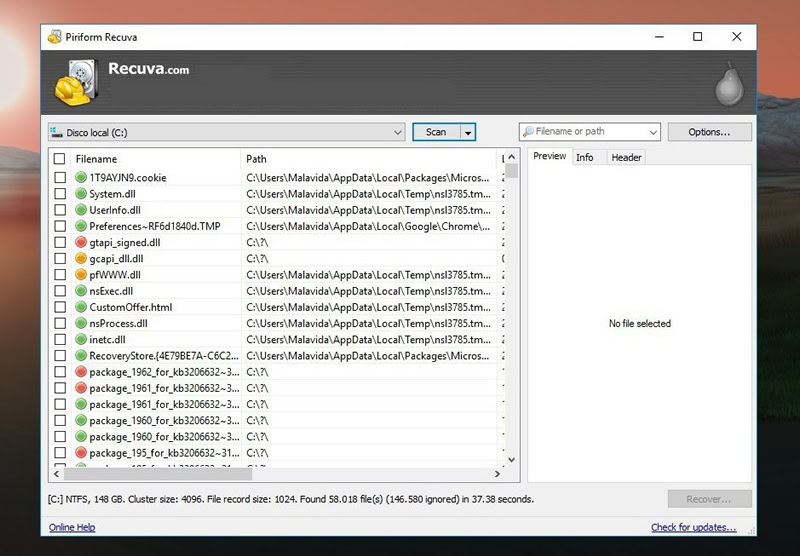 Just install Recuva from the link above, run it and then select a drive and start the scanning process. It will then look for all the lost files, and you can select what you want to recover and then recover it instantly.
The process is as simple as that, and it recovers files with relative ease. So, if you don't want to get in all the "Mumbo Jumbo" and just want to recover your files, then Recuva is one of the best tools to look at.
Pros
Simple one-click recovery process
Allows you to recover only the files you need
Amazing price tag
Cons
It doesn't have many advanced recovery features as some of the other apps above
Pricing
You can use Recuva for free or get it for $34.95 per year. This is a great price tag and one of the cheapest on the entire list.
Related: The Best Alternatives to Recuva (for Mac and Windows)
10. TestDisk – A technical option for professionals
Finally, the last recovery tool on the list. TestDisk is not your usual tool to recover files. It uses a command-line interface to recover files just like Windows File Recovery but is much more advanced than that.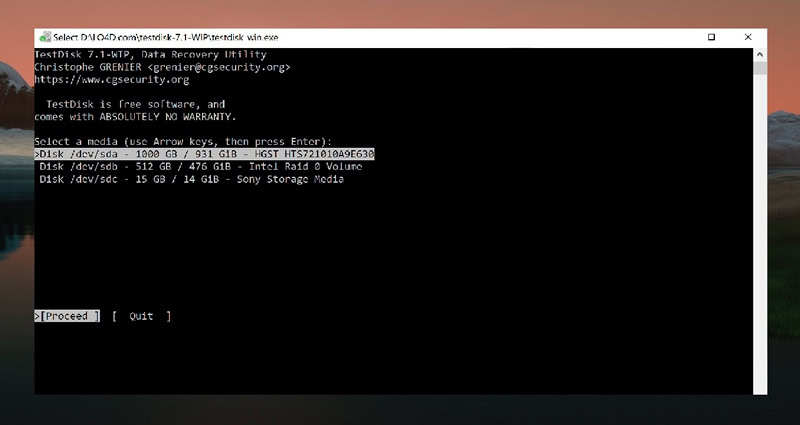 It is an open-source tool that is developed to recover all lost files with ease. The open-source nature means that it is free, but it doesn't come with a GUI, which means that you would need to learn all the recovery commands as you go forward.
It has an easy installation process and can be run right from the search panel. Then all you need to do is follow the instructions and select the drive you want to recover from, as shown in the screenshot above.
It then scans for lost files and then restores them to your selected destination. The process can be a little challenging for beginners, so I recommend staying away from it.
Pros
It has an amazingly fast recovery process
Can recover from crashed drives
Perfect for professionals
Entirely free to use
Cons
No GUI interface
Not recommended for beginners
Pricing
TestDisk is an open-source project, and you can use it for free.
FAQs
How does data recovery work?
Data is never actually deleted. The acquired space is just overwritten with other files. So, the data recovery tools use this method to check for "lost" or "deleted" data and then recover it for the user. However, if you have lost the file for some time and have copied other files on it, your chances of recovering the data are slim as you might have just overwritten on the file.
Is data recovery software safe to use?
Yes, data recovery software is safe to use. They don't mess with any other files and only scan and recover the lost files you want. So, the process is simply copy-pasting with a few complexities mixed in. The apps on the list have been tested, and you can use them without worries.
What's the best file recovery software for Windows 10/11?
The best file recovery software for Windows 10/11 are Wondershare Recoverit and EaseUS Data Recovery. They all have the simplest UI and a fast recovery process. My tests showed that it recovered most of the files and none of the files were corrupted or unusable.
What's the best FREE file recovery software for Windows 10/11?
The best FREE data recovery software for Windows 10/11 is Windows File Recovery. It is completely free to use, but it doesn't have a GUI or graphical interface. So, you would need to run it on command-line and then recover your data.
Final words
Data recovery might feel challenging, but it generally isn't. So, if you have lost your files and don't know what to do, I suggest you follow our guide above.
So, what are you waiting for? It has a  great selection of apps you can use and will most likely get all your lost data back. With that said, we wish you the best and hope you recover your lost files without worries.
READ NEXT
* Readers like you help support TheSweetBits. When you buy something through the links in this article, we may get a small commission at no extra charge to you.