Top 7 Free Mac Screen Recording Alternatives To Quicktime
Utility   •   Feb. 23, 2021
Having the ability to record your screen activity on Mac is an essential tool to have at your disposal. Here's our list of the best free screen recorder no watermark for Mac apps that you're bound to love.
In the modern-day and age when a large chunk of the workforce is online, the need to share your personal computer or mobile screen space with others is essential. Whether it is to showcase a quick tutorial for using an app or software, show off your prowess as a gaming streamer, or just get some troubleshooting done by a technical support person who isn't on-site – the need to record the screen activity is unquestionable.
Owing to the global COVID-19 pandemic that has moved the business, entertainment, social events, and even academia online, the need for a dependable screen recorder app is now more than ever. Apple has already brought the screen recorder tool to iOS and iPadOS, after popular demand, but did you know that the same feature has been available for macOS for years? While the Cupertino company does not market it separately, the screen recorder feature on macOS, but you need to know where to look.
Recording in QuickTime
Apple's macOS does come with a screen recorder tool baked into the QuickTime Player app. But is the native screen recorder for Mac everything you need? The only person who can answer that question is you, and whether your requirements fit the limited features that the native Mac screen recording feature has to offer. But before we get to some of the not-so-sweet quirks of the QuickTime Player screen recorder on Mac, here's how you can go about using it:
Step 1: Launch the QuickTime Player app on your macOS computer.
Step 2: Press the File button from the taskbar and select New Screen Recording from the drop-down menu.
Step 3: On the Screen Recording menu, you can choose the microphone used to record the audio along with the screen recording. Additionally, select whether you want to Show Mouse Clicks in Recording from the Options menu.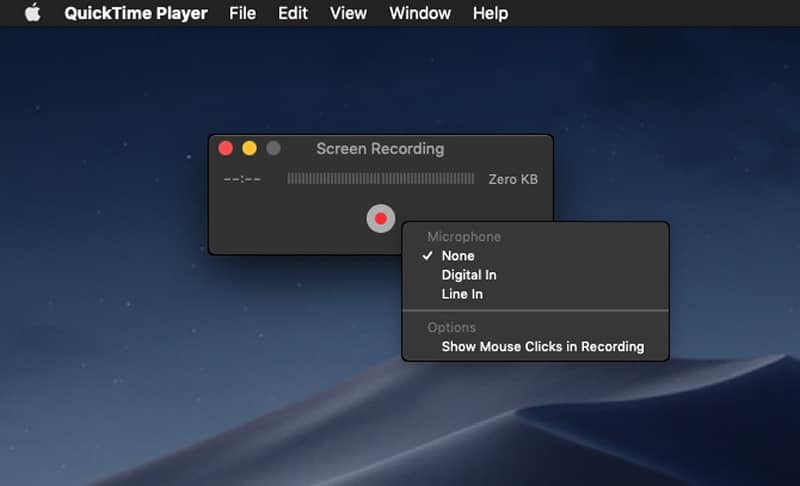 Step 4: Click the Record button to begin and on the Mac screen, choose the part of your screen you want to record by right-clicking and dragging the cursor across. If you want to record the entire screen, click anywhere to begin the screen recording.
Step 5: After completing the screen recording process, hit the Stop icon in the menu bar at the top and Save the screen recording video to any location on the macOS computer.
While it is always preferred to pick a native app over third-party solutions, the same doesn't go in the QuickTime screen recorder for Mac. Even if the strictly limited features for screen recording may get the job done for you, users have reported that the macOS screen recorder does not generally play well with other third-party apps, making it unsuitable for most game and tutorial recording purposes. Moreover, fundamental performance issues such as lag, and no support for popular video formats such as .WMV, .MKV, and DivX make it less desirable for professional content creators.
Top 7 free screen recording alternatives to Quicktime
As a means to fill in the cracks left behind by the native screen recorder app on Mac, there is an ocean of third-party screen recorders that claim to get the job done. However, no two screen recording apps are built the same, which is why we've gone above and beyond to look for contenders that do not disappoint.
If you thought a third-party screen recorder on Mac required a manual installation and plenty of storage space, Screencast-O-Matic will indeed rewrite the definition for you. Built to be an online screen recorder tool supported not just on Mac, but Windows, Android, iOS, and Linux too, Screencast-O-Matic requires you to install a "launcher" tool but operates online independently, similar to how Zoom or GoToMeeting does.
There is a premium version that offers a bucket load of extras such as a built-in stock library, sound effects, scripted recordings, and online hosting with plenty of bandwidth to save your recordings on the cloud. However, the free version still manages to be light on the system, captures screen recording and web camera, trim the recordings, and even comes with more than a dozen music tracks for you to pick from.
Price: Free, $1.5/month, $4/month
Pros:
An online screen recorder for macOS that is feathery light on the system.
The user interface is sleek and easy to get used to.
Allows you to publish recorded videos directly to popular video-sharing platforms.
Cons:
The free version is limited to only 15 minutes of screen recording at 720p resolution.
The reason VLC Media Player was an instant hit among users, was it's open-source nature, and content creators who don't feel the need to pay for a premium screen recorder tool for macOS feel prefer OBS (Open Broadcaster Software) Studio for the same reasons. Leaving no stone unturned when it comes to packing some serious screen recording and video editing features, OBS Studio brings in a modular design that allows you to put the focus on capturing, editing videos, mixing audios – all without a limit.
For professionals looking to bring an artistic flair to their screen recording and captivate the audience, there are features such as color correction and image masking, along with gamer-centric options such as noise suppression and transition settings. Albeit the list of features and an all-in-one approach to screen recording and video editing can be overwhelming at times, the fact that OBS Studio covers everything and asks nothing in return is nothing short of a mystery.
Price: Free
Pros:
Professional quality video recording tool for macOS with gamer-friendly features.
Supports multiple audio and video format editing from a single "studio-style" window.
Unlike other screen recorder tools, it is genuinely free to use with no catch involved.
Cons:
Using the screen recorder and editor involves a learning curve for most beginners.
Featuring itself as an all-in-one screen recorder tool for Mac that does it all, ActivePresenter does cover all of the basics tenets of screen capturing, video editing, and even screencasting. Speaking of the free version that the developer studio offers, you get full motion recording features with screenshot captures too, with a video editor that effortlessly allows you to crop, cut, merge, and change the playback speed of the screen recording.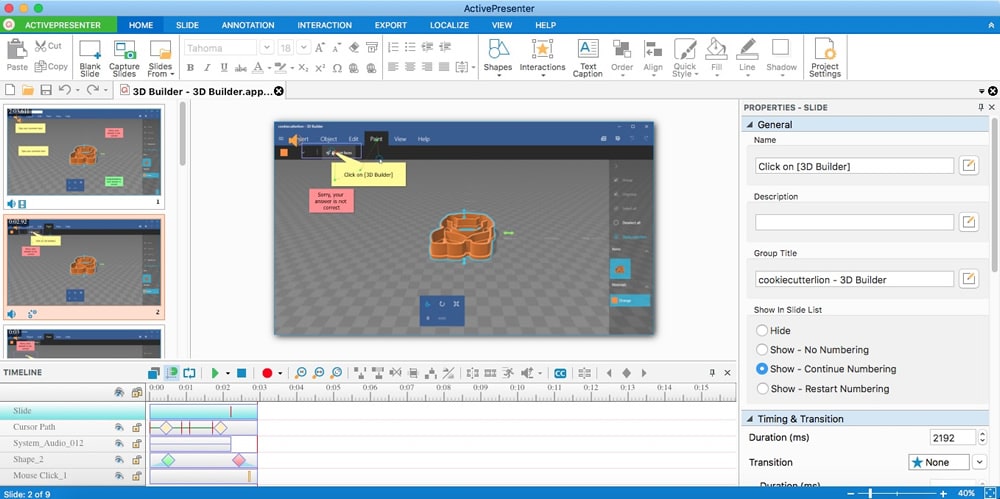 While premium features such as HTML5 export, advanced audio/video fading effects, additional export options, and commercial licensing are available under the premium versions, you get plenty of exciting video recording tools to play around with the free app too.
Price: Free, $199 (Standard), $399 (Pro)
Pros:
The user interface barely takes any time to get used to, with all of the primary video recording and video editing features offered for free.
Allows you to record not just the screen of the computer but the web camera simultaneously for webinars, tutorials, and gameplays.
Directly upload and share screen recorded videos to the media streaming platform of your choice.
Cons:
The video effects offered by other premium video editors are missing in even the licensed version of ActivePresenter.
The reason the QuickTime Player screen recorder for macOS is still relevant, despite its limitations, is due to the simplicity it offers. In an attempt to bring the same ease of use of the native screen recorder tool, along with some added bells and whistles, Monosnap offers you a native-style screen capture tool for Mac that does not leverage the feature's capabilities over user experience.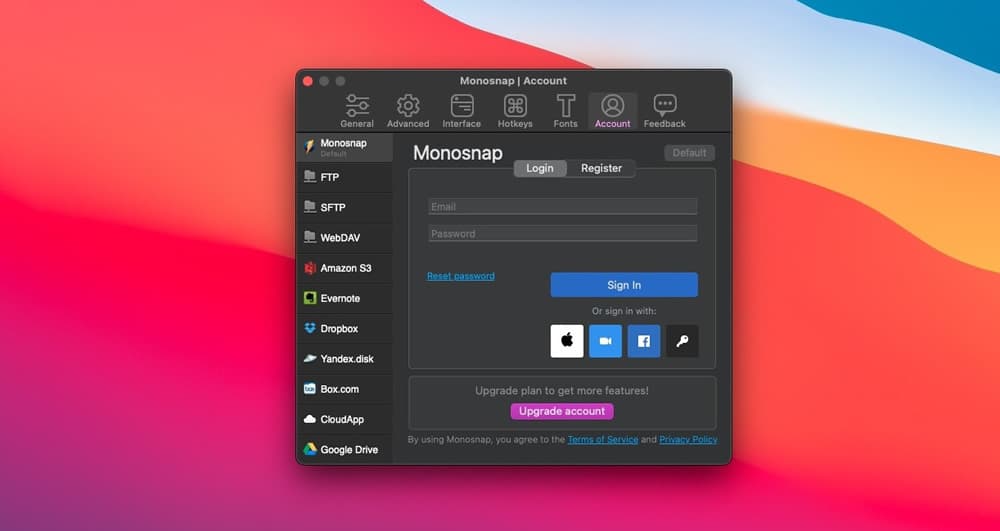 What sets this lightweight macOS video recorder apart from the rest is the fact that you get premium features such as 60FPS recording, and an 8x magnifier with pixel adjustment without subscribing to the premium plans. The Monosnap Storage is a fine addition to the app, which allows you to safely upload and store your screen recordings on the cloud, but is limited to just 2GB on the free version.
Price: Free, $2.5/month (Non-Commercial), $5/month (Commercial)
Pros:
A lightweight and user-friendly replacement for QuickTime Player screen recorder feature.
Highlighting tool available in the free version with magnification feature helpful for tutorial videos.
Monosnap Storage offered for free up to 2GB to keep your recording safe and sound.
Cons:
The advertisements built into the system for a premium upgrade can be pushy at times.
While screen recorder tools for Mac can be useful for video editing, adding filters and effects, and creating viral-worthy content, you may not always need the extra bulk that comes with most of them. TinyTake is designed with the mindset of bringing a hassle-free experience to screen recording to Windows and macOS systems, with a core focus on simplifying the user interface to the maximum.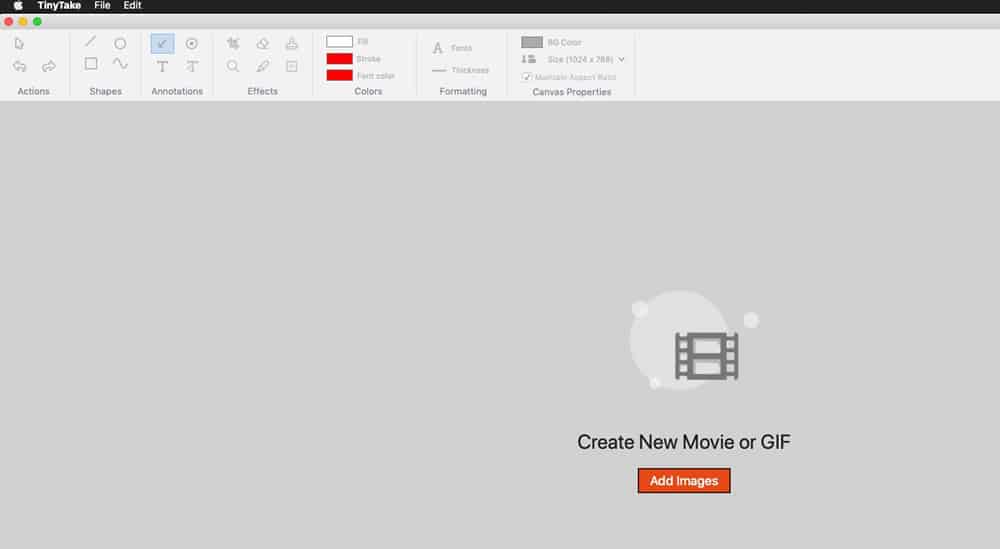 Albeit it does not boast some of the premium video editing features like the others on the list, but the fact that you can record the screen in high quality, add comments, and share the created content directly is good enough for most. The limitations of creating short screen recordings on the free version and the fact that you cannot use it to stream games is a missed point, but who is using a Mac for gaming in the first place?
Price: Free, $29.95/year (Standard), $59.95/year (Plus), $99.95 (Year)
Pros:
A "no-nonsense" user interface to screen record and share right from a single platform.
A free account gives 2GB cloud storage to keep screen recording on the cloud for easy access.
The premium feature to annotate videos offered with the free version too.
Cons:
The free version allows you to record the screen for a maximum duration of just 5 minutes.
Although this particular screen recorder for macOS does not have significant years under its belt, VEED has become a beacon of home among video content creators all over. It all starts off with a souped-up design and user interface which matches the quality of UX that macOS offers, all of which is online, so you don't have to download a single piece of software to get started with it.
Designed to allow recording of the on-screen footage and web camera of the computer, the process is made easy with several different layouts to choose from. Apart from a natively strong video screen capturing tool, VEED also boasts a range of video editing features for annotations, adding logos and boxes to the video clips for effects, automatic transcription, and easy sharing with others for a comfortable collaboration.
Price: Free, $12/month (Basic), $24/month (Pro)
Pros:
Screen capture with a single click and multiple different layout options.
Fast and straightforward video screen capture tool that is entirely web-based.
Automatic subtitles generator with 2GB of cloud storage space.
Cons:
Free version has a 10-minute recording limit with watermark added to the screen recording.
The modern workforce is no longer bound to the office, but collaboration on projects, and explaining different aspects of the business, or even software to your subordinates and colleagues is part and parcel of the job. To make this task simpler, ScreenRec has designed a screen capturing tool geared towards the business landscape, designed with security in mind to project your best-kept professional secrets.
All starting off with a buttery-smooth user interface, ScreenRec can be used to create professional presentations, on-screen tutorials, and organized training videos. There's an entire administrator system in place, allowing you to have an oversight on which clients and coworkers have access to the screen recordings.
Price: Free
Pros:
Only truly free screen video recording tool directed towards business users.
Easy sharing and collaboration for presentations, tutorials, and meetings.
Built-in encryption to securely save and share the content you create.
Cons:
Not available for macOS just yet (coming soon).
What about premium screen capture tools?
While every single screen recording tool we've handpicked in the list above, does offer a premium version, they are free to use. The limitations put forward on the basic version of these screen recorders may not be a dealbreaker for those who are looking to get some straightforward screen recording done. However, when it comes to more in-depth video editing features, advanced screen recording features such as zoom-in magnification, and in-system audio recording at 60+ FPS in Full-HD, you might need to bend towards a more premium solution.
If Mac screen recording is more than just an additional need for you, and your career and business needs depend on it, shelling out a few extra bucks for a premium solution is worth it. We recommend Camtasia and Snagit, both of which are developed by Techsmith but differ when it comes to ease of use and the features they pack. Camtasia is built for professionals who want to spare no ground when creating studio-quality screen recordings. On the other hand, Snagit is built for the layman user who wants to get things done without a learning curve.
Final words
At the end of the day, which free screen recorder for Mac you pick from the list, depends on the one that suits your needs and style. Apart from downloadable screen recording apps, we've made sure to include web-based screen capture tools as well, so you can pick your poison with complete transparency.
If you'd rather get hold of a preminum screen recording with video editing, take a look at the Best All-in-One Screen Recorder and Video Editor for your Mac and Windows.
* Readers like you help support TheSweetBits. When you buy something through the links in this article, we may get a small commission at no extra charge to you.